Abstract
Background There is over 10 years of clinical experience and evidence to show that biosimilar medicines can be used as safely and effectively in approved therapeutic indications as their originator biological medicines. In Ireland, biosimilar medicine uptake has been very slow, and savings to the health service will only be realised through fostering a competitive biological medicine market. Objective The objective of this study was to investigate the utilisation of biosimilars following a 'best-value biological' medicine initiative for adalimumab and etanercept in the Irish healthcare setting. Methods Data was extracted from the National High Tech claims database and High Tech ordering and management hub for the following drugs; adalimumab (Humira®, Amgevita®, Hulio®, Idacio®, and Imraldi®) and etanercept (Enbrel® and Benepali®). Main outcome measure: uptake of the best-value biological medicines. Results In June 2019, just over 90 patients had been initiated on, or switched to a best-value biological for adalimumab or etanercept. Over the next 12 months this increased to over 8500 patients. With the best-value biologicals accounting for approximately 50 % of market share in June 2020, the combined estimated savings and avoided costs are €22.7 million to date. The gain-share prescribing incentive has raised over €3.6 million for the specialties to invest back into patient care. Conclusion Against the background of a finite healthcare budget, this study shows that increasing use of biosimilars can create the financial savings and space to invest in new innovative therapies for the benefit of many patients.
Access options
Buy single article
Instant access to the full article PDF.
US$ 39.95
Tax calculation will be finalised during checkout.
Subscribe to journal
Immediate online access to all issues from 2019. Subscription will auto renew annually.
US$ 79
Tax calculation will be finalised during checkout.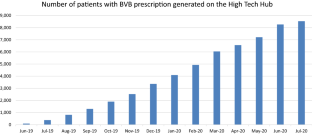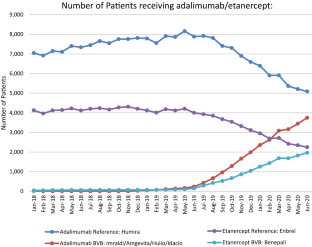 Availability of data and material
The data that support the findings of this study are available from the HSE-PCRS but restrictions apply to the availability of these data, which were used under licence for the current study, and so are not publicly available.
Code availability
Data analyses were carried out using custom code (SAS® 9.4) and Microsoft Excel.
Acknowledgements
We would like to acknowledge the HSE-PCRS for facilitating access to the data.
Funding
No specific funding was received for this research.
Conflicts of interest
The authors declare that they have no conflict of interest.
Additional information
Publisher's note
Springer Nature remains neutral with regard to jurisdictional claims in published maps and institutional affiliations.
About this article
Cite this article
Duggan, B., Smith, A. & Barry, M. Uptake of biosimilars for TNF-α inhibitors adalimumab and etanercept following the best-value biological medicine initiative in Ireland. Int J Clin Pharm (2021). https://doi.org/10.1007/s11096-021-01243-0
Received:

Revised:

Accepted:

Published:
Keywords
Biological medicines

Biosimilar medicines

Health technology management

TNF-α inhibitors