Abstract
Background Pharmacists have a key role to play in identifying and responding to emerging clinical problems with prescribed opioids. A pilot study in Australia examined the implementation of screening and brief intervention (Routine Opioid Outcome Monitoring [ROOM]) to identify and respond to opioid-related problems in community pharmacies. In this implementation study, the rate of screening varied considerably between pharmacies. Objective The aim of this study was to examine pharmacist characteristics associated with implementation of ROOM. Setting Community pharmacies in Victoria and New South Wales, Australia. Methods We implemented a validated computer-facilitated screening (ROOM), combined with brief intervention for opioid-related problems based on a widely accepted framework for monitoring outcomes. In this analysis, we examined the correlates of ROOM completion for individual pharmacists. Negative binomial regression was used to identify baseline predictors of greater screening, with the number of ROOM screens as the dependent (outcome) variable and pharmacist demographics, knowledge, confidence and comfort responding to prescription opioids problems, and attitudes towards evidence based practice examined as independent (predictor) variables. Main outcome measure Number of screens completed by an individual pharmacist as reported in follow-up surveys by pharmacist. Results Fewer years of practice was associated with a greater number of screenings conducted. On average, each additional decade of practice was associated with a 31% (95% CI 0%, 53%) reduction in the number of screenings undertaken by pharmacists. A multivariable analysis revealed that each additional decade practicing, lower knowledge of naloxone and lower confidence in identifying unmanaged pain were all independently associated with reduced engagement in screening after controlling for other variables. Conclusion Findings from this pilot study identified potential barriers to implementing opioid outcome monitoring. Further studies could test different groups of community pharmacists' experience of different barriers when implementing monitoring outcomes with prescribed opioids, to inform future implementation and clinical practice.
This is a preview of subscription content, log in to check access.
Access options
Buy single article
Instant access to the full article PDF.
US$ 39.95
Price includes VAT for USA
Subscribe to journal
Immediate online access to all issues from 2019. Subscription will auto renew annually.
US$ 99
This is the net price. Taxes to be calculated in checkout.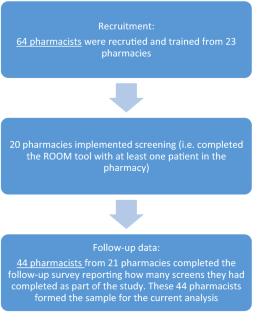 References
1.

Bohnert AB, Valenstein M, Bair MJ, et al. Association between opioid prescribing patterns and opioid overdose-related deaths. JAMA. 2011;305(13):1315–21.

2.

Fischer B, Jones W, Rehm J. High correlations between levels of consumption and mortality related to strong prescription opioid analgesics in British Columbia and Ontario, 2005–2009. Pharmacoepidemiol Drug Saf. 2013;22(4):438–42.

3.

Roxburgh A, Bruno R, Larance B, Burns L. Prescription of opioid analgesics and related harms in Australia. Med J Aust. 2011;195(5):280–4.

4.

Australian Institute of Health and Welfare (AIHW). Opioid harm in Australia and comparisons between Australia and Canada. Cat. no. HSE 210. Canberra: AIHW. 2018.

5.

Gourlay DL, Heit HA, Almahrezi A. Universal precautions in pain medicine: a rational approach to the treatment of chronic pain. Pain Med. 2005;6(2):107–12.

6.

Moullin JC, Sabater-Hernández D, Benrimoj SI. Model for the evaluation of implementation programs and professional pharmacy services. Res Soc Admin Pharm. 2016;12(3):515–22.

7.

Weir NM, Newham R, Dunlop E, Bennie M. Factors influencing national implementation of innovations within community pharmacy: a systematic review applying the Consolidated Framework for Implementation Research. Implement Sci. 2019;14(1):21.

8.

Guirguis LM, Lee S, Sanghera R. Impact of an interactive workshop on community pharmacists' beliefs toward patient care. Int J Clin Pharm. 2012;34(3):460–7.

9.

Hagemeier NE, Alamian A, Murawski MM, Pack RP. Factors associated with provision of addiction treatment information by community pharmacists. J Subst Abuse Treat. 2015;52:67–72.

10.

Nielsen S, Menon N, Larney S, Farrell M, Degenhardt L. Community pharmacist knowledge, attitudes and confidence regarding naloxone for overdose reversal. Addiction. 2016;111(12):2177–86.

11.

Michie S, Stralen M, West R. The behaviour change wheel: a new method for characterising and designing behaviour change interventions. Implement Sci. 2011;6:42.

12.

Murphy AL, Phelan H, Haslam S, Martin-Misener R, Kutcher SP, Gardner DM. Community pharmacists' experiences in mental illness and addictions care: a qualitative study. Subst Abuse Treat Prev Policy. 2016;11:6.

13.

Nielsen S, Picco L, Kowalski M, Sanfilippo P, Wood P, Larney S, et al. Routine opioid outcome monitoring in community pharmacy: Outcomes from an open-label single-arm implementation-effectiveness pilot study. Res Soc Admin Pharm. 2020. https://doi.org/10.1186/1748-5908-6-42.

14.

Nielsen S, Kowalski M, Wood P, Larney S, Bruno R, Shanahan M, et al. Routine opioid outcome monitoring in community pharmacy: pilot implementation study protocol. Res Soc Admin Pharm. 2019;15(8):1047–55.

15.

Nielsen S, Picco L, Middleton M, M. K, Bruno R. Validation of the Routine Opioid Outcome Monitoring (ROOM) screening tool in patients prescribed opioids for chronic pain. Lisbon Addictions Conference; Lisbon 2019.

16.

Krebs E, Lorenz K, Bair M, Damush T, Wu J, Sutherland J, et al. Development and Initial Validation of the PEG, a Three-item Scale Assessing Pain Intensity and Interference. J Gen Intern Med. 2009;24(6):733–8.

17.

Nielsen S, Picco L, Campbell G, Lintzeris N, Larance B, Farrell M, et al. Development of a brief patient-administered screening tool for prescription opioid dependence for primary care settings. Pain Med. 2020;21(2):e79–e88.

18.

Kroenke K, Spitzer RL, Williams JBW. The Patient Health Questionnaire-2: validity of a two-item depression screener. Med Care. 2003;41(11):1284–92.

19.

Smith PC, Schmidt SM, Allensworth-Davies D, Saitz R. Primary Care Validation of a Single-Question Alcohol Screening Test. J Gen Int Med. 2009;24(7):783–8.

20.

Aarons GA. Mental health provider attitudes toward adoption of evidence-based practice: the Evidence-Based Practice Attitude Scale (EBPAS). Ment Health Serv Res. 2004;6(2):61–74.

21.

R Core Team. R: A language and environment for statistical computing. Vienna: R Foundation for Statistical Computing; 2019.

22.

O'Reilly CL, Bell JS, Kelly PJ, Chen TF. Exploring the relationship between mental health stigma, knowledge and provision of pharmacy services for consumers with schizophrenia. Res Soc Admin Pharm. 2015;11(3):e101–e109109.

23.

Phokeo V, Sproule B, Raman-Wilms L. Community pharmacists' attitudes toward and professional interactions with users of psychiatric medication. Psychiatr Serv. 2004;55(12):1434–6.

24.

Lai Joyce Chun K, Olsen A, Taing MW, Clavarino A, Hollingworth S, Dwyer R, et al. How prepared are pharmacists to provide over-the-counter naloxone? The role of previous education and new training opportunities. Res Soc Admin Pharm. 2019;15(8):1014–20.

25.

Patel T, Chang F, Mohammed HT, Raman-Wilms L, Jurcic J, Khan A, et al. Knowledge, perceptions and attitudes toward chronic pain and its management: a cross-sectional survey of frontline pharmacists in Ontario, Canada. PLoS ONE. 2016;11(6):e0157151.

26.

Herndon CM, Strassels SA, Strickland JM, Kral LA, Craig DS, Nesbit SA, et al. Consensus recommendations from the strategic planning summit for pain and palliative care pharmacy practice. J Pain Symptom Manage. 2012;43(5):925-44.e1–925-44.e10.

27.

Stafford R, Thomas J, Payakachat N, Diemer T, Lang M, Kordsmeier B, et al. Using an array of implementation strategies to improve success rates of pharmacist-initiated medication therapy management services in community pharmacies. Res Soc Admin Pharm. 2017;13(5):938–46.

28.

Okoro O, Hillman L. HIV pre-exposure prophylaxis: exploring the potential for expanding the role of pharmacists in public health. J Am Pharm Assoc. 2018;58(4):412–20.e3.

29.

Moullin JC, Sabater-Hernández D, Benrimoj SI. Qualitative study on the implementation of professional pharmacy services in Australian community pharmacies using framework analysis. BMC Health Serv Res. 2016;16(1):439.

30.

Abbasi K. Knowledge, lost in translation. J Roy Soc Med. 2011;104(12):487.
Acknowledgements
The initial ROOM screening tool was developed with support from Central and Eastern Sydney Primary Health Network. We wish to acknowledge the pharmacists and pharmacy customers that contributed to the pilot implementation-effectiveness study, and members of the Adivsory Commitee for the study.
Funding
This work is supported by a Mindgardens Seedfunding Grant (UNSW) and a grant from WentWest. SN and SL are recipients of NHMRC Research Fellowships (#1163961, #1136944). We also acknowledge contributions from Victorian Pharmacotherapy Area Based Networks of Latrobe Community Health Service, Hume Area Pharmacotherapy Network—Primary Care Connect, Area Four Pharmacotherapy Network, Orticare Grampians Loddon Mallee Pharmacotherapy Network, Western Victoria PHN and Co-Health towards software development costs. The National Drug and Alcohol Research Centre at the University of New South Wales is supported by funding from the Australian Government under the Substance Misuse Prevention and Service Improvements Grant Fund. The contents of the published material are solely the responsibility of the authors and do not reflect the funding bodies.
Ethics declarations
Conflicts of interest
SN and SL are named investigators on untied educational grants from Indivior which are unrelated to this work. SN has received honoraria for providing training on identification and treatment of codeine dependence (Indivior). RB was a named investigator on an untied education grant from Mundipharma to conduct post-marketing surveillance on oxycodone. SN is a named investigator on research grants from Seqirus unrelated to this work.
Additional information
Publisher's Note
Springer Nature remains neutral with regard to jurisdictional claims in published maps and institutional affiliations.
Electronic supplementary material
Below is the link to the electronic supplementary material.
About this article
Cite this article
Nielsen, S., Sanfilippo, P., Picco, L. et al. What predicts pharmacists' engagement with opioid-outcome screening? Secondary analysis from an implementation study in community pharmacy. Int J Clin Pharm (2020). https://doi.org/10.1007/s11096-020-01074-5
Received:

Accepted:

Published:
Keywords
Community pharmacy

Implementation

Opioids

Overdose

Naloxone

Pharmacy practice

Australia