Perspectives on Physicochemical and In Vitro Profiling of Ophthalmic Ointments
Part of the following topical collections:
Abstract
Ophthalmic ointments are unique in that they combine features of topical drug delivery, the ophthalmic route and ointment (semisolid) formulations. Accordingly, these complex formulations are challenging to develop and evaluate and therefore it is critically important to understand their physicochemical properties as well as their in vitro drug release characteristics. Previous reports on the characterization of ophthalmic ointments are very limited. Although there are FDA guidance documents and USP monographs covering some aspects of semisolid formulations, there are no FDA guidance documents nor any USP monographs for ophthalmic ointments. This review summarizes the physicochemical and in vitro profiling methods that have been previously reported for ophthalmic ointments. Specifically, insight is provided into physicochemical characterization (rheological parameters, drug content and content uniformity, and particle size of the API in the finished ointments) as well as important considerations (membranes, release media, method comparison, release kinetics and discriminatory ability) in in vitro release testing (IVRT) method development for ophthalmic ointments.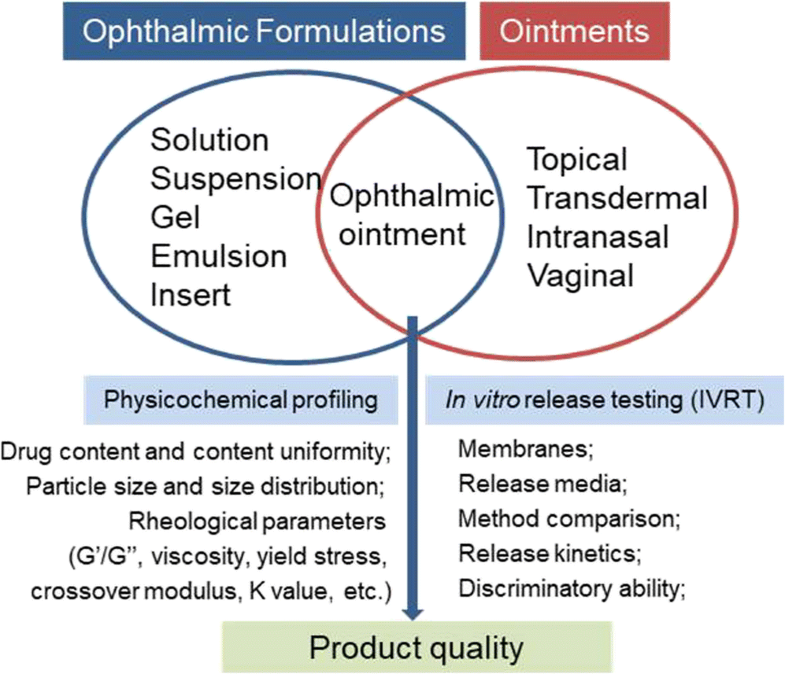 Key words
discriminatory ability 
in vitro release testing 
ophthalmic 
ointment 
particle size 
rheology 
semisolid 
topical 
Abbreviations
API

Active pharmaceutical ingredient

CA

Cellulose acetate

DoE

Design of Experiments

FDC

Franz diffusion cell

FTIR

Fourier-transform infrared

G'

Storage modulus

G"

Loss modulus

IVRT

In vitro release testing

MCE

Mixed cellulose ester

PES

Polyethersulfone

PDMS

Polydimethylsiloxane

PLM

Polarized light microscopy

PTFE

Polytetrafluoroethylene

PVDF

Polyvinylidene fluoride

PXRD

Powder X-ray Diffraction

Q1/Q2 equivalent

Qualitative and quantitative sameness

RLD

Reference listed drug

SDS

Sodium dodecyl sulfate

USP

US pharmacopeia

VDC

Vertical diffusion cell
Notes
Acknowledgements and Disclosures
Funding for this project was made possible by a Food and Drug Administration grant (1U01FD005177–01). The views expressed in this review do not reflect the official policies of the U.S. Food and Drug Administration or the U.S. Department of Health and Human Services; nor does any mention of trade names, commercial practices, or organization imply endorsement by the United States Government. Dissolution equipment support from Sotax Corporation is highly appreciated. The authors are grateful to Dr. Louis Tisinger (application specialist, Agilent Technologies) and Mr. Keegan A. McHose (product specialist, Agilent Technologies) for FTIR-imaging test support.
Copyright information
© Springer Science+Business Media, LLC, part of Springer Nature 2018