Matrix Metalloproteinase Responsive Delivery of Myostatin Inhibitors
Abstract
Purpose
The inhibition of myostatin - a member of the transforming growth factor (TGF–β) family - drives regeneration of functional skeletal muscle tissue. We developed a bioresponsive drug delivery system (DDS) linking release of a myostatin inhibitor (MI) to inflammatory flares of myositis to provide self-regulated MI concentration gradients within tissues of need.
Methods
A protease cleavable linker (PCL) – responding to MMP upregulation – is attached to the MI and site-specifically immobilized on microparticle surfaces.
Results
The PCL disintegrated in a matrix metalloproteinase (MMP) 1, 8, and particularly MMP-9 concentration dependent manner, with MMP-9 being an effective surrogate biomarker correlating with the activity of myositis. The bioactivity of particle-surface bound as well as released MI was confirmed by luciferase suppression in stably transfected HEK293 cells responding to myostatin induced SMAD phosphorylation.
Conclusions
We developed a MMP-responsive DDS for MI delivery responding to inflammatory flare of a diseased muscle matching the kinetics of MMP-9 upregulation, with MMP-9 kinetics matching (patho-) physiological myostatin levels.
ᅟ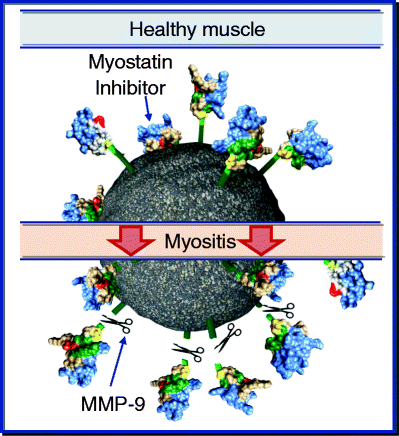 KEY WORDS
bioorthogonal chemistry 
bioresponsive drug delivery 
controlled release 
myostatin 
protease cleavable linker 
ABBREVIATIONS
ActRIIB

Activin receptor IIB

au

Arbitrary units

BCA

Bicinchoninic acid

BSA

Bovine serum albumin

CuAAC

Copper(I)-catalyzed azide-alkyne cycloaddition

DBCO

Dibenzocyclooctyne

DDS

Drug delivery system

DM

Differentiation medium

DMD

Duchenne muscular dystrophy

ECM

Extracellular matrix

EDC

1-Ethyl-3-(3dimethylaminopropyl)carbodiimide

Fmoc

N-α-(9-Fluorenylmethyloxycarbonyl)

GDF-8

Growth differentiation factor 8

HPLC

High-performance liquid chromatography

IGF-I

Insulin-like growth factor I

IL-1β

Interleukin 1β

MALDI-MS

Matrix-assisted laser desorption ionization mass spectrometry

MI

Myostatin inhibitor

MMP

Matrix metalloproteinase

MSTN

Myostatin

MyHC

Myosin heavy chain

NF-kB

Nuclear factor-kappa B

NHS

N-hydroxysuccinimide

PCL

Protease cleavable linker

PEG

Polyethylene glycol

PMMA

Poly(methyl methacrylate)

RLU

Relative light unit

RT-PCR

Real time polymerase chain reaction

SBE

SMAD binding element

SC

Satellite cell

SPAAC

Strain-promoted azide-alkyne cycloaddition

SPPS

Solid phase peptide synthesis

TG

Transglutaminase (human, fXIIIa)

TGF–β

Transforming growth factor beta

THPTA

Tris(3-hydroxypropyltriazolylmethyl)amine

TNF-α

Tumor necrosis factor α
Notes
ACKNOWLEDGMENTS AND DISCLOSURES
We thank Petra Knaus (Freie Universität Berlin, Germany) for providing us with the pGl3ti-SBE constructs and Melanie Krug for excellent technical assistance. We thank Dr. Joachim Nickel for providing C2C12 myoblast cells. The financial support of the Bavarian research foundation (grant # AZ-1044-12 'FORMOsA') and the Deutsche Forschungsgemeinschaft (DFG; ME 3820/3-1) are gratefully acknowledged. H.G. is full time associate of Gilyos GmbH.
Copyright information
© Springer Science+Business Media New York 2016