Novel Nanostructured Lipid Carrier Co-Loaded with Doxorubicin and Docosahexaenoic Acid Demonstrates Enhanced in Vitro Activity and Overcomes Drug Resistance in MCF-7/Adr Cells
ABSTRACT
Purpose
To develop a nanostructured lipid carrier (NLC) co-loaded with doxorubicin and docosahexaenoic acid (DHA) and to evaluate its potential to overcome drug resistance and to increase antitumoral effect in MCF-7/Adr cancer cell line.
Methods
The NLC was prepared by a hot homogenization method and characterized for size, zeta potential, entrapment efficiency (EE) and drug loading (DL). Drug release was evaluated by dialysis in complete DMEM, and NLC aggregation was assayed in the presence of serum. The cytotoxicity of formulations, doxorubicin uptake or penetration were evaluated in MCF-7 and MCF-7/Adr as monolayer or spheroid models.
Results
The formulation had a size of about 80 nm, negative zeta potential, EE of 99%, DL of 31 mg/g, a controlled drug release in DMEM and no particles aggregation in presence of serum. The NLC loaded with doxorubicin and DHA showed the same activity as free drugs against MCF-7 but a stronger activity against MCF-7/Adr cells. In monolayer model, the doxorubicin uptake as free and encapsulated form was similar in MCF-7 but higher for the encapsulated drug in MCF-7/Adr, suggesting a bypassing of P-glycoprotein bomb efflux. For spheroids, the NLC loaded with doxorubicin and DHA showed a prominent cytotoxicity and a greater penetration of doxorubicin.
Conclusions
These findings suggest that the co-encapsulation of doxorubicin and DHA in NLC enhances the cytotoxicity and overcomes the doxorubicin resistance in MCF-7/Adr.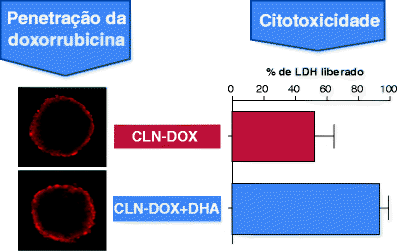 KEY WORDS
cancer therapy 
docosahexaenoic acid 
doxorubicin 
nanostructured lipid carrier 
resistance overcoming 
ABREVIATIONS
DDS

Drug delivery system

DHA

Docosahexaenoic acid

DL

Drug loading

DOX

Doxorubicin

EE

Entrapment efficiency

EPR

Enhanced permeability and retention

NE

Nanoemulsion

NLC

Nanostructured lipid carrier

PO

Peanut oil

SLN

Solid lipid nanoparticles

TEA

Triethanolamine
Notes
ACKNOWLEDGMENTS AND DISCLOSURES
This study was supported by "Minas Gerais State Agency for Research and Development" (FAPEMIG, Brazil) and by the Brazilian agencies. The authors wish to kindly thank Dr. William Hartner for his helpful advice in editing this manuscript. The authors state no conflict of interest and have received no payment in preparation of this manuscript. All authors have approved the final article.
Copyright information
© Springer Science+Business Media New York 2014