Abstract
There has been a surge in the growth of neo-Pentecostal churches in the Ghanaian context. These churches broadcast their activities through television and are able to reach many people and have mass followers. Their main activities are miracles, healing, prophecies, and teaching. Although studies have been conducted on their activities, little is known of how leaders of these churches influence their followers to adhere to their teachings and doctrines. The present paper explored mechanisms used by church leaders to compel members to be obedient to them and the potential implications on congregants' well-being, as well as their decision to either stay in or leave the church. Through a thematic analysis of interviews with 20 congregants, it emerged that the nature of the churches' doctrine, the activities, and the charisma of the leaders are able to influence congregants to remain in or leave the church and to enhance their self-beliefs. Strategies that compelled congregants to remain in the church included techniques that encouraged giving, lifestyle restrictions, reverence of and obedience to church leaders, recruitment of congregants, and spiritual cleansing/fortification. Strategies that inadvertently compelled congregants to leave the church included excessive monetary demands, rigid lifestyle demands, and repeated false or unconfirmed prophecies. A few mechanisms appeared to enhance the well-being of congregants by building self-efficacy and instilling positive lifestyle changes. Implications of the findings are discussed along with the impact of these mechanisms on congregants' well-being.
This is a preview of subscription content, log in to check access.
Access options
Buy single article
Instant access to the full article PDF.
US$ 39.95
Price includes VAT for USA
Subscribe to journal
Immediate online access to all issues from 2019. Subscription will auto renew annually.
US$ 99
This is the net price. Taxes to be calculated in checkout.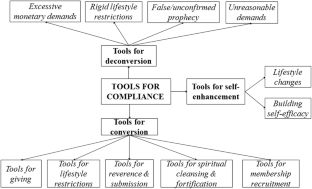 References
Amanor, K. J. D. (2009). Pentecostal and charismatic churches in Ghana and the African culture: Confrontation or compromise? Journal of Pentecostal Theology, 18(1), 123–140. https://doi.org/10.1163/174552509X442192.

Anderson, A. (2005). New African initiated Pentecostalism and charismatics in South Africa. Journal of Religion in Africa, 35(1), 66–92.

Arias, D., Taylor, L., Ofori-Atta, A., & Bradley, E. H. (2016). Prayer camps and biomedical care in Ghana: Is collaboration in mental health care possible? PLoS One, 11(9), 1–16. https://doi.org/10.1371/journal.pone.0162305.

Arthur, L. B. (1997). "Clothing is a window to the soul": The social control of women in a Holdeman Mennonite community. Journal of Mennonite Studies, 15, 11–30.

Asamoah, M. (2016). Leveraging the deliverance phenomenon: Penteco/charismatic vista. Journal of Religion & Health, 55, 1642–1664. https://doi.org/10.1007/s10943-016-0209-8.

Asamoah-Gyadu, J. K. (2004). Of faith and visual alertness: The message of "mediatized" religion in an African Pentecostal context. Material Religion, 1, 336–357.

Asamoah-Gyadu, J. K. (2005). African charismatics: Current developments within independent indigenous pentecostalism in Ghana. Leiden: E.J. Brill.

Asamoah-Gyadu, J. K. (2007). '"Get on the internet!" says the Lord': Religion, cyberspace and Christianity in contemporary Africa. Studies in World Christianity, 13(3), 225–242.

Braun, V., & Clarke, V. (2006). Using thematic analysis in psychology. Qualitative Research in Psychology, 3, 77–101. https://doi.org/10.1191/1478088706qp063oa.

Bryant, A. N. (2006). Assessing the gender climate of an evangelical student subculture in the United States. Gender and Education, 18, 613–634. https://doi.org/10.1080/09540250600980170.

Bryne, P. P. F. (2012). I believe: I can: The relationship between religiosity, general self-efficacy and locus of control. https://esource.dbs.ie/bitstream/handle/10788/462/dip_byrne-p_2012.pdf?sequence=1&isAllowed=y.

Cialdini, R. B., & Goldstein, N. J. (2004). Social influence: Compliance and conformity. Annual Review of Psychology, 55, 591–621. https://doi.org/10.1146/annurev.psych.55.090902.142015.

Creswell, J. W. (1998). Qualitative inquiry and research design: Choosing among five traditions. Thousand Oaks: Sage.

Dean, K. C. (2010). Almost Christian: What the faith of our teenagers is telling the American church. Oxford: Oxford University Press.

Garrard, D. J. (2017). Witchcraft and deliverance: An exaggerated theme in Pentecostal churches in Central Africa. Journal of the European Pentecostal Theological Association, 37, 52–67. https://doi.org/10.1080/18124461.2016.1258172.

Ghana Statistical Service. (2012). Population and housing census: Summary report of final results. Accra: Ghana Statistical Service.

Gifford, P. (1994). Ghana's charismatic churches. Journal of Religion in Africa, 24, 241–265.

Gifford, P. (2004). Ghana's new Christianity: Pentecostalism in a globalizing African economy. Bloomington: Indiana University Press.

Gifford, P. (2005). A view of Ghana's new Christianity. In L. Sanneh & J. A. Carpenter (Eds.), The changing face of Christianity, Africa, the west and the world (pp. 81–96). New York: Oxford University Press.

Gifford, P. (2007). Expecting miracles: Prosperity gospel in Africa (prosperity Pentecostalism). The Christian Century, 24, 20–25.

Golo, B. K. (2013). Africa's poverty and its neo-Pentecostal "liberators": An ecotheological assessment of Africa's prosperity gospellers. Pneuma, 35, 366–384. https://doi.org/10.1163/15700747-12341366.

Hackett, R. (2009). The new virtual (inter) face of African Pentecostalism. Society, 46, 496–503. https://doi.org/10.1007/s12115-009-9254-1.

Hackett, R. I. (1998). Charismatic/Pentecostal appropriation of media technologies in Nigeria and Ghana. Journal of Religion in Africa, 28, 258–277.

Hladky, K. (2012). Afro-Pentecostalism: Black Pentecostal and charismatic Christianity in history and culture. Church History, 81(4), 1020–1023. https://doi.org/10.1017/S0009640712002351.

Kalu, O. (2008). African Pentecostalism: An introduction. Oxford: Oxford University Press.

Koch, B. A. (2014). Who are the prosperity gospel adherents? Journal of Ideology, 36, 1–46.

Kpobi, L., Sarfo, E. A., & Yendork, J. S. (2017). "I'm here because of Christ and worshipping god…": Factors influencing religious switching among Ghanaian charismatic/neo-pentecostal Christians. Archive for the Psychology of Religion, 39(3), 295–311.

Larbi, E. K. (2015). Pentecostalism: The eddies of Ghanaian Christianity. Accra: Centre for Pentecostal and Charismatic Studies (CPCS).

Lauterbach, K. (2009). The craft of pastorship in Ghana and beyond. (Unpublished doctoral dissertation). Roskilde: University of Roskilde.

Martin, R. B. (1998). Teaching shepherds: Educational role, reflections, and research in pastoral ministry. (Doctoral dissertation). Available from Dissertation Abstracts International.

Mate, R. (2002). Wombs as God's laboratories: Pentecostal discourses of femininity in Zimbabwe. Africa, 72(4), 549–568.

Maxwell, D. (1998). "Delivered from the spirit of poverty?": Pentecostal, prosperity and modernity in Zimbabwe. Journal of Religion in Africa, 28, 350–373.

Maxwell, J. A. (2005). Qualitative research design: An interactive approach (2nd ed.). Thousand Oaks: Sage.

Maxwell, J. A. (2009). Designing a qualitative study. In L. Brinkman & D. J. Rog (Eds.), The sage handbook of applied social research methods (pp. 214–253). Thousand Oaks: Sage.

Michelman, S. O. (1997). Changing old habits: Dress of women religious and its relationship to personal and social identity. Sociological Inquiry, 67(3), 350–363.

Nkurunziza, C. (2013). Pentecostal spirituality: A disregarded cornerstone for the contextualisation of African theologies? Journal of Theology for Southern Africa, 145, 59–74.

Omenyo, C. N., & Arthur, W. A. (2013). The Bible says! Neo-prophetic hermeneutics in Africa. Studies in World Chritianity, 19(1), 50–70. https://doi.org/10.3366/swc.2013.0038.

Omu, O., & Reynolds, F. (2013). Religious faith and self-efficacy among stroke patients in Kuwait: Health professionals' views. Journal Disability and Rehabilitation, 36, 1529–1535. https://doi.org/10.3109/09638288.2014.892641.

Onyinah, O. (2002). Deliverance as a way of confronting witchcraft in modern Africa: Ghana as a case history. Asian Journal of Pentecostal Studies, 5, 107–134.

Paloutzian, R. F., Richardson, J. T., & Rambo, L. R. (1999). Religious conversion and personality change. Journal of Personality, 67, 1047–1079.

Peterson, E. H. (1987). Working the angles: The shape of pastoral integrity. Michigan: Wm. B. Eerdmans Publishing Company.

Anthony, D., & Robbins, T. (1982). Spiritual innovation and the crisis of American civil religion. Daedalus, 111(1), 215–234.

Quayesi-Amakye, R. D. J. (2015). Prophetic practices in contemporary Pentecostalism in Ghana. Canadian Journal of Pentecostal-Charismatic Christianity, 6(1), 43–69.

Salifu Yendork, J., Kpobi, L., & Sarfo, E. A. (2016). "It's only 'madness' that I know": Analysis of how mental illness is conceptualised by congregants of selected charismatic churches in Ghana. Mental Health, Religion & Culture, 19(9), 984–999.

Salifu Yendork, J., Brew, G. B., Sarfo, E. A., & Kpobi, L. (2019). Mental illness has multiple causes: Beliefs on causes of mental illness by congregants of selected neo-prophetic churches in Ghana. Mental Health, Religion & Culture. Advance online publication. https://doi.org/10.1080/13674676.2018.1511694.

Shenton, A. K. (2004). Strategies for ensuring trustworthiness in qualitative research projects. Education for Information, 22, 63–75. https://doi.org/10.3233/EFI-2004-22201.

Siew, Y. M. (2013). Pastor as shepherd-teacher: Insiders' stories of pastoral and educational imagination. Christian Education Journal: Research on Educational Ministry, 10(1), 48–70. https://doi.org/10.1177/073989131301000104.

Smyth, C. (2004). Submission to your elders. (Unpublished master's thesis). Reformed Theological Seminary, Charlotte. https://rts.edu/wp-content/uploads/2019/05/201408-Smyth-Clell.pdf.

Westerhoff, J. H., III, & Willimon, W. H. (1994). Liturgy and learning through the life cycle. In E. H. Peterson (Ed.), Working the angles: The shape of pastoral integrity (Rev. ed.). Grand Rapids: William B. Eerdmans 1987.
Additional information
Publisher's Note
Springer Nature remains neutral with regard to jurisdictional claims in published maps and institutional affiliations.
This work was supported by Nagel Institute for the Study of World Christianity, Calvin College under Grant 2016-SS360 with a generous donation from John Templeton Foundation.
About this article
Cite this article
Salifu Yendork, J., Amponsah, A., Sarfo, E.A. et al. "The Prophet Says…": A Qualitative Analysis of the Mechanisms for Inducing Compliance among Congregants of Neo-Pentecostal Churches in Ghana. Pastoral Psychol (2020). https://doi.org/10.1007/s11089-020-00908-3
Keywords
Neo-pentecostal churches

Compliance

Retention strategies

Mechanisms that foster desertion

Congregants