Abstract
In this paper, the transmission properties of a one-dimensional photonic crystal containing molybdenum disulfide (\(MoS_2\)) monolayers are studied theoretically using the transfer matrix method. The considered photonic crystal structure contains \(MoS_2\) monolayers, which are embedded between dielectric layers. It is found that the presence of \(MoS_2\) causes to creation of a new photonic band gap which is almost omnidirectional and also polarization insensitive. Besides, the spatial distribution of the tangential component of the electric field for a TE-polarized plane wave has been shown for some wavelengths. It is found that the behaviour of the waves from the \(MoS_2\) induced band gap is different from that of Bragg gaps. Finally, the Gaussian beam propagation inside and outside of the photonic crystal have been simulated using the finite element method for critical wavelengths and different incident angles which verify the behavior of field profiles.
Access options
Buy single article
Instant access to the full article PDF.
US$ 39.95
Tax calculation will be finalised during checkout.
Subscribe to journal
Immediate online access to all issues from 2019. Subscription will auto renew annually.
US$ 119
Tax calculation will be finalised during checkout.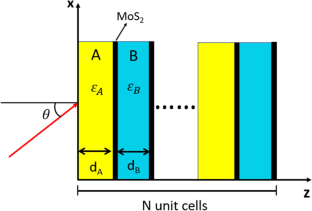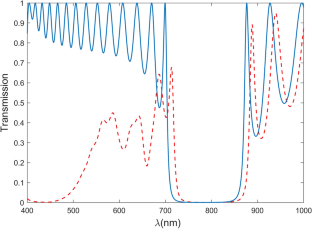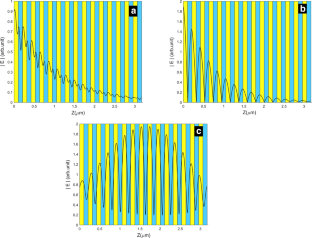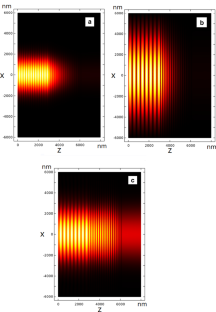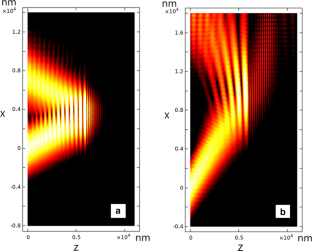 References
Ansari, N., Mohebbi, E.: Increasing optical absorption in one-dimensional photonic crystals including \(mos_2\) monolayer for photovoltaics applications. Opt. Mater. 62, 152–158 (2016)

Cai, W., Zhu, Y., Li, X., Piner, R.D., Ruoff, R.S.: Large area few-layer graphene/graphite films as transparent thin conducting electrodes. Appl. Phys. Lett. 95, 123115 (2009)

Chen, K., Zhou, X., Cheng, X., Qiao, R., Cheng, Y., Liu, C., Xie, Y., Yu, W., Yao, F., Sun, Z., et al.: Graphene photonic crystal fibre with strong and tunable light-matter interaction. Nat. Photon. 13, 754–759 (2019)

Choi, M., Park, Y.J., Sharma, B.K., Bae, S.R., Kim, S.Y., Ahn, J.H.: Flexible active-matrix organic light-emitting diode display enabled by \(MoS_2\) thin-film transistor. Sci. Adv. 4, eaas8721 (2018)

Entezar, S.R., Saleki, Z., Madani, A.: Optical properties of a defective one-dimensional photonic crystal containing graphene nanaolayers. Phys. B Condens. Matter 478, 122–126 (2015)

Estrada-Wiese, D., del Río-Chanona, E.A., Del Río, J.A.: Stochastic optimization of broadband reflecting photonic structures. Sci. Rep. 8, 1193 (2018)

Fang, X., Tian, Q., Yang, G., Gu, Y., Wang, F., Hua, B., Yan, X.: Enhanced absorption of monolayermolybdenum disulfide \(mos_2\) using nanostructures with symmetrical cross resonator in the visible ranges. Opt. Quantum Electron. 51, 21 (2019)

Feng, S., Elson, J., Overfelt, P.: Optical properties of multilayer metal-dielectric nanofilms with all-evanescent modes. Optics Express 13, 4113–4124 (2005)

Fujita, M., Takahashi, S., Tanaka, Y., Asano, T., Noda, S.: Simultaneous inhibition and redistribution of spontaneous light emission in photonic crystals. Science 308, 1296–1298 (2005)

Gan, X., Gao, Y., Mak, K.F., Yao, X., Shiue, R.J., Van Der Zande, A., Trusheim, M.E., Hatami, F., Heinz, T.F., Hone, J., et al.: Controlling the spontaneous emission rate of monolayer \(mos_2\) in a photonic crystal nanocavity. Appl. Phys. Lett. 103, 181119 (2013)

Geim, A.K.: Graphene: status and prospects. Science 324, 1530–1534 (2009)

Gong, F., Fang, H., Wang, P., Su, M., Li, Q., Ho, J.C., Chen, X., Lu, W., Liao, L., Wang, J., et al.: Visible to near-infrared photodetectors based on \(MoS_2\) vertical Schottky junctions. Nanotechnology 28, 484002 (2017)

Hieu, N.N., Ilyasov, V.V., Vu, T.V., Poklonski, N.A., Phuc, H.V., Phuong, L.T.T., Hoi, B.D., Nguyen, C.V.: First principles study of optical properties of molybdenum disulfide: from bulk to monolayer. Superlatt. Microstruct. 115, 10–18 (2018)

Joannopoulos, J.D., Johnson, S.G., Winn, J.N., Meade, R.D.: Photonic crystals: molding the flow of light (Press, edn. Princeton Univ 94–99, (2008)

Kadantsev, E.S., Hawrylakb, P.: Electronic structure of a single MoS2 monolayer. Solid State Commun. 152, 909–913 (2012)

Knight, J.C., Birks, T.A., Cregan, R.F., Russell, P., Sandro, J.: Photonic crystals as optical fibres-physics and applications. Opt. Mater. 11, 143–151 (1999)

Li, J., Chen, Z., Yang, H., Yi, Z., Chen, X., Yao, W., Duan, T., Wu, P., Li, G., Yi, Y.: Tunable broadband solar energy absorber based on monolayer transition metal dichalcogenides materials using Au nanocubes. Nanomaterials 10, 257 (2020)

Liu, J.T., Tong, H., Wu, Z.H., Huang, J.B., Zhou, Y.S.: Greatly enhanced light emission of \(mos_2\) using photonic crystal heterojunction. Sci. Rep. 7, 16391 (2017)

Lopez-Sanchez, O., Lembke, D., Kayci, M., Radenovic, A., Kis, A.: Ultrasensitive photodetectors based on monolayer \(mos_2\). Nat. Nanotechnol. 8, 497–501 (2013)

Lu, H., Gan, X., Mao, D., Fan, Y., Yang, D., Zhao, J.: Nearly perfect absorption of light in monolayer molybdenum disulfide supported by multilayer structures. Opt. Express 25, 21630–21636 (2017)

Madani, A., Entezar, S.R.: Optical properties of one-dimensional photonic crystals containing graphene sheets. Phys. B Condens. Matter 431, 1–5 (2013)

Mukherjee, B., Tseng, F., Gunlycke, D., Amara, K.K., Eda, G., Simsek, E.: Complex electrical permittivity of the monolayer molybdenum disulfide(\(mos_2\)) in near uv and visible. Opt. Mater. Express 5, 447–455 (2015)

Novoselov, K.S., Geim, A.K., Morozov, S.V., Jiang, D., Zhang, Y., Dubonos, S.V., Grigorieva, I.V., Firsov, A.: Electric field effect in atomically thin carbon films. Science 306, 666–669 (2004)

Ouyang, Q., Zeng, S., Dinh, X.-Q., Coquet, P., Yong, K.-T.: Sensitivity enhancement of \(MoS_2\) nanosheet based surface plasmon resonance biosensor. Proc. Eng. 140, 134–139 (2016)

Pumera, M.: Graphene-based nanomaterials for energy storage. Energy Environ. Sci. 4, 668–674 (2011)

Qin, C., Gao, Y., Qiao, Z., Xiao, L., Jia, S.: Atomic-layered \(mos_2\) as a tunable optical platform. Adv. Opt. Mater. 4, 1429–1456 (2016)

Shahil, K.M., Balandin, A.A.: Thermal properties of graphene and multilayer graphene: applications in thermal interface materials. Solid State Commun. 152, 1331–1340 (2012)

Shahriari, M., Dezfuli, A.G., Sabaeian, M.: Band structure and orbital character of monolayer MoS2 with eleven-band tight-binding model. Superlatt. Microstruct. 114, 169–182 (2018)

Soto-Puebla, D., Xiao, M., Ramos-Mendieta, F.: Optical properties of a dielectric-metallic superlattice: the complex photonic bands. Phys. Lett. A 326, 3–4 (2004)

Tu, L., Cao, R., Wang, X., Chen, Y., Wu, S., Wang, F., Wang, Z., Shen, H., Lin, T., Zhou, P., Meng, X., Hu, W., Liu, Q., Wang, J., Liu, M., Chu, J.: Ultrasensitive negative capacitance phototransistors. Nat. Commun. 11, 1–8 (2020)

Wang, Y., Shi, Z., Huang, Y., Ma, Y., Wang, C., Chen, M., Chen, Y.: Supercapacitor devices based on graphene materials. J. Phys. Chem. C 113, 13103–13107 (2009)

Wu, H.Q., Linghu, C.Y., Lu, H.M., Qian, H.: Graphene applications in electronic and optoelectronic devices and circuits. Chin. Phys. B 22, 098106 (2013)

Yeh, P., Yariv, A., Hong, C.-S.: Electromagnetic propagation in periodic stratified media. i. general theory. JOSA 67, 423–438 (1977)

Yin, Z., Li, H., Li, H., Jiang, L., Shi, Y., Sun, Y., Lu, G., Zhang, Q., Chen, X., Zhang, H.: Single-layer \(MoS_2\) phototransistors. ACS Nano 6, 74–80 (2011)

Yu, F., Hu, M., Kang, F., Lv, R.: Flexible photodetector based on large-area few-layer \(MoS_2\). Progr. Nat. Sci. Mater. Int. 28, 563–568 (2018)
Additional information
Publisher's Note
Springer Nature remains neutral with regard to jurisdictional claims in published maps and institutional affiliations.
About this article
Cite this article
Shiri, M., Madani, A. & Shaabani, N. Optical properties of molybdenum disulfide based photonic crystal. Opt Quant Electron 53, 105 (2021). https://doi.org/10.1007/s11082-020-02729-3
Received:

Accepted:

Published:
Keywords
MoS 2 monolayer

Photonic crystal

Photonic band gap