Abstract
In this work, new Cu2ZnSn(S1−x, Sex)4 (CZTSSe) solar cells consisting of two absorber layers with constant and graded bandgaps are proposed. CZTS and CZTSe are used as the constant bandgap absorbing layers of the first and second proposed cells, respectively. To validate the simulations, first, a graded bandgap CZTSSe-based cell containing AZO/ZnO/CdS/CZTSSe/MoSe2/Mo layers as the basic structure is investigated, revealing that the results are in good agreement with previous experimental data. The impact of varying acceptor doping concentration and temperature on the performance of proposed cells is investigated. The optimum thicknesses of the absorber layers are obtained in all cases. After optimization, maximum efficiencies of 20.99% and 21.37% are obtained for the first and second cells respectively which are significantly greater than the basic structure. The proposed structures provide higher open circuit voltage and short circuit current, compared to the basic structure.
This is a preview of subscription content, log in to check access.
Access options
Buy single article
Instant access to the full article PDF.
US$ 39.95
Price includes VAT for USA
Subscribe to journal
Immediate online access to all issues from 2019. Subscription will auto renew annually.
US$ 199
This is the net price. Taxes to be calculated in checkout.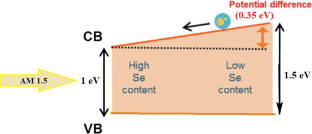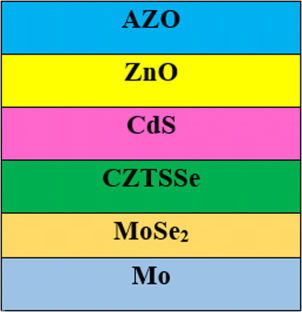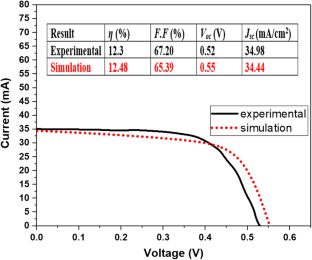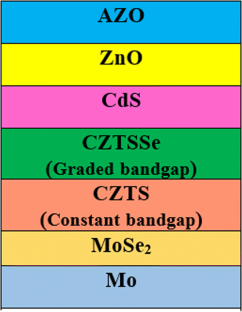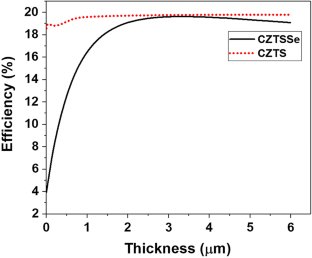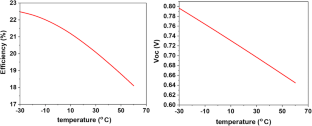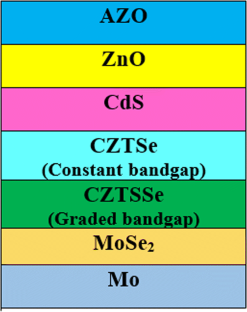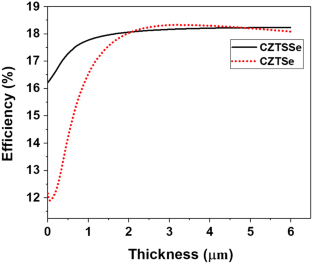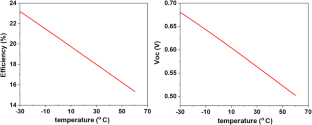 References
Adewoyin, A.D., Olopade, M.A., Chendoc, M.: Prediction and optimization of the performance characteristics of CZTS thin film solar cell using bandgap grading. Opt. Quant. Electron. 49, 1–13 (2017)

Altamura, G., Wang, M., Choy, K.-L.: Influence of alkali metals (Na, Li, Rb) on the performance of electrostatic spray-assisted vapor deposited Cu2ZnSn(S, Se)4 solar cells. Sci. Rep. 6, 1–9 (2016)

Amiri, S., Dehghani, S.: Design of highly efficient CZTS/CZTSe tandem solar cells. J. Electron. Mater. 49, 2164–2172 (2020)

Burgelman, M., Decock, K., Niemegeers, A., Verschraegen, J., Degrave, S.: SCAPS Manual. University Gent (2018)

Cao, Y., Denny, M.S., Jonathan, J., Caspar, V., Farneth, W.E., Guo, Q., Ionkin, A.S., Johnson, L.K., Lu, M., Malajovich, I., Radu, D., Rosenfeld, H.D., Choudhury, K.R., Wu, W.: High-efficiency solution-processed Cu2ZnSn(S, Se)4 thin-film solar cells prepared from binary and ternary nanoparticles. J. Am. Chem. Soc. 134, 15644–15647 (2012)

Chen, S., Walsh, A., Gong, X.-G., Wei, S.-H.: Classification of lattice defects in the kesterite Cu2ZnSnS4 and Cu2ZnSnSe4 earth-abundant solar cell absorbers. Adv. Mater. 25, 1522–1539 (2013)

Cherouana, A., Labbani, R.: Study of CZTS and CZTSSe solar cells for buffer layers selection. Appl. Surf. Sci. 424, 251–255 (2017)

Ferhati, H., Djeffal, F.: Graded band-gap engineering for increased efficiency in CZTS solar cells. Opt. Mater. 76, 393–399 (2018)

Gershon, T., Lee, Y.S., Mankad, R., Gunawan, O., Gokmen, T., Bishop, D., McCandless, B., Guha, S.: The impact of sodium on the sub-bandgap states in CZTSe and CZTS. Appl. Phys. Lett. 106, 1–5 (2015)

Gupta, G.K., Dixit, A.: Theoretical studies of single and tandem Cu2ZnSn(S/Se)4 junction solar cells for enhanced efficiency. Opt. Mater. 82, 11–20 (2018)

Haass, S.G., Andres, C., Figi, R., Schreiner, C., Bürki, M., Romanyuk, Y.E., Tiwari, A.N.: Complex interplay between absorber composition and alkali doping in high-efficiency kesterite solar cells. Adv. Energy Mater. 8, 1–9 (2018)

Hironiwa, D., Murata, M., Ashida, N., Tang, Z., Minemoto, T.: Simulation of optimum band-gap grading profile of Cu2ZnSn(S, Se)4 solar cells with different optical and defect properties. Jpn. J. Appl. Phys. 53, 1–9 (2014)

Hwang, D., Ko, B.S., Jeon, D.H., Kang, J.K., Sung, S.J., Yang, K.J., Nam, D., Cho, S., Cheong, H., Kim, D.H.: Single-step sulfo-selenization method for achieving low open circuit voltage deficit with band gap front-graded Cu2ZnSn(S, Se)4 thin films. Sol. Energy Mater. Sol. Cells 161, 162–169 (2017)

Jhuma, F.A., Shaily, M.Z., Rashid, M.J.: Towards high efficiency CZTS solar cell through buffer layer optimization. Mater. Renew. Sustain. Energy 8, 6–13 (2019)

Kato, T., Sakai, N., Sugimoto, H.: Efficiency improvement of Cu2ZnSn(S,Se)4 submodule with graded bandgap and reduced backside ZnS segregation. In: IEEE 40th Photovoltaic Specialist Conference (PVSC) (2014)

Kim, I., Kim, K., Oh, Y., Woo, K., Cao, G., Jeong, S., Moon, J.: Bandgap-graded Cu2Zn (Sn1−xGex) S4 thin-film solar cells derived from metal chalcogenide complex ligand capped nanocrystals. Chem. Mater. 26, 3957–3965 (2014)

Meher, S.R., Balakrishnan, L., Alex, Z.C.: Analysis of Cu2ZnSnS4/CdS based photovoltaic cell: a numerical simulation approach. Superlattices Microstruct. 100, 703–722 (2016)

Minbashi, M., Omrani, M.K., Memarian, N., Kim, D.H.: Comparison of theoretical and experimental results for Band-Gap-Graded CZTSSe Solar Cell. Curr. Appl. Phys. 17, 1238–1243 (2017)

Mohammadnejad, S., Prashkouh, A.B.: CZTSSe solar cell efficiency improvement using a new band-gap grading model in absorber layer. Appl. Phys. A 123, 1–9 (2017)

Patel, C., Ray, A.: Enhancement of output performance of Cu2ZnSnS4 thin film solar cells—a numerical simulation approach and comparison to experiments. Physica B 407, 4391–4397 (2014)

Romanyuk, Y.E., Haass, S.G., Giraldo, S., Placidi, M., Tiwari, D., Fermin, D.J., Hao, X., Xin, H., Schnabel, T., Kauk-Kuusik, M.: Doping and alloying of kesterites. J. Phys. Energy 1, 1–22 (2019)

Simya, O.K., Mahaboobbatcha, A., Balachander, K.: Compositional grading of CZTSSe alloy using exponential and uniform grading laws in SCAPS-ID simulation. Superlattices Microstruct. 92, 285–293 (2016)

Song, X., Ji, X., Li, M., Lin, W., Luo, X., Zhang, H.: A review on development prospect of CZTS based thin film solar cells. Int. J. Photoenergy 2014, 1–11 (2014)

Vallisree, S., Thangavel, R., Lenka, T.R.: Theoretical investigations on enhancement of photovoltaic efficiency of nanostructured CZTS/ZnS/ZnO based solar cell device. J. Mater. Sci. Mater. Electron. 29, 7262–7272 (2018)

Wanda, M.D., Ouedraogo, S., Tchoffo, F., Zougmore, F., Ndjaka, J.M.B.: Numerical investigations and analysis of Cu2ZnSnS4 based solar cells by SCAPS-1D. Int. J. Photoenergy 2016, 1–9 (2016)

Wang, W., Winkler, M.T., Gunawan, O., Gokmen, T., Todorov, T.K., Zhu, Y., Mitzi, D.B.: Device characteristics of CZTSSe thin-film solar cells with 12.6% efficiency. Adv. Energy Mater. 4, 1–5 (2014)

Woo, K., Kim, Y., Yang, W., Kim, K., Kim, I., Oh, Y., Kim, J.Y., Moon, J.: Band-gap-graded Cu2ZnSn (S1-x, Sex)4 solar cells fabricated by an ethanol-based particulate precursor ink route. Sci. Rep. 3, 1–7 (2013)

Yan, C., Huang, J., Sun, K., Johnston, S., Zhang, Y., Sun, H., Pu, A., He, M., Liu, F., Eder, K., Yang, L., Cairney, Y.M., Daukes, N.J., Hameiri, Z., Stride, J.A., Chen, S., Green, M.A., Hao, X.: Cu2ZnSnS4 solar cells with over 10% power conversion efficiency enabled by heterojunction heat treatment. Nat. Energy 3, 764–772 (2018)

Yang, K.J., Son, D.H., Sung, S.J., Sim, J.H., Kim, Y., Park, S.N., Jeon, D.H., Kim, J., Hwang, D.K., Jeon, C.W., Nam, D., Cheong, H., Kang, J.K., Kim, D.H.: A band-gap-graded CZTSSe solar cell with 12.3% efficiency. J. Mater. Chem. A 4, 10151–10158 (2016)
Additional information
Publisher's Note
Springer Nature remains neutral with regard to jurisdictional claims in published maps and institutional affiliations.
About this article
Cite this article
Amiri, S., Dehghani, S. & Safaiee, R. Theoretical study of graded bandgap CZTSSe solar cells with two absorber layers. Opt Quant Electron 52, 323 (2020). https://doi.org/10.1007/s11082-020-02441-2
Received:

Accepted:

Published:
Keywords
Bandgap grading

CZTSSe

SCAPS-1D

Thin-film solar cell