Abstract
A novel circular shaped metamaterial optical fiber with semiconductor core, metal/dielectric clad is numerically investigated. To surpass higher absorption loss and instability of noble metal, the core guiding medium of the fiber is comprised by crystalline germanium (Ge). The fiber is interrogated in terms of uniaxial permittivity, mode index, dispersion profile, effective area, nonlinearity, power fraction for different thickness (Cm = Cd, Cm > Cd, Cm < Cd) of Ag/Al2O3 using finite element method. In addition, it is shown how increased Ag/Al2O3 pair enhances optical properties especially for low loss which is reported as 0.025 dB/m with AMM cladding and 0.007 dB/m for layered cladding region. Hence, the proposed structure with comprising material is a promising candidate for mid-infrared applications.
This is a preview of subscription content, log in to check access.
Access options
Buy single article
Instant access to the full article PDF.
US$ 39.95
Price includes VAT for USA
Subscribe to journal
Immediate online access to all issues from 2019. Subscription will auto renew annually.
US$ 199
This is the net price. Taxes to be calculated in checkout.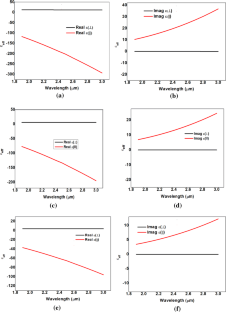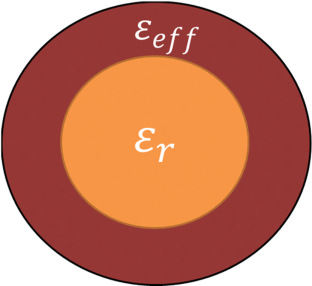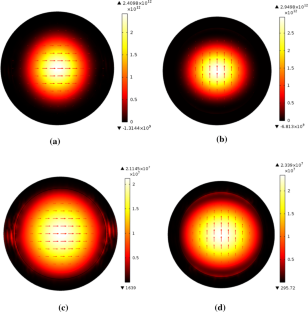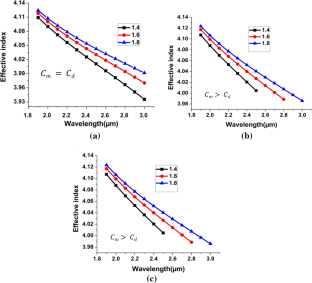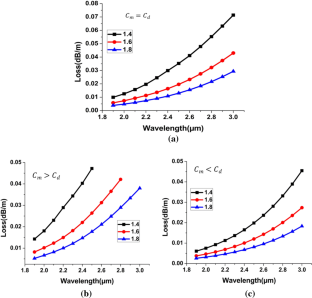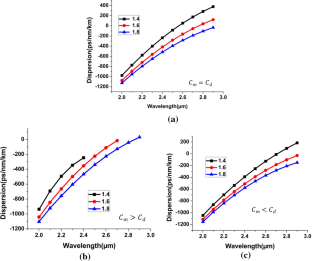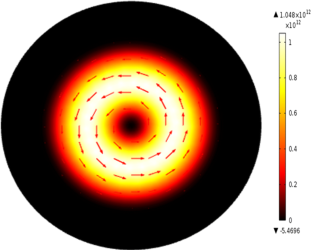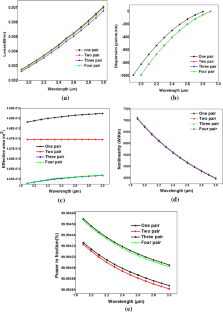 References
Atakaramians, S., Argyros, A., Fleming, S.C., Kuhlmey, B.T.: Hollow-core waveguides with uniaxial metamaterial cladding: modal equations and guidance conditions. J. Opt. Soc. Am. B: Opt. Phys. 29, 2462–2477 (2012)

Ballato, J., Hawkins, T., Foy, P., Yazgan-Kokuoz, B., McMillen, C., Burka, L., Morris, S., Stolen, R., Rice, R.: Advancements in semiconductor core optical fiber. Opt. Fiber Technol 16, 399–408 (2010)

Ballato, J., Hawkins, T., Foy, P., Morris, S., Hon, N.K., Jalali, B., Rice, R.: Silica-clad crystalline germanium core optical fibers. Opt. Express 21, 16690–16701 (2011)

Barati, M., Aghajamali, A.: Near-infrared tunable narrow filter properties in a 1D photonic crystal containing semiconductor metamaterial photonic quantum-well defect. Physica E 29, 20–25 (2016)

Bian, Y., Gong, Q.: Tuning the hybridization of plasmonic and coupled dielectric nanowire modes for high-performance optical waveguiding at sub-diffraction-limited scale. Sci. Rep. 4, 6617 (2014)

Cox, J.D., de Abajo, F.J.G.: Nonlinear atom-plasmon interactions enabled by nanostructured graphene. Phys. Rev. Lett. 121, 257403 (2018)

Desouky, M., Mahmoud, A.M., Swillam, M.A.: Tunable Mid IR focusing in InAs based semiconductor hyperbolic metamaterial. Sci. Rep. 10, 1–7 (2017)

Ding, P., Liang, E.J., Hu, W.Q., Zhang, L., Zhou, Q., Xue, Q.Z.: Numerical simulations of terahertz double-negative metamaterial with isotropic-like fishnet structure. Photonics Nanostruct. Fundam. Appl. 7, 92–100 (2009)

Haifeng, H., Ji, D., Zeng, X., Liu, K., Gan, Q.: Rainbow trapping in hyperbolic metamaterial waveguide. Sci. Rep. 3, 1249 (2013)

Hammani, K., Ettabib, M.A., Bogris, A., Kapsalis, A., Syvridis, D., Brun, M., Labeye, P., Nicoletti, S., Richardson, D.J., Petropoulos, P.: Optical properties of silicon germanium waveguides at telecommunication wavelengths. Opt. Express 21, 16690–16701 (2013)

Johnson, P.B., Christy, R.W.: Optical constants of the noble metals. Phys. Rev. B 6, 4370–4379 (1972)

Kieliszczyk, M., Janaszek, B., Tyszka-Zawadzka, A., Szczepanski, P.: Guided optical modes in metal-cladded tunable hyperbolic metamaterial slab waveguides. Crystals 10, 176 (2020)

Kolinko, P., Smith, D.R.: Numerical study of electromagnetic waves interacting with negative index materials. Opt. Express 11, 640–648 (2003)

Krishnamoorthy, H.N.S., Gholipour, B., Zheludev, N.I., Soci, C.: A non-volatile chalcogenide switchable hyperbolic metamaterial. Adv. Opt. Mater. 1800332, 1–6 (2018)

Kwon, D.-H., Werner, D.H., Kildishev, A.V., Shalaev, V.M.: Near-infrared metamaterials with dual-band negative-index characteristics. Opt. Express 15, 1647–1652 (2007)

Li, H.H.: Refractive index of silicon and germanium and its wavelength and temperature derivatives. J. Phys. Chem. Ref. Data 9, 1–98 (1980)

Lin, Y., Cui, Y., Ding, F., Fung, K.H., Ji, T., Li, D., Hao, Y.: Tungsten based anisotropic metamaterial as an ultra-broadband absorber. Opt. Mater. Express 7, 606–617 (2017)

Maas, R., Parsons, J., Engheta, N., Polman, A.: Experimental realization of an epsilon-near-zero metamaterial at visible wavelengths. Nat. Photonics 7, 907–912 (2013)

Mahalakshmi, P., Venkatesh, S., Sumathi, M., Yamunadevi, R., Ayyanar, N., Rajan, M.S.M.: Manipulating high birefringence in elliptical core meta fiber by varying metal/dielectric concentration of the framed AMM. Opt. Quantum Electron. 49, 202 (2017)

Mahalakshmi, P., Choudhury, P.K., Rajan, M.S.M., Sharma, M., Maheswar, R.: On the dual core anisotropic metamaterial clad polarization splitter. Optik 185, 1295–1302 (2019)

Molesky, S., Dewalt, C.J., Jacob, Z.: High temperature epsilon-near-zero and epsilon-near-pole metamaterial emitters for thermo photovoltaics. Opt. Express 21, 96–110 (2013)

Nayak, C., Aghajamali, A., Saha, A., Das, N.: Near- and mid-infrared bandgaps in a 1D photonic crystal containing superconductor and semiconductor-metamaterial. Int. J. Mod. Phys. B 33, 1–13 (2019)

Novitsky, A.V.: Negative-refractive-index fibres: TEM modes. J. Opt. A: Pure Appl. Opt. 8, 864–866 (2006)

Ordu, M., Guo, J., Ng Pack, G., Shah, P., Ramachandran, S., Hong, M.K., Ziegler, L.D., Basu, S.N., Erramilli, S.: Nonlinear optics in germanium mid-infrared fiber material: detuning oscillations in femtosecond mid-infrared spectroscopy. AIP Adv. 7, 095125 (2017a)

Ordu, M., Guo, J., Tai, B., et al.: Mid-infrared transmission through germanium-core borosilicate glass-clad semiconductor fibers. Opt. Mater. Express 7(9), 3107–3115 (2017b)

Palik, E.D.: Handbook of Optical Constants of Solids. Academic Press, San Diego (1998)

Pekka, A., Tretyakov, S.: Electromagnetic cloaking with metamaterials. Mater. Today 12, 22–29 (2009)

Seongmin, J., Lee, Y., Jeong, S., Kim, Y., Kim, I.-S., Ko, D.-K., Han, W.-T.: Effect of Ge nanoparticles in the core of photonic crystal fiber on supercontinuum generation. J. Nanomater. 6824059, 1–7 (2019)

Shekhar, P., Atkinson, J., Jacob, Z.: Hyperbolic metamaterials: fundamentals and applications. Nano Converg. 1, 14 (2014)

Smith, E.J., Liu, Z., Mei, Y., Schmidt, O.G.: Combined surface plasmon and classical waveguiding through metamaterial fiber design. Nano Lett. 10(1), 1–5 (2010)

Stefaniuk, T., Olivier, N., Belardini, A., McPolin, C.P.T., Sibilia, C., Wronkowska, A.A., Wronkowski, A., Szoplik, T., Zayats, A.V.: Self-assembled silver–germanium nanolayer metamaterial with the enhanced nonlinear response. Adv. Opt. Mater 5, 1700753 (2017)

Sui, K., Feng, X., Hou, Y., Zhang, Q., Qi, S., Wang, Y., Wang, P.: Glass-clad semiconductor germanium fiber for high-speed photodetecting applications. Opt. Mater. Express 7, 1211–1219 (2017)

Sun, L., Yang, X., Wang, W., Gao, J.: Diffraction-free optical beam propagation with near-zero phase variation in extremely anisotropic metamaterials. J. Opt. 17, 035101 (2015)

Tang, X., Kuhlmey, B.T., Stefani, A., Tuniz, A., Fleming, S.C., Agryros, A.: Electromagnetic wave propagation through air-core waveguide with metamaterial cladding. J. Lightwave Technol. 34, 5317–5324 (2016)

Taya, S.A., Alkanoo, A.A., Ramanujam, N.R., Mahalakshmi, P., Vigneswaran, D.: Photonic crystal with epsilon negative and double negative materials as an optical sensor. Opt. Quantum Electron 50, 222 (2018)

Vasilantonakis, N., Nasir, M.E., Dickson, W., Wurtz, G.A., Zayats, A.V.: Bulk plasmon-polaritons in hyperbolic nanorod metamaterial waveguides. Laser Photonics Rev. 9(3), 345–353 (2015)

Xiong, Y., Liu, Z., Sun, C., Zhang, X.: Two-dimensional imaging by far-field superlens at visible wavelengths. Nano Lett. 7(11), 3360–3365 (2007)

Yamunadevi, R., Raja, S.: Characteristics analysis of metamaterial based optical fiber. Opt. Int. J. Light Electron Opt. 127, 9377–9385 (2016)

Yan, M., Mortensen, N., Qiu, M.: Engineering modes in optical fibers with metamaterial. Front. Optoelectron. China 2, 153–158 (2009)

Zhang, Q., Jiang, T., Feng, Y.: Slow-light propagation in a cylindrical dielectric waveguide with metamaterial cladding. J. Phys. D Appl. Phys. 44, 475103 (2011)
Ethics declarations
Conflict of interest
The authors declare that they have no conflict of interest.
Additional information
Publisher's Note
Springer Nature remains neutral with regard to jurisdictional claims in published maps and institutional affiliations.
About this article
Cite this article
Mahalakshmi, P., Prakash, S.A. & Rajan, M.S.M. Design of germanium core with anisotropic metamaterial cladding optical fiber in mid-infrared range applications. Opt Quant Electron 52, 298 (2020). https://doi.org/10.1007/s11082-020-02415-4
Received:

Accepted:

Published:
Keywords
AMM cladding

Germanium

Uniaxial permittivity

Finite element method (FEM)