Abstract
This paper offers an empirical assessment of the geographical scope of multinational activity at the world level. With this objective, we estimate scope elasticities, which is the relationship between the productivity of the parent firm and the probability of operating abroad in different markets through subsidiaries with the same main activity. Elasticities are estimated for a baseline cross-section of 35 home countries that represent more than 70% of total outward FDI investment at the world level. At the aggregate level, the results indicate quite consistently, through various estimation methods, that a 10% increase in the productivity of the parent firm increases the probability in a range between 0.8–1.0%. Elasticities for manufacturing more than double the elasticities for the service sector. The paper also explores the heterogeneity of scope elasticities across home countries and sectors. This heterogeneity is related to differences across bilateral home-host country characteristics such as the size of the potential host market, bilateral distance and other factors such as institutional quality of host countries and cultural closeness. The signs attached to some of these factors are in general consistent with the predictions of models of firm heterogeneity and FDI activity.
We're sorry, something doesn't seem to be working properly.
Please try refreshing the page. If that doesn't work, please contact support so we can address the problem.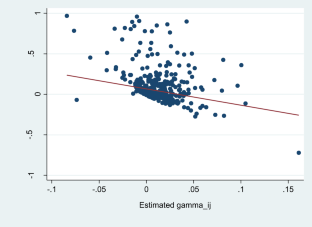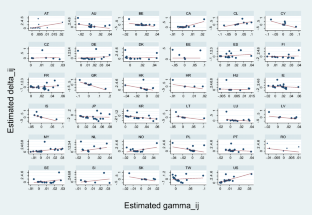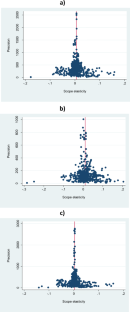 References
Ahmad I, Mahmood Z (2020) Firms' heterogeneity and margins of trade under uncertainty. J Int Trade Econ Dev 29(1):36–68

Aw B, Lee Y (2008) Firm heterogeneity and location choice of Taiwanese multinationals. J Int Econ 76:403–415

Berden K, Bergstrand JH, van Etten E (2014) Governance and globalisation. World Econ 37(3):353–386

Blonigen B (2005) A review of the empirical literature on FDI. NBER working paper 11299

Blonigen B, Piger J (2014) Determinants of foreign direct investment. Can J Econ 47(3):775–812

Brainard SL (1997) An empirical assessment of the proximity-concentration trade-off between multinational sales and trade. Am Econ Rev 87(4):520–544

Broll U, Wong KP (2006) Multinationals, hedging, and capital structure under exchange rate uncertainty. Open Econ Rev 17:103–114

Chen MX, Moore M (2010) Location decision of heterogeneous multinational firms. J Int Econ 80:188–199

Damijan J, Kostevc C, Rojec M (2016) Not every kind of outward FDI increases parent firm productivity: the case of new EU members. Emerg Mark Financ Trade 53(I):397–422

De Sousa J, Disdier A-C, Gaigné C (2020) Export decision under risk. European Economic Review 121:article 103345

Eaton J, Kortum S, Kramarz F (2011) An anatomy of Interantional trade from French firms. Econometrica 79(5):1453–1498

Fariñas JC, Martín-Marcos A, Velázquez FJ (2018) Multinational activity of European firms and heterogeneity. World Econ 41(1):1166–1195

Geishecker I, Görg H, Taglioni D (2009) Characterising euro area multinationals. World Econ 32(1):49–76

Görg H (2016) Multinational enterprises and host country development. In: World scientific studies in international economics: volume 53. World Scientific Publishing, Singapore

Greenaway D, Kneller R (2007) Firm heterogeneity, exporting and foreign direct investment. Economic Journal 117:134–161

Gullstrand J, Olofsdotter K, Thede S (2016) Importers, exporters and multinationals: exploring the hierarchy of international linkages. Open Econ Rev 27:495–514

Head K, Mayer T (2014) Gravity equations: workhorse, toolkits and cookbook. In: Gopinath G, Helpman E, Rogoff K (eds) Handbook of international economics, vol v. 4. Elsevier, Amsterdam, pp 131–196

Helpman E, Melitz M, Yeaple SR (2004) Export versus FDI with heterogeneous firms. Am Econ Rev 94:300–316

Hyun HJ, Hur J (2013) Who goes, where and how? Firms and country characteristics in the choice of FDI type and location. Asian-Pacific Econ Lit 27:2

Kalemli-Ozcan S, Sorensen B, Villegas-Sanchez C, Volosovych V, Yesiltas S (2015). How to construct nationally representative firm level data from the ORBIS Global Database. NBER Working Paper 21558

Kaufmann, D., A. Kraay & M. Mastruzzi (2010). The worldwide governance indicators methodology and analytical issues. Policy Research Working Paper 5430. The World Bank

Kleinert J, Toubal F (2010) Gravity for FDI. Rev Int Econ 18(1):1–13

Levinsohn J, Petrin A (2003) Estimating production functions using inputs to control for unobservables. Review of Economic Studies 70:2317–2341

Lewis LT (2014) Exports versus multinational production under nominal uncertainty. J Int Econ 94:371–386

Mayer T, Zignano S (2011). Notes on CEPII's distance measures: The GeoDist database. CEPII Working Paper 2011–25, December 2011

Melitz M (2003) The impact of trade on intra-industry reallocations and aggregate industry productivity. Econometrica 71:1695–1725

Mudambi R, Li L, Ma X, Makino S, Qian G, Boschma R (2018) Zoom in, zoom out: geographic scale and multinational activity. J Int Bus Stud 49:929–941

Nishiyama H, Tamaguchi M (2013) Technological constraints, firm heterogeneity and location choice of multinational firms. Rev Int Econ 21(5):996–1005

Oczkowski E, Doucouliagos H (2015) Wine prices and quality ratings: a meta-regression analysis. Am J Agric Econ 97(1):103–121

OECD (2005) OECD handbook on economic globalization indicators. OECD Publishing, Paris, France

Petrin A, Train K (2006). Control functions corrections for unobserved factors in differentiated models. www.researchgate.net/publication/24122507_Control_Function_Corrections_for_Unobserved_Factors_in_Differentiated_Product_Models

Petrin A, Train K (2010) A control function approach to Endogeneity in consumer choice models. J Mark Res 47(1):3–13

Pinto-Ribeiro S, Menghinello S, De Backer K (2010) The OECD ORBIS data base: responding to the need for firm-level micro-data in the OECD. In: OECD Statistics Working Papers 2010/1. OECD Publishing, Paris, France

Rao S (2012) Country risk indices. Technical report, Government and Social Development Resource Centre http://gsdrc.org/docs/open/hdq829.pdf

Shao Y, Shang Y (2016) Decisions of outward engagement and location for heterogeneous multinational firms: evidence from Chinese firms. Technol Forecast Soc Chang 12:178–187

Stanley TD (2005) Beyond publication bias. J Econ Surv 19(3):309–345

Stanley TD, Doucouliagos H (2012) Meta-regression analysis in economics and business. Routledge, Oxford, England

Stanley TD, Doucouliagos H (2017) Neither fixed nor random: weighted least squares meta-regression. Res Synth Methods 8:19–42

Tanaka A (2012) Firm productivity and the number of FDI destinations: evidence from a non-parametric test. Econ Lett 117:1–3

Tanaka A (2015) Firm heterogeneity and FDI in distribution services. World Econ 38(8):1295–1311

UNCTAD (2015a) World investment report 2015. United Nations, Geneva, Switzerland

UNCTAD (2015b). International trade in ICT services and ICT-enabled services: proposed indicators from the partnership on measuring ICT for development, Technical Note on ICT for Development, no. 3. Geneva: UNCTAD

United Nations (1999). Standard country or area codes for statistical use. Retrieved from: https://unstats.un.org/unsd/methodology/m49/

World Economic Forum (2011) The global competitiveness report, 2010–2011. WEF, Geneva, Switzerland

World Trade Organization (2018) World Trade Report:2018 Retrieved from: www.wto.org

Yeaple SR (2009) Firm heterogeneity and the structure of U.S. multinational activity. J Int Econ 78:206–215
Additional information
Publisher's Note
Springer Nature remains neutral with regard to jurisdictional claims in published maps and institutional affiliations.
Supplementary Information
About this article
Cite this article
Fariñas, J.C., Martín-Marcos, A. & Velázquez, F.J. The Geographical Scope of Multinational Firms and Heterogeneity. Open Econ Rev (2021). https://doi.org/10.1007/s11079-021-09618-6
Keywords
Geographical multinational activity

Scope elasticity

Firm heterogeneity
JEL Codes