Abstract
After the major Mexican earthquakes that took place in September 7 (8.2 Mw) and 19 (7.1 Mw), 2017, damage was assessed in the communities of Motozintla and Unión Juárez in the state of Chiapas, Huexca in Morelos, and Jolalpan in Puebla, Mexico. In these communities, as part of a previous research, the structural vulnerability was assessed before the occurrence of these two earthquakes. In this work, we validate the vulnerability maps previously generated by comparing them with the spatial distribution of the damaged houses. Our results indicate that the structural vulnerability maps identified some of the areas where most of the damage was concentrated. However, other regions not previously considered also registered a high number of damaged houses. We believe that the physical location of houses is another main factor that conditions the level of earthquake damage. Based on these findings, we updated the structural vulnerability maps developed for the four studied communities. We believe that these new maps provide a more accurate assessment of the vulnerable areas, where the high vulnerability zones are regions where most damage will take place. However, in the low vulnerability zones, where the expected damage is low, a small percentage of moderate and high damage can also occur. Our findings provide valuable additional elements for the development of integral comprehensive measures for reducing earthquake vulnerability and risk and for strengthening the local civil protection plans including retrofitting of structures, earthquake response plans, and disaster education.
Access options
Buy single article
Instant access to the full article PDF.
US$ 39.95
Tax calculation will be finalised during checkout.
Subscribe to journal
Immediate online access to all issues from 2019. Subscription will auto renew annually.
US$ 119
Tax calculation will be finalised during checkout.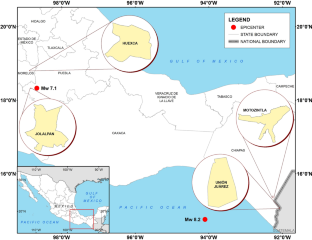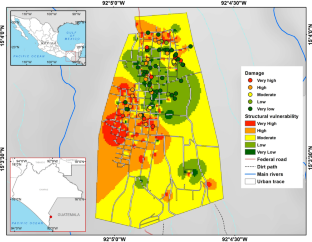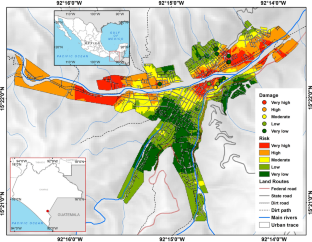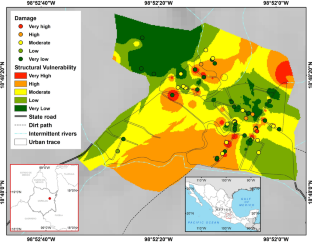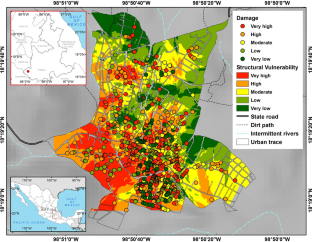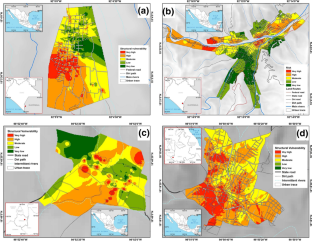 References
Bariola J, Sozen M (1990) Seismic tests of adobe walls. Earthq Spectra 6:37–56

Blondet M, Vargas J, Torrealva D, Tarque N, Velázquez J (2006) Seismic reinforcement of adobe houses using external polymer mesh. In: Proceeding of the First European conference on earthquake engineering and seismology, Switzerland

Burrough PA, Mcdonnell R (1998) Principles of geographical information systems. Oxford University Press, New York

Calvi GM, Pinho R, Magenes G, Bommer JJ, Restrepo-Vélez LF, Crowley H (2006) Development of seismic vulnerability assessment methodologies over the past 30 years. ISET J Earthq Technol 43:75–104

D'Ayala D, Meslem A, Vamvatsikos D, Porter K, Rossetto T, Silva V (2015) Guidelines for analytical vulnerability assessment of Low/Mid-Rise Buildings. Vulnerability Global Compon Proj. https://doi.org/10.13117/GEM.VULNMOD.TR2014.12A

Dickson E, Judy L, Horrnweg D, Tiwari A (2012) Urban risk assessments: Understanding Disaster and Climate Risk in Cities. Urban Development Series, World Bank, Washington

Gao X, Ji J (2014) Analysis of the seismic vulnerability and the structural characteristics of houses in Chinese rural areas. Nat Hazards 70:1099–1114

Guzman-Speziale M, Meneses-Rocha J (2000) The North America-Caribbean plate boundary west of the Motagua–Polochic fault system: a fault jog in Southeastern Mexico. J South Am Earth Sci 13:459–468

Instituto Nacional de Estadística, Geografía e Informática (National Institute of Statistics and Geography; INEGI) (2010): Censo de Población y Vivienda [Census of Population and Housing 2010] [Internet]. C2010. https://www.inegi.org.mx/temas/estructura/. Accessed November 2019)

Jenks GF (1967) The data model concept in statistical mapping. Int Year of Cartogr 7:186–190

Martinelli A, Cifani G, Cialone G, Corazza L, Petracca A, Petrucci G (2008) Building vulnerability assessment and damage scenarios in Celano (Italy) using a quick survey data-based methodology. Soil Dyn Earthq Engin. 28:875–889

Mendenhall W, Beaver RJ, Beaver BM (2005) Introduction to probability and statistics. Duxbury Press, Belmont

Moroni MO, Astroza M, Acevedo C (2004) Performance and seismic vulnerability of masonry housing types used in Chile. J Perform Constr Facil 18:173–179

Novelo-Casanova DA, Ponce-Pacheco A, Hernández-Hernández A, Juárez-Sánchez A, López-Pérez MI, Hernández-Bello MG, De la Vega-Flores O (2019) Seismic and flood structural risk in Motozintla, Chiapas. Mexico Nat Haz 95:721–737. https://doi.org/10.1007/s11069-018-3515-5

Novelo-Casanova DA, Rodriguez-Vangort F (2015) Flood risk assessment case study: Motozintla de Mendoza Chiapas Mexico. Geomat Nat Hazards Risk. https://doi.org/10.1080/19475705.2015.1089327

Novelo-Casanova DA, Suárez G (2010) Natural and man-made hazards in the Cayman Island. Nat Haz 55:441–466

Novelo-Casanova DA, Suárez G (2011) Exposure of main critical facilities to natural and man-made hazards in Grand Cayman. Cayman Islands Nat Haz 61:1277–1292

Novelo-Casanova DA (2019) Ponce-Pacheco A, Hernández-Hernández A, Juárez-Sánchez A, López-Pérez MI, Hernández-Bello MG, De La Vega-Flores O Seismic and flood structural risk in Motozintla, Chiapas, Mexico. Nat Haz 95:721–737. https://doi.org/10.1007/s11069-018-3515-5

Ordaz M, Singh SK (1992) Source spectra and spectral attenuation of seismic waves from Mexican earthquakes, and evidence of amplification in the hill zone of Mexico City. Bull Seismol Soc Am 82:24–43

Porter K, Farokhnia K, Vamvatsikos D, Cho IH (2014) Guidelines for component-based analytical vulnerability assessment of buildings and nonstructural elements. GEM Technical Report GEM Foundation, Pavia, Italy

Rashed T, Weeks J (2003) Assessing vulnerability to earthquake hazards through spatial multicriteria analysis of urban areas. Int J Geo-Inf 17:47–576

Rosseto T, Elnashai A (2003) Derivation of vulnerability functions for European-type RC structures based on observational data. Eng Struct 25:1241–1263

Servicio Sismológico Nacional. 2017a. Reporte especial. http://www.ssn.unam.mx/sismicidad/reportes-especiales/2017/SSNMX_rep_esp_20170907_Tehuantepec_M82.pdf

Servicio Sismológico Nacional. 2017b. Reporte especial. http://www.ssn.unam.mx/sismicidad/reportes-especiales/2017/SSNMX_rep_esp_20170919_Puebla-Morelos_M71.pdf

Universidad Nacional Autónoma de México (2018) (UNAM-2018 project) Estimación integral del riesgo por fenómenos de origen natural y desarrollo de la resiliencia ante los desastres. Caso de estudio: Unión Juárez, Chiapas. Project PAPIIT No. IN111217

United Nations International Strategy for Disaster Reduction: Terminology on disaster reduction (2009). https://www.unisdr.org/files/7817_UNISDRTerminologyEngish.pdf

White RA, Harlow DH (1993) Destructive upper-crustal earthquakes of Central America since 1900. Bull Seismol Soc Am 83:1115–1142

Yates DS, Moore DS, Starnes DS (2008) The practice of statistics. New York, W.H, Freeman and Company
Acknowledgements
We are grateful to an anonymous reviewer for his/her thoughtful review of this paper and for providing helpful recommendations. We appreciate the support of the local authorities and people of Unión Juárez, Motozintla, Huexca, and Jolalpan during our fieldworks. The National Autonomous University of Mexico under the Program to Support Research Projects and Technology Innovation funded this research (UNAM; PAPIIT Project No. IN111217).
Ethics declarations
Conflict of interest
The authors declare that they have no conflict of interest.
Additional information
Publisher's Note
Springer Nature remains neutral with regard to jurisdictional claims in published maps and institutional affiliations.
About this article
Cite this article
Novelo-Casanova, D.A., Ponce-Pacheco, A.B. & Hernández-Hernández, A. Structural vulnerability maps for small communities— case studies: Unión Juárez and Motozintla, Chiapas; Huexca, Morelos; and Jolalpan, Puebla, Mexico. Nat Hazards (2021). https://doi.org/10.1007/s11069-021-04619-7
Received:

Accepted:

Published:
Keywords
Structural vulnerability

Vulnerability

The September 2017 Mexico earthquakes

Earthquake damage assessment

Motozintla

Unión Juárez

Huexca

Jolalpan

Chiapas

Morelos

Puebla

México