Abstract
The sedimentation by check dam in the channel affects hydrological process. In this study, the effects of the sedimentation on the dynamic process of runoff and erosion power were investigated by dynamic coupling models (MIKE SHE model and MIKE 11 model). The study area was located in Wangmaogou watershed in the Loess Plateau of China. Four scenarios including no check dam and check dam with siltation depths of 0, 4 and 8 m were designed to study the reduction effectiveness of check dam on the hydrodynamic processes. The research showed that the silt dam not only reduced the total volume flow rate of floods but also increased the flood duration and delayed the occurrence of flood peaks. The siltation depths of the dam influenced the flow velocity and runoff shear stress. With deposition, the channel was longer in 8 m siltation compared with 0 and 4 m siltation. The shear force and unit runoff power were remarkably reduced in the scenario of 8 m siltation, followed by 4 m, and lastly by 0 m. The dam system can still vastly reduce the flow velocity along the channel in the full state and decrease the maximum flow velocity along the channel by more than 50%. The decrease in flow velocity was the main reason for the decrease in the sediment-carrying capacity of the runoff, which directly reduced the runoff erosion intensity. This study provides the scientific basis for understanding the regulation of check dam and sedimentation on hydrological process.
We're sorry, something doesn't seem to be working properly.
Please try refreshing the page. If that doesn't work, please contact support so we can address the problem.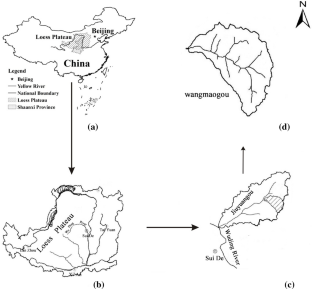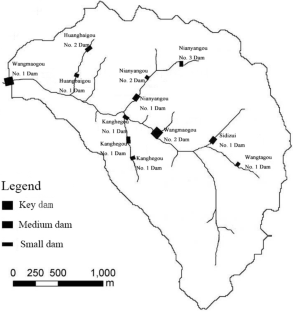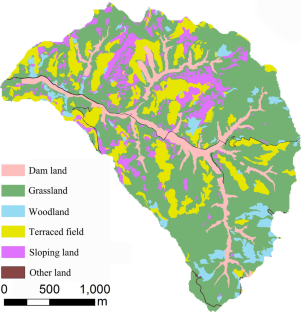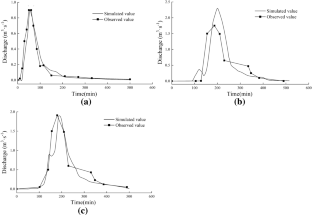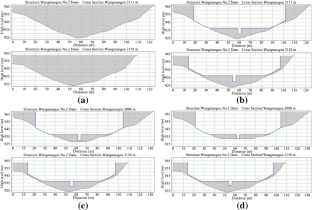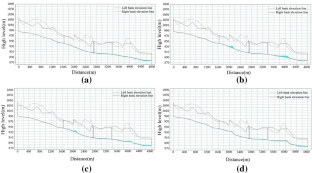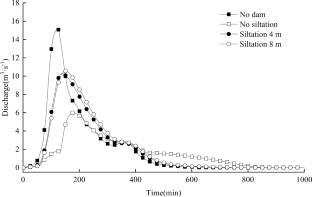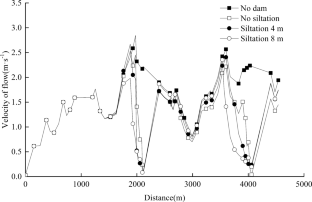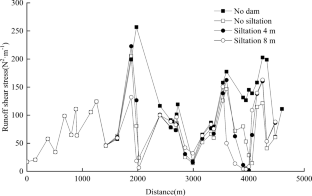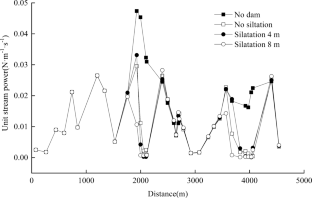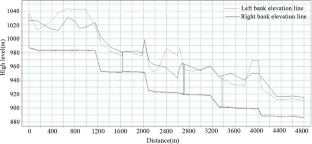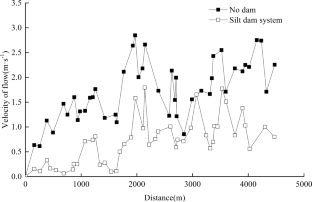 References
Ahmed ESMS, Mays LW (2013) Model for determining real-time optimal dam releases during flooding conditions. Nat Hazards 65(3):1849–1861

Boix-Fayos C, De Vente J, Martínez-Mena M, Barberá GG, Castillo V (2008) The impact of land use change and check-dams on catchment sediment yield. Hydrol Process 22(25):4922–4935

Butts MB, Payne JT, Kristensen M, Madsen H (2004) An evaluation of the impact of model structure on hydrological modelling uncertainty for streamflow simulation. J Hydrol 298(1–4):242–266

Castillo C, Pérez A, Rafael GJA (2014) A conceptual model of check dam hydraulics for gully control: efficiency, optimal spacing and relation with step-pools. Hydrol Earth Syst Sc 18(5):1705–1721

Castillo VM, Mosch WM, Conesa García C, Barberá GG, Navarro Cano JA, López-Bermúdez F (2007) Effectiveness and geomorphological impacts of check dams for soil erosion control in a semiarid Mediterranean catchment: El Cárcavo (Murcia, Spain). CATENA 70:416–427

Engman ET (1986) Roughness coefficients for routing surface runoff. J Irrig Drain Eng 112(1):39–53

Gao H, Li Z, Li P, Jia L, Zhang X (2012) Quantitative study on influences of terraced field construction and check-dam siltation on soil erosion. J Geogr Sci 22:946–960

Henriksen HJ, Troldborg L, Nyegaard P, Sonnenborg TO, Refsgaard JC, Madsen B (2003) Methodology for construction, calibration and validation of a national hydrological model for Denmark. J Hydrol 280(1–4):52–71

Hessel R, Jetten VG, Liu B, Zhang Y (2003) Calibration of the LISEM model for a small Loess Plateau catchment. CATENA 54:235–254

Kang RS, Chacko E, Kaur D, Viadero R (2019) Silting patterns in the reservoirs of small-and medium-sized earthen check dams in humid subtropical monsoon regions. Earth Surf Proc Land 44(13):2638–2648

Kondolf GM, Piégay H, Landon N (2002) Channel response to increased and decreased bedload supply from land use change: contrasts between two catchments. Geomorphology 45(1):35–51

Manuel EL, Demetrio AZ, Marco DHG, Yang Y, Alejandro CH, Xu X, Bruno GC, Mary N, Artemio C (2018) Exploring the influence of vegetation cover, sediment storage capacity and channel dimensions on stone check dam conditions and effectiveness in a large regulated river in México. Ecol Eng 122:39–47

Mekonnen M, Keesstra SD, Stroosnijder L, Stroosnijder L, Baartman Jantiene EM, Maroulis J (2015) Soil conservation through sediment trapping: a review. Land Degrad Dev 26(6):544–556

Mcmichael CE, Hope AS, Loaiciga HA (2006) Distributed hydrological modelling in California semi-arid shrublands: MIKE SHE model calibration and uncertainty estimation. J Hydrol 317(3–4):307–324

Madsen H (2003) Parameter estimation in distributed hydrological catchment modelling using automatic calibration with multiple objectives. Adv Water Resour 26(2):205–216

Moriasi DN, Arnold G, Kuijk M, Bingner R, Harmel RD, Veith T (2007) Model evaluation guidelines for systematic quantification of accuracy in watershed simulations. T Asabe 50(3):885–900

Miao C, Ni J, Borthwick AGL (2010) Recent changes of water discharge and sediment load in the yellow river basin, china. Prog Phys Geog 34(4):541–561

Parsons AJ, Bracken L, Poeppl RE, Wainwright J, Keesstra SD (2015) Introduction to special issue on connectivity in water and sediment dynamics. Earth Surf Proc Land 40(9):1275–1277

Quiñonero-Rubio JM, Nadeu E, Boix-Fayos C, De Vente J (2016) Evaluation of the effectiveness of forest restoration and check-dams to reduce catchment sediment yield. Land Degrad Dev 27(4):1018–1031

Rahman M, Arya DS, Goel NK, Dhamy AP (2011) Design flow and stage computations in the Teesta River, Bangladesh, using frequency analysis and MIKE 11 modeling. J hydrol Eng 16(2):176–186

Rajendran S, Nasir S, Al Jabri K (2020) Mapping and accuracy assessment of siltation of recharge dams using remote sensing technique. Sci Rep-UK 10(1):1–19

Romero-Díaz A, Marín-Sanleandro P, Ortiz-Silla R (2012) Loss of soil fertility estimated from sediment trapped in check dams. South-eastern Spain Catena 99:42–53

Shi P, Feng ZH, Li P, Zhang X, Zhu T, Li Z, Xu G, Ren Z, Xiao L (2020a) Has "Grain for Green" threaten food security on the Loess Plateau of China? Ecosyst Health Sust 6(1):1709560

Shi P, Zhang Y, Zhang Y, Yu Y, Li P, Li Z, Xiao L, Xu G, Zhu T (2020b) Land-use types and slope topography affect the soil labile carbon fractions in the Loess hilly-gully area of Shaanxi. China Arch Agron Soil Sci 66(5):638–650

Shi P, Zhang Y, Ren Z, Yu Y, Li P, Gong J (2019) Land-use changes and check dams reducing runoff and sediment yield on the Loess Plateau of China. Sci Total Environ 664:984–994

Tatard L, Planchon O, Wainwright J, Nord G, Favis-Mortlock D, Silvera N, Ribolzi O, Esteves M, Huang CH (2008) Measurement and modeling of high resolution flow velocity data under simulated rainfall on a low-slope sandy soil. J Hydrol 348(1–2):1–12

Tian AP, Zhao G, Mu X, Wang F, Gao P, Mi Z (2013) Check dam identification using multisource data and their effects on streamflow and sediment load in a Chinese Loess Plateau catchment. J App Remote Sens 7(1):63–72

Vázquez RF, Feyen L, Feyen J, Refsgaard JC (2002) Effect of grid size on effective parameters and model performance of the MIKE-SHE code. Hydrol Process 16(2):355–372

Wang G, Qu J, Shuang R, Wang L, Zhang S (2012) Mechanism of siltation on check dam in West of Henan province. Adv Mater Res 610–613:1853–1858

Wei YH, He Z, Li YJ, Jiao JY, Zhao GG, Mu X (2016) Sediment yield deduction from check-dams deposition in the weathered sandstone watershed on the North Loess Plateau. China Land Degrad Dev 28(1):217–231

Wood EF, Sivapalan M, Beven K, Band L (1988) Effects of spatial variability and scale with implications to hydrologic modeling. J Hydrol 102(1):29–47

Xu XZ, Zhang HW, Zhang OY (2003) Development of check-dam systems in gullies on the Loess Plateau. China Environ Sci Policy 7(2):79–86

Xu XZ, Zhang HW, Wang GQ, Chen SC, Dang WQ (2008) An experimental method to verify soil conservation by check dams on the Loess Plateau. China Environ Monit Assess 159(1–4):293

Xevi E, Christiaens K, Espino A, Sewnandan W, Mallants D, Sørensen H, Feyen J (1997) Calibration, validation and sensitivity analysis of the MIKE-SHE model using the Neuenkirchen catchment as case study. Water Resour Manag 11(3):219–242

Yu Y, Zhao W, Martinez-Murillo J, Pereira P (2020) Loess Plateau: from degradation to restoration. Sci Total Environ 738:140206

Yuan D, Liu J, You Y, Liu D, Sun H, Zhang L, Zhou W (2018a) The siltation of debris flow behind check dam in the midstream of Bailong River. J Mt Sci-Engl 15:100–113

Yuan SL, Li ZB, Li P, Gao HD, Wang D, Zhang ZY (2018b) MIKE coupling model simulating the effect of silt dam on storm flood process in small watershed. Transact Chinese Soci Agric Eng 34(13):152–159 (in Chinese with English abstract)

Yuan S, Li Z, Li P, Xu G, Gao H, Xiao L, Wang F, Wang T (2019) Influence of check dams on flood and erosion dynamic processes of a small watershed in the Loss Plateau. Water 11(4):834

Zhang Y, Zhang X, Bi ZL, Yu Y, Shi P, Ren LJ, Shan ZX (2020) The impact of land use changes and erosion process on heavy metal distribution in the hilly area of the Loess Plateau. China Sci Total Environ 718:137305

Zhou ZX, Li J (2015) The correlation analysis on the landscape pattern index and hydrological processes in the Yanhe watershed, China. J Hydrol 524:417–426

Zhang HJ, Yan JP, Zhou LH, Xu XL, Liu XQ, Li P, Gao YF (2007) Preliminary study on the influence of silt dam on water resources in the Loess Plateau—a case study of the typical dam of Qiyuangou in Suide County. J Northwest Univ Nat Sci Ed 37(03):475–478 (in Chinese with English Abstract)

Zhang ZQ, Wang SG, Sun G, McNulty SG, Zhang HY, Li JL, Zhang ML, Klaghofer E, Strauss P (2008) Evaluation of the MIKE SHE model for application in the Loess Plateau. China J Am Water Resour As 44(5):1108–1120
Acknowledgements
This research was funded by the National Natural Science Foundation of China, grant number 42077073, 41601092; National Key Research and Development Program of China, grant number 2017YFC0504704; Natural Science Basic Research Plan in Shaanxi Province of China, grant number 2020JQ-621; Shaanxi Province Innovation Talent Promotion Project Technology Innovation Team, grant number 2018TD-037; Shaanxi Provincial Technology Innovation Guidance Project, grant number 2017CGZH-HJ-06.s. Thanks for data analysis by Baozhu Pan and Shijie Ding.
Additional information
Publisher's Note
Springer Nature remains neutral with regard to jurisdictional claims in published maps and institutional affiliations.
About this article
Cite this article
Feng, Z., Li, Z., Shi, P. et al. Impact of sedimentation by check dam on the hydrodynamics in the channel on the Loess Plateau of China. Nat Hazards (2021). https://doi.org/10.1007/s11069-021-04617-9
Received:

Accepted:

Published:
Keywords
Sedimentation

Loess plateau

Hydrodynamics

Check dam

Runoff erosion power

Dynamic model