Abstract
Based on different duration heavy rainfall data and the associated disaster situation, geographic information, socio-economic characteristics, river network density, and geological hazard-prone zoning of 109 stations in Shanxi Province in the past 38 years, a statistical analysis of different duration heavy rainfall events in Shanxi Province was carried out. In addition, a comprehensive risk zoning was performed using hierarchy analysis and weighted comprehensive evaluation methods. The results show that: (1) the spatial distribution of the extreme value indicates the following: the mountain area is larger than that of the basin, and the south is greater than the north and has a shorter time-effect and a stronger local distribution of the extreme value. Yuanqu County (YuanQ) has the highest concentration area of all different duration heavy rainfall events within 12 h. (2) Within 12 h., the occurrence frequency of different duration heavy rainfall has the spatial distribution characteristics of being higher in the south and lower in the north, higher in the mountain area than in the basin area, higher in the eastern mountain area than in the western mountain area, and obviously concentrated in the southeast. YuanQ is a high incidence area of short-duration heavy rainfall over 1 h. and 3 h., and Jincheng City (JinC) is a high incidence area of heavy rainfall over 6 h and 12 h.. (3) Severe precipitation with different durations occurs in July–August every year, and the frequency of hourly heavy rainfall is the highest. (4) The intra-day distributions of heavy rainfall over a period of 1 h., 3 h., and 12 h. are single-peak curves, with peaks at 18:00, 19:00 and 09:00, respectively; the intra-day distribution of heavy rainfall over 6 h. is a double peak curve, with peaks at 06:00 and 20:00. (5) The variation trend of the annual occurrence times of short-duration heavy precipitation is similar for 1 h, 3 h, and 6 h, and the growth rate is the highest in southeastern Shanxi Province. The variation trend of the occurrence times of heavy rainfall over 12-h. is different from that of 1-h., 3-h., and 6-h. short-duration heavy rainfall. The rate of growth is the largest in the eastern and western mountain areas of Shanxi Province. (6) The whole area of JinC, the east of Yuncheng City (YunC), and the southeast of Changzhi City (CZ) are the high-risk areas for all different duration heavy precipitation disaster-causing factors within 12 h. As the duration of heavy rainfall increases, the high-risk areas with respect to disaster factors in Linfen City (LF) and CZ increase. (7) JinC, YunC, and Liulin County (LL) are high-risk areas for the comprehensive risk of different duration heavy rainfall within 12 h, and LF and CZ districts increase the extent of high-risk areas with the increase in the duration of heavy precipitation.
Access options
Buy single article
Instant access to the full article PDF.
US$ 39.95
Tax calculation will be finalised during checkout.
Subscribe to journal
Immediate online access to all issues from 2019. Subscription will auto renew annually.
US$ 119
Tax calculation will be finalised during checkout.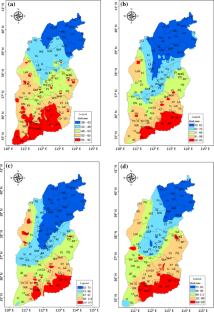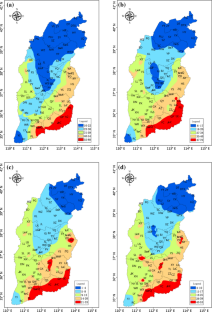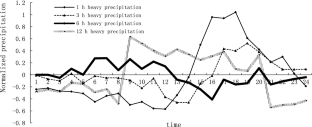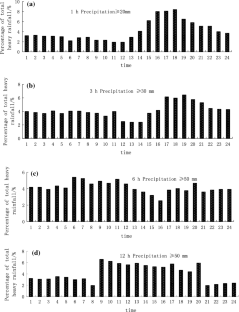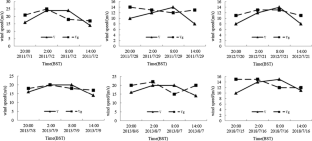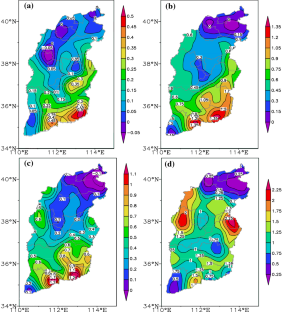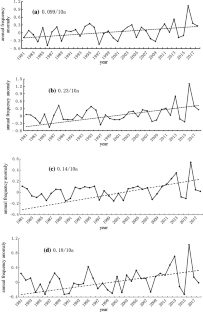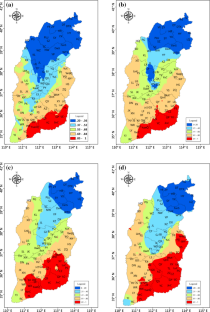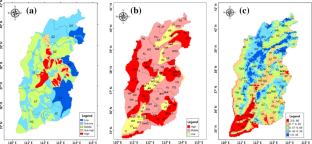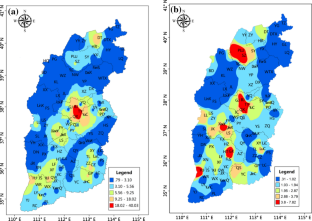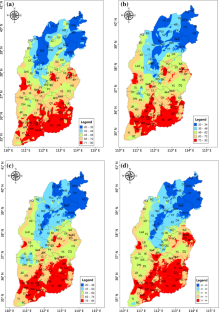 References
Bai X, Jin S, Wang S et al (2018) Temporal and spatial characteristics of short-term heavy rainfall in the east of Northwest China. J Desert Res 38(2):411–417

Blackadar AK (1957) Boundary layer wind maxima and their significance for the growth of nocturnal inversions. Bull Amer Meteorol Soc 38(5):283–290

Blenkinsop S, Lewis E, Chan SC, Fowler HJ (2017) Quality-control of an hourly rainfall dataset and climatology of extremes for the UK. Int J Climatol 37(2):722–740

Dapeng HUANG, Chuang LIU, Huajun FANG et al (2008) Assessment of waterlogging risk in Lixiahe region of Jiangsu Province based on AVHRR and MODIS image. Chin Geogra Sci 18(2):178–183

Deshpande NR, Kulkarni A, KrishnaKumar K (2012) Characteristic features of hourly rainfall in India. Int J Climatol 32(11):1730–1744

Guo Y, Jun Lu, Wen H et al (2012) Trend variation characteristics of short duration heavy rainfall events in Anhui Province in recent 49 years. Res Environ Yangtze Basin 21(9):1143–1147

Guo L, Zhang X, Liao Y et al (2013) Climatic characteristics of short-term heavy rainfall events in Hunan Province. J Catastrophol 28(2):76–80

Hattermann FF, Post J, Krysanova V (2009) Assessing uncertainty of water availatility in a central-Europ river basin(Elbe) under climate change. Adv clim Change Res 5(2):63–70

Karimi I, Hullermeier E (2007) Risk assessment system of natural hazards: a new approach based on fuzzy probability. Fuzzy Sets Syst 158(9):987–999

Karl-Heinz R (2006) Flood action plan of the River Rhine-Development and realization(In brief). Res Envir on Yangtze Basin 15(5):620

Korkmaz KA (2009) Earthguake disaster risk assessment and evaluation for Turkey. Environ Geol 57(2):307–320

Li J (2018) Hourly station-based precipitation characteristics over the Tibetan Plateau. Int J Climatol 38(3):1560–1570

Li H, Cui X, Zhang D-L (2017) A statistical analysis of hourly heavy rainfall events over the Beijing metropolitan region during the warm seasons of 2007–2014. Int J Climatol 37(11):4027–4042

Li D, Sun J, Shenming Fu et al (2016) Spatiotemporal characteristics of hourly precipitation over central eastern China during the warm season of 1982–2012. Int J Climatol 36(8):3148–3160

Liu Li, Li X, Xi G et al (2016) Spatial fuzzy clustering approach to characterize flood risk in urban storm water drainage systems. Nat Hazard 83(3):1469–1483

Otar V, Nino T, Avtandil A et al (2012) Vulnerability, hazards and multiple risk assessment for Georgia. Nat Hazards 64(3):2021–2056

Ou-Yang B, Chu CC, Da YB et al (2015) Highway flood disaster risk evaluation and management in China. Nat Hazard 75(2):381–397

Pandey AC, Singh SK. (2010) Nathawat MS.Waterlogging and flood hazards vulnerability and risk assessment in Indo Gangetic plain. Natural Hazards, 55(2): 273–289.

Rehan BM (2018) An innovative micro-scale approach for vulnerability and flood risk assessment with the application to property-level protection adoptions. Nat Hazards 91(3):1039–1057

Sang YK, Wang ZG, Liu CM (2013) What factors are responsible for the Beijing Storm. Nat Hazards 65(1):2399–2400

Shanxi Statistical Bureau, Shanxi Investigation Team of State Statistical Bureau (2016) Shanxi Statistical Yearbook [M]. China Statistical Publishing House, Beijing

Shanxi Statistical Bureau, Shanxi Investigation Team of State Statistical Bureau (2013) Shanxi Statistical Yearbook [M]. China Statistical Publishing House, Beijing

Shouraseni Sen Roy (2008) A spatial analysis of extreme hourly precipitation patterns in India. Int J Climatol 29:345–355

Sunyer MA, Gregersen IB, Rosbjerg D et al (2015) Comparison of different statistical downscaling methods to estimate changes in hourly extreme precipitation using RCM projections from ENSEMBLES. Int J Climatol 35(9):2528–2539

Wang C, Zhai P (2009) Changes of Precipitation Extremes in China's Large Cities. Clim Environ Res 14(5):553–560

Xiao C, Yuan W, Yu R (2018) Diurnal cycle of rainfall in amount, frequency, intensity, duration, and the seasonality over the UK. Int J Climatol. https://doi.org/10.1002/joc.5790

Xue D, Jia-ming Li, Hao-jian Z et al (2012) Research on computation methods of AHP weight vector and its applications. Math Pract and Theor 42(7):93–100

Yang W-Y, Li Z et al (2016) Better knowledge with more gauges? Investigation of the spatiotemporal characteristics of precipitation variations over the Greater Beijing Region. Int J Climatol 36(10):3607–3619

Yang P, Pen G, Hou W et al (2014) Spatial and diurnal characteristics of summer rainfall over Beijing Municipality based on a high-density AWS dataset. Int J Climatol 33(13):2769–2780

Ye X, Yao Z (2012) Study on evaluation of the rainstorm disaster in Fujian Province based on spectral clustering model with grey correlation analysis. Meteor Environ Res 3(6):45–49

Yihe ZHOU, Shi Y, Wang Y et al (1989) Shanxi weather forecast Handbook. Meteorological publishing house, Beijing

Yoshimatsu H, Abe S (2006) A review of landslide hazards in Japan and assessment of their susceptibility using an analytical hierar chic process(APP) method. Landslide 3(2):149–158

Zhai P, Wang C, Li W (2007) (2007) Observation of extreme precipitation events. Clim Change Res 3(3):144–148

Zhang QH, LAU KH, KUO YH et al (2010) A numerical study of a mesoscale convective system over the Taiwan Strait. Mon Wea Rev 131(6):1150–1170

Zhongyi SUN, Jiquan ZHANG, Zhang QI et al (2014) Integrated risk zoning of drought and waterlogging disasters based on fuzzy comprehensive evaluation in Anhui province. Chin Nat Hazards 71(3):1639–1657
Acknowledgements
This work is supported by the Key R&D Programs of Shanxi Province (201603D321125, 201803D31221) and Shanxi Meteorological Bureau Leading Talents Project (SXKLJTQ201510001). We thank LetPub (www.LetPub.com) for its linguistic assistance during the preparation of this manuscript.
Additional information
Publisher's Note
Springer Nature remains neutral with regard to jurisdictional claims in published maps and institutional affiliations.
About this article
Cite this article
Miao, A., Wang, H., Dong, C. et al. Statistical characteristics and risk zoning of different duration heavy rainfall in Shanxi. Nat Hazards (2021). https://doi.org/10.1007/s11069-021-04548-5
Received:

Accepted:

Published:
Keywords
Different duration heavy rainfall

Statistical characteristics

Risk zoning