Abstract
A high-resolution Finite-Volume Coastal Ocean Model (FVCOM) inundation model has been developed for Dartmouth Town near Apponagansett Bay and Clarks Cove. Series of modeling experiments were conducted for the purpose of: (1) Assess the potential impacts of the climate-induced Sea Level Rise (SLR) on the storm-induced coastal inundation in Dartmouth Town; (2) Compare the current patterns, wave fields and surge distributions under different dynamic forces including winds in different directions and wave-current interaction; (3) Evaluate the impact of the bank on the flooding protection. Results show that under the hundred-year nor'easter storm condition, the climate-induced SLR could significantly enlarge possible flooding areas with the percent area enlargement of approximately 60% per foot of SLR. The directions of wind essentially determine the feature of the current patterns, wave and surge distributions. The northeasterly and easterly winds mainly threaten the western coast of the bay and the estuarine areas, and the southerly and southeasterly winds endanger the regions around the inner part of the bay. Wave-current interaction can change the current pattern nearshore, including formation of eddies and narrow alongshore currents, greatly enhancing the strength and complexity of the currents near the mouth of the bay. In addition, wave-induced surge tends to accumulate in the bay and near the estuary and coastal regions. The bank blocks a large amount of flooding current and waves into the bay and improves the local current and wave condition effectively near the mouth and in the bay.
This is a preview of subscription content, log in to check access.
Access options
Buy single article
Instant access to the full article PDF.
US$ 39.95
Price includes VAT for USA
Subscribe to journal
Immediate online access to all issues from 2019. Subscription will auto renew annually.
US$ 199
This is the net price. Taxes to be calculated in checkout.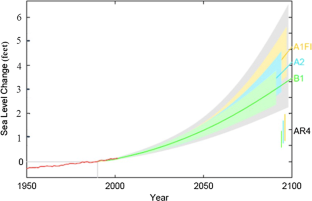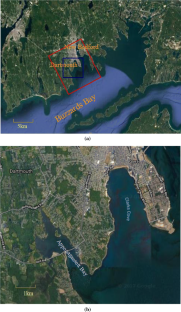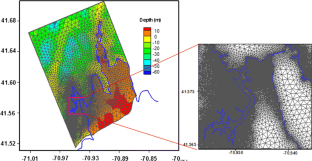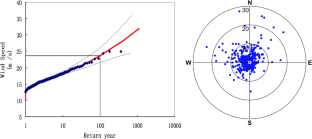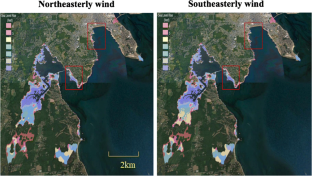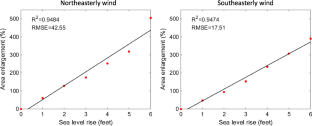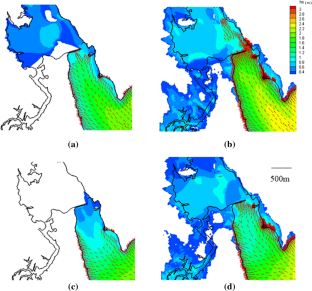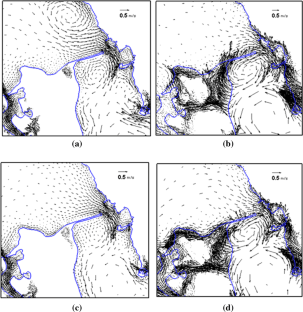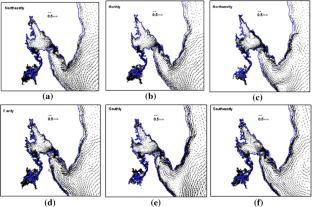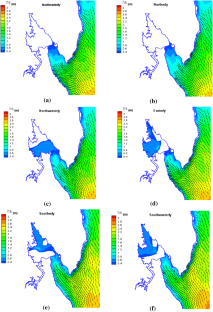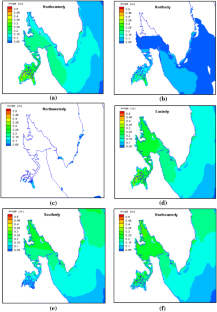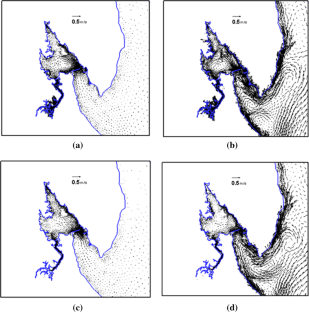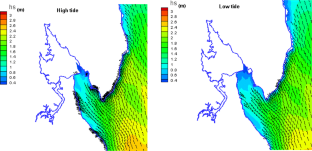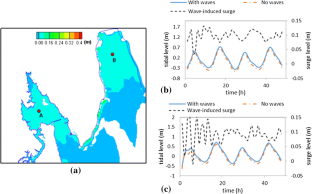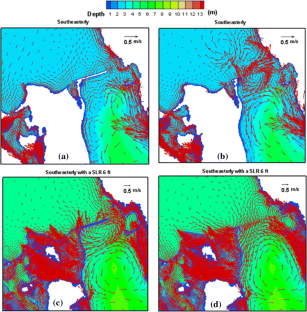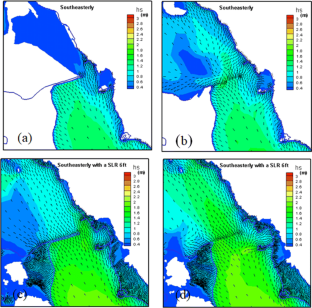 References
Beardsley RC, Chen C, Xu Q (2013) Coastal flooding in Scituate (MA): a FVCOM study of the Dec. 27, nor'easter. J Geophys Res. https://doi.org/10.1002/2013JC008862

Bernier N, Thompson KR (2006) Predicting the frequency of storm surges and extreme sea levels in the Northwest Atlantic. J Geophys Res 111:C10009. https://doi.org/10.1029/2005JC003168

Blake ES, Kimberlain TB, Berg RJ, Cangialosi JP, Beven JL. II, 2013. Hurricane Sandy: October 22–29, 2012, Tropical Cyclone Report, (February 12, 2013), National Hurricane Center, United States National Oceanic and Atmospheric Administration's National Weather Service

Burchard H (2002) Applied turbulence modeling in marine waters. Springer, Berlin, p 215

Butman B, Sherwood CR, Dalyander PS (2008) Northeast storms ranked by wind stress and wave-generated bottom stress observed in Massachusetts Bay, 1990–2006. Cont Shelf Res 28:1231–1245

Castelle B, Bonneton P, Senechal N, Dupuis H, Butel R, Michel D (2006) Dynamics of wave-induced currents over an alongshore non-uniform multiple-barred sandy beach on the Aquitanian Coast, France. Cont Shelf Res 26:113–131

Chen C, Liu H, Beardsley R (2003) An unstructured grid, finite-volume, three-dimensional, primitive equations ocean model: application to coastal ocean and estuaries. J. Atm. & Ocean Tech. 20(1):159–186

Chen C, Beardsley RC, Cowles G (2006a) An unstructured grid, finite-volume coastal ocean model (FVCOM) system. Oceanography 19:78–89. https://doi.org/10.5670/oceanog.2006.92

Chen C, Cowles G, Beardsley RC (2006b), An unstructured grid, finite-volume coastal ocean model: FVCOM user manual, 2nd ed., Tech. Rep. 06-0602, 315 pp., Univ. of Mass. Dartmouth, Fairhaven

Chen C, Huang H, Beardsley RC, Xu Q, Limeburner R, Cowles GW, Sun Y, Qi J, Lin H (2011) Tidal dynamics in the Gulf of Marine and New England Shelf: an application of FVCOM. J Geophys Res. 116:C12010. https://doi.org/10.1029/2011JC007054

Chen CRC, Beardsley RA, Luettich JJ Jr, Westerink H, Wang W, Perrie Q, Xu AS, Dohahue J, Qi H, Lin L, Zhao P, Kerr Y Meng, Toulany B (2013) IOOS/SURA extratropical storm inundation Testbed: inter-model (ADCIRC, FVCOM and SELFE) comparisons in Scituate, Massachusetts. J. Geophys Res. https://doi.org/10.1002/jgrc.20397

Freedman A, 2013 Blizzard of 2013 brings another threat: coastal flooding, Climate Central News published on February 8, 2013

Hellmer HH, Kauker F, Timmermann R, Determann J, Rae J (2012) Twenty-first-century warming of a large Antarctic ice-shelf cavity by a redirected coastal current. Nature 485:225–228

IPCC 2007: Climate Change 2007: The physical science basis. contribution of working group I to the Fourth Assessment Report of the Intergovernmental Panel on Climate Change [Solomon SD, Qin M, Manning Z, Chen M, Marquis KB, Averyt M Ignore, Miller HL (eds.)]. Cambridge University Press, Cambridge, United Kingdom and New York, NY, USA

Kobayashi MH, Pereira JMC, Pereira JCF (1999) A conservative finite-volume second-order-accurate projection method on hybrid unstructured grids. J Comput Phys 150:40–45

Lin N, Emanuel K, Oppenheimer M, Vanmarcke E (2012) Physical based assessment of hurricane surge threat under climate change. Nature Climate Change 2:462–467. https://doi.org/10.1038/ncclimate1389

McCown S 2008 "Perfect Storm" Damage Summary". National Climatic Data Center. National Oceanic and Atmospheric Administration. http://www.ncdc.noaa.gov/oa/satellite/satelliteseye/cyclones/pfctstorm91/pfctstdam.html

Mellor GL (2003) The three dimensional, current and surface wave equations. J Phys Oceanogr 33:1978–1989

Mellor GL (2008) The depth dependent current and wave interaction equations; a revision. J Phys Oceangr 38:2587–2596

Mellor GL, Yamada T (1982) Development of a turbulence closure model for geophysical fluid problem. Rev Geophys Space Phys 20:851–875

Nielson C, Apelt C (2003) The application of wave included forces to a two-dimensional finite element long wave hydrodynamic model. Ocean Eng 30:1233–1251

Oey L-Y (2006) An OGCM with movable land–sea boundaries. Ocean Modell. 13:176–195

Peng M, Xie L, Pietrafesa LJ (2006) A numerical study on hurricane-induced storm surge and inundation in Charleston Harbor, South Carolina. J Geophys Res. https://doi.org/10.1029/2004JC002755

Pieterzak J, Jakobson JB, Burchard H, Vested HJ, Petersen O (2002) A three-dimensional hydrostatic model for coastal and ocean modeling usuing a generalized topography following co-ordinate system. Ocean Model 4:173–205

Pritchard HD, Ligtenberg SRM, Fricker HA, Vaughan DG, van den Broeke MR, Padman L (2012) Antarctic ice-sheet loss driven by basal melting of ice shelves. Nature 484:502–505

Qi J, Chen C, Beardsley RC, Perrie W, Lai Z, Cowles G (2009) An unstructured-grid finite-volume surface wave model (FVCOM-SWAVE): implementation, validation and applications. Ocean Modell. 28:153–166

Rahmstorf S (2010) A new view on sea level rise. Nature 4:44–45

Sallenger AH Jr, Doran KS, Howd PA (2012) Hotspot of accelerated sea-level rise on the Atlantic coast of North America. Nat Clim Change 2:884–888. https://doi.org/10.1038/ncclimarte1597

Smagorinsky J (1963) General circulation experiments with the primitive equations, I. The basic experiment. Monthly Weather Rev 91:99–164

USA Today-30-October 2012. Sandy leaves millions without power: 15 dead

Vallee DR, Dion MR 2005. Hurricane Bob, Boston, MA National Weather Service, Retrieved 2011-07-12

Warner JC, Sherwood CR, Signell RP, Harris CK, Arango HG (2008) Development of a three-dimensional, regional, coupled wave, current, and sediment-transport model. Comput Geosci 34:1284–1306

Xie L, Liu H, Peng M (2008) The effect of wave–current interactions on the storm surge and inundation in Charleston Harbor during Hurricane Hugo 1989. Ocean Modell. 20:252–269

Zhang KQ, Douglas BC, Leatherman SP (2000) Twentieth-century storm activity along the US east coast. J Clim 13(10):1748–1761
Acknowledgement
The paper was supported by National Natural Science Foundation of China (Grant No. 41771421). In addition, the authors thank the two anonymous reviewers for their helpful suggestions. National Key R & D Program of China 2018YFB0505500, 2018YFB0505502, National Natural Science Foundation of China 41771421.
Additional information
Publisher's Note
Springer Nature remains neutral with regard to jurisdictional claims in published maps and institutional affiliations.
About this article
Cite this article
Zhang, Z., Chen, C., Song, Z. et al. A FVCOM study of the potential coastal flooding in apponagansett bay and clarks cove, Dartmouth Town (MA). Nat Hazards (2020). https://doi.org/10.1007/s11069-020-04102-9
Received:

Accepted:

Published:
Keywords
Coastal flooding

Inundation

Surge

Wave-current interaction

Sea level rise

Storm