Abstract
The prediction of dam-break water flow at dam site is essential to reduce the potential for loss of damage in the downstream floodplain. In this study, the influence of reservoir shapes (rectangular, trapezoidal and triangular wedge) on dam-break discharge hydrographs at a dam site was investigated to estimate the peak discharge and discharge hydrograph quickly. By assuming instantaneous and complete breaches to simplify the discharge process, a formula for the peak discharge and a simple analytical solution to the entire discharge hydrograph following a dam break at the dam site were generated. The discharge hydrograph at the dam site derived by the proposed mathematical model was validated through a comparison with the results calculated by the numerical simulation and other existing approaches. The outflow discharges calculated by both the mathematical and numerical model was very similar under the conditions of the three different reservoir shapes. The overall discharge hydrograph shape was mainly influenced by the length of the reservoir, while the magnitude of the outflow discharge was primarily affected by the initial water depth.
Access options
Buy single article
Instant access to the full article PDF.
US$ 39.95
Tax calculation will be finalised during checkout.
Subscribe to journal
Immediate online access to all issues from 2019. Subscription will auto renew annually.
US$ 119
Tax calculation will be finalised during checkout.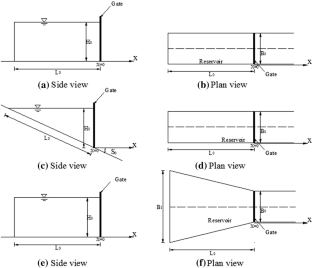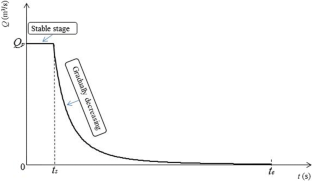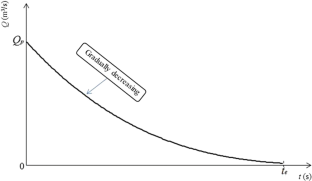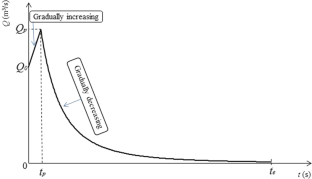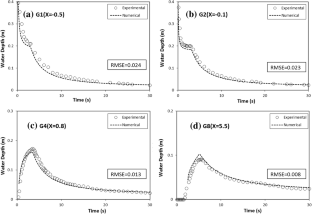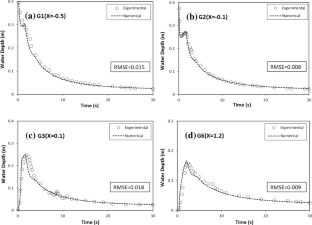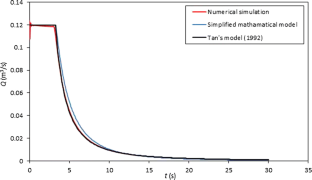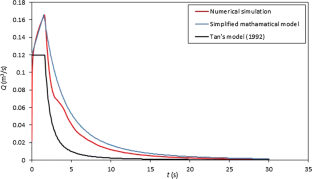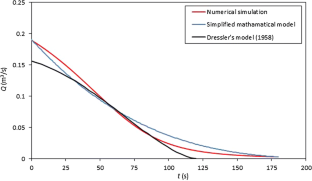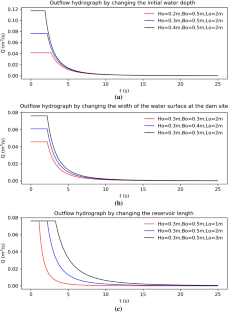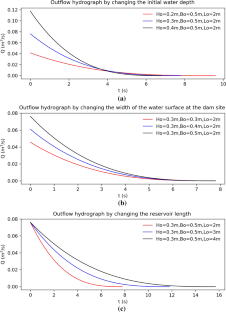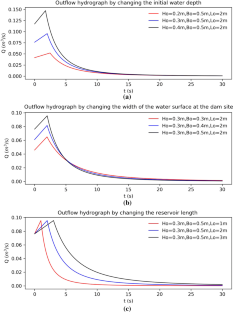 References
Aureli F, Maranzoni A, Mignosa P (2014) A semi-analytical method for predicting the outflow hydrograph due to dam-break in natural valleys. Adv Water Resour 63(2):38–44

Bellos CV, Soulis JV, Sakkas JG (1991) Computation of two-dimensional dam-break induced flows. Adv Water Resour 14(1):31–41

Chang TJ, Kao HM, Chang KH, Hsu MH (2011) Numerical simulation of shallow-water dam break flows in open channels using smoothed particle hydrodynamics. J Hydrol 408(1):78–90

Chanson H (2009) Application of the method of characteristics to the dam break wave problem. J Hydraul Res 47(1):41–49

Chinnarasri C, Jirakitlerd S, Wongwises S (2004) Embankment dam breach and its outflow characteristics. Civ Eng Environ Syst 21(4):247–264

Costa JE (1985) Floods from dam failures, U.S. Geological Survey Open-File Rep, No. 85-560, U.S. Geological Survey Denver, Colorado

DHI (2014) MIKE-3, hydrodynamic and transport module scientific documentation. Danish Hydraulic Institute, New Delhi

Dressler RF (1952) Hydraulic resistance effect upon the dam-break functions. J Res Nat Bur Stand 49(3):217–225

Dressler RF (1954) Comparison of theories and experiments for the hydraulic dam-break wave. Int As Sci Hydrol 38(3):319–328

Dressler RF (1958) Unsteady non-linear waves in sloping channels. Proc R Soc Lond 247(1249):186–198

Farhadi A, Mayrhofer A, Tritthart M, Glas M, Habersack H (2018) Accuracy and comparison of standard k–ϵ with two variants of k–ω turbulence models in fluvial applications. Eng Appl Comput Fluid 12(1):216–235

Fernandez-Feria R (2006) Dam-break flow for arbitrary slopes of the bottom. J Eng Math 54(4):319–331

Fraccarollo L, Toro EF (1995) Experimental and numerical assessment of the shallow water model for two-dimensional dam-break type problems. J Hydraul Res 33(6):843–864

Froehlich DC (1995) Peak outflow from breached embankment dam. J Fluid Mech 569(69):61–87

Hogg AJ (2006) Lock-release gravity currents and dam-break flows. J Fluid Mech 569(69):61–87

Hooshyaripor F, Tahershamsi A (2015) Effect of reservoir side slopes on dam-break flood waves. Eng Appl Comput Fluid 9(1):458–468

Hooshyaripor F, Tahershamsi A, Golian S (2014) Application of copula method and neural networks for predicting peak outflow from breached embankments. J Hydro Environ Res 8:292–303

Hou JM, Liang QH, Simons F, Hinkelmann R (2013) A 2D well-balanced shallow flow model for unstructured grids with novel slope source term treatment. Adv Water Resour 52(2):107–131

Hou JM, Liang QH, Zhang BH, Hinkelmann R (2015) An efficient unstructured MUSCL scheme for solving the 2D shallow water equations. Environ Modell Softw 66(c):131–152

Hunt B (1982) Asymptotic solution for dam-break problems. J Hydraul Div 108(1):115–126

Hunt B (1983) Asymptotic solution for dam break on sloping channel. J Hydraul Eng 109(12):1698–1706

Hunt B (1984) Perturbation solution for dam-break floods. J Hydraul Eng 110(8):1058–1071

Hunt B (1987) An inviscid dam-break solution. J Hydraul Res 1987(3):313–327

Kamrath P, Disse M, Hammer M, Köngeter J (2006) Assessment of discharge through a dike breach and simulation of flood wave propagation. Nat Hazards 38(1–2):63–78

Khankandi AF, Tahershamsi A, Soares-Frazão S (2012) Experimental investigation of reservoir geometry effect on dam-break flow. J Hydraul Res 50(4):376–387

Larocque LA, Imran J, Chaudhry MH (2013) Experimental and numerical investigations of two-dimensional dam-break flows. J Hydraul Eng 139(6):569–579

Lauber G, Hager WH (1998a) Experiments to dam-break wave: horizontal channel. J Hydraul Res 36(3):291–307

Lauber G, Hager WH (1998b) Experiments to dam-break wave: sloping channel. J Hydraul Res 36(5):761–773

Liang QH, Chen KC, Hou JM, Xiong T, Wang G, Qiang J (2016) Hydrodynamic modeling of flow impact on structures under extreme flow conditions. J Hydrodyn 28(2):267–274

Lobovsky L, Botia-Vera E, Castellana F, Mas-Soler J, Souto-Iglesias A (2014) Experimental investigation of dynamic pressure loads during dam break. J Fluid Struct 48:407–434

Mangeney A, Heinrich P, Roche R (2000) Analytical solution for testing debris avalanche numerical models. Pure Appl Geophys 157(6–8):1081–1096

Marsooli R, Wu W (2014) 3-D finite-volume model of dam-break flow over uneven beds based on VOF method. Adv Water Resour 70:104–117

Mohapatra PK, Bhallamudi SM (1996) Computation of a dam-break flood wave in channel transitions. Adv Water Resour 19(3):181–187

Oertel M, Bung DB (2012) Initial stage of two-dimensional dam-break waves: laboratory versus VOF. J Hydraul Res 50(1):89–97

Ozmen-Cagaty H, Kocaman S (2010) Dam-break flows during initial stage using SWE and RANS approaches. J Hydraul Res 48(5):603–611

Park IR, Kim KS, Kim J, Van SH (2012) Numerical investigation of the effects of turbulence intensity on dam-break flows. Ocean Eng 42(1):176–187

Pektas AO, Erdik T (2014) Peak discharge prediction due to embankment dam break by using sensitivity analysis based ANN. KSCE J Civ Eng 18(6):1868–1876

Peng M, Zhang LM (2012) Analysis of human risks due to dam-break floods—part 1: a new model based on Bayesian networks. Nat Hazards 64(1):903–933

Pilotti M, Tomirotti M, Valerio G (2010) Simplified method for the characterization of the hydrograph following a sudden partial dam break. J Hydraul Eng 136(10):693–704

Pilotti M, Tomirotti M, Valerio G, Milanesi L (2013) Discussion on experimental investigation of reservoir geometry effect on dam-break flow by A. Feizi Khankandi, A. Tahershamsi and S. Soares-Frazão. J Hydraul Res 51(2):220–222

Powledge G, Ralston DC, Miller P, Chen YH (1989) Mechanics of overflow erosion on embankments II. Hydraulic and design considerations. J Hydraul Eng 115(8):1056–1075

Ritter A (1892) Die Fortpflanzung der Wasserwellen (The propagation of water waves). Z Ver Dtsch Ing 36(33):947–954 (in German)

Saberi O, Zenz G (2015) Empirical relationship for calculate outflow hydrograph of embankment dam failure due to overtopping flow. Int J Hydraul Eng 4(3):45–53

Shigematsu T, Liu PLF, Oda K (2004) Numerical modeling of the initial stages of dam-break waves. J Hydraul Res 42(2):183–195

Stansby PK, Chegini A, Barnes TCD (1998) The initial stages of dam-break flow. J Fluid Mech 374(370):407–424

Stoker JJ (1957) Water waves: the mathematical theory with applications. Interscience Publishers, New York

Stoker JJ (1959) Numerical solution of flood wave and river regulations problems. Proc Am Philos Soc 103(4):548–553

Su ST, Barnes H (1970) Geometric and frictional effects on sudden releases. J Hydraul Div 96(11):2185–2200

Taher-Shamsi A, Ponce VM, Shetty AV (2003) Embankment dam breaching: geometry and peak outflow characteristics. Dam Eng 14(2):73–82

Tan ZH (1992) Analysis of dam break wave in a flat prismatic reservoir. J Hydraul Eng 4:39–47 (in Chinese)

Wahl TL (2010) Dam breach modeling-an overview of analysis methods. In: Joint federal interagency conference on sedimentation and hydrologic modeling, Las Vegas, June

Walder JS, O'Connor JE (1997) Methods for predicting peak discharge of floods caused by failure of natural and constructed earth dams. Water Resour Res 33(10):2337–2348

Wang J, Liang D, Zhang J, Xiao Y (2016) Comparison between shallow water and Boussinesq models for predicting cascading dam-break flows. Nat Hazards 83(1):327–343

Waterways Experiment Station (WES) (1960) Floods resulting from suddenly breached dams. Misc paper no. 2-374. Rep 1: conditions of minimum resistance. Rep. Prepared for U.S. Army Corps of Engineers, Vicksburg

Whitham GB (1955) The effects of hydraulic resistance in the dam-break problem. Proc R Soc Lond 227A:399–407

Xie RZ (1982) Computation for the discharge from the site of dam-break. Hydro Sci Eng 1:43–58 (in Chinese)

Xie RZ (1989) Dam hydralics. Shangdong Science and Technology Press, Jinan (in Chinese)

Xiong Y (2011) A dam break analysis using HEC-RAS. J Water Resour Prot 3(6):370–379

Xu F, Zhou H, Zhou J, Yang X (2012) A mathematical model for forecasting the dam-break flood routing process of a landslide dam. Math Probl Eng 2:857–868
Acknowledgements
This research was supported financially by the State Key Laboratory Base of Eco-hydraulic Engineering in Arid Area, China (Grant No. 2017ZZKT-5), the National Natural Science Foundation of China (Grant No. 51609197), CAS "Light of West China" Program (Grant No. XAB2016AW06) and the Xian Science and Technology Program (Grant No. SF1335).
Additional information
Publisher's Note
Springer Nature remains neutral with regard to jurisdictional claims in published maps and institutional affiliations.
About this article
Cite this article
Hu, H., Zhang, J., Li, T. et al. A simplified mathematical model for the dam-breach hydrograph for three reservoir geometries following a sudden full dam break. Nat Hazards 102, 1515–1540 (2020). https://doi.org/10.1007/s11069-020-03979-w
Received:

Accepted:

Published:

Issue Date:
Keywords
Instantaneous dam break

Peak discharge

Discharge hydrograph

Reservoir shape

A simple analytical solution