Abstract
Climate change-induced floods have diversified effects on the physical and economic system of the dwelling societies. These effects mainly hit agricultural livelihood and livestock ending up in poverty. These irreversible damages are associated with high magnitude and frequency of floods, which are common in the South Asian countries. Similarly, Pakistan was hit hard by 2010 floods which were biggest in history as affecting over 20 million people and causing loss of over US$ 10.85 billion. The devastations were extended to rural poor communities of north-western part of Malakand division in Khyber-Pakhtunkhwa province of Pakistan, which were studied in this research on deploying 500 questionnaires at household level. It was to evaluate the extend of damages to livelihood and economic status of locality. Furthermore, this study tried to analyse the rise in poverty level, compared to the situation before inundating event of 2010. The results of cross-tabulation and logistic regressions confirmed that 1% increase in floods led to 0.44%, 0.31% decrease in livelihood and economic status, respectively. It was also found 1% increase in flooding ended up in 1.947% increase in the poverty level at household level. Further, the loss of livelihood resulted in the economic losses due to damages to crops and livestock and caused rise in poverty. The poverty syndrome was coupled with loss of savings and borrowing of funds that further ruined the economic situation of the locality. Conclusively, the flooding was declared to have posed adverse impacts on sustainable livelihood provision and rise in poverty in the area as not yet addressed through any institutional/governmental intervention.
Access options
Buy single article
Instant access to the full article PDF.
US$ 39.95
Tax calculation will be finalised during checkout.
Subscribe to journal
Immediate online access to all issues from 2019. Subscription will auto renew annually.
US$ 119
Tax calculation will be finalised during checkout.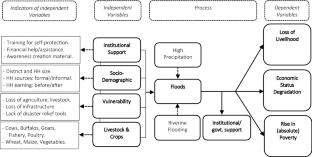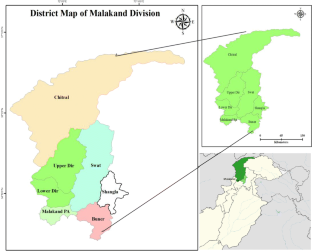 Notes
1.

This relatively low representation of the female was due to the fact that only 19 females appeared to be at home at the time of data collection so considered as HH representatives, which otherwise were males in 481 cases. However, they posed no effect on overall results as no gender segregated results were presented.
References
Ahmed SA, Diffenbaugh NS, Hertel TW (2009) Climate volatility deepens poverty vulnerability in developing countries. Environ Res Lett 4(3):034004

Anderson BR, Millan RM, Reeves GD, Friedel RHW (2015) Acceleration and loss of relativistic electrons during small geomagnetic storms. Geophys Res Lett 42(23):10–113

Armah FA, Yawson DO, Yengoh GT, Odoi JO, Afrifa EK (2010) Impact of floods on livelihoods and vulnerability of natural resource-dependent communities in Northern Ghana. Water 2(2):120–139

Asgary A, Anjum MI, Azimi N (2012) Disaster recovery and business continuity after the 2010 flood in Pakistan: Case of small businesses. Int J Disaster Risk Reduct 2:46–56

Atta-ur-Rahman (2010) Disaster risk management: flood perspective. VDM Verlag, Germany

Azam K, Yussof RBM (2012) Khan A (2012) The role of coping capacities in disaster perspective: a case of Pakistan flash floods. Int J Sust Dev 4(3):109–126

Bayaga A (2010) Multinomial Logistic Regression: Usage and Application in Risk Analysis. J Appl Quant Methods 5(2):2–10

Blaikie P, Cannon T, Davis I, Wisner B (2005) At risk: natural hazards, people's vulnerability and disasters. Routledge, Abingdon

Botzen WJW, Van Den Bergh JCJM (2009) Managing natural disaster risks in a changing climate. Environ Hazards 8(3):209–225

Brouwer R, Akter S, Brander L, Haque E (2007) Socioeconomic vulnerability and adaptation to environmental risk: a case study of climate change and flooding in Bangladesh. Risk Anal 27(2):313–326

Cash RA, Halder SR, Husain M, Islam MS, Mallick FH, May MA, Rahman MA (2013) Reducing the health effect of natural hazards in Bangladesh. The Lancet 382(9910):2094–2103

Chanda Shimi A, Ara Parvin G, Biswas C, Shaw R (2010) Impact and adaptation to flood: a focus on water supply, sanitation and health problems of rural community in Bangladesh. Disaster Prevent Manag Int J 19(3):298–313

Chau VN, Holland J, Cassells S, Tuohy M (2013) Using GIS to map impacts upon agriculture from extreme floods in Vietnam. Appl Geogr 41:65–74

Chaudhuri S, Jalan J, Suryahadi A (2002) Assessing household vulnerability to poverty from cross-sectional data: a methodology and estimates from Indonesia, vol 102, p 52. Discussion paper Discussion paper.

Cochran WG (1963) Sampling Techniques, 2nd edn. Wiley, New York

Collins ML, Kapucu N (2008) Early warning systems and disaster preparedness and response in local government. Disaster Prevent Manag Int J 17(5):587–600

Colten CE, Kates RW, Laska SB (2008) Community resilience: lessons from New Orleans and hurricane katrina. CARRI Report, vol 3, pp 2–4

Coninx I (2010) WWW questions on social flood impacts answered: what, why and who. Katholieke Universiteit Leuven, Leuven

Cook ER, Palmer JG, Ahmed M (2013) Five centuries of upper Indus River flow from tree rings. J Hydrol 486:365–375

Crane PK, Gibbons LE, Jolley L, van Belle G (2006) Differential item functioning analysis with ordinal logistic regression techniques: DIFdetect and difwithpar. Med Care 44:S115–S123

Cutter SL (1996) Vulnerability to environmental hazards. Prog Hum Geogr 20(4):529–539

Cutter SL, Boruff B, Shirley WL (2001) Indicators of social vulnerability to hazards. University of South Carolina Hazards Research Lab, Columbia

Cutter SL, Boruff BJ, Shirley WL (2003) Social vulnerability to environmental hazards. Soc Sci Q 84(2):242–261

Cutter SL, Mitchell JT, Scott MS (2000) Revealing the vulnerability of people and places: a case study of Georgetown County, South Carolina. Ann Assoc Am Geogr 90(4):713–737

Dilley M, Chen RS, Deichmann U (2005) Natural disaster hotspots: a global risk analysis. World Bank, Washington

Dow K (1992) Exploring differences in our common future (s): the meaning of vulnerability to global environmental change. Geoforum 23(3):417–436

FIFMTF (1992) Floodplain Management in the United States: An Assessment Report, colume 2: full report. Federal Interagency Floodplain Management Task Force. L. R Johnston Associates, Washington

Few R, Tran P (2010) Climatic hazards, health risk and response in Vietnam: case studies on social dimensions of vulnerability. Glob Environ Change 20(3):529–538

GoKP (2011) Flood Report 2010 irrigation and drainage authority. Government of Khyber Pakhtunkhwa, Peshawar

GoQ (2011) What are the consequences of floods? understanding floods, questions and answers. Government of Queensland, Brisbane

Gregory JM, Huybrechts P, Raper SC (2004) Threatened loss of the Greenland ice-sheet. Nature 428:616

Hedeker D (2003) A mixed-effects multinomial logistic regression model. Stat Med 22(9):1433–1446

Hirabayashi Y, Mahendran R, Koirala S (2013) Global flood risk under climate change. Nat Clim Change 3:816–821

Inam A, Clift PD, Giosan L, Tabrez AR, Tahir M, Rabbani MM, Danish M (2007) The geographic, geological and oceanographic setting of the Indus river. In: Avijit G (ed) Large rivers: geomorphology and management. Wiley, New York, pp 333–345

Khan FK (2003) Geography of Pakistan: population, economy and environment. Oxford University Press, Karachi

Khan AN (2013) Analysis of 2010-flood causes, nature and magnitude in the Khyber Pakhtunkhwa. Pakistan Natural hazards 66(2):887–904

Khan B, Iqbal MJ, Yosufzal MAK (2009) Flood risk assessment of river Indus of Pakistan. Arab J Geosci 4:115–122

Kleinbaum DG, Dietz K, Gail M, Klein M, Klein M (2002) Logistic regression. Springer, New York

Krausmann E, Mushtaq F (2008) A qualitative Natech damage scale for the impact of floods on selected industrial facilities. Nat Hazards 46:179–197

Kreimer A, Arnold M (eds) (2000) Managing disaster risk in emerging economies. World Bank Publications, Washington

Ligon E, Schechter L (2003) Measuring vulnerability. Econ J 113(486):C95–C102

Lord WB (2011) Flood hazard delineation: the one percent standard. J Contemp Water Res Edu 95(1):7

MacKinnon DP, Lockwood CM, Brown CH, Wang W, Hoffman JM (2007) The intermediate endpoint effect in logistic and probit regression. Clin Trials 4(5):499–513

MacManus SA, Caruson K (2006) Code Red: Florida City and county officials rate threat information sources and the homeland security advisory system. State Local Gov Rev 38:12–22

Magole L, Thapelo K (2005) The impact of extreme flooding of the okavango river on the livelihood of the molapo farming community of Tubu village, Ngamiland Sub-district Botswana. Botswana Notes Rec 37(1):125–137

Malala B (2009) Report on floods in the Okavango. District Commissioner's office, Maun

McCarthy JJ, Canziani O, Leary NA, Dokken DJ, White KS (eds) (2001) Climate change 2001: impacts, adaption and vulnerability IPCC Working Group II. Cambridge University Press, Cambridge

McCusker B, Carr ER (2006) The co-production of livelihoods and land use change: Case studies from South Africa and Ghana. Geoforum 37:790–804

Mead DC, Liedholm C (1998) The dynamics of micro and small enterprises in developing countries. World Dev 26(1):61–74

Memon N (2012) Disasters in South Asia: a regional perspective. Pakistan Institute of Labour Education and Research, Karachi

Meyer T, Bendsen H (2003) The dynamics of the land use systems in Ngamiland: changing livelihood options and strategies. Environ Monit Trop Subtrop Wetlands 1:278–307

Mirza MM, Ahmad QK (eds) (2005) Climate Change and water resources in South Asia. CRC Press, London

Motsholapheko MR, Kgathi DL, Vanderpost C (2011) Rural livelihoods and household adaptation to extreme flooding in the Okavango Delta, Botswana. Phys Chem Earth Parts A/B/C 36(14–15):984–995

NDMA (2011) Annual Report 2010. National Disaster Management Authority, Islamabad

Osbahr H, Twyman C, Adger W, Thomas D (2010) Evaluating successful livelihood adaptation to climate variability and change in southern Africa. Ecol Soc 15(2):1–20

PMD (2012) Climate change in Pakistan: focused on Sindh province. Pakistan Meteorological Department, Research and Development Division, P.O. Box 1214, Islamabad

Parmesan C, Yohe G (2003) A globally coherent fingerprint of climate change impacts across natural systems. Nature 421(6918):37

Pielke RA (1999) Nine fallacies of floods. Clim Change 42(2):413–438

Pioneer (2013) Late season flooding of maize. https://www.pioneer.co.nz/pioneertech/technicalinside.php?showDocNumber=342. Accessed 28 Aug 2019

Rayhan I (2008) Assessing household vulnerability and coping strategies to floods: a comparative study of flooded and non-flooded areas in Bangladesh, 2005. Cuvillier Verlag, Göttingen

Rehman A, Jingdong L, Du Y, Khatoon R, Wagan SA, Nisar SK (2016) Flood disaster in Pakistan and its impact on agriculture growth (a review). Environ Dev Econ 6(23):39–42

Sadia H, Iqbal MJ, Ahmad J, Ali A, Ahmad A (2016) Gender-sensitive public health risks and vulnerabilities' assessment with reference to floods in Pakistan. Int J Disaster Risk Reduct 19:47–56

Shifeng Z, Dong H, Xiujing M, Yongyong Z (2011) Climate change and its driving effect on the runoff in the "three-river headwaters" region. J Geogr Sci 21(6):963–978

Shrestha MS, Takara K (2008) Impacts of floods in south Asia. J South Asia Disaster Study 1(1):85–106

Stern PC, Dietz T, Abel T, Guagnano GA, Kalof L (1999) A value-belief-norm theory of support for social movements: The case of environmentalism. Hum Ecol Rev 6:81–97

UN (2011) Pakistan floods: one year on 2011, A Report by the United Nations–Pakistan, Islamabad. https://unportal.un.org.pk/sites/unpakistan/pages/default.aspx. Accessed 28 Aug 2019

Viswanath B, Maroky A, Math S, John J, Cherian A, Girimaji BV, Hamza A, Chaturvedi S (2011) Gender differences in the psychological impact of Tsunami. Int J Soc Psychiatr 59:130–136

WB (2007) South Asia Region towards a Climate Change Strategy. The World Bank, Washigton

Walker GP (2006) Addressing environmental inequalities: flood risk. Environment Agency, Bristol

Webster PJ, Toma VE, Kim HM (2011) Were the 2010 Pakistan floods predictable? Geophys Res Lett. https://doi.org/10.1029/2010GL046346

Yamane T (1967) Statistics, an introductory analysis, 2nd edn. Harper and Row, New York

Yamin F, Rahman A, Huq S (2005) Vulnerability, adaptation and climate disasters: a conceptual overview. IDS Bull 36(4):1–14

Yaro JA (2004) Theorizing Food Insecurity: building a livelihood framework for researching food insecurity. Nor Geogr Tidsskr 58:23–37
Acknowledgements
I express my deepest thankfulness to Higher Education Commission (HEC), Government of Pakistan, for the financial support under Thematic Research Grant, Ref: 1-HEC/HRD/HAS/SS/2017/17369.
Ethics declarations
Conflicts of interest
The authors declare no financial and/or non-financial competing interests with any individual/firm/organization/institution.
Additional information
Publisher's Note
Springer Nature remains neutral with regard to jurisdictional claims in published maps and institutional affiliations.
About this article
Cite this article
Khayyam, U. Floods: impacts on livelihood, economic status and poverty in the north-west region of Pakistan. Nat Hazards 102, 1033–1056 (2020). https://doi.org/10.1007/s11069-020-03944-7
Received:

Accepted:

Published:

Issue Date:
Keywords
Climate change

Flood

Vulnerability

Livelihood

Poverty

Sustainability

Pakistan