Abstract
The investigation of earthquake recurrence networks that were constructed from two aftershock sequences in Greece, is performed, aiming to detect whether the structure of networks became distinct (non-random) before the occurrence of either the main shock or a major (strong) aftershock. The network nodes are the time series observations, which are the aftershocks magnitudes. Their binary connections are given by the arbitrary threshold \(\varepsilon\) on the recurrence matrix, which is computed with the Heaviside function. Two aftershock sequences are the 2014 Kefalonia doublet, main shocks (\(M = 6.1\) and \(M = 6.0\)), and the 2015 Lefkada main shock (\(M = 6.5\)) sequence. The earthquake networks are formed for three different thresholds of \(\varepsilon\), for monitoring eight basic network measures and non-trivial properties such as the small world and scale free, and examining their structure during the evolution of the sequences. To assess whether the values of the eight network measures are statistically significant and the network gets non-trivial properties are present, the construction of randomized networks is required and then the comparison of the randomized network values with the ones from the original recurrence networks. The monitoring of network measures reveals that their original values diverge from the statistical significance, i.e., the structure of networks is random, immediately after the main shocks and shortly before the occurrence of the strongest aftershocks. On the contrary, in the intervening time, between the occurrences of main shocks and strongest aftershocks, their original values are statistically significant, which means that reveal the distinct network structure. The small-world and scale-free properties are sought but not revealed.
This is a preview of subscription content, log in to check access.
Access options
Buy single article
Instant access to the full article PDF.
US$ 39.95
Price includes VAT for USA
Subscribe to journal
Immediate online access to all issues from 2019. Subscription will auto renew annually.
US$ 199
This is the net price. Taxes to be calculated in checkout.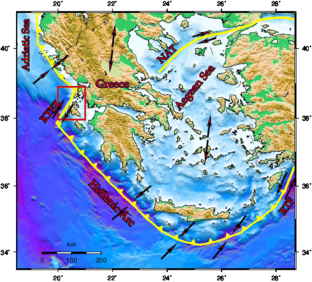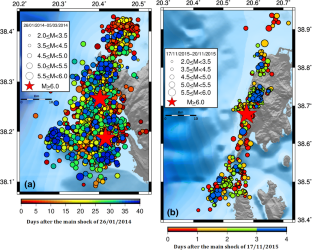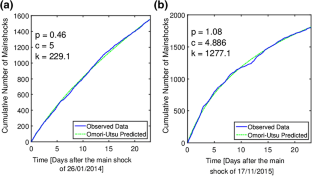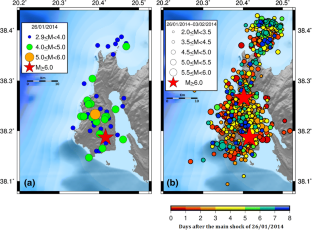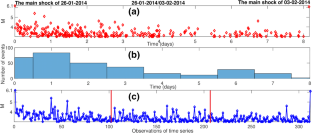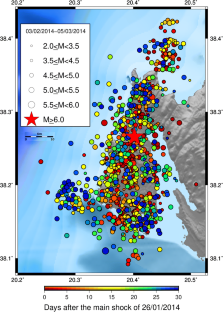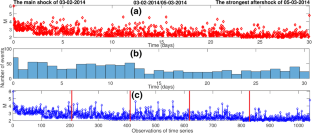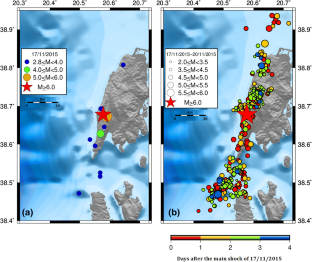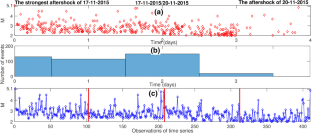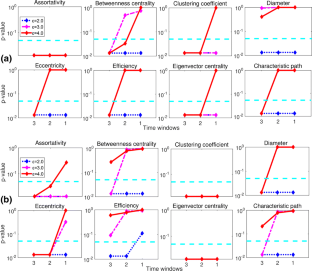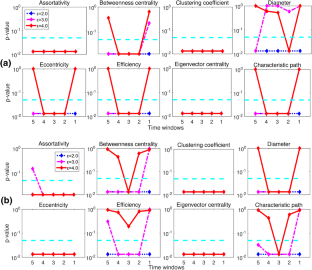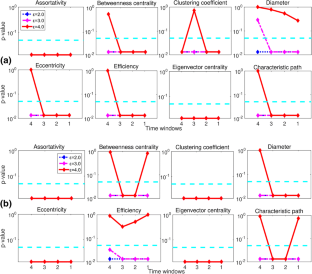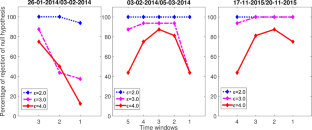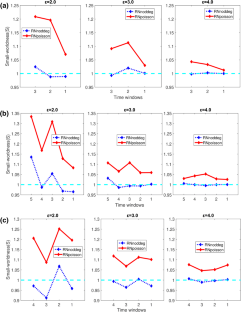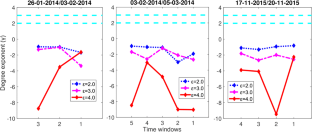 References
Abe S, Suzuki N (2004a) Small-world structure of earthquake network. Physica A 337:357–362

Abe S, Suzuki N (2004b) Scale-free network of earthquakes. Europhys Lett 65:581–586

Abe S, Suzuki N (2006) Complex-network description of seismicity. Nonlinear Proc Geophys 13:145–150

Abe S, Suzuki N (2007) Dynamical evolution of clustering in complex network of earthquakes. Eur Phys J B 59:93–97

Abe S, Suzuki N (2009) Main shocks and evolution of complex earthquake networks. Braz J Phys 39(2A):428–430

Abe S, Pasten D, Munoz V, Suzuki N (2011) Universalities of earthquake-network characteristics. Chin Sci Bull 56(34):3697–3701

Albert R, Barabasi AL (2002) Statistical mechanics of complex networks. Rev Mod Phys 74:47–97

Baek WH, Lim G, Kim K, Chang KH, Jung JW, Seo SK, Yi M, Lee DI, Ha DH (2011) Robustness of the topological properties of a seismic network. J Korean Phys Soc 58(6):1712–1714

Baiesi M, Paczuski M (2004) Scale-free networks of earthquakes and aftershocks. Phys Rev E 69(6):066106

Barabasi A, Albert R (1999) Emergence of scaling in random networks. Science 286(5439):509–512

Chorozoglou D, Kugiumtzis D, Papadimitriou E (2017) Application of complex network theory to the recent foreshock sequences of Methoni (2008) and Kefalonia (2014) in Greece. Acta Geophys 65(3):543–553

Chorozoglou D, Kugiumtzis D, Papadimitriou E (2018) Testing the structure of earthquake networks from multivariate time series of successive main shocks in Greece. Physica A 499C:28–39

Daskalaki E, Papadopoulos GA, Spiliotis K, Siettos C (2014) Analysing the topology of seismicity in the Hellenic arc using complex networks. J Seismol 18:37–46

Daskalaki E, Spiliotis K, Siettos C, Minadakis G, Papadopoulos GA (2016) Foreshocks and short-term hazard assessment of large earthquakes using complex networks: the case of the 2009 L'Aquila earthquake. Nonlinear Proc Geophys 23:241–256

Del Genio C, Kim H, Toroczkai Z, Bassler K (2010) Efficient and exact sampling of simple graphs with given arbitrary degree sequence. PLoS ONE 5(4):e10012

Donges JF, Zou Y, Marwan N, Kurths J (2009) The backbone of the climate network export. Europhys Lett 87:48007

Donner RV, Small M, Donges JF, Marwan N, Zou Y, Xiang R, Kurths J (2011) Recurrence-based time series analysis by means of complex network methods. Int J Bifurcat Chaos 21:1019–1046

Erdős P, Rényi A (1959) On random graphs Pub Math (Debrecen) 6:290–297

Gerstenberger CM, Wiemer S, Jones LM, Reasenberg PA (2005) Real-time forecasts of tomorrow's earthquakes in California. Nature 435(7040):328–331

Gutenberg B, Richter CF (1944) Frequency of earthquakes in California. Seismol Soc Am Bull 34:185–188

Janer C, Biton D, Batac R (2017) Incorporating space, time, and magnitude measures in a network characterization of earthquake events. Acta Geophys 65:1153–1166

Kanamori H, Anderson L (1975) Theoretical basis of some empirical relations in seismology. Seismol Soc Am Bull 65(5):1073–1095

Karakostas V, Papadimitriou E, Mesimeri M, Gkarlaouni C, Paradisopoulou P (2015) The 2014 Kefalonia doublet (Mw6.1 and Mw6.0) central Ionian Islands, Greece: seismotectonic implications along the Kefalonia transform fault zone. Acta Geophys 63:1–16

Lippiello E, Cirillo A, Godano G, Papadimitriou E, Karakostas V (2016) Real time forecast of aftershocks from a single seismic station signal. Geophys Res Lett 43:6252–6258

Marwan N, Donges JF, Zou Y, Donner RV, Kurths J (2009) Complex network approach for recurrence analysis of time series. Phys Lett A 373:4246–4254. https://doi.org/10.1016/j.physleta.2009.09.042

Maslov S, Sneppen K (2002) Specificity and stability in topology of protein networks. Science 296:910–913

Matcharashvili T, Chelidze T, Peinke J (2008) Increase of order in seismic processes around large reservoir induced by water level periodic variation. Nonlinear Dyn 51:399–407

Newman MEJ (2003) Mixing patterns in networks. Phys Rev 67:026126

Newman M (2010) Networks, an introduction. Oxford University Press, Oxford, ISBN: 9780199206650, p 1042

Omori F (1894) On the aftershocks of earthquakes. Sc Imp Univ Tokyo 7:111–120

Papadimitriou E, Karakostas V, Mesimeri M, Ghouliaras C, Kourouklas C (2017) The Mw6.5 17 November 2015 Lefkada (Greece) earthquake: structural interpretation by means of the aftershock analysis. Pure Appl Geophys 174(10):3869–3888

Pastén D, Torres F, Toledo B, Muñoz V, Rogan J, Valdivia JA (2016) Time-based network analysis before and after the Mw8.3 Illapel earthquake 2015 Chile. Pure Appl Geophys 173(7):2267–2275

Poincaré H (1890) Sur la probleme des trois corps et les équations de la dynamique. Acta Math 13:1–271

Rubinov M, Sporns O (2010) Complex network measures of brain connectivity: uses and interpretations. Neuroimage 52:1059–1069

Schinkel S, Dimigen O, Marwan N (2008) Selection of recurrence threshold for signal detection. Eur Phys J 164:45–53

Telesca L, Báez-Benitez J (2018) Investigating dynamical features in the long-term daily maximum temperature time series recorded at Adrián Jara, Paraguay. Acta Geophys 66(3):393–403

Utsu T (1961) A statistical study on the occurrence of aftershocks. Geophys Mag 30:521–605

Utsu T, Ogata Y, Matsura RS (1995) The centenary of the Omori formula for a decay law of aftershock activity. J Phys Earth 43:1–33

Utsu T (2002) Statistical features of seismicity. In: International handbook of earthquake and engineering seismology part A. Academic, San Diego, pp 719–732

Viger F, Latapy M (2015) Efficient and simple generation of random simple connected graphs with prescribed degree sequence. J Complex Netw 4(1):15–37

Watts DJ, Strogatz SH (1998) Collective dynamics of small-world networks. Nature 393:440–442

Wessel P, Smith WHF, Scharroo R, Luis JF, Wobbe F (2013) Generic mapping tools: improved version released. EOS Trans AGU 94:409–410
Acknowledgements
The maps are generated using the Generic Mapping Tool (Wessel et al. 2013). All the calculations and plots are made using the Matlab software (www.mathworks.com/products/matlab). The financial support by the European Union and Greece (Partnership Agreement for the Development Framework 2014–2020) for the project "Development and application of time-dependent stochastic models in selected regions of Greece for assessing the seismic hazard" is gratefully acknowledged, MIS5004504. Geophysics Department Contribution 932.
Additional information
Publisher's Note
Springer Nature remains neutral with regard to jurisdictional claims in published maps and institutional affiliations.
About this article
Cite this article
Chorozoglou, D., Papadimitriou, E. Investigation of earthquake recurrence networks: the cases of 2014 and 2015 aftershock sequences in Ionian Islands, Greece. Nat Hazards 102, 783–805 (2020). https://doi.org/10.1007/s11069-020-03915-y
Received:

Accepted:

Published:

Issue Date:
Keywords
Recurrence network

Time series

Small-world network

Scale-free network

Aftershock sequence

Greek seismicity