Abstract
This paper presents results of a study which examined how a mandatory wildfire evacuation affected members of Whitefish Lake First Nation 459, in Alberta, Canada. A qualitative case study approach was used, and semi-structured interviews were completed with 45 band members to learn about their evacuation experiences during the wildfire evacuation in May 2011 and explore the factors that complicated the evacuation process and put further strain on the evacuees and First Nation. This evacuation caused considerable distress for evacuees and had negative effects for the First Nation. Factors that affected evacuation experiences included: (1) transportation issues compounded by cultural land-use activities, (2) fear of home loss compounded by existing housing shortages, (3) information and lack of media interest, (4) language, (5) poverty, (6) large multi-generational families, (7) health concerns, and (8) reimbursement of evacuation-related expenses to the community. An overarching factor that affected the entire evacuation was jurisdiction. Based on these findings, recommendations are provided for emergency managers on improving wildfire evacuation experiences for Indigenous peoples.
This is a preview of subscription content, log in to check access.
Access options
Buy single article
Instant access to the full article PDF.
US$ 39.95
Price includes VAT for USA
Subscribe to journal
Immediate online access to all issues from 2019. Subscription will auto renew annually.
US$ 199
This is the net price. Taxes to be calculated in checkout.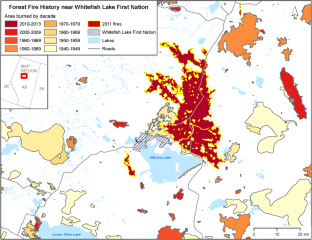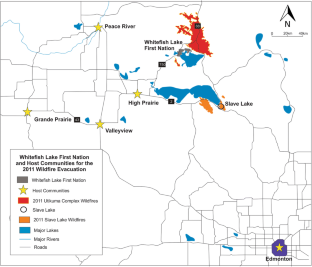 Notes
1.

A band is the basic unit of government for First Nations people in Canada under the Indian Act (Government of Canada 1867).

2.

This has now been changed, and First Nations communities in Alberta impacted by disaster now apply for funding reimbursement directly to the federal government through the Emergency Management Assistance Program (EMAP).
References
Afifi WA, Felix ED, Afifi TD (2012) The impact of uncertainty and communal coping on mental health following natural disasters. Anxiety Stress Coping 25(3):329–347. https://doi.org/10.1080/10615806.2011.603048

Agyapong VIO, Juhás M, Brown MRG, Omege J, Denga E, Nwaka B, Akinjise I, Corbett SE, Hrabok M, Li X, Greenshaw A, Chue P (2018) Prevalence rates and correlates of probable major depressive disorder in residents of Fort McMurray 6 months after a wildfire. Int J Mental Health Addict. https://doi.org/10.1007/s11469-018-0004-8

Berube A, Deakin E, Raphael S (2006) Socioeconomic differences in household automobile ownership rates: implications for evacuation policy. Earlier Faculty Research Series A, pp. 197–221, University of California Transportation Center. UC Berkeley: University of California Transportation Center. Retrieved from https://escholarship.org/uc/item/7bp4n2f6#page-3. Accessed 4 October 2018

Beverly JL, Bothwell P (2011) Wildfire evacuations in Canada 1980–2007. Nat Hazards 59(1):571–596. https://doi.org/10.1007/s11069-011-9777-9

Bond T, Mercer D (2014) Subdivision policy and planning for bushfire defence: a natural hazard mitigation strategy for residential peri-urban regions in Victoria, Australia. Geogr Res 52(1):6–22. https://doi.org/10.1111/1745-5871.12040

Butler C, Walker-Springett K, Adger WN (2018) Narratives of recovery after floods: mental health, institutions, and intervention. Soc Sci Med 216:67–73. https://doi.org/10.1016/j.socscimed.2018.09.024

Canadian Centre for Policy Alternatives (2013) Poverty or prosperity: indigenous children in Canada. Retrieved from https://www.policyalternatives.ca/sites/default/files/uploads/publications/National%20Office/2013/06/Poverty_or_Prosperity_Indigenous_Children.pdf. Accessed 1 November 2017

Canadian Institutes of Health Research, Natural Sciences and Engineering Research Council of Canada, and Social Sciences and Humanities Research Council of Canada (CIHR, NSERC and SSHRC) (2014) Chapter 9: Research involving the First Nations, Inuit and Métis peoples of Canada. In: Tri-Council policy statement: ethical conduct for research involving humans. Retrieved from http://www.pre.ethics.gc.ca/eng/policy-politique/initiatives/tcps2-eptc2/chapter9-chapitre9/. Accessed 1 November 2017

Canadian Interagency Forest Fire Centre (CIFFC) (2011) National Wildland Fire Situation Report: Sep 14, 2011, 15:00 Hours. Retrieved from http://cwfis.cfs.nrcan.gc.ca/report/archives?year=2011&month=09&day=14&process=Submit. Accessed 18 October 2018

Carroll MS, Cohn PA, Higgins LL, Burchfield J (2006) Community wildfire events as a source of social conflict. Rural Sociol 71(2):261–280. https://doi.org/10.1526/003601106777789701

Carroll MS, Paveglio TB, Jakes PJ, Higgins LL (2011) Non-tribal community recovery from wildfire five years later: the case of the Rodeo–Chediski fire. Soc Nat Resour 24(7):672–687. https://doi.org/10.1080/08941921003681055

Chakraborty J, Tobin GA, Montz BE (2005) Population evacuation: assessing spatial variability in geophysical risk and social vulnerability to natural hazards. Nat Hazards Rev 6(1):23–33

Cohn PJ, Carroll MS, Kumagai Y (2006) Evacuation behaviour during wildfires: results of three case studies. West J Appl For 21(1):39–48. https://doi.org/10.1093/wjaf/21.1.39

Cote DW, McGee TK (2014) An exploration of residents' intended wildfire evacuation responses in Mt. Lorne, Yukon, Canada. For Chron 90(4):498–502. https://doi.org/10.5558/tfc2014-100

Cova T, Drews F, Siebeneck L, Musters A (2009) Protective actions in wildfires: evacuate or shelter-in-place? Nat Hazards Rev 10(4):151–162. https://doi.org/10.1061/(ASCE)1527-6988

Cova T, Theobald D, Norman J, Siebeneck L (2011) Mapping wildfire evacuation vulnerability in the western US: the limits of infrastructure. GeoJournal 78:273–285. https://doi.org/10.1007/s10708-011-9419-5

Creswell JW (2007) Qualitative inquiry and research design: choosing among five approaches, 2nd edn. Sage Publications, Thousand Oaks

Curtis A (2010) Chronic disease as an evacuation impediment: using a geographic information system and 911 call data after Katrina to determine neighborhood scale health vulnerability. Risks Hazards Crisis Public Policy 1(3):63–89

Dash N, Gladwin H (2007) Evacuation decision making and behavioral responses: individual and household. Nat Hazards Rev 8(3):69–77

Epp D, Haque CE, Peers B (1998) Emergency preparedness and first nation communities in Manitoba. Emergency Preparedness Canada, Ottawa, ON. Retrieved from http://www.publications.gc.ca/collections/Collection/D82-52-1998E.pdf. Accessed 1 November 2017

Eriksen C, Gill N (2010) Bushfire and everyday life: examining the awareness-action 'gap' in changing rural landscapes. Geoforum 41(5):814–825

Felix ED, Afifi W (2015) The role of social support on mental health after multiple wildfire disasters. J Community Psychol 43(2):156–170. https://doi.org/10.1002/jcop.21671

Fothergill A, Peek LA (2004) Poverty and disasters in the United States: a review of recent sociological findings. Nat Hazards 32(1):89–110. https://doi.org/10.1023/B:NHAZ.0000026792.76181.d9

Fothergill A, Maestas EGM, Darlington JD (1999) Race, ethnicity and disasters in the United States: a review of the literature. Disasters 23(2):156–173

Garner R, Carrière G, Sanmartin C (2010) The health of Inuit, Métis and First Nations adults living off-reserve in Canada: the impact of socio-economic status on inequalities in health. Ottawa: Statistics Canada. Retrieved from www.statscan.gc.ca. Cat. No. 82-622-X. No. 004. Accessed 1 November 2017

Government of Canada (1876) Indian Act (amended 1880, 1894, 1920, 1927, 1951, 1985) Minister of Justice. Retrieved from https://laws-lois.justice.gc.ca/PDF/I-5.pdf. Accessed on 30 October 2018

Hasan S, Ukkusuri S, Gladwin H, Murray-Tuite P (2011) A behavioral model to understand household level hurricane evacuationdecision making. J Transp Eng 137(5):341–348

Hasan S, Mesa-Arango R, Ukkusuri S (2013) A random-parameter hazard-based model to understand household evacuation timing behavior. Transp Res Part C Emerg Technol 27:108–116

Haynes K, Bird DE, Carson DB (2014) Indigenous experiences and responses to Cyclone Tracy. In: Palutikof JP, Boulter SL, Barnett J, Rissik D (eds) Applied studies in climate adaptation, 1st edn. Wiley, Chichester, pp 206–297

Hodgson RW (2007) Emotions and sense making in disturbance: community adaptation to dangerous environments. Hum Ecol Rev 14(2):233–242

Huang SK, Lindell MK, Prater CS, Wu HC, Sienbeneck LK (2012) Household evacuation decision making in response to Hurricane Ike. Nat Hazards Rev 13(4):283–296

Indigenous and Northern Affairs Canada (INAC) (2011) Evaluation of INAC's on-reserve housing support. Retrieved from https://www.aadnc-aandc.gc.ca/eng/1325099369714/1325099426465. Accessed 1 November 2017

Indigenous and Northern Affairs Canada (INAC) (2016) First Nation profiles. Whitefish Lake First Nation. Retrieved from http://pse5-esd5.ainc-inac.gc.ca/fnp/Main/Search/FNRegPopulation.aspx?BAND_NUMBER=459&lang=eng. Accessed 1 November 2017

Kent B, Gebert K, McCaffrey S, Martin W, Calkin D, Schuster E, Martin I, Bender HW, Alward G, Kumagai Y, Cohn PJ, Carroll MS, Williams D, Ekarius C (2003) Social and economic issues of the Hayman fire. USDA, For Serv Rocky Mt. Res Stn, Fort Collins, CO, pp 315–396. General Technical Reports RMRS-GTR-114

King M (2010) Chronic diseases and mortality in Canadian Aboriginal peoples: learning from the knowledge. Chronic Dis Can 31(1):2–3

Kusenbach M, Simms JL, Tobin GA (2010) Disaster vulnerability and evacuation readiness: coastal mobile home residents in Florida. Nat Hazards 51:79–95

Lazo JK, Bostrom A, Morss RE, Demuth JL, Lazrus H (2015) Factors affecting hurricane evacuation intentions. Risk Anal 35(10):1837–1857. https://doi.org/10.1111/risa.12407

Legerski JP, Vernberg EM, Noland BJ (2012) A qualitative analysis of barriers, challenges, and successes in meeting the needs of hurricane Katrina evacuee families. Community Ment Health J 48(6):729–740. https://doi.org/10.1007/s10597-011-9446-1

León J, March A (2016) Taking responsibility for 'shared responsibility': urban planning for disaster risk reduction across different phases. Examining bushfire evacuation in Victoria, Australia. Int Plann Stud 22:1–16. https://doi.org/10.1080/13563475.2016.1234368 (published online)

Li D, Cova T, Dennison P (2015) A household-level approach to staging wildfire evacuation warnings using trigger modeling. Comput Environ Urban Syst 54:56–67. https://doi.org/10.1016/j.compenvurbsys.2015.05.008

Lindell MK, Lu JC, Prater CS (2005) Household decision making and evacuation in response to hurricane Lili. Nat Hazards Rev 6(4):171–179

Lindell MK, Kang JE, Prater CS (2011) The logistics of household hurricane evacuation. Nat Hazards 58(3):1093–1109

Matyas C, Srinivasan S, Cahyanto I, Thapa B, Pennington-Gray L, Villegas J (2011) Risk perception and evacuation decisions of Florida tourists under hurricane threats: a stated preference analysis. Nat Hazards 59(2):871–890

McCaffrey SM, Winter G (2010) Understanding homeowner preparation and intended actions when threatened by a wildfire. In: Proceedings of the second conference on the human dimensions of wildland fire. https://www.fs.usda.gov/treesearch/pubs/38521. Accessed 8 Jan 2019

McCaffrey S, Rhodes A, Stidham M (2015) Wildfire evacuation and its alternatives: perspectives from four United States' communities. Int J Wildland Fire 24:170–178. https://doi.org/10.1071/WF13050

McCaffrey S, Wilson R, Konar A (2018) Should I stay or should I go now? Or should I wait and see? Influences on wildfire evacuation decisions. Risk Anal 38(7):1390–1404. https://doi.org/10.1111/risa.12944

McCool SF, Burchfield JA, Williams DR, Carroll MS (2006) An event-based approach for examining the effects of wildland fire decisions on communities. Environ Manag 37(4):437–450. https://doi.org/10.1007/S00267-005-0054-0

McGee TK, Mishkeegogamang Ojibway Nation, Christianson AC (2019) Residents' wildfire evacuation actions in Mishkeegogamang Ojibway Nation, Ontario, Canada. Int J Disaster Risk Reduct 33:266–274. https://doi.org/10.1016/j.ijdrr.2018.10.012

McLennan J, Elliott G, Omodei M, Whittaker J (2013) Householders' safety-related decisions, plans, actions and outcomes during the 7 February 2009 Victorian (Australia) wildfires. Fire Saf J 61:175–184

Mercer J, Kelman I (2010) Living alongside a volcano in Baliau, Papua New Guinea. Disaster Prev Manag Int J 19(4):412–422. https://doi.org/10.1108/09653561011070349

Mozumder P, Vasquez WF (2015) An empirical analysis of hurricane evacuation expenditures. Nat Hazards 79(1):81–92. https://doi.org/10.1007/s11069-015-1828-1

Munro A, Kovats RS, Rubin GJ, Waite TD, Bone A, Armstrong B (2017) Effect of evacuation and displacement on the association between flooding and mental health outcomes: a cross-sectional analysis of UK survey data. Lancet Planet Health 1(4):e134–e141. https://doi.org/10.1016/S2542-5196(17)30047-5

Murray-Tuite P, Wolshon B (2013) Evacuation transportation modeling: an overview of research, development, and practice. Transp Res Part C Emerg Technol 27:25–45

Mutch RW, Rogers MJ, Stephens SL, Gill M (2011) Protecting lives and property in the wildland-urban interface communities in Montana and Southern California adopt Australian paradigm. Fire Technol 47(2):357–377

National Collaborating Centre for Aboriginal Health (n.d.). Social determinants of health: poverty as a social determinant of First Nations, Inuit, and Metis health. Retrieved from http://www.nccah-ccnsa.ca/docs/fact%20sheets/social%20determinates/NCCAH_fs_poverty_EN.pdf. Accessed 1 November 2017

Paveglio T, Carroll MS, Jakes PJ (2008) Alternatives to evacuation—protecting public safety during wildland fire. J For 106(2):65–70

Paveglio TB, Kooistra C, Hall T, Pickering M (2016) Understanding the effect of large wildfires on residents' well-being: what factors influence wildfire impact? For Sci 62(1):59–69. https://doi.org/10.5849/forsci.15-021

Public Health Agency of Canada (2006) Chapter 12: The mental health and well-being of Aboriginal peoples in Canada. In: The human face of mental health and mental illness in Canada 2006. Retrieved from http://www.phac-aspc.gc.ca/publicat/human-humain06/15-eng.php. Accessed 1 November 2017

Public Health Agency of Canada (2011) Chapter 6: Diabetes among First Nations, Inuit, and Metis populations. In: Diabetes in Canada: facts and figures from a public health perspective. Retrieved from http://www.phac-aspc.gc.ca/cd-mc/publications/diabetes-diabete/facts-figures-faits-chiffres-2011/chap6-eng.php. Accessed 1 November 2017

Pujadas-Botey A, Kulig JC (2014) Family functioning following wildfires: recovering from the 2011 Slave Lake fires. J Child Fam Stud 23:1471–1483. https://doi.org/10.1007/s10826-013-9802-6

Ronchi E, Gwynne SMV, Rein G, Wadhwani R, Intini P, Bergstedt A (2017) e-Sanctuary: open multi-physics framework for modelling wildfire urban evacuation. Project report. National Fire Protection Association. Retrieved from https://www.nfpa.org/News-and-Research/Data-research-and-tools/Wildland-Urban-Interface/Open-Multi-Physics-Framework-for-Modelling-Wildfire-Urban-Evacuation. Accessed 1 October 2018

Scharbach J, Waldram JB (2016) Asking for a disaster: being "at risk" in the emergency evacuation of a northern Canadian Aboriginal community. Hum Organ 75(1):59–70. https://doi.org/10.17730/0018-7259-75.1.59

Schnarch B (2004) Ownership, control, access, and possession (OCAP) or self-determination applied to research: a critical analysis of contemporary first Nations Research and some options for First Nations communities. J Aborig Health 1(1):80–95

Standing Senate Committee on Aboriginal Peoples (2015) Housing on First Nation reserves: challenges and successes. Interim Report of the Standing Senate Committee on Aboriginal peoples. Retrieved from http://www.parl.gc.ca/Content/SEN/Committee/412/appa/rep/rep08feb15b-e.pdf. Accessed 1 November 2017

Stidham M, Toman E, McCaffrey S, Shindler B (2011) Improving an inherently stressful situation: the role of communication during wildfire evacuations. In McCaffrey SM, Fisher CL (eds) Proceedings, second conference on the human dimensions of wildland fire, pp 96–103. USDA, For Serv, North Res Stn, Newtown Square, PA. General Technical Reports NRS-P-84

Tally S, Levack A, Sarkin AJ, Gilmer T, Groessl EJ (2013) The impact of the San Diego wildfires on a general mental health population residing in evacuation areas. Administration and policy. Mental Health Mental Health Serv Res 40(5):348–354. https://doi.org/10.1007/s10488-012-0425-9

Taylor JG, Gillette SC, Hodgson RW, Downing JL, Burns MR, Chavez DJ, Hogan JT (2007) Informing the network: improving communications with interface communities during wildland fire. Hum Ecol Rev 14(2):198–211

Thiede BC, Brown DL (2013) Hurricane Katrina: who stayed and why? Popul Res Policy Rev 32(6):803–824

Thompson RR, Garfin DR, Silver RC (2017) Evacuation from natural disasters: a systematic review of the literature. Risk Anal 37(4):812–839. https://doi.org/10.1111/risa.12654

Tobin GA, Whiteford LM (2002) Community resilience and volcano hazard: the eruption of Tungurahua and evacuation of the Faldas in Ecuador. Disasters 26(1):28–48

Toman E, Stidham M, McCaffrey S, Shindler B (2013) Social science at the wildland-urban interface: a compendium of research results to create fire-adapted communities. USDA, For Serv, North Res Stn, Newton Square, PA. General Technical Reports NRS-111

Veland S, Howitt R, Dominey-Howes D (2011) Invisible institutions in emergencies: evacuating the remote Indigenous community of Warruwi, Northern Territory Australia, from Cyclone Monica. Environ Hazards 9(2):197–214

Whittaker J, Haynes K, Handmer J, McLennan J (2013) Community safety during the 2009 Australian 'Black Saturday' bushfires: an analysis of household preparedness and response. Int J Wildland Fire 22(6):841–849. https://doi.org/10.1071/WF12010

Wolshon B, Marchive E (2007) Emergency planning in the urban-wildland interface: subdivision-level analysis of wildfire evacuations. J Urban Plann Dev 133(1):73–81. https://doi.org/10.1061/(ASCE)0733-9488(2007)133:1(73)
Acknowledgements
We thank all participants who shared their stories with us. We specifically thank the community research assistants, Sharon Sahlin and Sheila Laboucan. We thank Councillor Darren Auger, former Chief Robert Grey, current Chief Albert Thunder, and Paul Thunder for their valuable advice and support. We acknowledge Winston Delorme (Alberta Emergency Management Agency) who provided details on the response in High Prairie, and John Little (Canadian Forest Service, Natural Resources Canada) who assisted in creating the figures used in this article. This research was funded by a grant from the Alberta Centre for Child, Family, and Community research (now PolicyWise for Children & Families).
Additional information
Publisher's Note
Springer Nature remains neutral with regard to jurisdictional claims in published maps and institutional affiliations.
About this article
Cite this article
Christianson, A.C., McGee, T.K. Wildfire evacuation experiences of band members of Whitefish Lake First Nation 459, Alberta, Canada. Nat Hazards 98, 9–29 (2019). https://doi.org/10.1007/s11069-018-3556-9
Received:

Accepted:

Published:

Issue Date:
Keywords
Wildfire

Natural hazard

Evacuation

Health

First Nation

Canada