Abstract
Widespread flooding over parts of Malawi, Mozambique, and Madagascar occurred in January 2015. An impact assessment by the World Bank indicated huge damage to property, infrastructure, and agriculture over several regions in south-eastern Africa as well as significant loss of life. The flooding was associated with tropical storm Chedza that developed in the Mozambique Channel on 11 January 2015. This study investigates the atmospheric circulation and potential mechanisms responsible for the heavy rainfall event that occurred between 11 and 17 January over Mozambique and Malawi using the Weather Research and Forecasting (WRF) model, the Global Forecast System atmospheric reanalysis, satellite-derived rainfall and wind data, and station rainfall data. Tropical Rainfall Measuring Mission rainfall estimates and rainfall station data indicated that southern Malawi and northern Mozambique experienced the majority of rainfall during the early stages of tropical storm Chedza, while Madagascar experienced heavy falls when tropical storm Chedza tracked over the island on 17 January 2015. Furthermore, an analysis of the station data revealed that the heavy rainfall over Mozambique occurred between 11 and 13 January with some stations recording about 80% of their total January 2015 rainfall as resulting from this event. The WRF simulation of the event indicated a low-level easterly to south-easterly onshore flow over southern Mozambique that interacted with a north-westerly monsoonal flow along the northern flanks (periphery) of the storm in the northern Mozambique Channel that led to moisture flux convergence in the regions of heavy rainfall. Furthermore, moisture from the south-west Indian Ocean was advected into the region during the heavy rainfall. This moisture convergence along with strong uplift and convective instability over the region acted together to create favourable conditions for the development of tropical storm Chedza and the associated heavy rainfall.
Access options
Buy single article
Instant access to the full article PDF.
USD 39.95
Price includes VAT (USA)
Tax calculation will be finalised during checkout.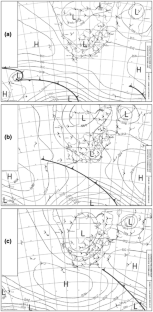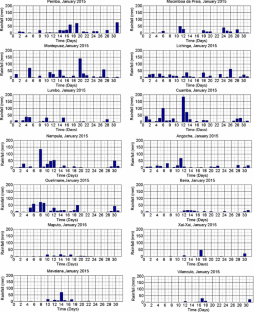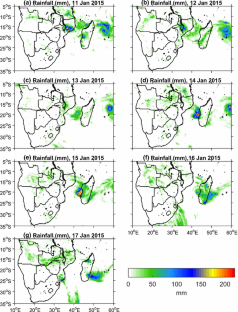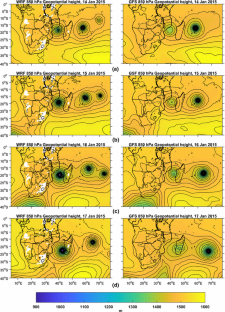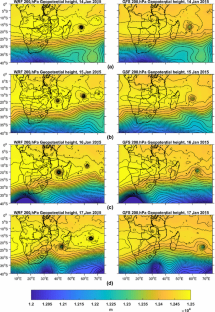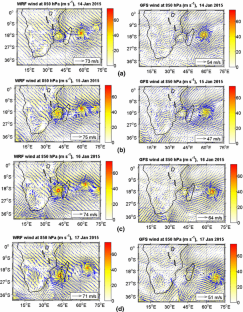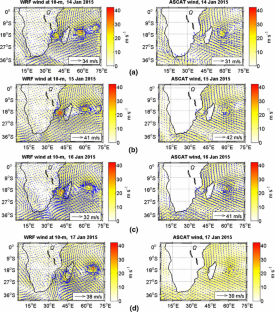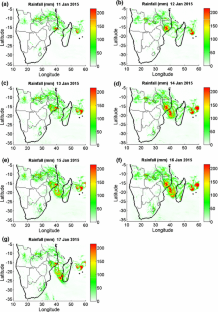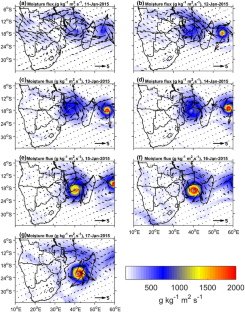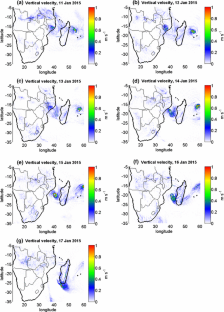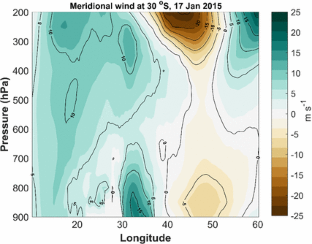 References
Behera SK, Yamagata T (2001) Subtropical SST dipole events in the southern Indian Ocean. Geophys Res Lett 28(2):327–829

Bi L, Jung JA, Morgan MC, Le Marshall JF (2011) Assessment of assimilating ASCAT wind retrievals in the NCEP global data assimilation system. Mon Weather Rev 139:3405–3421

Blamey RC, Reason CJC (2009) Numerical Simulation of a Mesoscale Convective System over the east coast of South Africa. Tellus 61:17–34

Blamey RC, Reason CJC (2012) Mesoscale convective complexes over Southern Africa. J Clim 25:753–766

Blamey RC, Reason CJC (2013) The role of mesoscale convective complexes in southern Africa summer rainfall. J Clim 26:1654–1668. https://doi.org/10.1175/JCLI-D-12-00239.1

Cha D-H, Wang Y (2012) A dynamical initialization scheme for real-time forecasts of tropical cyclones using the WRF model. Mon Weather Rev 141:964–986

Cook C, Reason CJC, Hewitson BC (2004) Wet and dry spell within particularly wet and dry summers in the South African summer rainfall region. Clim Res 26:17–31

Dieppois B, Pohl B, Rouault M, New M, Lawler D, Keenlyside N (2016) Interannual to the interdecadal variability of winter and summer southern African rainfall, and their teleconnections. J Geophys Res Atmos 121(11):6215–6239

Dudhia J (1989) Numerical study of convection observed during the winter monsoon experiment using a mesoscale two-dimensional model. J Atmos Sci 46:3077–3107

Dyson LL, van Heerden J (2001) The heavy rainfall and floods over the northeastern Interior of South Africa during February 2000. S Afr J Sci 97:80–86

Figa-Saldana J, Wilson JW, Attema E, Gelsthorpe R, Drinkwater MR, Stoffelen A (2002) The advanced scatterometer (ASCAT) on the meteorological operational (MetOp) platform: a follow on the European wind scatterometer. Can J Remote Sens 28(3):404–412

Hart NC, Reason CJC, Fauchereau N (2010) Tropical–extratropical interaction over Southern Africa: three cases of heavy summer rainfall. Mon Weather Rev 138:2608–2623

Hart NCG, Reason CJC, Fauchereau N (2013) Cloud bands over southern Africa: seasonality, contribution to rainfall variability and modulation by the MJO. Clim Dyn 41:1199–1212. https://doi.org/10.1007/s00382-012-1589-4

Hill KA, Lackmann FM (2009) Influence of environmental humidity on tropical cyclone size. Mon Weather Rev 137:3294–3315

Hong S-Y, Lee J-W (2009) Assessment of the WRF model in reproducing a flash-flood heavy rainfall event over Korea. Atmos Res 93:818–831

Hong S-Y, Lim J-OJ (2006) The WRF single-moment 6-class microphysics scheme (WSM6). J Kor Meteorol Soc 42(2):121–151

Hong S-Y, Dudhia J, Chen S-H (2004) A revised approach to ice microphysical processes for bulk parameterization of clouds and precipitation. Mon Weather Rev 132:103–120

http://disc.sci.gsfc.nasa.gov [Accessed 3 June 2015]

http://www.nhc.noaa.gov/aboutsshws.php [Accessed 28 August 2015]

https://podaac.jpl.nasa.gov/dataset/ASCATB-L2-25km [Accessed 5 July 2016]

https://www.dwa.gov.za/hydrology/weather.htm [Accessed 11 November 2015]

Ibrahim S, Afandi G (2014) Short-range rainfall prediction over Egypt using the weather research and forecasting model. Open J Renew Energy Sustain Dev 1:56–70

Kain JS (2004) The Kain-Fritsch convective parameterization: an update. J Appl Meteorol 43:170–181

Kalnay E, Kanamitsu M, Kistler R, Collins W, Deavan D, Gandin L, Iredell M, Sarah S, Whiter G, Woollen K, Zhu Y, Chelliah M, Ebisuzaki W, Higgens W, Janowiak J, Mo KC, Ropolewski C, Wang J, Leetmaa A, Reynolds R, Jenne R, Joseph D (1996) The NCEP/NCAR 40-year reanalysis project. Bull Am Meteor Soc 77:437–471

Kim D, Jim C, Ho C, Kim J, Kim JH (2015) Climatological features of WRF-simulated tropical cyclones over the western North Pacific. Clim Dyn 44:3223–3235

Kumar A, Dudhia J, Rotunno R, Niyogi D, Mohanty UC (2008) Analysis of the 26 July 2005 heavy rainfall event using the weather research and forecasting (WRF) model. Q J R Meteorol Soc 134:1897–1910

Lindesay JA (1988) South African rainfall, the Southern Oscillation and a Southern Hemisphere semi-annual cycle. J Climatol 8:17–30

Lui Z, Ostrenga D, Teng W, Kempler S (2012) Tropical Rainfall Mission (TRMM) precipitation and services for research and applications. Am Meteorol Soc 93:1317–1325

Lyon B, Mason SJ (2007) The 1997–98 summer rainfall season in southern Africa. Part I: Observations. J Clim 20:5134–5148

Malherbe J, Landman WA, Engelbrecht FA (2014) The bi-decadal rainfall cycle, Southern Annular Mode and tropical cyclones over the Limpopo River Basin, southern Africa. Clim Dyn 42(11–12):3121–3138

Manhique A, Reason CJC, Rydberg L, Fauchereau N (2011) ENSO and Indian Ocean sea surface temperatures and their relationships with tropical temperate troughs over Mozambique and the Southwest Indian Ocean. Int J Climatol 31:1–13. https://doi.org/10.1002/joc.2050

Manhique A, Reason CJC, Silinto B, Zucula J, Raiva I, Congolo F, Mavume AF (2015) Extreme rainfall and floods in southern Africa in January 2013 and associated circulation patterns. Nat Hazards 77:679–691. https://doi.org/10.1007/s11069-015-1616-y

Mason SJ (1995) Sea-surface temperature-South African Rainfall Associations, 1910–1989. Int J Climatol 15:119–135

Mason S, Jury M (1997) Climatic variability and change over southern Africa: a reflection on underlying processes. Prog Phys Geogr 21(1):23

Mavume AF, Rydberg L, Rouault M, Lutjeharms JR (2009) Climatology and landfall of tropical cyclones in the southwest Indian Ocean. West Indian Ocean J Mar Sci 8(1):15–36

Mawren D, Reason CJC (2017) Variability of upper-ocean characteristics and tropical cyclones in the South Indian Ocean. J Geophys Res 122:2012–2018

Morioka Y, Engelbrecht F, Behera SK (2015) Potential sources of decadal climate variability over southern Africa. J Clim 28(22):8695–8709

Noh Y, Cheon WG, Hong SY, Raasch S (2003) The improvement of K-profile model for the PBL using LES. Bound Layer Meteorol 107:401–427

Reason CJC (1998) Warm and cold events in the southeast Atlantic/southwest Indian Ocean region and potential impacts on circulation and rainfall over southern Africa. Meteorol Atmos Phys 69:49–65

Reason CJC (1999) Interannual warm and cool events in the subtropical/mid-latitude South Indian Ocean region. Geophys Res Lett 26:215–218

Reason CJC (2007) Tropical cyclone Dera, the unusual 2000/01 tropical season in the southwest Indian Ocean and associated rainfall anomalies over Southern Africa. Meteorol Atmos Phys 97:181–188

Reason CJC, Keibel A (2004) Tropical cyclone eline and its unusual penetration and impacts over the southern African mainland. Weather Forecast 19:789–805

Reason CJC, Mulenga H (1999) Relationships between South African Rainfall and SST anomalies in the southwest Indian Ocean. Int J Climatol 19:1651–1673

Reason CJC, Smart S (2015) Tropical south east Atlantic warm anomalies over southern Africa. Front Environ Sci 3(24):1–11

Reason CJC, Allan RJ, Lindesay JA, Ansell TJ (2000) ENSO and climatic signals across the Indian Ocean basin in the global context: part I, interannual composite patterns. Int J Climatol 20:1285–1327

Reason CJC, Hachigonta S, Phaladi RF (2005) Interannual variability in rainy season characteristics over the Limpopo region of southern Africa. Int J Climatol 25:1835–1853

Reynolds RW, Smith TM, Lui C, Chelton DB, Casey KS, Schlax MG (2007) Daily high-resolution blended analyses for sea surface temperature. J Clim 20:5473–5496

Rouault M, White SA, Reason CJC, Lutjeharms JRE (2002) Ocean–atmosphere interaction in the Agulhas current and a South African extreme weather event. Weather Forecast 17:655–669

Skamarock WC, Klemp JB, Dudhia J, Gill DO, Barker DM, Wang W, Powers JG (2005) A description of the advanced research WRF version.2 Note Tech NCAR/TN-468 + STR, 88

Skamarock WC, Klemp JB, Dudjia J, Gill DO, Barker DM, Duda MG, Huang XY, Wang JG (2008) A description of the advanced research WRF version 3. NCAR/TN-475 STR, NCAR Technical Note, Mesoscale and Microscale Meteorology Division, National Center for Atmosphere Research, June 2008, 133

Todd MC, Washington R (1998) Extreme daily rainfall in southern African and southwest Indian Ocean tropical temperate links. S Afr J Sci 94:64–70

Tyson TE, Dyer TGJ, Mametse MN (1975) Secular changes in South African rainfall: 1880 to 1972. Q J R Meteorol Soc 101(430):817–833

Usman MT, Reason CJC (2004) Dry spell frequencies and their variability over southern Africa. Clim Res 26:199–211

Washington R, Preston A (2006) Extreme wet years over southern Africa: role of Indian Ocean sea surface temperature. J Geophys Res 111:1–15
Acknowledgements
The first author was sponsored by the MasterCard Foundation Scholars Programme at the University of Cape Town. The rainfall station data used in this research were kindly provided by the Mozambique Meteorological Institute.
About this article
Cite this article
Rapolaki, R.S., Reason, C.J.C. Tropical storm Chedza and associated floods over south-eastern Africa. Nat Hazards 93, 189–217 (2018). https://doi.org/10.1007/s11069-018-3295-y
Received:

Accepted:

Published:

Issue Date:
Keywords
Tropical storm

Floods

Atmospheric modelling

South-eastern Africa