Abstract
Climate change adds another dimension of challenges to the growth and sustainability of Indian agriculture. The growing exposure to livelihood shocks from climate variability/change and limited resource base of the rural community to adapt has reinforced the need to mainstream climate adaptation planning into developmental landscape. However, a better understanding of micro-level perceptions is imperative for effective and informed planning at the macro-level. In this paper, the grass-root level perspectives on climate change impacts and adaptation decisions were elicited at farm level in the Moga district of Punjab and Mahbubnagar district of Telangana, India. The farmers opined that the climatic variability impacts more than the long-term climate change. They observed change in the quantum, onset and distribution of rainfall, rise in minimum as well as maximum temperature levels, decline in crop yield and ground water depletion. The key socio-economic effects of climate change included decline in farm income, farm unemployment, rural migration and increased indebtedness among farmers. In order to cope with climate variability and change thereon, farmers resorted to adaptation strategies such as use of crop varieties of suitable duration, water conservation techniques, crop insurance and participation in non-farm activities and employment guarantee schemes. Farmers' adaptation to changing climate was constrained by several technological, socio-economic and institutional barriers. These include limited knowledge on the costs–benefits of adaptation, lack of access to and knowledge of adaptation technologies, lack of financial resources and limited information on weather. Besides, lack of access to input markets, inadequate farm labour and smaller farm size were the other constraints. Further, on the basis of the grass-root elicitation a 'Need-Based Adaptation' planning incorporating farmers' perceptions on climate change impacts, constraints in the adoption of adaptation strategies and plausible adaptation options were linked with the most suitable ongoing programmatic interventions of the Government of India. The study concluded that micro-level needs and constraints for various adaptation strategies and interventions should be an integral part of the programme development, implementation and evaluation in the entire developmental paradigm.
Access options
Buy single article
Instant access to the full article PDF.
USD 39.95
Price includes VAT (USA)
Tax calculation will be finalised during checkout.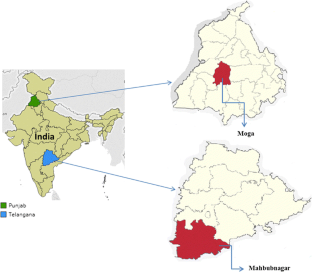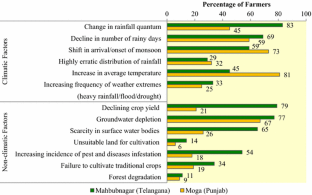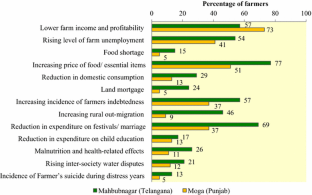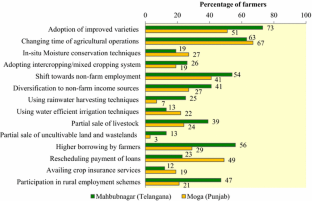 Notes
1.

District is an administrative division of the State, block is subdivision of district and village is the smallest administrative unit.
References
Adger WN, Dessai S, Goulden M, Hulme M, Lorenzoni I, Nelson DR, Naess LO, Wolf J, Wreford A (2009) Are there social limits to adaptation to climate change? Clim Change 93(3):335–354

Alauddin M, Sarker MAR (2014) Climate change and farm-level adaptation decisions and strategies in drought-prone and groundwater-depleted areas of Bangladesh: an empirical investigation. Ecol Econ 106:204–213

Auffhammer M, Ramanathan V, Vincent JR (2012) Climate change, the monsoon, and rice yield in India. Clim Change 111(2):411–424

Ayanlade A, Radeny M, Morton JF (2017) Comparing smallholder farmers perception of climate change with meteorological data: a case study from south-western Nigeria. Weather Clim Extremes 15:24–33

Ayers JM, Huq S, Faisal AM, Hussain ST (2014) Mainstreaming climate change adaptation into development: a case study of Bangladesh. Wiley Interdiscipl Rev Clim Change 5(1):37–51

Berry PM, Rounsevell MDA, Harrison PA, Audsley E (2006) Assessing the vulnerability of agricultural land use and species to climate change and the role of policy in facilitating adaptation. Environ Sci Policy 9:189–204

Bryan E, Deressa TT, Gbetibouo GA, Ringler C (2009) Adaptation to climate change in Ethiopia and South Africa: options and constraints. Environ Sci Policy 12(4):413–426

Bryant RC, Smit B, Brklacich M, Johnston RT, Smithers J, Chiotti Q, Singh B (2000) Adaptation in Canadian agriculture to climatic variability and change. Clim Change 45:181–201

Deressa T, Hassan R, Ringler C, Alemu T, Yesuf M (2009) Determinants of farmers' choice of adaptation methods to climate change in the Nile Basin of Ethiopia. Glob Environ Change 19:248–255

Eisenack K, Moser SC, Hoffmann E, Klein RJ, Oberlack C, Pechan A, Rotter M, Termeer CJ (2014) Explaining and overcoming barriers to climate change adaptation. Nat Clim Change 4(10):867–872

Fankhauser S, Smith JB, Tol RSJ (1999) Weathering climate change: some simple rules to guide adaptation decisions. Ecol Econ 30(1):67–78

FAO (2009) Climate change and agriculture policies: how to mainstream climate change adaptation and mitigation into agriculture policies. Advanced draft of policy guidelines. Easypol draft of policy guidelines. FAO, Rome, Italy

Granjon D (1999) Ennqueˆtes et resultants sur l'adaptation del'agriculture aux different types de stress: le cas de la zonede Napierville, Research report submitted to Singh, B. and Bryant, C.R. as part of a research contract with atmospheric environment services, Environment Canada, Downsview

IPCC (2001) Climate change 2001: impacts, adaptation and vulnerability. Contribution of working group II to the third assessment report of the intergovernmental panel on climate change. In: McCarthy JJ, Canziani OF, Leary NA, Dokken DJ, White KS (eds) Cambridge University Press. Cambridge, UK and New York, USA, pp 981–996

Jat ML, Dagar JC, Sapkota TB, Govaerts B, Ridaura SL, Saharawat YS, Sharma RK, Tetarwal JP, Jat RK, Hobbs H, Stirling C (2016) Chapter three-climate change and agriculture: adaptation strategies and mitigation opportunities for food security in South Asia and Latin America. Adv Agron 137:127–235

Jha B, Tripathi A (2011) Isn't climate change affecting wheat productivity in India? Indian J Agric Econ 66(3):353

Jodha NS, Singh NP, Bantilan MCS (2012) Enhancing farmers adaptation to climate change in arid and semi-arid agriculture of India: evidences from indigenous practices: developing international public goods from development-oriented projects. Working paper series no. 32. ICRISAT, Patancheru, AP, India

Klein RJT (2008) Mainstreaming climate adaptation into development policies and programmes: a European perspective. In: Parliament European (ed) Financing climate change policies in developing countries. European Parliament, Brussels, pp 38–50

Lemos MC, Boyd E (2009) The politics of adaptation across scales: the implications of additionally to policy choices and development. In: Boycoff MT (ed) The politics of climate change: a survey. Taylor and Francis, London

Lobell DB, Schlenker W, Costa-Roberts J (2011) Climate trends and global crop production since 1980. Science 333:616–620

Lobell DB, Sibley A, Ortiz-Monasterio JI (2012) Extreme heat effects on wheat senescence in India. Nature Clim Change 2(3):186–189

Mendelsohn R, Dinar A, Williams L (2006) The distributional impact of climate change on rich and poor countries. Environ Dev Econ 11(2):159–178

Nelson GC, Rosegrant MW, Koo J, Robertson R, Sulser T, Zhu T, Ringler C, Msangi S, Palazzo A, Batka M, Magalhaes M (2009) Climate change: impact on agriculture and costs of adaptation, vol 21. International Food Policy Research Institute, Washington

Padakandla SR (2016) Climate sensitivity of crop yields in the former state of Andhra Pradesh, India. Ecol Ind 70:431–438

Pathak H, Pramanik P, Khanna M, Kumar A (2014) Climate change and water availability in Indian agriculture: impacts and adaptation. Indian J Agric Sci 84:671–679

Porter JR, Xie L, Challinor AJ, Cochrane K, Howden SM, Iqbal MM, Lobell DB, Travasso MI (2014) Food security and food production systems. In: Field CB, Barros VR, Dokken DJ, Mach KJ, Mastrandrea MD, Bilir TE, Chatterjee M, Ebi KL, Estrada YO, Genova RC, Girma B, Kissel ES, Levy AN, MacCracken S, Mastrandrea PR, White LL (eds) Climate change 2014: impacts, adaptation, and vulnerability. Part A: global and sectoral aspects. Contribution of working group II to the fifth assessment report of the intergovernmental panel on climate change. Cambridge University Press, Cambridge, UK and New York, pp 485–533

Rao V (2001) Poverty and public celebrations in Rural India. Ann Am Acad Polit Soc Sci 573(1):85–104

Rao BB, Chowdary PS, Sandeep VM, Rao VUM, Venkateswarlu B (2014) Rising minimum temperature trends over India in recent decades: implications for agricultural production. Glob Planet Change 117:1–8

Sanghi A, Mendelsohn R (2008) The impacts of global warming on farmers in Brazil and India. Glob Environ Change 18:655–665

Sapkota TB, Jat ML, Aryal JP, Jat RK, Khatri-Chhetri A (2015) Climate change adaptation, greenhouse gas mitigation and economic profitability of conservation agriculture: some examples from cereal systems of Indo-Gangetic Plains. J Integr Agric 14(8):1524–1533

Schneider SH, Easterling WE, Mearns LO (2000) Adaptation: sensitivity to natural variability, agent assumptions and dynamic climate changes. Clim Change 45(1):203–221

Singh NP, Bantilan C, Byjesh K (2014) Vulnerability and policy relevance to drought in the semi-arid tropics of Asia—a retrospective analysis. Weather Clim Extremes 3:54–61

Singh NP, Bantilan C, Byjesh K, Nedumaran S, Rao VUM, Venkateswarulu B, Niranjan F, Jayatilaka W, Deb UK, Ha PQ, Suddhiyam P (2015a) Moving along adaptation pathways toward grass-root resilience: a synthesis. In: Singh NP, Bantilan C, Byjesh K, Nedumaran S (eds) Climate change challenges and adaptations at farm-level: case studies from Asia and Africa. CABI Private Limited, Boston, pp 197–211

Singh NP, Byjesh K, Bantilan C, Rao VUM, Nedumaran S, Venkateswarulu B, Niranjan F, Jayatilaka W, Deb UK, Ha PQ, Suddhiyam P (2015b) Analytical framework and methodologies for analysing farm-level vulnerability. In: Singh NP, Bantilan C, Byjesh K, Nedumaran S (eds) Climate change challenges and adaptations at farm-level: case studies from Asia and Africa, vol 9. CABI Private Limited, Boston, pp 11–33

Singh NP, Byjesh K, Bantilan C, Rao VUM, Venkateswarulu B, Niranjan F, Jayatilaka W, Deb UK, Ha PQ, Suddhiyam P, Nedumaran S (2015c) Changing climate-responding to the inevitable. In: Singh NP, Bantilan C, Byjesh K, Nedumaran S (eds) Climate change challenges and adaptations at farm-level: case studies from Asia and Africa. CABI Private Limited, Boston, pp 58–85

Tadesse MA, Shiferaw BA, Erenstein O (2015) Weather index insurance for managing drought risk in smallholder agriculture: lessons and policy implications for Sub-Saharan Africa. Agric Food Econ 3(1):26

Tompkins EL, Adger WN (2003). Building resilience to climate change through adaptive management of natural resources. Tyndall working paper 27. Tyndall Centre for Climate Change Research, University of East Anglia, Norwich, UK

Tripathi A, Mishra AK (2017) Knowledge and passive adaptation to climate change: an example from Indian farmers. Clim Risk Manag 16:195–207

UNDP-UNEP (2011) Mainstreaming climate change adaptation into development planning. A guide for practitioners. UNDP-UNEP Poverty-Environment Facility, Nairobi
About this article
Cite this article
Singh, N.P., Anand, B. & Khan, M.A. Micro-level perception to climate change and adaptation issues: A prelude to mainstreaming climate adaptation into developmental landscape in India. Nat Hazards 92, 1287–1304 (2018). https://doi.org/10.1007/s11069-018-3250-y
Received:

Accepted:

Published:

Issue Date:
Keywords
Climate change

Agriculture

Adaptation

Micro-level perception

Mainstreaming