Abstract
Category 5 tropical cyclone Pam hit Vanuatu in March 2015, affecting thousands of people. Three months after the event, this study compared the responses from both external aid agencies and the disaster-affected communities to identify convergences, duplications and gaps. The research relies on 13 interviews with aid agencies and eight focus group discussions with participatory activities at local community level. While aid agencies actively responded during and after Pam, local people too responded to the event with strategies based on livelihoods diversification, food security techniques, traditional knowledge and cooperation intra- and inter-communities. The study emphasizes the need for an integrative approach where disaster responses from the top-down integrate that from the bottom-up. Aid agencies should build on the livelihood mechanisms developed at local level so responses and recovery can be more effective, socioculturally acceptable and may lead to sustainable outcomes of disaster risk reduction including climate change adaptation.
This is a preview of subscription content,
to check access.
Access this article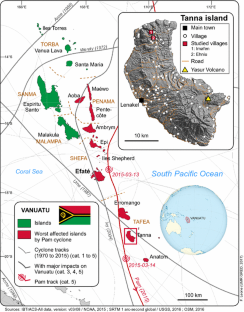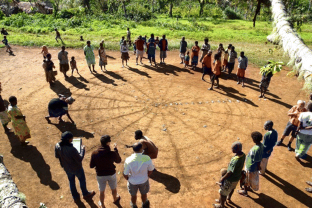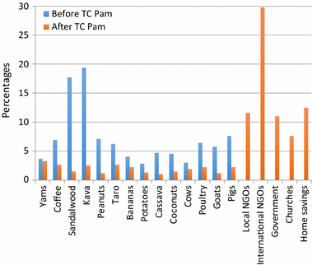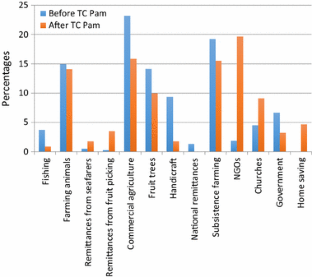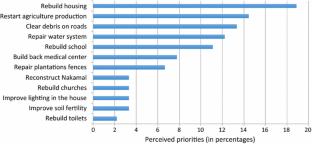 Similar content being viewed by others
Notes
CDCs have been developed from 2011 with the input of CARE and the French Red Cross in collaboration with the National Disaster Management Office (NDMO). They have recently been renamed CDCCCs (Community Disaster and Climate Change Committees).

The Nakamal is used in each village for meetings and ceremonies. This place is also utilized for preparing and drinking kava, central to Ni-Vanuatu culture. The Nakamal is often restricted to men.

Many argue that this actually started earlier as a result of tinned army rations in World War 2.
References
Anderson M, Woodrow P (1989) Rising from the ashes: development strategies in times of disasters. Westview Press, Boulder

Barber R (2015) One size doesn't fit all: tailoring the international response to the national need following Vanuatu's cyclone Pam. Save the children australia, CARE Australia, Oxfam Australia, and World Vision Australia

Bayliss-Smith T, Bedford R, Brookfield H, Latham M (1988) Islands, islanders and the world: the colonial and post-colonial experience in eastern Fiji. Cambridge University Press, Cambridge

Blaikie P, Cannon T, Davis I, Wisner B (1994) At risk: natural hazards, people's vulnerability and disasters. Routledge, London

Bolin R, Stanford L (1998) The northridge earthquake: community-based approaches to unmet recovery needs. Disasters 22(1):21–38

Bonnemaison J, Penot-Demetry J (1994) The tree and the canoe: history and ethnogeography of Tanna. University of Hawaii Press, Honolulu

Briguglio L (1995) Small island developing states and their economic vulnerabilities. World Dev 23(9):1615–1632

Buckle P, Marsh G, Smale S (2003) The development of community capacity as applying to disaster management capability. Research project report 14/2002. Emergency Management Australia, Canberra

Campbell JR (1990) Disasters and development in historical context: tropical cyclone response in the Banks Islands, Northern Vanuatu. Int J Mass Emerg Disasters 8:401–424

Campbell JR (2006) Traditional disaster reduction in Pacific Island communities. GNS Science, Lower Hutt

Campbell JR (2009) Islandness: vulnerability and resilience in Oceania. Shima Int J Res Island Cult 3(1):85–97

Campbell JR (2015) Development, global change and traditional food security in Pacific Island countries. Reg Environ Change 15(7):1313–1324

Chambers R (1998) Beyond "Whose reality counts?" New methods we now need? Stud Cult Organ Soc 4(2):279–301

Chambers R, Conway G (1992) Sustainable rural livelihoods: practical concepts for the 21st century. IDS discussion paper 296. Institute of Development Studies, University of Sussex, Brighton

Christoplos I (2006) The elusive 'window of opportunity' for risk reduction. ProVention Consortium Forum 2006, 2–3 February 2006, Bangkok, Thailand

Coate B, Handmer J, Choong W (2006) Taking care of people and communities. Rebuilding livelihoods through NGOs and the informal economy in Southern Thailand. Disaster Prev Manag Int J 15(1):135–145

Connell J (2013) Islands at risk? Environments, economies, and contemporary change. Edward Elgar, Cheltenham

Cooke B, Kothari U (2001) Participation: the new tyranny?. Zed Books, London

Cornwall A (2011) The participation reader. Zed Books, London

Craven LK (2015) Migration-affected change and vulnerability in rural Vanuatu. Asia Pac Viewp. https://doi.org/10.1111/apv.12066

Cronin SJ, Gaylord DR, Charley D, Alloway BV, Wallez S, Esau JW (2004) Participatory methods of incorporating scientific with traditional knowledge for volcanic hazard management on Ambae island, Vanuatu. Bull Volcanol 66(1):652–668

Daly P, Brassard C (2011) Aid accountability and participatory approaches in post-disaster housing reconstruction. Asian J Soc Sci 39(1):508–533

Daly M, Poutasi N, Nelson F, Kohlhase J (2010) Reducing the climate vulnerability of coastal communities in Samoa. J Int Dev 22(2):265–281

DFID (1999) Sustainable livelihoods guidance sheets. DFID Department for International Development, London

Ellis F (2000) The determinants of rural livelihood diversification in developing countries. J Agric Econ 51(2):289–302

Eyben R (2008) Power, mutual accountability and responsibility in the practice of international aid: a relational approach. In: IDS working paper no. 305

Furedi F (2007) The changing meaning of disaster. Area 39(4):482–489

Gaillard JC, Mercer J (2013) From knowledge to action Bridging gaps in disaster risk reduction. Prog Hum Geogr 37(1):93–114

Gaillard JC, Maceda EA, Stasiak E, Le Berre I, Espaldon MVO (2009) Sustainable livelihoods and people's vulnerability in the face of coastal hazards. J Coast Conserv 13(2):119–129

Gaillard JC, Cadag JRD, Hore K, Le Dé L, McSherry A (2016) A typology of participatory numbers. Dev Pract 26(8):998–1012

Galipaud JC (2002) Under the volcano: Ni-Vanuatu and their environment. In: Torrence R, Grattan J (eds) Natural disasters and cultural change. Routledge, London, pp 162–171

Government of Vanuatu (GoV) (2015) Tropical cyclone Pam—humanitarian action plan

Guijt I, Shah MK (1998) The myth of community: gender issues in participatory development. Intermediate Technology Publications, London

Hazelgrove-Planel L (2015) Cyclone Pam from the field: adapting to climate change? Anthropol Today 31(6):20–21

Heijmans A (2001) Vulnerability: a matter of perception. In: Disaster management working paper 4/2001. Benfield Greig Hazard Research Centre, London

Heijmans A (2009) The social life of community-based disaster risk reduction: origins, politics and framing. In: Disaster studies working paper 20. Aon Benfield University College London Hazard Research Centre, London

Hewitt K (1983) The idea of calamity in a technocratic age. In: Hewitt K (ed) Interpretations of calamity from the viewpoint of human ecology. Allen and Unwin, Boston, pp 3–32

Hoeke RK, McInnes KL, Kruger JC, McNaught TRJ, Hunter JR, Smithers SG (2013) Widespread inundation of Pacific islands triggered by distant-source wind-waves. Glob Planet Change 108(1):128–138

Jolly M (1992) Custom and the way of the land: past and present in Vanuatu and Fiji. Oceania 62(4):330–354

Kapadia K (2014) Sri Lankan livelihoods after the tsunami: searching for entrepreneurs, unveiling relations of power. Disasters 39(1):23–50

Kelman I (2005) Some outlying effects of Cyclone Zoe. In: Jeggle T (ed) Know risk. Tudor Rose Publications, Leicester, and UN Secretariat for the International Strategy for Disaster Reduction, Geneva. p 237

Kelman I, Mather TA (2008) Living with volcanoes: the sustainable livelihoods approach for volcano-related opportunities. J Volcanol Geoth Res 172(1):189–198

Kelman I, West JJ (2009) Climate change and small island developing states: a critical review. Ecol Environ Anthropol 5(1):1–16

Kelman I, Lewis J, Gaillard JC, Mercer J (2011) Participatory action research for dealing with disasters on islands. Isl Stud J 6(1):59–86

Kelman I, Mercer J, Gaillard JC (eds) (2017) The Routledge handbook of disaster risk reduction including climate change adaptation. Routledge International Handbooks, Routledge, p 528

Khan KS, Shanmugaratnam N, Nyborg ILP (2015) Recovering from disasters: a study of livelihoods in post-quake villages in northern Pakistan. Disasters 39(2):339–361

Le Billon P (2000) The political economy of war: what relief agencies need to know. Humanitarian practice network, network paper 33. Overseas Development Institute, London

Le Dé L (2017) Connecting knowledge and policy for disaster risk reduction including climate change adaptation. In: Kelman I, Mercer J, Gaillard JC (eds) Routledge handbook of disaster risk reduction and climate change adaptation. Routledge, London, pp 274–285

Le Dé L, Gaillard JC, Friesen W (2014) Academics doing participatory disaster research: how participatory is it? Environ Hazards 14(1):1–15

Le Dé L, Gaillard JC, Friesen W, Smith FM (2015) Remittances in the face of disasters: a case study of rural Samoa. Environ Dev Sustain 17(3):653–672

Lewis J (1981) Some perspectives on natural disaster vulnerability in Tonga. Pac Viewp 22:145–162

Lewis J (2009) An island characteristic. Shima Int J Res Isl Cult 3(1):3–15

Lewis J, Kelman I (2010) Places, people and perpetuity: community capacities in ecologies of catastrophe. ACME Int e-J Crit Geogr 9(2):191–220

Longley C, Maxwell D (2003) Livelihoods, chronic conflict ad humanitarian response: a synthesis of current practice. In: Working paper 182, Overseas Development Institute, London

Marsh G (2001) Disaster management and the role of community in the post-modern age. In: Paper presented at the 5th conference of the European Sociological Association. 28 August–1 September. Helsinki, Finland

Meleisea M (1987) Lagaga: a short history of Western Samoa. Institute of Pacific Studies, University of the South Pacific, Suva

Mercer J, Dominey-Howes D, Kelman I, Lloyd K (2007) The potential for combining indigenous and western knowledge in reducing vulnerability to environmental hazards in small island developing states. Environ Hazards 7(4):245–256

Mercer J, Kelman I, Taranis L, Suchet-Pearson S (2010) Framework for integrating indigenous and scientific knowledge for disaster risk reduction. Disasters 34(1):214–239

Middleton N, O'Keefe P (1997) Disaster and development: the politics of humanitarian aid. Pluto Press, London

Moatty A, Gaillard JC, Vinet F (2017) From disaster to development: challenges and opportunities of the post-disaster recovery. Ann Geogr 714(1):169–194

Nurse L, McLean R, Agard J, Briguglio LP, Duvat V, Pelesikoti N, Tompkins E, Webb A (2014) Small islands. Climate change 2014: impacts, adaptation and vulnerability, Part B: regional aspects, contribution of working group II to the fifth assessment report of the Intergovernmental Panel on Climate Change. Cambridge University Press, Cambridge, pp 1613–1654

Office for the Coordination of Humanitarian Affairs (2015) Flash appeal emergency response plan for Vanuatu, tropical cyclone Pam, March–June 2015

Office of the High Representative for the Least Developed Countries, Landlocked Developing Countries and Small Island Developing States (UN-OHRLLS) (2015) Small Island Developing States in numbers: climate change edition 2015. UN-OHRLLS

Oliver-Smith A (1990) Post-disaster housing reconstruction and social inequality: a challenge to policy and practice. Disasters 14(1):7–19

Pardasani M (2006) Tsunami reconstruction and redevelopment in the Maldives. Disaster Prev Manag Int J 15(1):79–91

Paulson DD (1993) Hurricane hazard in Western Samoa. Geogr Rev 83(1):43–53

Pelling M, Uitto JI (2001) Small island developing states: natural disaster vulnerability and global change. Environ Hazards 3(2):49–62

Rampengan MMF, Boedhihartono A, Law L, Gaillard JC, Sayer J (2014) Capacities in facing natural hazards: a small island perspective. Int J Disaster Risk Sci 5(1):247–264

Sardos J, Muller S, Duval MF, Noyer JL, Lebot V (2015) Root crops diversity and agricultural resilience: a case study of traditional agrosystems in Vanuatu (Oceania). Agric Hum Values. https://doi.org/10.1007/s10460-015-9657-0

Schilderman T, Lyons M (2011) Resilient dwellings or resilient people? Towards people-centred reconstruction. Environ Hazards 10:218–231

Scoones I (1998) Sustainable rural livelihoods: a framework for analysis. In: IDS working paper 72. Institute for Development Studies, Brighton

Scoones I (2009) Livelihoods perspectives and rural development. J Peasant Stud 36(1):171–196

Shaw R, Ishiwatari M, Arnold M (2011) Community-based disaster risk management. The World Bank, Washington

Smith GP, Wenger D (2007) Sustainable disaster recovery: operationalizing an existing agenda. In: Rodríguez H, Quarantelli EL, Dynes RR (eds) Handbook of disaster research. Springer, New York, pp 234–257

SPC (2016) Tropical cyclone Pam lessons learned workshop report June 2015. SPC Pacific Community, Suva, Fiji

Thaman RR, Meleisea M, Makasiale J (1979) Agricultural diversity and traditional knowledge as insurance against natural disasters. In: Annex 10 in Natural disaster prevention, preparedness and rehabilitation meeting, South Pacific Bureau for Economic Cooperation, 26–30 November 1979, Suva

Twigg J (1999) The age of accountability? Future community involvement in disaster reduction. Aust J Emerg Manag 14(4):51–58

Twigg J (2007) Characteristics of a disaster-resilient community: a guidance note, version 1. UK Department for International Development's Disaster Risk Reduction Inter-agency Coordination Group, London

UNISDR (2017) Vanuatu disaster and risk profile: basic country statistics and indicators. Preventionweb managed by UNISDR. http://www.preventionweb.net/countries/vut/data/

Vincent E, Lengaigne M, Menkes C, Jourdain N, Marchesiello P, Madec G (2011) Interannual variability of the South Pacific Convergence Zone and implications for tropical cyclone genesis. Clim Dyn 36(1):1881–1896

Waddell E (1983) Coping with frosts, governments and disaster experts: some reflections based on a New Guinea experience and a perusal of the relevant literature. In: Hewitt K (ed) Interpretations of calamity: from the viewpoint of human ecology. Allen & Unwin, Boston, pp 231–262

Walshe RA, Nunn PD (2012) Integration of indigenous knowledge and disaster risk reduction: a case study from Baie Martelli, Pentecost Island, Vanuatu. Int J Disaster Risk Sci 3(4):185–194

Warrick O (2009) Ethics and methods in research for community-based adaptation: reflections from rural Vanuatu. Particip Learn Action 60:76–87

Watts MJ, Bohle HG (1993) The space of vulnerability: the causal structure of hunger and famine. Prog Hum Geogr 17(1):43–67

Webb J (2017) Does gender responsive disaster risk reduction make a difference? A comparative study of category five tropical cyclone Pam in Vanuatu. Care International in Vanuatu, Port Vila. Retrieved from https://www.care.org.au/wp-content/uploads/2017/04/CARE_Vanuatu_DRR_Impact_Study_3_FINAL_web_amend.pdf

Wisner B, Gaillard JC, Kelman I (eds) (2012) Handbook of hazards and disaster risk reduction. Routledge, London

Yates L, Anderson-Berry L (2004) The societal and environmental impacts of Cyclone Zoe and the effectiveness of the tropical cyclone warning systems in Tikopia and Anuta, Solomon Islands, 26–29 December 2002. Aust J Emerg Manag 19(1):16–20
Acknowledgements
The authors thank the French Institute of Research for Development/Institut de recherche pour le développement (IRD) who funded this research. We also thank the French Red Cross in Vanuatu for their collaboration. We are particularly grateful to David Bridier, Robert Butal and Julien Lamberti for their support on the field.
About this article
Cite this article
Le Dé, L., Rey, T., Leone, F. et al. Sustainable livelihoods and effectiveness of disaster responses: a case study of tropical cyclone Pam in Vanuatu. Nat Hazards 91, 1203–1221 (2018). https://doi.org/10.1007/s11069-018-3174-6
Received:

Accepted:

Published:

Issue Date:

DOI: https://doi.org/10.1007/s11069-018-3174-6
Keywords