Abstract
In September 2014, the state of Baja California Sur (BCS), Mexico, was struck by hurricane Odile. The hurricane caused extensive damage to the infrastructure of the state of BCS, where the energy and water supply were interrupted for several days. The direct economic impact was estimated to be more than 1654 million USD. Considering this damage, few days after the cyclonic event, a technical visit to BCS was carried out. The objective of this study is to present the relevant information on the performance of the infrastructure observed after the event, and to make recommendations in order to mitigate the effects of future cyclonic storms in Mexico, based on the observations during the technical visit. The main causes of damage were the use of materials for non-structural elements with a weak performance under high wind speeds, failures in the design and construction of connections of structural and non-structural elements, accumulated damage, lack of maintenance and impact of wind-born debris, as well as the absence of a building code in the region. Background information about meteorological and climatological aspects of the cyclones that have affected the southern region of BCS, the characteristics of hurricane Odile, the analysis of structural damages and the conclusions, are also presented.
Access options
Buy single article
Instant access to the full article PDF.
USD 39.95
Price includes VAT (USA)
Tax calculation will be finalised during checkout.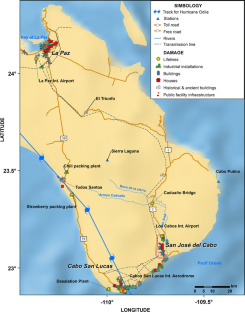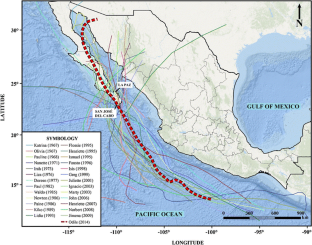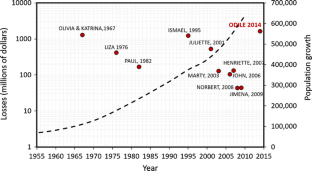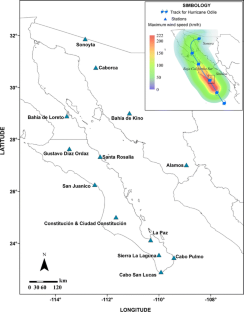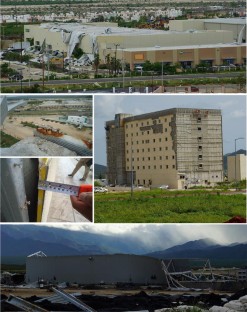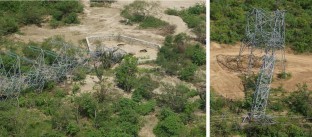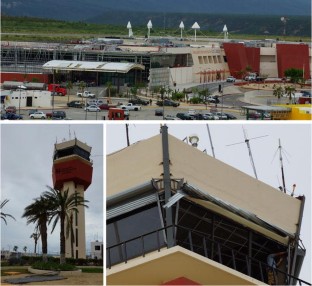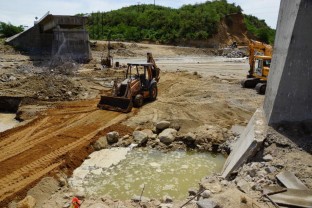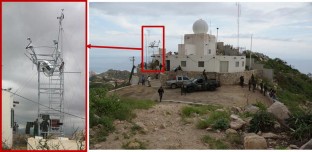 References
Bjarnadottir S, Li Y, Stewart M (2013) Hurricane risk assessment of power distribution poles considering impacts of a changing climate. J Infrastruct Syst 19(1):12–24

CFE J1000-50 (2016) Torres para líneas de subtransmisión y transmisión. Especificación CFE J1000-50, Comisión Federal de Electricidad (in Spanish). http://lapem.mx/normas/pdfs/c/J1000-50.pdf. Consulted on 20 Nov 2017

CFE J6100-54 (2011) Postes metálicos para líneas de transmisión y subtransmisión. Especificación CFE J6100-54, Comisión Federal de Electricidad (in Spanish). http://lapem.cfe.gob.mx/normas/pdfs/f/J6100-54.pdf. Consulted on 20 Nov 2017

INEGI (2015) National Institute of Statistics and Geography (2015) http://www3.inegi.org.mx/sistemas/sisept/Default.aspx?t=mdemo148&s=est&c=29192. Consulted on 15 Nov 2015

MDOC-DV (2008) Manual de Diseño de Obras Civiles–Diseño por Viento. Comisión Federal de Electricidad (in Spanish)

Murià-Vila D (General Editor), Chávez MM, García NA, Jaimes MA, López A, Nava S, Peña F, Pérez-Gavilán J, Pozos A, Sánchez-Sesma J, Reinoso E (Chapter coordinators, in alphabetical order) (2015) El huracán Odile y sus efectos en la infraestructura del sur de la península de Baja California. In: Serie Investigación y Desarrollo. Instituto de Ingeniería, UNAM, SID 696, p 301. https://doi.org/10.13140/rg.2.1.2107.5282 (in Spanish)

Padgett J, DesRoches R, Nielson B, Yashinsky M, Kwon O, Burdette N, Tavera E (2008) Bridge damage and repair costs from Hurricane Katrina. J Bridge Eng 13(1):6–14

Pielke R, Landsea C (1998) Normalized hurricane damages in the United States: 1925–95. Am Meteorol Soc 13:621–631

Rawls C, Turnquist M (2012) Pre-positioning and dynamic delivery planning for short-term response following a natural disaster. Socio-Econ Plan Sci 46(1):46–54

Silva R, Ruiz G, Marino-Tapia I, Posada G, Mendoza E, Escalante E (2012) Manmade vulnerability of the Cancun beach system: the case of hurricane Wilma. Clean-Soil Air Water 40(9):911–919

Silva R, Martínez ML, Hesp P, Catalan P, Osorio AF, Martell R, Fossati M, Miot da Silva G, Mariño-Tapia I, Pereira P, Cienfuegos R, Klein A, Govaere G (2014) Present and future challenges of coastal erosion in Latin America. In: Silva R, Strusińska-Correia A (eds) Coastal erosion and management along developing coasts: selected cases. J Coast Res Spec Issue 71: 1–16. Coconut Creek (Florida), ISSN 0749-0208
Acknowledgements
The authors thank the Institute of Engineering of the National Autonomous University of Mexico (IIUNAM) and the Mexican Academy of Engineering (AIM) for their initiative to carry out and coordinate the trip to the most affected areas by the Hurricane Odile. Thanks to Carlos M. Valdés, Managing Director of the National Center for Disaster Prevention, for the support provided and the implementation of an official safe-conduct for the members of the working group in order to facilitate access to the affected sites. Thanks to José L. Fernández, Executive Director of the National Institute of Electricity and Clean Energies (formerly Institute of Electrical Research), and Victor J. Bourguett, Managing Director of the Mexican Institute of Water Technology, for supporting and joining this initiative of IIUNAM and AIM to form an inter-institutional specialists group to carry out the reconnaissance visit to the most affected area by the hurricane and to develop this paper. The authors are also grateful to César F. Fuentes, Coordinator of Transmission and Transformation Projects of the Federal Electricity Commission; Alejandro Argudín, Managing Director of Civil Aeronautics of the Ministry of Communications and Transportation; Juan M. Caballero, Director of the National Meteorological Service; Fernando Hoyos, Protection Officer of the Port Facility of the Integral Port Administration Cabo San Lucas; Jorge Yáñez, Deputy of Risk Engineering of the National Provincial Group; and Fredy Velázquez, Head of the Los Cabos Sea Water Desalination Plant, for their support. Several of the previous contacts were achieved thanks to the intervention of Sergio M. Alcocer, President of the AIM, and Adalberto Noyola, Director of IIUNAM. The valuable collaboration of Ulises Mena, Jorge E. Arboleda, Juan J. Pérez, Norlang M. García, Sarai Nava, José A. Escobar, Martín Jiménez, Edmundo Amaya, Alfredo Sergio, Isaac F. Lima and Faustino Ventura, all members of the group of specialists who participated in the work on Hurricane Odile and its effects on the infrastructure of the state of Baja California Sur, Mexico, is gratefully acknowledged. The authors appreciate the valuable comments and suggestions of Sergio M. Alcocer, Rodolfo Silva, Víctor Franco and José A. Boyer.
About this article
Cite this article
Murià-Vila, D., Jaimes, M.Á., Pozos-Estrada, A. et al. Effects of hurricane Odile on the infrastructure of Baja California Sur, Mexico. Nat Hazards 91, 963–981 (2018). https://doi.org/10.1007/s11069-017-3165-z
Received:

Accepted:

Published:

Issue Date:
Keywords
Hurricane Odile

Wind risk

Performance of the infrastructure

Mexico