Abstract
Different techniques have been used to discuss the existence of significant relation between the El Nino Southern Oscillation (ENSO) and Indian Ocean Dipole (IOD). Various studies present their interaction and influence on the natural disasters (i.e. drought, flood, etc.) over large parts of the globe. This study uses a Markov chain method to investigate the relation between the ENSO and IOD for the period of 62 years (1950–2011) and aggregates their influence on the occurrence of floods in Pakistan. Both data sets show similarities in the formation of transition matrices and expected number of visits from one state to another. The strong values of 2-dimensional correlation and high self-communication of the transition states confirm the existence of a possible relation between ENSO and IOD data. Moreover, significant values of dependency and stationary test endorse the applicability of the Markov chain analyses. The independent analysis shows that strong events of both data sets are co-occurred in the same flood years. During the study period maximum number of floods was observed during summer monsoon season. However, further analysis shows that after 1970, Pakistan observed the highest percentage of floods occurred per year during El Nino, Non-ENSO and positive IOD years. These observations and results demonstrate that climate variability especially ENSO and IOD should be incorporated into disaster risk analyses and policies in Pakistan.
Access options
Buy single article
Instant access to the full article PDF.
USD 39.95
Price includes VAT (USA)
Tax calculation will be finalised during checkout.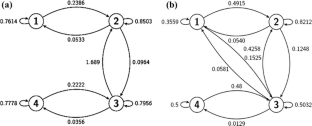 References
Ashok K, Guan Z, Yamagata T (2001) Impact of the Indian Ocean Dipole on the relationship between the Indian monsoon rainfall and ENSO. Geophys Res Lett 28:4499–4502

Ashok K, Guan Z, Yamagata T (2003) A look at the relationship between the ENSO and the Indian Ocean Dipole. J Meteorol Soc Japan Ser II 81:41–56

Ashok K, Guan Z, Saji N, Yamagata T (2004) Individual and combined influences of ENSO and the Indian Ocean dipole on the Indian summer monsoon. J Clim 17:3141–3155

Behera SK, Yamagata T (2003) Influence of the Indian Ocean Dipole on the Southern Oscillation. J Meteorol Soc Japan Ser II 81:169–177

Black E (2005) The relationship between Indian Ocean sea–surface temperature and East African rainfall. Philos Trans R Soc Lond A Math Phys Eng Sci 363:43–47

Brown M, Ross SM (1969) Some results for infinite server Poisson queues. Journal of Appl Probab 6:604–611

Chakraborty A, Behera SK, Mujumdar M, Ohba R, Yamagata T (2006) Diagnosis of tropospheric moisture over Saudi Arabia and influences of IOD and ENSO. Mon Weather Rev 134:598–617

Chakravorty S, Chowdary J, Gnanaseelan C (2014) Epochal changes in the seasonal evolution of tropical Indian Ocean warming associated with El Niño. Clim Dyn 42:805–822

Chang P et al (2006) Climate fluctuations of tropical coupled systems-the role of ocean dynamics. J Clim 19:5122–5174

Chen D, Cane MA (2008) El Niño prediction and predictability. J Comput Phys 227:3625–3640

Cherchi A, Navarra A (2013) Influence of ENSO and of the Indian Ocean Dipole on the Indian summer monsoon variability. Clim Dyn 41:81–103

del Río S, Anjum Iqbal M, Cano-Ortiz A, Herrero L, Hassan A, Penas A (2013) Recent mean temperature trends in Pakistan and links with teleconnection patterns. Int J Climatol 33:277–290

Dilley M, Heyman BN (1995) ENSO and disaster: droughts, floods and El Niño/Southern Oscillation warm events. Disasters 19:181–193

Du Y, Cai W, Wu Y (2013) A new type of the Indian Ocean Dipole since the mid-1970s. J Clim 26:959–972

Girishkumar M, Ravichandran M (2012) The influences of ENSO on tropical cyclone activity in the Bay of Bengal during October–December. J Geophys Res Oceans 117

Hassan D, Iqbal A, Hassan SA, Abbas S, Ansari MRK (2016) Sunspots and ENSO relationship using Markov method. J Atmos Solar Terr Phys 137:53–57

Hussain MS, Kim S, Lee S (2016) On the relationship between Indian Ocean Dipole events and the precipitation of Pakistan. Theor Appl Climatol: 1–13

Ju J, Slingo J (1995) The Asian summer monsoon and ENSO Quarterly. J R Meteorol Soc 121:1133–1168

Kazi A (2014) A review of the assessment and mitigation of floods in Sindh, Pakistan. Nat Hazards 70:839–864

Khan AN (2011) Analysis of flood causes and associated socio-economic damages in the Hindukush region. Nat Hazards 59:1239–1260

Khan B, Iqbal MJ, Yosufzai MAK (2011) Flood risk assessment of river Indus of Pakistan. Arab J Geosci 4:115–122

Kiem AS et al (2016) Natural hazards in Australia: droughts. Clim Change 139:37–54

Kruger A (1999) The influence of the decadal-scale variability of summer rainfall on the impact of El Niño and La Niña events in South Africa. Int J Climatol 19:59–68

Lawler GF (2004) An introduction to the stochastic Loewner evolution Random Walks and Geometry 261. Berlin: de Gruyter Co.) available online at http://www.math.cornell.edu/lawler/papers.html

Lestari RK, Koh T-Y (2016) Statistical evidence for asymmetry in ENSO–IOD interactions. Atmos Ocean 54:498–504

Li T, Wang B, Chang C, Zhang Y (2003) A theory for the Indian Ocean Dipole-Zonal mode. J Atmos Sci 60:2119–2135

Liu X, Yuan H, Guan Z (2008) Effects of ENSO on the relationship between IOD and China summer rainfall. J Trop Meteorol 24:502–506

Logofet DO, Lesnaya EV (2000) The mathematics of Markov models: what Markov chains can really predict in forest successions. Ecol Model 126:285–298

Mahala BK, Nayak BK, Mohanty PK (2015) Impacts of ENSO and IOD on tropical cyclone activity in the Bay of Bengal. Nat Hazards 75:1105–1125

Meyers G, McIntosh P, Pigot L, Pook M (2007) The years of El Niño, La Niña, and interactions with the tropical Indian Ocean. J Clim 20:2872–2880

Meza FJ (2013) Recent trends and ENSO influence on droughts in Northern Chile: an application of the standardized precipitation evapotranspiration index. Weather Clim Extrem 1:51–58

Neng S, Luwen C, Dongdong X (2002) A preliminary study on the global land annual precipitation associated with ENSO during 1948–2000. Adv Atmos Sci 19:993–1003

Nur'utami MN, Hidayat R (2016) Influences of IOD and ENSO to indonesian rainfall variability: role of atmosphere-ocean interaction in the Indo-pacific sector. Proc Environ Sci 33:196–203

Osti R, Hishinuma S, Miyake K, Inomata H (2011) Lessons learned from statistical comparison of flood impact factors among southern and eastern Asian countries. J Flood Risk Manag 4:203–215

Paulikas M, Rahman M (2015) A temporal assessment of flooding fatalities in Pakistan (1950–2012). J Flood Risk Manag 8:62–70

Priya P, Mujumdar M, Sabin T, Terray P, Krishnan R (2015) Impacts of Indo-Pacific sea surface temperature anomalies on the summer monsoon circulation and heavy precipitation over northwest India–Pakistan region during 2010. J Clim 28:3714–3730

Räsänen TA, Kummu M (2013) Spatiotemporal influences of ENSO on precipitation and flood pulse in the Mekong River Basin. J Hydrol 476:154–168

Ronghui H, Yifang W (1989) The influence of ENSO on the summer climate change in China and its mechanism. Adv Atmos Sci 6:21–32

Saji N, Yamagata T (2003a) Possible impacts of Indian Ocean dipole mode events on global climate. Climate Res 25:151–169

Saji N, Yamagata T (2003b) Structure of SST and surface wind variability during Indian Ocean Dipole mode events: COADS observations. J Clim 16:2735–2751

Saji N, Goswami B, Vinayachandran P, Yamagata T (1999) A dipole mode in the tropical Indian Ocean. Nature 401:360–363

Sankar S, Kumar MR, Reason C (2011) On the relative roles of El Nino and Indian Ocean Dipole events on the Monsoon Onset over Kerala. Theoret Appl Climatol 103:359–374

Schmocker-Fackel P, Naef F (2010) Changes in flood frequencies in Switzerland since 1500. Hydrol Earth Syst Sci 14:1581–1594

Shamshad A, Bawadi M, Hussin WW, Majid T, Sanusi S (2005) First and second order Markov chain models for synthetic generation of wind speed time series. Energy 30:693–708

Shankman D, Keim BD, Song J (2006) Flood frequency in China's Poyang Lake region: trends and teleconnections. Int J Climatol 26:1255–1266

Singh A, Delcroix T, Cravatte S (2011) Contrasting the flavors of El Niño‐Southern Oscillation using sea surface salinity observations. J Geophys Res Oceans 116

Tariq MAUR, van de Giesen N (2012) Floods and flood management in Pakistan. Phys Chem Earth Parts A/B/C 47:11–20

Torre M, Poggi P, Louche A (2001) Markovian model for studying wind speed time series in Corsica. Int J Renew Energy Eng 3:311–319

Vanniere B et al (2013) Orbital changes, variation in solar activity and increased anthropogenic activities: controls on the Holocene flood frequency in the Lake Ledro area. North Italy Clim Past 9:1193–1209

Ward PJ, Jongman B, Kummu M, Dettinger MD, Weiland FCS, Winsemius HC (2014) Strong influence of El Niño Southern Oscillation on flood risk around the world. Proc Natl Acad Sci 111:15659–15664

Webster PJ, Moore AM, Loschnigg JP, Leben RR (1999) Coupled ocean–atmosphere dynamics in the Indian Ocean during 1997–98. Nature 401:356–360

Yin Y, Xu Y, Chen Y (2009) Relationship between flood/drought disasters and ENSO from 1857 to 2003 in the Taihu Lake basin. China Quat Int 208:93–101

Yongquan WANG (1993) Solar activity and maximum floods in the world. In: Extreme hydrological events: precipitation, floods and droughts; Proc., Yokohama Symp, pp. 121–127

Yu J-Y, Lau K (2005) Contrasting Indian Ocean SST variability with and without ENSO influence: a coupled atmosphere-ocean GCM study. Meteorol Atmos Phys 90:179–191

Yuan Y, Li C (2008) Decadal variability of the IOD-ENSO relationship. Chin Sci Bull 53:1745–1752

Zubair L, Rao SA, Yamagata T (2003) Modulation of Sri Lankan Maha rainfall by the Indian Ocean dipole. Geophys Res Lett 30
Acknowledgement
The authors are thankful to the International disaster database centre (EM-DAT) for the flood-related data and National Oceanic and Atmospheric Administration (NOAA) for providing the sunspots and ENSO data.
About this article
Cite this article
Iqbal, A., Hassan, S.A. ENSO and IOD analysis on the occurrence of floods in Pakistan. Nat Hazards 91, 879–890 (2018). https://doi.org/10.1007/s11069-017-3158-y
Received:

Accepted:

Published:

Issue Date:
Keywords
El Nino Southern Oscillation

Indian Ocean Dipole

Flood

Markov chain