Abstract
Flash floods are one of the most disastrous natural hazards and cause serious loss of life and economic damage every year. Flooding frequently affects many regions in China, including periodically catastrophic events. An extensive compilation of the available data has been conducted across various hydroclimatological regions to analyze the spatiotemporal characteristics of flash floods in China. This inventory includes over 782 documented events and is the first step toward establishing an atlas of extreme flash flood occurrences in China. This paper first presents the data compilation strategy, details of the database contents, and the typical examples of first-hand analysis results. The subsequent analysis indicates that the most extreme flash floods originate mainly from small catchments over complex terrains and results in dominantly small- and medium-sized flooding events in terms of scales; however, these events, abrupt and seasonally recurrent in nature, account for a large proportion of the overall flooding-related disasters, especially disproportionately affecting elderly and youth populations. Finally, this study also recommends several immediate measures could be implemented to mitigate high impacts of deadly flash floods, although it still requires long-term significant efforts to protect human life and property in a country like China.
This is a preview of subscription content,
to check access.
Access this article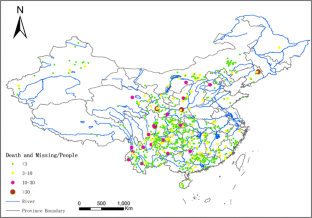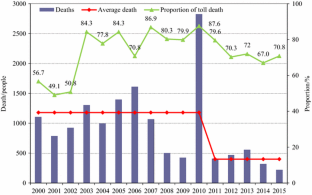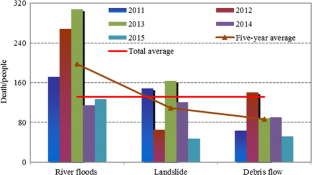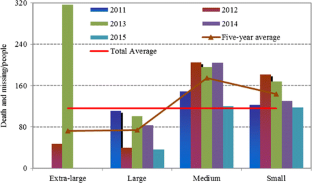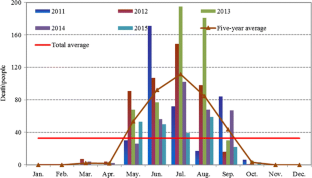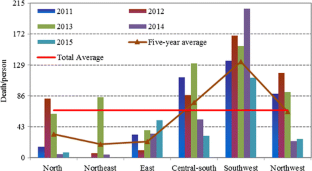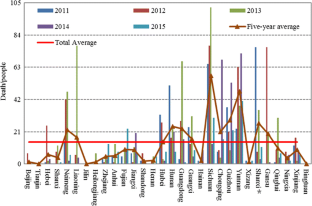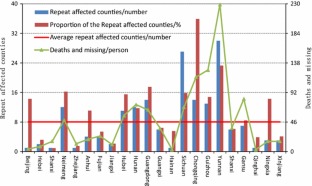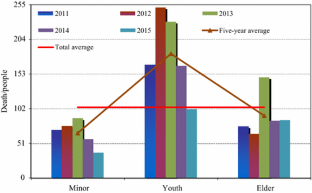 References
Ashley ST, Ashley WS (2008) Flood fatalities in the United States. J Appl Meteorol Climatol 47(3):805–818

Barredo JI (2007) Major flood disasters in Europe: 1950–2005. Nat Hazards 42(1):125–148

Beniston M, Stoffel M, Hill M et al (2011) Impacts of climatic change on water and natural hazards in the Alps: can current water governance cope with future challenges? Examples from the European "ACQWA" project. Environ Sci Policy 14(7):734–743

Bosher L, Chmutina K (2017) Disaster risk reduction for the built environment. Wiley, Hoboken

Chi X, Yin Z, Wang X et al (2016) Spatiotemporal variations of precipitation extremes of China during the past 50 years (1960–2009). Theor Appl Climatol 124(3):555–564

Creutin JD, Borga M, Gruntfest E et al (2013) A space and time framework for analyzing human anticipation of flash floods. J Hydrol 482(5):14–24

Ferro G (2005) Assessment of major and minor events that occurred in Italy during the last century using a disaster severity scale score. Prehosp Disaster Med 20(5):316

Fu C, Jiang Z, Guan Z et al (2008) Climate extremes and related disasters in China. Regional climate studies of China. Springer, Berlin, pp 313–344

Gao Y, Wang C, Zhang G et al (2007) Study on climate and environment on the outburst and classification of the flash flood. Heilongjiang Meteorol 34(3):37–39

Gaume E, Livet M, Desbordes M et al (2004) Hydrological analysis of the river Aude, France, flash flood on 12 and 13 November 1999. J Hydrol 286(1–4):135–154

Georgakakos KP, Hudlow MD (1984) Quantitative precipitation forecast techniques for use in hydrologic forecasting. Bull Am Meteorol Soc 65(11):1186–1200

Gourley JJ, Hong Y, Flamig ZL et al (2013) A unified flash flood database across the United States. Bull Am Meteorol Soc 94(6):799–805

Gourley JJ, Flamig ZL, Vergara H et al (2016) The flooded locations and simulated hydrographs (FLASH) project: improving the tools for flash flood monitoring and prediction across the United States. Bull Am Meteorol Soc 98(2):361–372

Green C et al (2013) Flood risk management in Europe: the flood problem and interventions, vol 1. STAR-FLOOD Consortium

Guzzetti F, Stark CP, Salvati P (2005) Evaluation of flood and landslide risk to the population of Italy. Environ Manag 36(1):15–36

He B, Li Q (2014) Exploration on presenting situation and developing tendency of mountain flood disaster prevention technology. China Water Resour 18:11–13

Hong Y, Adhikari P, Gourley JJ (2013) Flash flood. In: Bobrowsky PT (ed) Encyclopedia of natural hazards. Encyclopedia of earth sciences series. Springer, Netherlands, pp 324–325

Jonkman SN, Kelman I (2005) An analysis of the causes and circumstances of flood disaster deaths. Disasters 29(1):75–97

Kleinen T, Petschel-Held G (2007) Integrated assessment of changes in flooding probabilities due to climate change. Clim Change 81(3):283–312

Miao L, Zhu F, Sun Z et al (2016) China's land-use changes during the past 300 years: a historical perspective. Int J Environ Res Public Health 13(9):847

Ren H, Zou X, Zhang P (2007) An elementary study on causing-factors of Chinese mountain torrents disaster. China Water Resour 14:18–20

Špitalar M, Gourley JJ, Lutoff C et al (2014) Analysis of flash flood parameters and human impacts in the US from 2006 to 2012. J Hydrol 519:863–870

State Flood Control and Drought Relief Office, the Ministry of Water Resources of the People's Republic of China (2011–2015) Bulletin of flood and drought disasters in China. China Water Power Press, Beijing (in Chinese)

Sun D, Zhang D, Cheng X (2012) Framework of national non-structural measures for flash flood disaster prevention in China. Water 4(1):272–282

The National Development and Reform Commission of the People's Republic of China (NDRC) (2011) The small and medium-sized rivers and dam reinforcement, flash flood geological disaster prevention and comprehensive management overall planning, 4 (in Chinese)

Yang H, Yang D, Hu Q et al (2015) Spatial variability of the trends in climatic variables across China during 1961–2010. Theor Appl Climatol 120(3):773–783

Zhai P, Sun A, Ren F et al (1999) Changes of climate extremes in China. Weather and climate extremes. Springer, Amsterdam
Acknowledgements
This work was supported by the China National Flash Flood Disaster Prevention and Control Project (126301001000150068), China Institute of Water Resources and Hydropower Research Innovation Team Project (JZ0145B2017) and Fundamental Research Funds for the Central Universities (2015B28514). The authors are grateful to Manabendra Saharia for the help in translating this article. Additional thanks are given to some anonymous reviewers for their comments and suggestions.
About this article
Cite this article
He, B., Huang, X., Ma, M. et al. Analysis of flash flood disaster characteristics in China from 2011 to 2015. Nat Hazards 90, 407–420 (2018). https://doi.org/10.1007/s11069-017-3052-7
Received:

Accepted:

Published:

Issue Date:

DOI: https://doi.org/10.1007/s11069-017-3052-7
Keywords