Abstract
Densely populated coastal zones of India are highly exposed to natural environment. These are impacted by episodic natural events, continuous coastal process, gradually rising sea levels and coexisting human interventions. The present study is an attempt to assess the implication of the sea level rise and coastal slope in the coastal erosion for entire mainland of India. In this regard, two methods were employed to estimate the shoreline change rate (SCR): (1) satellite-derived SCR using the Landsat TM and ETM+ acquired during 1989–2001 and (2) SCR derived by Bruun Rule using the parameters coastal slope and sea level trend derived from satellite altimetry. Satellite-derived SCR has been compared with the shoreline change estimated based on Bruun Rule, revealing a better agreement with each other in terms of trend. Peaks of shoreline retreat calculated using Bruun model and satellite-observed SCR offset by 25–50 km. Offset in these peaks was observed due to net drift towards north in the east coast and south in the west coast of India, revealing the applicability of the Bruun Rule along the Indian coast. The present study demonstrates that coastal slope is an additional parameter responsible for the movement of shoreline along with sea level change. The results of satellite-derived SCR reveal the highest percentage of erosion along West Bengal coast with 70% followed by Kerala (65%), Gujarat (60%) and Odisha (50%). The coastlines of remaining states recorded less than 50% of coasts under erosion. Results of this study are proving critical inputs for the coastal management.
Access options
Buy single article
Instant access to the full article PDF.
USD 39.95
Price includes VAT (USA)
Tax calculation will be finalised during checkout.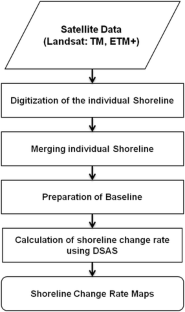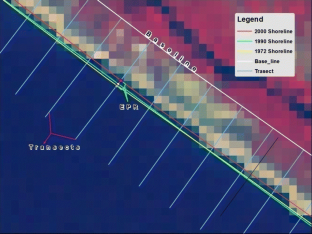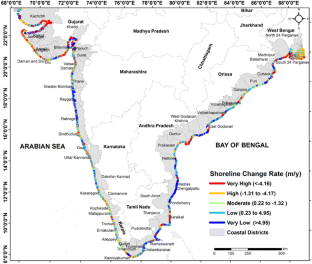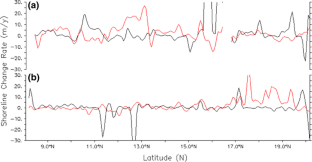 References
Ahmad E (1972) Coastal geomorphology of India. Orient Longman, New Delhi, p 222

Amiruddin AM, Haigh ID, Tsimplis MN, Calafat FM, Dangendorf S (2015) The seasonal cycle and variability of sea level in the South China Sea. J Geophys Res Oceans. doi:10.1002/2015JC010923

AVISO (1996) AVISO user handbook: Merged TOPEX/Poseidon products, ed. 3.0, AVI-NT-02-101-CN, July 1996, Toulouse, France between the Indian monsoon rainfall and ENSO. Geophys Res Lett 28(23): 4499–4502

Bird ECF (1985) Coastline changes: a global review. Wiley, New York, p 219

Bird ECF (1987) The modern prevalence of beach erosion. Mar Pollut Bull 18(4):151–157

Bird ECF (1996) Coastal erosion and rising sea level. In: Millimann JD, Haq BU (eds) Sea level rise and coastal Subsidence, Kluwer Academic Publishers, Dordrecht, The Netherlands, pp 87–103

Bruun P (1962) Sea-level rise as a cause of shoreline erosion. J Waterw Harb Div 88(1–3):117–130

Bruun P (1988) The Bruun rule of erosion by sea-level rise: a discussion of large-scale two- and three-dimensional usages. J Coast Res 4:627–648

Chauhan P, Nayak SR (1995) Shoreline change mapping from space a case study of the Indian coast. In: Proceedings of the international workshop on international mapping from space, jointly organised by ISPRS and IRS, Anna University, Madras. pp 130–140

Cooper JAG, Pilkey OH (2004) Sea-level rise and shoreline retreat: time to abandon the Bruun rule. Glob Planet Chang 43(3–4):157–171

Cozannet GL, Garcina M, Yates M, Idier D, Meyssignac B (2014) Approaches to evaluate the recent impacts of sea-level rise on shoreline changes. Earth Sci Rev 138(2014):47–60

Dolan R, Hayden B, May P, May SK (1980) The reliability of shoreline change measurements from aerial photographs. Shore and Beach 48(4):22–29

Gornitz VM (1990) Vulnerability of the East coast, USA to future sea level rise. J Coast Res 9:201–237 (Special Issue)

Gornitz VM, Couch S, Hartig EK (2002) Impacts of sea level rise in the New York City Metropolitan Area. Glob Planet Chang 3:61–88

IPCC (2007) Climate change 2007: the physical science basis. In: Solomon SD, Qin D, Manning, M, Chen Z, Marquis M, Averyt KB, Tignor M, Miller HL (eds) Contribution of working group I to the fourth assessment report of the intergovernmental panel on climate change. Cambridge University Press, Cambridge, New York

IPCC, Shriner DS, Street RB, Ball R, D'Amours D, Duncan K, Kaiser D, Maarouf A, Mortsch L, Mulholland P, Neilson R, Patz JA, Scheraga JD, Titus, JG, Vaughan H, Weltz M (1998) North America. In: Watson RT, Zinyowera MC (eds) The regional impacts of climate change: an assessment of vulnerability. Special report of international panel on climate change, working group II. Cambridge University Press, Cambridge, pp 253–330

Kumar ST, Mahendra RS, Nayak S, Radhakrishnan K, Sahu KC (2010) Coastal vulnerability assessment for Orissa state east coast of India. J Coast Res 26(3):523–534 (ISSN 0749-0208)

Kunte PD, Wagle BG (1991) Spit evolution and shore drift direction along the south Karnataka coast, India. Giornale di geologia 153(1991):71–80

Kunte PD, Wagle BG (2001) Littoral transport studies aling west coast of India—a review. Indian J Mar Sci 30:57–64

Kunte PD, Alagarsamy R, Hursthouse AS (2013) Sediment fluxes and the littoral drift along northeast Andhra Pradesh Coast, India: estimation by remote sensing. Environ Monit Assess 185(6):5177–5192

Mahendra RS, Mohanty PC, Bisoyi H, Kumar ST, Nayak S (2011) Assessment and management of coastal multi-hazard vulnerability along the Cuddaloree Villupuram, east coast of India using geospatial techniques. Ocean Coast Manag 54:302–311

McGranahan DA, Balk D, Anderson B (2007) The rising tide: assessing the risks of climate change and human settlements in low elevation coastal zones. Environ Urban 19:17–39

Nicholls RJ, Leatherman SP (1996) Adapting to sea level rise: relative sea level trends to 2100 for the United States. Coast Manag 24:301–324

Sanil Kumar V, Pathak KC, Pednekar P, Raju NSN, Gowthaman R (2006) Coastal processes along the Indian Coastline. Curr Sci 91(4):530–536

Slott JM, Murray AB, Ashton AD (2010) Large-scale responses of complex-shaped coastlines to local shoreline stabilization and climate change. J Geophys Res Earth Surf 115:F03033. doi:10.1029/2009JF001486

Stive MJF, Aarninkhof SGJ, Hamm L, Hanson H, Larson M, Wijnberg KM, Nicholls RJ, Capobianco M (2002) Variability of shore and shoreline evolution. Coast Eng 47(2):211–235

Thieler ER, Danforth WW (1994) Historical shoreline mapping (1). Improving techniques and reducing positioning errors. J Coast Res 10:549–563

Titus JG, Barth MC (1984) An overview of the causes and effects of sea level rise. In: Barth MC, Titus JG (eds) Greenhouse effect and sea level rise, a challenge for this generation. Van Nostrand Reinhold Company, New York

Titus JG, Park RA, Leatherman SP, Weggel JR, Greene MS, Mausel PW, Brown S, Gaunt G, Trehan M, Yohe G (1991) Greenhouse effect and sea level rise, the cost of holding Back the Sea. Coast Manag 19:171–204
Acknowledgements
Authors would like to thank Landsat program, USGS, making their decadal datasets online, thank Survey of India for sharing hourly tide gauge data, thank Dr. S.S.C. Shenoi Director INCOIS for encouragement and facility, and thank the reviewers of this paper for their critical comments which helped in improving this manuscript. This is INCOIS contribution number 304.
About this article
Cite this article
Mohanty, P.C., Mahendra, R.S., Nayak, R.K. et al. Impact of sea level rise and coastal slope on shoreline change along the Indian coast. Nat Hazards 89, 1227–1238 (2017). https://doi.org/10.1007/s11069-017-3018-9
Received:

Accepted:

Published:

Issue Date:
Keywords
DSAS

Landsat

Bruun Rule

Altimeter

Satellite data

Sea level trend

Coastal slope