Abstract
In this paper, an ordinal regression model and a K-means clustering method are employed to directly assess the intensity of snow, low-temperature and frost disasters in non-pasture areas. Then, economic loss caused by the disasters is evaluated quantitatively by static and dynamic input–output models, respectively. Finally, an empirical analysis is conducted taking Beijing as an example. Compared to historical data in Beijing, results show that snowstorms in 2010 occurred more frequently than before when the intensity was weaker. Meanwhile, the frequency of low-temperature and frost disasters occurring did not change much, but serious low-temperature disasters happened due to heavy snowfalls. The indirect economic losses of the snow, low-temperature and frost disasters occurring in Beijing in 2010 are 2.23 times the direct economic losses. And some sectors are very sensitive to the disasters. Furthermore, it is found that the total economic losses obtained by a dynamic input–output model are less than that evaluated by a static model.
Access options
Buy single article
Instant access to the full article PDF.
US$ 39.95
Tax calculation will be finalised during checkout.
Subscribe to journal
Immediate online access to all issues from 2019. Subscription will auto renew annually.
US$ 119
Tax calculation will be finalised during checkout.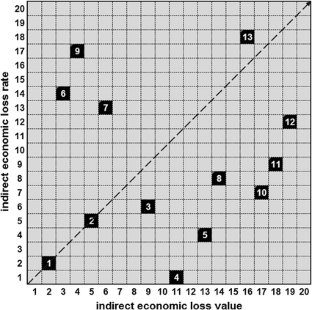 References
Chen Q, Peng YQ (2014) Study on indirect economic loss evaluation of ice and snow disaster. J Chongqing Univ Sci Technol (Soc Sci Ed) 6:61–63 (in Chinese)

Chen SY, Xue ZC, Li M (2013) Variable sets principle and method for flood classification. Sci China Technol Sci 56(9):2343–2348

Cheng LH, Tang H, Zhou TG, Zhang L, Zhang M (2011) Evaluation method of natural disaster intensity and its application: a research based on comprehensive disaster condition index. J Nat Disasters 20(1):46–50 (in Chinese)

Guo J, Wu XH, Chen YF (2013) Assessment on the impact of agricultural meteorological disaster on industrial economy system. J Catastr 28(1):79–82 (in Chinese)

Hallegatte S (2008) An adaptive regional input-output model and its application to the assessment of the economic cost of Katrina. Risk Anal 28(3):779–799

Hou W, Zhang CJ, Gao G (2013) Research on multi-scale superposed drought index and its classification based on standardized precipitation index. Arid Zone Res 30(1):74–88 (in Chinese)

Jenkins K (2013) Indirect economic losses of drought under future projections of climate change: a case study for Spain. Nat Hazards 69(3):1967–1986

Leontief W (1936) Quantitative input-output relations in the economic systems of the United States. Rev Econ Stat 18:105–125

Leontief W (1941) The structure of American economy, 1919–1929. IASP Publishing, New York

Leontief W (1953) Studies in the structure of the American economy. Oxford University Press, London

Liang TG, Liu XY, Wu CX, Guo ZG, Huang XD (2007) An evaluation approach for snow disasters in the pastoral areas of northern Xinjiang, PR China. N Z J Agric Res 50(3):369–380

Lu C, Wei YM, Fan Y, Xu WX (2002) Quantitatively analytic model for the impact of natural disaster on national economy. J Nat Disasters 11(3):15–20 (in Chinese)

Mackenzie CA, Santos JR, Barker K (2012) Measuring changes in international production from a disruption: case study of the Japanese earthquake and tsunami. Int J Prod Econ 138(2):293–302

MacQueen JB (1967) Some methods for classification and analysis of multivariate observations. In: Proceedings of 5-th Berkeley symposium on mathematical statistics and probability. University of California Press, Berkeley, pp 281–297

Mao SJ, Li DL (2015) Comprehensive assessment of low temperature, snow and freezing weather in southern China based on meteorological elements. J Glaciol Geocryol 37(1):14–26 (in Chinese)

Noy I (2015) Natural disasters in the Pacific Island Countries: new measurements of impacts. Nat Hazards. doi:10.1007/s11069-015-1957-6

Noy I, Vu TB (2010) The economics of natural disasters in a developing country: the case of Vietnam. J Asian Econ 21(4):345–354

Okuyama Y (2004) Modeling spatial economic impacts of an earthquake: input-output approaches. Disaster Prev Manag 13(4):297–306

Richter CF (1935) An instrumental earthquake magnitude scale. Bull Seismol Soc Am 25(1):1–32

Richter CF (1958) Elementary seismology. WH Freeman and Company, San Francisco

Rose A, Benavides J, Chang SE, Szczesniak P, Lim D (1997) The regional economic impact of an earthquake: direct and indirect effects of electricity lifeline disruptions. J Reg Sci 37(3):437–458

Wan SQ, Zhou YH, Li L, Shi RQ, Guo GF, Chen B (2008) A multi-index synthetic assessment method for extreme climate events of sleeting and freezing with low temperature. Meteorol Mon 34(11):40–46 (in Chinese)

Wang HZ, Liu ZQ (2005) A new approach to ascertain the initial clustering centers of K-means. J Tianjin Univ Sci Technol 20(4):76–79 (in Chinese)

Wang GZ, Li X, Wu XH, Yu J (2015) The rainstorm comprehensive economic loss assessment based on CGE model: using a July heavy rainstorm in Beijing as an example. Nat Hazards 76(2):839–854

Wu JD, Li N (2012) Elementary discussion about importance of indirect economic loss estimation of disasters. J Nat Disasters 21(3):15–21 (in Chinese)

Xu SL (1998) The concept of economic loss by disasters and measuring the sector-related-type indirect economic loss. J Nat Disasters 7(4):7–15 (in Chinese)

Xu L, Krzyzak A, Oja E (1993) Rival penalized competitive learning for clustering analysis, RBF net, and curve detection. IEEE Trans Neural Netw 4(4):636–649

Zheng YH, Jeon B, Xu DH, Jonathan WuQM, Zhang H (2015) Image segmentation by generalized hierarchical fuzzy C-means algorithm. J Intell Fuzzy Syst 28(2):961–973

Zhou SB, Xu ZY, Tang XQ (2010) New method for determining optimal number of clusters in K-means clustering algorithm. Computer Eng Appl 46(16):27–31 (in Chinese)

Zhuang XC, Zhou HK, Wang L, Li BY (2015) Evaluation and cause study on the snow disasters in pastoral areas of northern Xinjiang. Arid Zone Res 32(5):1000–1006 (in Chinese)
Acknowledgments
This work was supported by the National Social Sciences Foundation of China [Grant Number 15BTJ019], the Special Scientific Research Fund of Public Welfare Profession of China [Grant Number GYHY201506051] and the National Natural Science Foundation of China [Grant Number 71373131].
About this article
Cite this article
Wang, G., Wu, L. & Chen, J. Intensity and economic loss assessment of the snow, low-temperature and frost disasters: a case study of Beijing City. Nat Hazards 84, 293–307 (2016). https://doi.org/10.1007/s11069-016-2429-3
Received:

Accepted:

Published:

Issue Date:
Keywords
Ordinal regression

Input–output model

Snow disasters

Low-temperature and frost disasters

Intensity assessment

Indirect economic losses assessment