Abstract
Bangladesh is vulnerable to frequent and disruptive flooding, which adversely affects the country's economy and society, and causes fatalities. Because of their recurrent nature and devastating impacts, floods have received significant attention from hazard researchers. However, on a national scale, few rigorous attempts have been made to identify what actually affects flood fatalities. Using a temporal approach, this paper examines the determinants of flood deaths in Bangladesh for the 1972–2013 period. Application of Poisson regression reveals that the extent of the area flooded, the number of people affected by the event, flood duration and frequency, and the interactions of these factors have a significant effect on flood deaths. The study findings may help future flood disaster management in Bangladesh.
Access options
Buy single article
Instant access to the full article PDF.
US$ 39.95
Tax calculation will be finalised during checkout.
Subscribe to journal
Immediate online access to all issues from 2019. Subscription will auto renew annually.
US$ 119
Tax calculation will be finalised during checkout.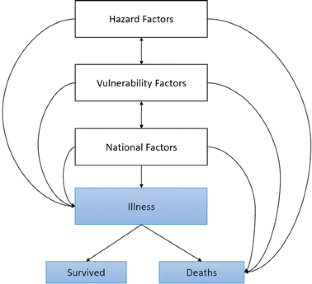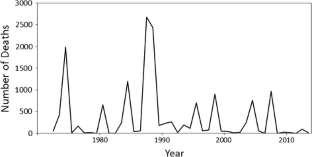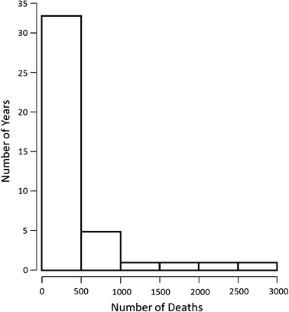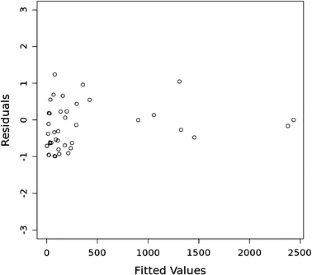 References
Abheuer T, Thiele-Eich I, Braun B (2013) Coping with the impacts of severe flood events in Dhaka's slum—the role of social capital. Erdkunde 67:21–35

Ahern M, Kovats RS, Wilkinson P, Few R, Matthies F (2005) Global health impacts of floods: epidemiologic evidence. Epidemiol Rev 27:36–46

Ahmad E, Choudhury JU, Hassan KM, Haque MA, Khan TA, Rahman SMM, Salehin M (2001) Floods in Bangladesh and their processes. In: Nizamuddin K (ed) Disaster in Bangladesh: selected readings. Disaster Research Training and Management Center. University of Dhaka, Dhaka, pp 9–28

Ali AMS (2007) September 2004 flood event in southwestern Bangladesh: a study of its nature, causes, and human perception and adjustments to a new hazard. Nat Hazards 40:89–111

Albala-Bertrand JM (2003) Political economy of large natural disasters: with special reference to developing countries. Clarendon Press, Oxford

Asada H, Matsumoto J, Rahman R (2005) Impact of recent severe floods on rice production in Bangladesh. Geogr Rev Jpn 78:783–793

Ashley ST, Ashley WA (2008) Flood fatalities in the United States. J Appl Meteorol Climatol 47:805–818

Barua S (2008) Towards interactive urban flood management: a case of Dhaka. M.A. thesis, Erasmus University, Rotterdam, The Netherlands

Biswas A, Rahman A, Mashreky S, Rahman F, Dalal D (2010) Unintentional injuries and parental violence against children during flood: a study in rural Bangladesh. Rural Remote Health 10:1199

Boyce JK (1990) Birth of a megaproject: political economy of flood control in Bangladesh. Environ Manag 14:419–428

Brammer H (1990) Floods in Bangladesh: 1. Geographical background to the 1987 and 1988 floods. Geogr J 156:12–22

Caldin H, Murray V (2012) Health Impacts of Flooding. In: Lamond J, Booth C, Hammond F, Proverbs D (eds) Flood hazards: impacts and response for the built environment. CRC Press, Boca Raton, pp 53–73

Choudhury NY, Paul A, Paul BK (2004) Impact of coastal embankment on the flash flood in Bangladesh: a case study. Appl Geogr 24:241–258

Chowdhury MR (2000) An assessment of flood forecasting in Bangladesh: the experience of the 1998 flood. Nat Hazards 22:139–163

Clay E (1985) The 1974 and 1984 floods in Bangladesh: from famine to food crisis management. Food Policy 10:202–206

Coates L (1999) Flood fatalities in Australia, 1788–1996. Aust Geogr 30:391–408

Dasgupta S, Huq M, Khan ZH, Masud MS, Ahmed MMZ, Mukherjee N, Pandey K (2011) Climate proofing infrastructure in Bangladesh: the incremental cost of limiting future flood damage. J Environ Dev 20:167–190

del Ninno C, Dorosh PA (2001) Averting a food crisis: private imports and public targeted distribution in Bangladesh after the 1998 flood. Agric Econ 25:337–346

del Ninno C, Dorosh PA (2002) Maintaining food security in the wake of natural disaster: policy and household response to the 1998 floods in Bangladesh. J Bangladesh Stud 4:12–24

del Ninno C, Dorosh PA, Smith LC, Roy DK (2001) The 1998 floods in Bangladesh: disaster impacts, household coping strategies, and response. International Food Policy Institute (IFRI), Washington

Dewan TH (2015) Societal impacts and vulnerability to floods in Bangladesh and Nepal. Wea Clim Extremes 7:36–42

Disaster Forum (2012) Bangladesh: disaster report 2012, Dhaka

Doocy S, Daniels A, Murray S, Kirsch TD (2013) The human impact of floods: a historical review of events 1980–2009 and systematic literature review. Plos Curr Disasters. doi:10.1371/currents.dis.f4deb457904936b07c09daa98ee8171a

FitzGerald G, Du W, Jamal A, Clark M, Hou XY (2010) Flood fatalities in contemporary Australia (1997–2008). Emerg Med Aust 22:80–186

Green WH (2003) Econometric analysis. Prentice Hall, Upper Saddle River

Guiteras R, Jina A, Mobarak AM (2015) Satellites, self-reports, and submersion: exposure to floods in Bangladesh. Am Econ Rev 105(5):232–236

Hofer T, Messerli B (2006) Floods in Bangladesh: history, dynamics and rethinking the role of the Himalayas. United Nations University Press, Tokyo

IPCC (Intergovernmental Panel on Climate Change) (2012) Managing the risks of extreme events and disasters to advance climate change adaptation. Special Report of the IPCC, Cambridge University Press, New York

Jonkman SN, Kelman L (2005) An analysis of the causes and circumstances of flood disaster deaths. Disasters 29:75–97

Kahn ME (2003) The death toll from natural disasters: the role of income, geography, and institutions. Mimeo, Tufts University

Kahn ME (2005) The death toll from natural disasters: the role of income, geography, and institutions. Rev Econ Stat 87:271–284

Khalequzzaman M (1994) Recent floods in Bangladesh: possible causes and solutions. Nat Hazards 9:65–80

Khan MMI (1991) The impact of local elites on disaster preparedness planning: the location of flood shelters in northern Bangladesh. Disasters 15:340–354

Kunii O, Nakamura S, Abdur R, Wakai S (2002) The impact on health and risk factors of the diarrhea epidemics in the 1998 Bangladesh floods. Public Health 116:68–74

Milojevic A, Armstrong B, Hashizume M, McAllister K, Faruque A, Yunus M, Streatfield KP, Moji K, Wilkinson P (2012) Health effects of flooding in rural Bangladesh. Epidemiology 23:107–115

Mirza MMQ, Warrick RA, Ericksen NJ, Kenny GJ (2001) Are floods getting worse in the Ganges, Brahmaputra and Meghna basin? Environ Hazards 3:37–48

Montgomery R (1985) The Bangladesh floods of 1984 in historical context. Disasters 9:163–172

Nishikiori N, Abe TD, Costa DGM, Dharmaratne S, Kuni O, Moji K (2006) Who died as a result of the tsunami? risk factors of mortality among internally displaced persons in Sri Lanka: a retrospective cohort analysis. BMC Public Health 6:1–7

O'Donnell MR, Bacos D, Bennish ML (2002) Nutritional response to the 1998 Bangladesh flood disaster: sphere Minimum Standards in disaster response. Disasters 26:229–241

Padli J, Habibullah MS, Baharom AH (2013) Determinants of flood fatalities: evidence from a panel data of 79 countries. Soc Sci Humanit 21:81–98

Paul BK (1997) Flood research in Bangladesh in retrospect and prospect: a review. Geoforum 28:121–131

Paul BK (2003) Relief assistance to 1998 flood victims: a comparison of the performance of the government and NGOs. Geogr J 169:75–89

Paul BK (2011) Environmental hazards and disasters: contexts, perspectives and management. Wiley-Blackwell, Hoboken

Paul BK, Rasid H (1993) Flood damage to rice crop in Bangladesh. Geogr Rev 83:150–159

Paulika MJ, Rahman MK (2015) A temporal assessment of flooding in Pakistan (1950–2012). J Financ Risk Manag 8:62–70

Pradhan EK, West KP, Katz PHJ, LeClerq SC, Khatry SK, Ram S (2007) Risk of flood-related mortality in Nepal. Disasters 31:57–70

Rahman MM, Goel NK, Arya DS (2013) Study of early flood warning dissemination system in Bangladesh. J Financ Risk Manag 6:290–301

Rashid SF, Michaud S (2000) Female adolescents and their sexuality: notions of honour, shame, purity and pollution during the floods. Disasters 24:54–70

Rasid H, Mallik AU (1996) Living on the edge of stagnant water: an assessment of environmental impacts of construction-phase drainage congestion along Dhaka City Flood Control Embankment, Bangladesh. Environ Manag 20:89–98

Siddique AK, Baqui AH, Eusof A, Zaman K (1991) 1998 Floods in Bangladesh: pattern of illness and causes of death. J Diarrhoeal Dis Res 9:310–314

Singh O, Kumar M (2013) Flood events, fatalities and damages in India from 1978 to 2006. Nat Hazards 69:1815–1834

Smith K (1996) Natural disasters: definitions, databases and dilemmas. Geogr Rev 10:9–12

Thiele-Eich I, Burkart K, Simmer C (2015) Trend in water level and flooding in Dhaka, Bangladesh and their impact on mortality. Int J Environ Res Public Health 12:1196–1215

Tingsanchali T, Karim MF (2005) Flood hazard and risk analysis in the southwest region of Bangladesh. Hydrol Process 19:2055–2069

Toya H, Skidmore M (2006) Economic development and the impacts of natural disasters. Econ Lett 94:20–25
About this article
Cite this article
Paul, B.K., Mahmood, S. Selected physical parameters as determinants of flood fatalities in Bangladesh, 1972–2013. Nat Hazards 83, 1703–1715 (2016). https://doi.org/10.1007/s11069-016-2384-z
Received:

Accepted:

Published:

Issue Date:
Keywords
Floods

Flood fatalities

Physical parameters

Bangladesh

Poisson regression