Abstract
The north-western part of Bangladesh especially the Barind region is considered as a drought-prone area. The objective of this paper is to find out the adaptation measures practised by farmers to cope with climate change and agricultural drought in two drought-prone villages of the north-western Bangladesh. The primary data for this study were collected from a structured questionnaire survey conducted on 130 households selected from 192 through simple random sampling. The present study finds that agriculture of this area is recurrently disrupted by frequent drought events. Moreover, the climate change will increase both frequency and magnitude of extreme drought events in this region. This paper identifies that the impacts of drought on agriculture are difficulties in irrigation, disruption in cropping pattern, depletion of ground water table, problem in fish cultivation and so on. On the other hand, analyses unveil that respondents practised a range of adjustment strategies to combat adverse impacts of drought such as adoptions of drought-tolerant crop varieties, rainwater harvesting, mango and jujube intercropping with rice, kitchen gardening, weed control and reducing water loss, constructing water control structures, irrigation and cultivation of fast-growing fish species. Therefore, the present study recommends proper drought early warning system, reserving surface water, managing supplemental irrigation, tree plantation, re-excavation of canals and traditional ponds, credit support to the farmers, preparedness and awareness rising to ensure the future sustainable agricultural development in the study areas.
Access options
Buy single article
Instant access to the full article PDF.
US$ 39.95
Tax calculation will be finalised during checkout.
Subscribe to journal
Immediate online access to all issues from 2019. Subscription will auto renew annually.
US$ 119
Tax calculation will be finalised during checkout.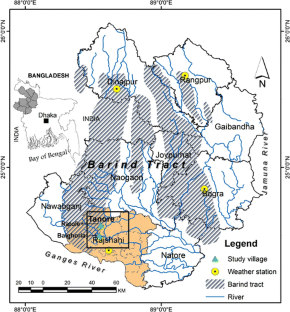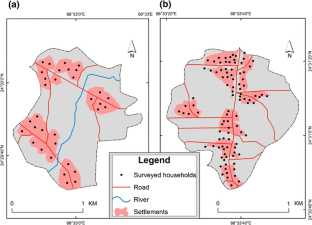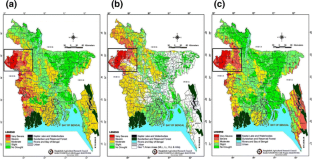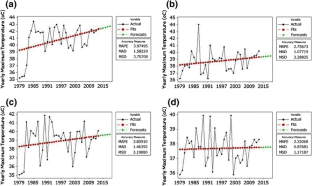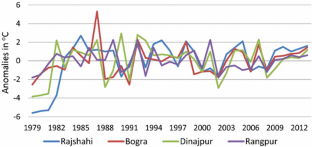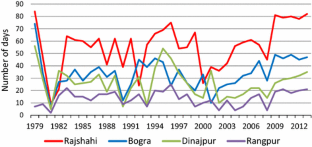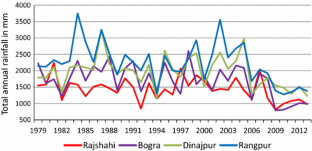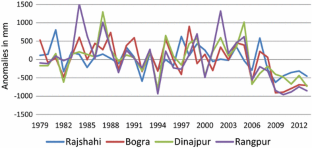 Notes
1.

Pre-kharif starts from the last week of March and ends in May, Kharif starts from May and ends in October, and Rabi begins at the end of the humid period when the south-east monsoon starts ceasing in November and extends up to the end of March (Banglapedia 2007).
References
Ahmed AU (2000) Adaptability of Bangladesh's crop agriculture to climate change: possibilities and limitations. Asia Pac J Environ Dev 7(1):71–93

Ahmed AU (2006) Bangladesh climate change impacts and vulnerability: a synthesis. Climate Change Cell, Department of Environment, Dhaka

Ahmed AV, Alam M (1998) Development of climate change scenarios with general circulation models. In: Karim Z, Asaduzzaman M, Mahtab F, Huq S (eds) Vulnerability and adaptation to climate change for Bangladesh. Kluwer Academic Publishers, Dordrecht, pp 13–20

Alam K (2015) Farmers' adaptation to water scarcity in drought-prone environments: a case study of Rajshahi District, Bangladesh. Agric Water Manag 148(1):196–206

Alam ATMJ, Rahman S, Saadat AHM (2013) Monitoring meteorological and agricultural drought dynamics in Barind region Bangladesh using standard precipitation index and Markov chain model. Int J Geomat Geosci 3(3):511–524

Alam ATMJ, Saadat AHM, Rahman MS, Rahman S (2014) Spatio-temporal variation of agricultural drought in the Barind region of Bangladesh: an application of a markov chain model. Irrig Drain 63(3):383–393

Alamgir M, Shahid S, Mohsenipour M, Ahmed K (2015) Return periods of extreme meteorological droughts during monsoon in Bangladesh. Appl Mech Mater 735(1):186–189

Al-Amin AQ, Kari F, Alam GM (2013) Global warming and climate change: prospects and challenges toward long-term policies in Bangladesh. Int J Global Warm 5(1):67–83

Alauddin M, Sarker MAR (2014) Climate change and farm-level adaptation decisions and strategies in drought-prone and groundwater-depleted areas of Bangladesh: an empirical investigation. Ecol Econ 106:204–213

Ali A (1999) Climate change impacts and adaptation assessment in Bangladesh. Climate Res 12:109–116

Alston M (2015) Women and climate change in Bangladesh. Routledge, London

Bird J, Roy S, Shah T, Aggarwal P, Smakhtin V, Amarnath G, McCornick PG (2016) Adapting to climate variability and change in India. In: Biswas AK, Tortajada C (eds) Water security, climate change and sustainable development. Springer, Singapore, pp 41–63

Ayers JM, Huq S, Faisal AM, Hussain ST (2014) Mainstreaming climate change adaptation into development: a case study of Bangladesh. Wiley Interdiscip Rev Climate Change 5(1):37–51

Banglapedia (2007) Banglapedia (CD, ROM edn. Asiatic Society of Bangladesh, Dhaka

BARC (2000) GIS project, BGD/95/006, Bangladesh Agricultural Research Council (BARC) http://www.barc.gov.bd/, http://maps.barcapps.gov.bd/index.php/

BBS (2013) Statistical pocketbook of Bangladesh: 2013, Bangladesh Bureau of Statistics (BBS), Government of Bangladesh (GOB), Dhaka

Brammer H (1987) Drought in Bangladesh: lessons for planners and administrators. Disasters 11(1):21–29

Bryman A (2012) Social research methods. Oxford University Press, UK

Burton I (1997) Vulnerability and adaptive response in the context of climate and climate change. Climate Change 36:185–196

Coirolo C, Commins S, Haque I, Pierce G (2013) Climate change and social protection in Bangladesh: are existing programmes able to address the impacts of climate change? Dev Policy Rev 31(2):74–90

Dai A (2011) Drought under global warming: a review. Wiley Interdiscip Rev Climate Change 2(1):45–65

Faruqee R (1998) Bangladesh agriculture in the 21st century. University Press, Dhaka

Galicia L, Gómez-Mendoza L, Magaña V (2015) Climate change impacts and adaptation strategies in temperate forests in Central Mexico: a participatory approach. Mitig Adapt Strateg Glob Change 20(1):21–42

Geng G, Wu J, Wang Q, Lei T, He B, Li X, Liu D (2016) Agricultural drought hazard analysis during 1980–2008: a global perspective. Int J Climatol 36(1):389–399

GOB (2005) National adaptation programme of action (NAPA), Final report: November 2005, Ministry of Environment and Forest, Government of the People's Republic of Bangladesh (GOB), Dhaka, p 48

Habiba U, Takeuchi Y, Shaw R (2010) Overview of drought risk reduction approaches in Bangladesh. Climate Change Adapt Disaster Risk Reduct Issues Chall 5:37–58

Hassan AWR, Das AK (2015) Social issues: occupation change and food security in Bangladesh. In: Habiba U, Hassan AWR, Abedin MA, Shaw R (eds) Food Security and Risk Reduction in Bangladesh. Springer, Japan, pp 53–63

Hossain MN (2015) Analysis of human vulnerability to cyclones and storm surges based on influencing physical and socioeconomic factors: evidences from coastal Bangladesh. Int J Disaster Risk Reducti 13:66–75

Hossain MN, Paul SK (2015) Simulation of physical and socioeconomic factors of vulnerability to cyclones and storm surges using GIS: a case study. Geo J. doi:10.1007/s10708-015-9668-9

Huq SU, Ahmed AU, Koudstaal R (1996) Vulnerability of Bangladesh to climate change and sea level rise. In: Climate change and world food security. Springer, Berlin. pp 347–379

IPCC (2007) Climate change 2007: the physical science basis: IPCC working group i fourth assessment report: summary for policymakers. Intergov Panel Climate Change, Geneva

IPCC (2014) Climate change 2013: the physical science basis: working group I contribution to the fifth assessment report of the Intergovernmental Panel on Climate Change (IPCC). Cambridge University Press, Cambridge

Iqbal A, Ali MH (2001) Agricultural drought: severity and estimation. A report prepared under the project BGD/95/006 under the Ministry of Agriculture, Government of the People's Republic of Bangladesh, Dhaka, April 2001

Islam AS (2009) Analyzing changes of temperature over Bang-ladesh due to global warming using historic data. Young scientists of Asia conclave, Jawaharlal Nehru Centre for Advanced Scientific Research (JNCASR), Jan 15–17, Jakkur, Bangalore

Islam ARMT, Tasnuva A, Sarker SC, Rahman MM, Mondal MSH, Islam MMU (2014) Drought in Northern Bangladesh: social, agroecological impact and local perception. Int J Ecosyst 4(3):150–158

Karim MR, Ishikawa M, Ikeda M (2012) Modeling of seasonal water balance for crop production in Bangladesh with implications for future projection. Ital J Agron 7(2):21

Khan MFA, Islam MS (2013) Vulnerability to climate induced drought: Scenario and impacts. Comprehensive Disaster Management Programme (CDMP II), Dhaka

Lloyd-Hughes B (2014) The impracticality of a universal drought definition. Theor Appl Climatol 117(3–4):607–611

Mahmoud SH, Adamowski J, Alazba AA, El-Gindy AM (2016) Rainwater harvesting for the management of agricultural droughts in arid and semi-arid regions. Paddy Water Environ 14(1):231–246

Mallya G, Tripathi S, Govindaraju RS (2011) Hidden Markov model based probabilistic assessment of droughts. In: World environmental and water resources congress 2011: bearing knowledge for sustainability. ASCE, USA, pp 1282–1291

McCarthy JJ (2001) Climate change 2001: impacts, adaptation, and vulnerability: contribution of working group II to the third assessment report of the intergovernmental panel on climate change. Cambridge University Press, Cambridge

Pachauri RK, Allen MR, Barros VR, Broome J, Cramer W, Christ R, van Vuuren D (2014) Climate change 2014: synthesis report. contribution of working groups I, II and III to the fifth assessment report of the intergovernmental panel on climate change. http://www.epic.awi.de/37530/ Accessed 23 July 2015

Parvin GA, Fujita K, Matsuyama A, Shaw R, Sakamoto M (2015) Climate change, flood, food security and human health: cross-cutting issues in Bangladesh. In: Food security and risk reduction in Bangladesh. Springer, Japan, pp 235–254

Paul BK (1998) Coping mechanisms practised by drought victims (1994\95) in North Bengal, Bangladesh. Appl Geogr 18(4):355–373

Paul SK, Hossain MN (2013) People's perception about flood disaster management in Bangladesh: a case study on the Chalan Beel Area. Stamford J Environ Hum Habitat 2:72–86

Paul SK, Routray JK (2010) Flood proneness and coping strategies: the experiences of two villages in Bangladesh. Disasters 34(2):489–508

Qin D, Plattner GK, Tignor M, Allen SK, Boschung J, Nauels A, Midgley PM (2014) In: Stocker T (ed) Climate change 2013: the physical science basis. Cambridge University Press, Cambridge, p 1535

Roy R, Chan NW, Rainis R (2014) Rice farming sustainability assessment in Bangladesh. Sustain Sci 9(1):31–44

Ruane AC, Major DC, Winston HY, Alam M, Hussain SG, Khan AS, Rosenzweig C (2013) Multi-factor impact analysis of agricultural production in Bangladesh with climate change. Glob Environ Change 23(1):338–350

Sala S, Bocchi S (2014) Green revolution impacts in Bangladesh: exploring adaptation pathways for enhancing national food security. Climate and Development 6(3):238–255

Selvaraju R, Baas S (2007) Climate variability and change: adaptation to drought in Bangladesh: a resource book and training guide, vol. 9. Food and Agriculture Organization, Rome

Selvaraju R, Subbiah AR, Baas S, Juergens I (2006) Livelihood adaptation to climate variability and change in drought-prone areas of Bangladesh: Developing institutions and options. Asian Disaster Preparedness Centre, Food and Agriculture Organization, Rome

Shahid S, Behrawan H (2008) Drought risk assessment in the western part of Bangladesh. Nat Hazards 46(3):391–413

Smit B, Burton I, Klien RJT, Wandel J (2000) An anatomy of adaptation to climate change and variability. Clim Change 45(1):223–251

Stern PC, Dietz T (2015) IPCC: social scientists are ready. Nature 521(7551):161

Thornton PK, Ericksen PJ, Herrero M, Challinor AJ (2014) Climate variability and vulnerability to climate change: a review. Glob Change Biol 20(11):3313–3328

Turner AG, Annamalai H (2012) Climate change and the South Asian summer monsoon. Nature Climate Change 2(8):587–595

Uddin MN, Bokelmann W, Entsminger JS (2014) Factors affecting farmers' adaptation strategies to environmental degradation and climate change effects: a farm level study in Bangladesh. Climate 2(4):223–241

Wehner M, Easterling DR, Lawrimore JH, Heim RR Jr, Vose RS, Santer BD (2011) Projections of future drought in the continental United States and Mexico. J Hydrometeorol 12(6):1359–1377

Wheeler T, von Braun J (2013) Climate change impacts on global food security. Science 341(6145):508–513

Wilhite DA (ed) (2014) Drought and water crises: science, technology, and management issues. CRC Press, Boca Raton, p 406

Woodward A, Smith KR, Campbell-Lendrum D, Chadee DD, Honda Y, Liu Q, Haines A (2014) Climate change and health: on the latest IPCC report. Lancet 383(9924):1185–1189

Zilberman D (2015) IPCC AR5 overlooked the potential of unleashing agricultural biotechnology to combat climate change and poverty. Glob Change Biol 21(2):501–503
Acknowledgments
The authors are grateful to the anonymous peer reviewers and the editor for their valuable comments on earlier versions of this paper. Authors are also in debt to the villagers of the study area for providing essential information during the field survey.
About this article
Cite this article
Hossain, M.N., Chowdhury, S. & Paul, S.K. Farmer-level adaptation to climate change and agricultural drought: empirical evidences from the Barind region of Bangladesh. Nat Hazards 83, 1007–1026 (2016). https://doi.org/10.1007/s11069-016-2360-7
Received:

Accepted:

Published:

Issue Date:
Keywords
Climate change

Agricultural drought

Adaptation

Cropping pattern

The Barind tract

Bangladesh