Abstract
Coastal ecosystems are inimitable in view of their frailty as compared to terrestrial ecosystems, and yet in their indispensability in preserving the terrestrial ecosystems being the first line of defence against hazards of oceanic origin. More often than not, these are more precious in terms of their natural, built, human and social capitals over land ecosystems; and yet more often than not these are subjected to ill considerate and unbridled anthropogenic stresses for gaining entrée to these capitals. The human 'undoings' albeit enhancement in climate change-induced degenerative—and often cataclysmic—marine influences in form of tropical and extratropical cyclones, tsunamis, hurricanes, etc. are only adding to the woes in so far as the stability of the coastal ecosystems—and their very existence as well—is concerned. In view of these impending threats on various coastal habitats due to increasing occurrence as well as ferocity of oceanic hazards coupled with anthropogenic stresses, adaptation and mitigation measures are called for to resuscitate and rejuvenate coastal landforms. Since man cannot dictate over nature, adaptation measures are necessitated to 'Better live with' the nature's furies while mitigation is required to 'Better deal with' the human-induced pressures. The present paper aims at (1) reviewing the role of climate change in increasing occurrences of oceanic hazards threatening the coastal ecosystems and (2) invoke perspicacious and percipient adaptation and mitigation measures to better deal with and live with these Nature's perils.
Access options
Buy single article
Instant access to the full article PDF.
US$ 39.95
Tax calculation will be finalised during checkout.
Subscribe to journal
Immediate online access to all issues from 2019. Subscription will auto renew annually.
US$ 119
Tax calculation will be finalised during checkout.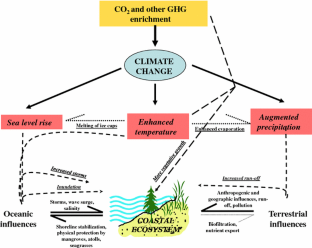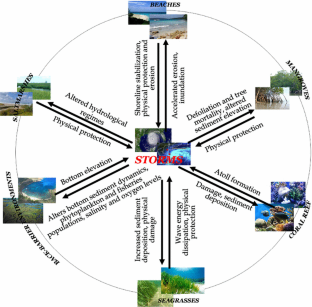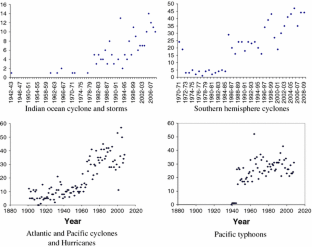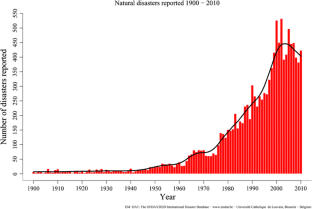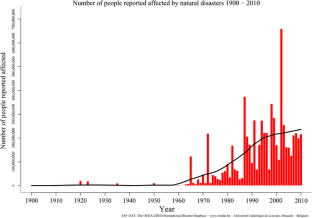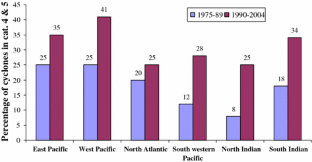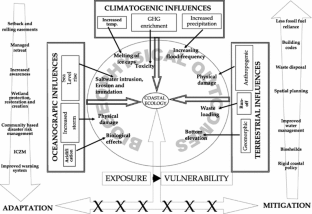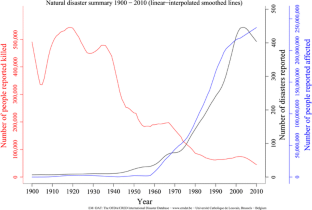 References
Anonymous (2001) Philippine coastal management guidebook no. 5: managing coastal habitats and marine protected areas. Department of Environment and Natural Resources, Bureau of Fisheries and Aquatic Resources of the Department of Agriculture, and Department of the Interior and Local Government. 2001. Coastal Resource Management Project of the Department of Environment and Natural Resources, Cebu City, Philippines, 106 pp

Anonymous (2009) Adapting to coastal climate change: a guidebook for development planners. United States Agency for International Development (USAID), pp 1–148

Anton A, Cebrian J, Duarte CM, Heck KL, Goff J (2009) Low impact of hurricane Katrina on seagrass community structure and functioning in the Northern Gulf of Mexico. Bull Mar Sci 85(1):45–59

Baldwin AH, Egnotovich MS, Clarke E (2001a) Hydrologic change and vegetation of tidal fresh water marshes: field, greenhouse and seed-bank experiments. Wetlands 21:519–531

Baldwin AH, Egnotovich M, Ford M, Platt W (2001b) Regeneration in fringe mangrove forests damaged by Hurricane Andrew. Plant Ecol 157:151–164

Balmford A, Bond W (2005) Trends in the state of nature and their implications for human well-being. Ecol Lett 8:1218–1234

Barker T, Bashmakov I, Bernstein L, Bogner JE, Bosch PR, Dave R, Davidson OR, Fisher BS, Gupta S, Halsnæs K, Heij GJ, Kahn Ribeiro S, Kobayashi S, Levine MD, Martino DL, Masera O, Metz B, Meyer LA, Nabuurs GJ, Najam A, Nakicenovic N, Rogner HH, Roy J, Sathaye J, Schock R, Shukla P, Sims REH, Smith P, Tirpak DA, Urge-Vorsatz D, Zhou D (2007) Technical summary. In: Metz B, Davidson OR, Bosch PR, Dave R, Meyer LA eds Climate change 2007: mitigation. Contribution of Working Group III to the fourth assessment report of the Intergovernmental Panel on Climate Change. Cambridge University Press, Cambridge, United Kingdom and New York, NY, USA

Barnes DJ, Lough JM (1996) Coral skeletons: storage and recovery of environmental information. Global Change Biol 2(6):569–582

Barras J, Beville S, Britsch D, Hartley S, Hawes S, Johnston J, Kemp P, Kinler Q, Martucci A, Porthouse J, Reed D, Roy K, Sapkota S, Suhayda J (2003) Historical and projected coastal Louisiana land changes. 1978–2050. USGS Open File Report 03-334, pp 1–36

Barua P, Shah Nawaz Chowdhury MD, Sarker S (2010) Climate change and risk reduction by mangrove forest in Bangladesh. Bangladesh Res Publ J 4(3):208–225

Bascom W (1980) Waves and beaches. Anchor Press/Doubleday, New York

Bellwood DR, Hughes TP, Folke C, Nystrom M (2004) Confronting the coral reef crisis. Nature 429:827–833

Bender MA, Knutson TR, Tuleya RE, Sirutis JJ, Vecchi GA, Garner ST, Held IM (2010) Modeled impact of anthropogenic warming on the frequency of intense Atlantic hurricanes. Science 327(5964):454–458

Bird ECF (2000) Coastal geomorphology: an introduction. Wiley, Chichester

Bryan KR, Kenc PS, Hart DE (2008) Multi-decadal coastal change in New Zealand: evidence, mechanisms and implications. New Zeal Geogr 64:117–128

Burkett V, Kusler J (2000) Climate change: potential impacts and interactions in wetlands of the United States. J Am Water Resour Asso 36(2):313–320

Byron D, Heck KL Jr (2006) Hurricane effects on seagrasses along Alabama's gulf coast. Estuar Coasts 29(6A):939–942

Cahoon DR, Hensel PF, Spencer T, Reed DJ, McKee KL, Saintilan N (2006) Coastal wetland vulnerability to relative sea-level rise: wetland elevation trends and process controls, In: Verhoeven JTA, Beltman B, Bobbink R, Whigham D (eds) Wetlands and natural resource management. Ecological Studies 190. Springer, Berlin, pp 271–292

Cambers G (2009) Caribbean beach changes and climate change adaptation. Aquat Ecosyst Health 12(2):168–176

Cebrian J, Foster CD, Plutchak R, Sheehan KL, Miller MC, Anton A, Major K, Heck KL Jr, Powers SP (2008) The impact of Hurricane Ivan on the primary productivity and metabolism of marsh tidal creeks in the North Central Gulf of Mexico. Aquat Ecol 42:391–404

Chabreck RA (1988) Coastal Marshes. University of Minnesota Press, Minneapolis

Christensen JH, Krishna Kumar K, Aldrian E, An SI, Cavalcanti IFA, de Castro M, Dong W, Goswami P, Hall A, Kanyanga JK, Kitoh A, Kossin J, Lau NC, Renwick J, Stephenson DB, Xie SP, Zhou T (2013) Climate phenomena and their relevance for future regional climate change In: Stocker TF, Qin D, Plattner G-K, Tignor M, Allen SK, Boschung J, Nauels A, Xia Y, Bex V, Midgley PM (eds) Climate change 2013: the physical science basis. Contribution of Working Group I to the Fifth Assessment Report of the Intergovernmental Panel on Climate Change. Cambridge University Press, Cambridge

Clarke SM, Kirkman H (1989) Seagrass dynamics. In: Larkim AWD, McComb AJ, Shepherd SA (eds) Biology of seagrasses: Amsterdam. Elsevier, Netherlands, pp 304–345

Coles SL, Brown EK (2007) Twenty-five years of change in coral coverage on a hurricane impacted reef in Hawaii: the importance of recruitment. Coral Reefs 26:705–717

Connolly RM (1994) Removal of seagrass canopy: effects on small fish and their prey. J Exp Mar Biol Ecol 184:99–110

Cowell PJ, Stive MJF, Niedoroda AW, De Vriend HJ, Swift DJP, Kaminsky GM, Capobianco M (2003) The coastal tract (Part 1): a conceptual approach to aggregated modeling of low-order coastal change. J Coast Res 19(4):812–827

Cullinan M, LaBella N, Schott M (2004) Salt marshes—a valuable ecosystem. Traprock 3:20–23

Doyle TW (1997) Modeling hurricane effect on mangrove ecosystem. Bull USGS FS-095-097

Duarte CM (2002) The future of seagrass meadow. Environ Conserv 29(2):192–206

Duarte CM, Marba N, Agawin N, Cebrian J, Enriquez S, Fortes MD, Gallegos ME, Merino M, Olesen B, Sandjensen K, Uri J, Vermaat J (1994) Reconstruction of seagrass dynamics—age determinations and associated tools for the seagrass ecologist. Mar Ecol Prog Ser 107:195–209

Duarte CM, Dennison WC, Orth JRW, Carruthers TJB (2008) The charisma of coastal ecosystems: addressing the imbalance. Estuar Coasts 31:233–238

Fouda MM (1995) Regional report, Middle East Seas: issues and activities associated with coral reefs and related ecosystems. Prepared for the 1995 international Coral Reef Initiative Workshop, Dumuguete City, Philippines, May 1995.50 pp

Gardner TA, Cote IM, Gill JA, Grant A, Watkinson AR (2005) Hurricanes and Caribbean coral reefs: impacts, recovery patterns and role in long term decline. Ecology 86(1):174–184

Geng Q, Sugi M (2001) Variability of the North Atlantic cyclone activity in winter analyzed from NCEP–NCAR reanalysis data. J Clim 14(18):3863–3873

Gillett NP, Stott PA, Santer BD (2008) Attribution of cyclogenesis region sea surface temperature change to anthropogenic influence. Geophys Res Lett 35:L09707

Goreau TJ, Fisher T, Perez F, Lockhart K, Hibbert M, Lewin A (2008) Turks and Caicos Islands 2006 coral reef assessment: large-scale environmental and ecological interactions and their management implications. Int J Trop Biol 56(1):25–49

Gulev SK, Zolina O, Grigoriev S (2001) Extratropical cyclone variability in the Northern Hemisphere winter from the NCEP/NCAR reanalysis data. Clim Dyn 17:795–809

Haq SA (2010) Impact of climate change on "Sundarbans", the largest mangrove forest: ways forward. Paper presented at the 18th Commonwealth Forestry Conference during 28 June–02 July, 2010 at Edinburgh International Conference Center, Scotland

Harmelin-Vivien ML, Laboute P (1986) Catastrophic impact of hurricanes on atoll outer reef slopes in the Tuamotu (French Polynesia). Coral Reefs 5:55–62

Heck KL, Sullivan MJ, Zande JM, Moncreiff CA (1996) An ecological analysis of seagrass meadows of the Gulf Islands National Seashore. Years one, two, three: seasonal assessment and inventory. Final Report to the National Park Service, Gulf Islands National Seashore, Gulf Breeze, Florida

Hegerl GC, Zwiers FW, Braconnot P, Gillett NP, Luo Y, Marengo Orsini JA, Nicholls N, Penner JE, Stott PA (2007) Understanding and attributing climate change. In: Solomon S, Qin D, Manning M, Chen Z, Marquis M, Averyt KB, Tignor M, Miller HL (eds) Climate change 2007: the physical science basis. Contribution of Working Group I to the Fourth Assessment Report of the Intergovernmental Panel on Climate Change. Cambridge University Press, Cambridge, pp 663–745

IPCC (2007a) Climate change: impacts, adaptation and vulnerability In: Parry Martin L, Canziani OF, Palutikof JP, van der Linden, Hanson CE (eds) Contribution of Working Group II to the Fourth Assessment Report of the Intergovernmental Panel on Climate Change. Cambridge University Press, Cambridge, pp 1–1000

IPCC (2007b) Climate change 2007: mitigation. Contribution of Working Group III to the Fourth Assessment Report of the Intergovernmental Panel on Climate Change. In: Metz B, Davidson OR, Bosch PR, Dave R, Meyer LA (eds) Cambridge University Press, Cambridge, 30 pp

IPCC (2012) Managing the risks of extreme events and disasters to advance climate change adaptation. In: Field CB, Barros V, Stocker TF, Qin D, Dokken DJ, Ebi KL, Mastrandrea MD, Mach KJ, Plattner GK, Allen SK, Tignor M, Midgley PM (eds) A special report of working groups I and II of the Intergovernmental Panel on Climate Change. Cambridge University Press, Cambridge, pp 1–582

IPCC (2013) Climate Change 2013: The physical science basis. Contribution of Working Group I to the Fifth Assessment Report of the Intergovernmental Panel on Climate Change. In: Stocker TF, Qin D, Plattner G-K, Tignor M, Allen SK, Boschung J, Nauels A, Xia Y, Bex V, Midgley PM (eds) Cambridge University Press, Cambridge, 1535 pp

Karoly DJ, Wu QG (2005) Detection of regional surface temperature trends. J Clim 18(21):4337–4343

Kauffman J, Cole TG (2010) Micronesian mangrove forest structure and tree responses to a severe typhoon. Wetlands 30:1077–1084

Knapp KR, Kruk MC (2010) Quantifying inter-agency differences in tropical cyclone best track wind speed estimates. Mon Weather Rev 138(4):1459–1473

Knutson TR, Delworth TL, Dixon KW, Held IM, Lu J, Ramaswamy V, Schwarzkopf MD, Stenchikov G, Stouffer RJ (2006) Assessment of twentieth century regional surface temperature trends using the GFDL CM2 coupled models. J Clim 19(9):1624–1651

Knutson TR, McBride JL, Chan J, Emanuel K, Holland G, Landsea C, Held IM, Kossin JP, Srivastava AK, Sugi M (2010) Tropical cyclones and climate change. Nat Geosci 3(3):157–163

Kont A, Jaagus J, Aunap R, Ratas U, Rivis R (2008) Implications of sea-level rise for Estonia. J Coast Res 24:423–431

Kossin JP, Knapp KR, Vimont DJ, Murnane RJ, Harper BA (2007) A globally consistent reanalysis of hurricane variability and trends. Geophys Res Lett 34(4):1–6. doi:10.1029/2006GL028836

Kunkel KE, Bromirski PD, Brooks HE, Cavazos T, Douglas AV, Easterling DR, Emanuel KA, Groisman PY, Holland GJ, Knutson TR, Kossin JP, Komar PD, Levinson DH, Smith RL (2008) Observed changes in weather and climate extremes In: Karl TR, Meehl GA, Christopher DM, Hassol SJ, Waple AM, Murray WL (eds) Weather and climate extremes in a changing climate. Regions of focus: North America, Hawaii, Caribbean, and U.S. Pacific Islands. A report by the U.S. Climate Change Science Program and the Subcommittee on Global Change Research, Washington, DC, pp1–222

Lehmann A, Getzlaff K, Harlass J (2011) Detailed assessment of climate variability in the Baltic Sea area for the period 1958 to 2009. Clim Res 46(2):185–196

Manson GK, Solomon SM (2007) Past and future forcing of Beaufort Sea coastal change. Atmos Ocean 45(2):107–122

Maragos JE, Crosby MP, McManus JW (1996) Coral reefs and biodiversity—a critical and threatened biodiversity. Oceanography 9(1):83–99

Meehl GA, Stocker TF, Collins WD, Friedlingstein P, Gaye AT, Gregory JM, Kitoh A, Knutti R, Murphy JM, Noda A, Raper SCB, Watterson IG, Weaver AJ, Zhao ZC (2007) Global climate projections In: Solomon S, Qin D, Manning M, Chen Z, Marquis M, Averyt KB, Tignor M, Miller HL (eds) Climate change 2007: the physical science basis. Contribution of Working Group I to the fourth assessment report of the Intergovernmental Panel on Climate Change. Cambridge University Press, Cambridge, pp 747–845

Michot TC, Burch JN, Arrivillaga A, Rafferty PS, Doyle TW, Kemmerer RS (2002) Impacts of Hurricane Mitch on seagrass beds and associated shallow reef communities along the Caribbean Coast of Honduras and Guatemala: USGS Open File Report 03-181, 65 pp

Mitchener WK, Blood ER, Bildstein KL, Brinson MM, Gardner LR (1997) Climate change, hurricanes and tropical storms and rising sea level in coastal wetlands. Ecol Appl 7(3):770–801

Moberg F, Folke C (1999) Ecological goods and services of coral reef ecosystems. Ecol Econ 29:215–233

Moncreiff CA, Randall TA, Caldwell JD, McCall RK, Blackburn BR, Vander Kooy KE, Criss GA (1999) Short-term effects of Hurricane Georges on seagrass populations in the north Chandeleur Islands: patterns as a function of sampling scale. Gulf Res Rep 11:74–75

Nguyen TKC, Suzuki T, Erik D, de Ruyter van Steveninck ED, Hai H (2013) Modelling the impacts of mangrove vegetation structure on wave dissipation in Ben Tre Province, Vietnam, under different climate change scenarios. J Coast Res (in press) doi:10.2112/JCOASTRES-D-12-00271.1

Nicholls RJ, Lowe JA (2006) Climate stabilisation and impacts of sea-level rise. In: Schellnhuber HJ, Cramer W, Nakićenović N, Wigley TML, Yohe G (eds) Avoiding dangerous climate change. Cambridge University Press, Cambridge, pp 195–202

Nicholls RJ, Wong PP, Burkett VR, Codignotto JO, Hay JE, McLean RF, Ragoonaden S, Woodroffe CD (2007) Coastal systems and low-lying areas In: Parry ML, Canziani OF, Palutikof JP, van der Linden PJ, Hanson CE (eds) Climate change 2007: impacts, adaptation and vulnerability. Contribution of working group II to the fourth assessment report of the Intergovernmental Panel on Climate Change. Cambridge University Press, Cambridge, UK, pp 315–356

Odum HT, Odum EP (1955) Trophic structure and productivity of a windward coral reef community on Eniwetok Atoll. Ecol Monogr 25:291–320

Orford JD, Jennings SC, Forbes DL (2001) Origin, development, reworking and breakdown of gravel-dominated coastal barriers in Atlantic Canada: future scenarios for the British coast. In: Packham JR et al (eds) British shingles. Smith Settle, UK, pp 23–55

Orth RJ, Carruthers TJB, Dennison WC, Duarte CM, Fourqurean JW, Heck KL, Hughes AR, Kendrick GA, Kenworthy WJ, Olyarnik S, Short FT, Waycott M, Williams SL (2006) A global crisis for seagrass ecosystems. Bioscience 5612:987–996

Paciorek CJ, Risbey JS, Ventura V, Rosen RD (2002) Multiple indices of Northern Hemisphere cyclone activity, winters 1949–99. J Clim 15(13):1573–1590

Paerl HW, Bales JD, Ausley LW, Buzzelli CP, Crowder LB, Eby LA, Fear JM, Go M, Peierls BL, Richardson TL, Ramus JS (2001) Ecosystem impacts of three sequential hurricanes (Dennis, Floyd, and Irene) on the United States' largest lagoonal estuary, Pamlico Sound, NC. Proc Natl Acad Sci USA 98:5655–5660

Perez-Maqueo O, Intralawan A, Martiinez ML (2007) Coastal disasters from the perspective of ecological economics. Ecol Econ 63:273–284

Porter JW, Woodley JD, Smith GJ, Neigel JE, Battey JF, Dallmeyer DG (1981) Population trends among Jamaican reef corals. Nat Lond 294:249–250

Preen AR, Lee Long WJ, Coles RG (1995) Flood and cyclone related loss, and partial recovery of more than 1000 km2 of seagrass in Harvey Bay, Queensland, Australia. Aquat Bot 52:3–17

Pruszak Z, Zawadzka E (2008) Potential implications of sea-level rise for Poland. J Coast Res 24(2):410–422

Raible CC, Della-Marta PM, Schwierz C, Wernli H, Blender R (2008) Northern hemisphere extratropical cyclones: a comparison of detection and tracking methods and different reanalyses. Mon Weather Rev 136(3):880–897

Ramesh R, Purvaja R (2004) Climate change and coastal ecosystems: an overview. Asian J Water Environ Pollut 1(1&2):29–40

Schlacher TA, Schoeman DS, Lastra M, Jones A, Dugan J, Scapini F, McLachlan A (2006) Neglected ecosystems bear the brunt of change. Ethology Ecology and Evolution: 18(4)

Schlacher TA, Schoeman DS, Dugan J, Lastra M, Jones A, Scapini F, McLachlan A (2008) Sandy beach ecosystems: key features, sampling issues, management challenges and climate change impacts. Mar Ecol 29(Suppl 1):70–90

Seikh P (2005) Impact of hurricane Katrina on biological resources. Congressional Research Service report for congress. http://assets.opencrs.com/rpts/RL33117_20051018.pdf. Accessed 12 June 2014

Sen HS (2009) Soil and water management research—a relook vis-à-vis ecology and climate change. J Indian Soc Soil Sci 57(4):398–411

Sen HS, Bandyopadhyay BK, Maji B, Bal AR, Yadav JSP (2000) Management of coastal agro-ecosystem. In: Yadav JSP, Singh GB (eds) Natural resource management for agricultural production in India. Indian Society of Soil Science, IARI, New Delhi, pp 925–1022

Seneviratne SI, Nicholls N, Easterling D, Goodess CM, Kanae S, Kossin J, Luo Y, Marengo J, McInnes K, Rahimi M, Reichstein M, Sorteberg A, Vera C, Zhang X (2012) Changes in climate extremes and their impacts on the natural physical environment In: Field CB, Barros V, Stocker TF, Qin D, Dokken DJ, Ebi KL, Mastrandrea MD, Mach KJ, Plattner GK, Allen SK, Tignor M, Midgley PM (eds) Managing the risks of extreme events and disasters to advance climate change adaptation. A special report of working groups I and II of the Intergovernmental Panel on Climate Change (IPCC). Cambridge University Press, Cambridge, pp 109–230

Sherman RE, Fahey TJ (2001) Hurricane impacts on a mangrove forest in the Dominican Republic: damage patterns and early recovery. Biotropica 33(3):393–408. doi:10.1111/j.1744-7429.2001.tb00194.x

Smith TJ, Anderson GH, Balentine K, Tiling G, Ward GA, Whelan KRT (2009) Cumulative impacts of hurricanes on Florida mangrove ecosystems: sediment deposition, storm surges and vegetation. Wetlands 29(1):24–34

SMRC (2000) The vulnerability assessment of the SAARC coastal region due to sea-level rise: Bangladesh case. SMRC-No.3, SMRC Publication, pp 1–108

Steward JS, Virnstein RW, Lasi MA, Morris LJ, Miller JD, Hall LM, Tweedale WA (2006) The impacts of the 2004 hurricanes on hydrology, water quality, and seagrass in the Central Indian River Lagoon, Florida. Estuar Coasts 29:954–965

Stoddart DR (1963) Effects of Hurricane Hattie on the British Honduras reefs and cays, October 30–31, 1961. Atoll Res Bull 95:1–142

Stone GW, Shermet A, Zhang X, Braud D (2003) Coastal land loss and wave-surge predictions during hurricanes in coastal Louisiana: implications for the oil and gas industry. Final Project Report, Louisiana Department of Natural Resources, USGS, pp 1–61

Sukardjo S, Alongi DM, Cusmana C (2013) Rapid litter production and accumulation in Bornean mangrove forests. Ecosphere 4(7). art79. doi:10.1890/ES13-00145.1

Tamura T, Horaguchi K, Saito Y, Van LN, Tateishi M, Thi KOT, Nanayama F, Watanabe K (2010) Monsoon-influenced variations in morphology and sediment of a mesotidal beach on the Mekong River delta coast. Geomorphology 116(1–2):11–23

Titus J (1998) Rising seas, coastal erosion, and the rakings clause: how to save wetlands and beaches without hurting property owners. Md Law Rev 57(4):1279–1399

Tol RSJ (2007) The double trade-off between adaptation and mitigation for sea level rise: an application of FUND. Mitig Adapt Strateg Glob Change 12:741–753

Trenberth K (2005) Uncertainty in hurricanes and global warming. Science 308:1753–1754

Trenberth KE, Jones PD, Ambenje PG, Bojariu R, Easterling DR, Klein Tank AMG, Parker DE, Renwick JA, Rahimzadeh F, Rusticucci MM, Soden BJ, Zhai PM (2007) Surface and atmospheric climate change. In: Solomon S, Qin D, Manning M, Chen Z, Marquis M, Averyt KB, Tignor M, Miller HL (eds) Climate change 2007: the physical science basis. Contribution of Working Group I to the fourth assessment report of the intergovernmental panel on climate change. Cambridge University Press, Cambridge, pp 235–336

Unnikrishnan AS, Rupa Kumar K, Fernandes Sharon E, Michael GS, Patwardhan SK (2006) Sea-level changes along the Indian coast: observations and projections. Curr Sci 90(3):362–368

USEPA (2009) Synthesis of adaptation options for coastal areas. U.S. Environmental Protection Agency, Climate Ready Estuaries Program, Washington, DC. EPA 430-F-08-024, January 2009

Vilibic I, Sepic J (2010) Long-term variability and trends of sea-level storminess and extremes in European Seas. Global Planet Change 71(1–2):1–12

Wang H, Fan CF (2005) The C14 database (II) on the Circum-Bohai Sea coast. Quaternary Sci 25:144–155

Wang XL, Swail VR, Zwiers FW (2006) Climatology and changes of extratropical cyclone activity: comparison of ERA-40 with NCEP-NCAR reanalysis for 1958–2001. J Clim 19(13):3145–3166

Webster PJ, Holland GJ, Curry JA, Chang HR (2005) Changes in tropical cyclone number, duration, and intensity in a warming environment. Science 309(5742):1844–1846

Wehner MF, Bala G, Duffy P, Mirin AA, Romano R (2010) Towards direct simulation of future tropical cyclone statistics in a high-resolution global atmospheric model. Advances in Meteorology, pp. 1–13

Woodley JD, Chornesky EA, Clifford PA, Jackson JBC, Kaufman LS, Knowlton N, Lang JC, Pearson MP, Porter J, Rooney MC, Rylaarsdam KW, Tunnicliffe VJ, Yahle CM, Wulff JL, Curtis ASG, Dallineyer MD, Jupp BP, Koehl MAR, Niegel J, Sides EM (1981) Hurricane Allen's impact on Jamaican coral reefs. Science 214:749–755

Woodroffe CD (2003) Coasts: form, process and evolution. Cambridge University Press, Cambridge, pp 1–623

Ying M, Knutson TR, Kamahori H, Lee TC (2012) Impacts of climate change on tropical cyclones in the Western North Pacific Basin. Part II: late twenty-first century projections. Trop Cyclone Res Rev 1:231–241

Zhang KQ, Douglas BC, Leatherman SP (2004a) Global warming and coastal erosion. Clim Change 64(1–2):41–58

Zhang XD, Walsh JE, Zhang J, Bhatt US, Ikeda M (2004b) Climatology and interannual variability of arctic cyclone activity: 1948–2002. J Clim 17(12):2300–2317
About this article
Cite this article
Ghorai, D., Sen, H.S. Role of climate change in increasing occurrences oceanic hazards as a potential threat to coastal ecology. Nat Hazards 75, 1223–1245 (2015). https://doi.org/10.1007/s11069-014-1368-0
Received:

Accepted:

Published:

Issue Date:
Keywords
Coastal ecosystem

Climate change

Tropical cyclone

Extratropical cyclone

Adaptation and mitigation