Abstract
In late December 2013, Eastern Canada was hit by a severe ice storm that covered Southern Ontario, Quebec, and the Maritimes. Toronto, the largest city of Canada, was among the hardest hit. The freezing rain lasted for 3 days, leaving up to 30 mm coat of ice covering the ground and infrastructure. The urban forestry was badly hit as the ice accretion caused major tree failures and damage to the trees. Trees snapped as they were dormant and fragile during winter weather. In addition, tree limbs with branches heavily coated with ice brought down power lines. About 300,000 power customers (over a million people) were left without power for almost 3 days and tens of thousands for more than a week. The damages from the ice storm cost the city of Toronto over $106 million, while the cost of insured losses was in the range of $200 million. This short paper gives a brief overview of the ice storm, its impact on the city of Toronto, and the response and recovery measures that followed.
Access options
Buy single article
Instant access to the full article PDF.
US$ 39.95
Tax calculation will be finalised during checkout.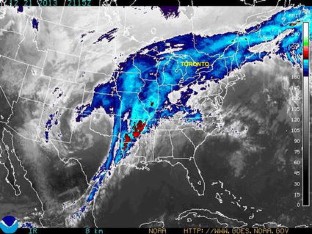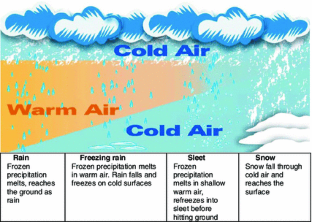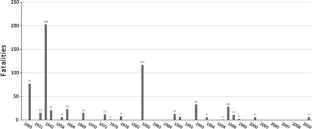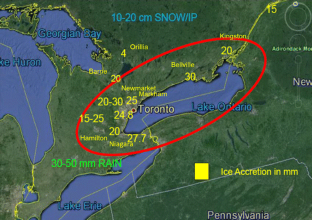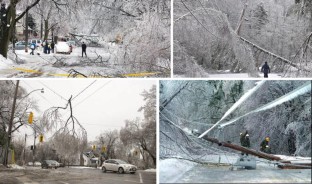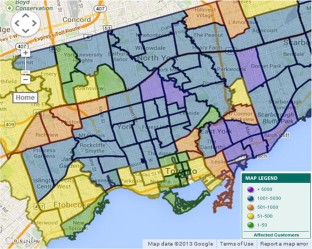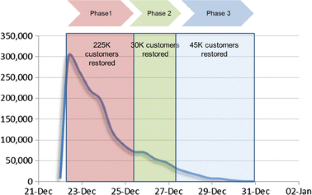 References
Berger E (2014) What's the difference between freezing rain, sleet and ice pellets? www.blog.chron.com. Accessed 7 April 2014

City Report (2014) Impacts from the December, 2013 extreme winter storm event, Staff Report, City of Toronto, 8 Jan 2014

Coulson G (2014) Recap of recent weather and a look ahead. Municipal flood management workshop, Black Creek Pioneer Village, 1 April 2014, Toronto, Canada

Dolce C (2014) Ice storms: why they're so dangerous and how to stay safe. Weather.com. http://www.weather.com/news/weather-winter/ice-storm-damage-impacts-20121123. Accessed 4 April 2014

Environment Canada (2014) Past weather. http://climate.weather.gc.ca/. Accessed 4 April 2014

Haines A, LaPianta B, Tyrell C, Peberdy B (2014) Ice storm 2013. Technical briefing, Toronto Hydro Electric System Limited, 9 Jan 2014

NOAA (2014) GOES 12 Eastern US image 12212013.JPG. http://en.wikipedia.org/wiki/File:GOES_12_Eastern_US_image_12212013.JPG. Accessed 15 April 2014

PSC (2014) The Canadian disaster database. Public Safety Canada, Ottawa

Schwartz B (2014) Quote reported by Alex Ballingall in "ice storm aftermath: four ways Toronto is vulnerable when freak weather hits", thestar.com. 10 Jan 2014

Seguin R (2013) At least six killed, thousands without power as ice storm hits Quebec, Globe and Mail, 22 Dec 2013

Toronto Hydro (2013) Power outages map. http://www.torontohydro.com. Accessed 21 Dec 2013
Acknowledgments
The authors are very thankful to Mr. D. Baumken for his valuable insights and information on the event.
About this article
Cite this article
Armenakis, C., Nirupama, N. Urban impacts of ice storms: Toronto December 2013. Nat Hazards 74, 1291–1298 (2014). https://doi.org/10.1007/s11069-014-1211-7
Received:

Accepted:

Published:

Issue Date:
Keywords
Ice storm

Power lines

Urban forestry

Toronto

Canada