A new type of human-made disaster from the frequent school bus accidents in China
Road traffic accidents are global problems facing all countries with motorized forms of transport and are increasing in many developing countries including China. Traffic accidents are one of the biggest public health burdens in China. Moreover, they have been increasing rapidly and have in some cases become more deadly than the diseases which historically affected the population, although occurred traffic accidents and casualties have been declining since 2002 (Fig.
1
). It has been estimated that 80–90 % of traffic accidents are caused by people in China (Ma et al.
2010
).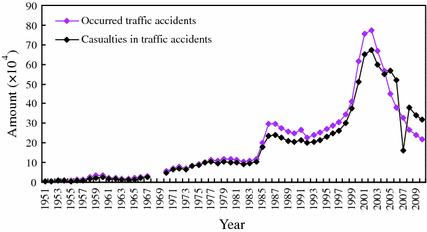 Keywords
Traffic Accident 
Road Traffic Accident 
Extensive Loss 
Road Traffic Injury 
Road Environment 
These keywords were added by machine and not by the authors. This process is experimental and the keywords may be updated as the learning algorithm improves.
Notes
Acknowledgments
This study was supported by Project of Shandong Province Higher Educational Science and Technology Program (J12LH04), Humanities and Social Sciences Planning Fund of Chinese Ministry of Education (12YJA790159), and Scientific and Technological Development Planning Project of Shandong Province of China (2012GSF11718). We also thank Editor-In-Chief T.S. Murty and the anonymous advisors of the journal who read a first draft of this paper for their constructive comments to further improve the manuscript.
Copyright information
© Springer Science+Business Media Dordrecht 2013