Abstract
This paper focuses on the US Billion-dollar Weather/Climate Disaster report by the National Oceanic and Atmospheric Administration's National Climatic Data Center. The current methodology for the production of this loss dataset is described, highlighting its strengths and limitations including sources of uncertainty and bias. The Insurance Services Office/Property Claims Service, the US Federal Emergency Management Agency's National Flood Insurance Program and the US Department of Agriculture's crop insurance program are key sources of quantified disaster loss data, among others. The methodology uses a factor approach to convert from insured losses to total direct losses, one potential limitation. An increasing trend in annual aggregate losses is shown to be primarily attributable to a statistically significant increasing trend of about 5 % per year in the frequency of billion-dollar disasters. So the question arises of how such trend estimates are affected by uncertainties and biases in the billion-dollar disaster data. The net effect of all biases appears to be an underestimation of average loss. In particular, it is shown that the factor approach can result in a considerable underestimation of average loss of roughly 10–15 %. Because this bias is systematic, any trends in losses from tropical cyclones appear to be robust to variations in insurance participation rates. Any attribution of the marked increasing trends in crop losses is complicated by a major expansion of the federally subsidized crop insurance program, as a consequence encompassing more marginal land. Recommendations concerning how the current methodology can be improved to increase the quality of the billion-dollar disaster dataset include refining the factor approach to more realistically take into account spatial and temporal variations in insurance participation rates.
Access options
Buy single article
Instant access to the full article PDF.
US$ 39.95
Tax calculation will be finalised during checkout.
Subscribe to journal
Immediate online access to all issues from 2019. Subscription will auto renew annually.
US$ 119
Tax calculation will be finalised during checkout.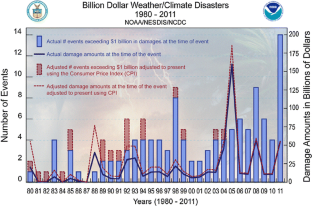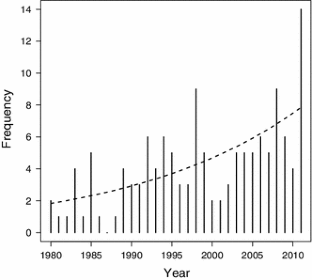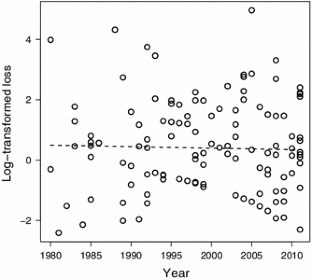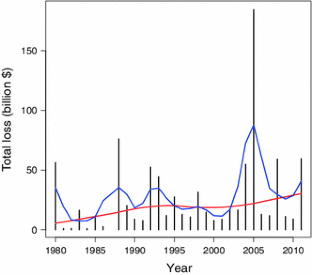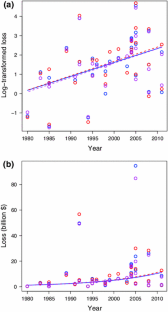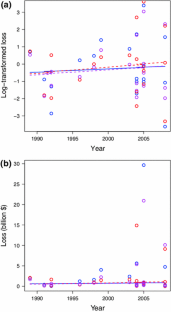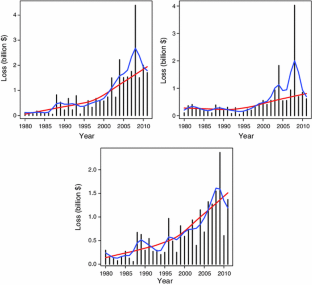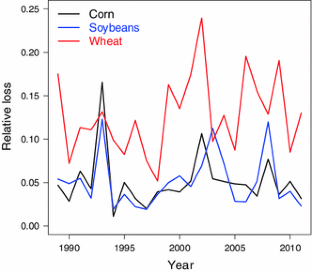 References
Barthel F, Neumayer E (2012) A trend analysis of normalized insured damage from natural disasters. Climatic Change 113:215–237

Berger JO (1985) Statistical decision theory and bayesian analysis, 2nd edn. Springer, New York, p 617

Brooks HE, Doswell CA (2001) Normalized damage from major tornadoes in the United States: 1890–1999. Wea. Forecasting 16:168–176

Changnon SA, Hewings G (2001) Losses from weather extremes in the US. Nat Haz Rev 2:113–123

Cleveland WS (1979) Robust locally-weighted regression and smoothing scatterplots. J Am Stat Assoc 74:829–836

Cummins JD, Suher M, Zanjani G (2010) Federal financial exposure to natural catastrophe risk. In: Lucas D (ed) Measuring and managing federal financial risk, University of Chicago Press, Chicago, pp 61–96

Dixon L, Clancy N, Seabury SA, Overton A (2006) The National Flood Insurance Program's market penetration rate: estimates and policy implications. RAND Corporation, February, Santa Monica, California

Downton M, Pielke RA Jr (2005) How accurate are disaster loss data? The case of US flood damage. Nat Haz 35:211–228

FEMA (2011) Flood Insurance Manual. Revised October 2011, Available online: http://www.fema.gov/pdf/nfip/manual201110/index.pdf

Gall M, Borden KA, Emrich CT, Cutter SL (2011) The unsustainable trend of natural hazard losses in the United States. Sustainability 3:2157–2181

Helsel DR, Hirsch RM (1993) Statistical methods in water resources. Elsevier, Amsterdam, p 522

Hollander M, Wolfe DA (1973) Nonparametric statistical methods. Wiley, New York, p 503

ISO Property Claims Services (2011) Available online: http://www.iso.com/Products/Property-Claim-Services/Property-Claim-Services-PCS-info-on-losses-from-catastrophes.html

Jagger TH, Elsner JB, Burch RK (2011) Climate and solar signals in property damage losses from hurricanes affecting the United States. Nat Haz 58:541–557

Johnson DM (2012) Estimating US crop yields. Winrock International Bioenergy Workshop, Crystal City, VA. Available online: https://www.nass.usda.gov/Education_and_Outreach/Reports,_Presentations_and_Conferences/Presentations/Johnson_Winrock_12.pdf

Johnson NL, Kotz S (1970) Continuous univariate distributions—2, Wiley

Katz RW (2002) Stochastic modeling of hurricane damage. J Appl Meteorol 41:754–762

Katz RW (2010) Discussion on "Predicting losses of residential structures in the state of Florida by the public hurricane loss evaluation model" by S. Hamid et al. Stat Method 7:592–595

Katz RW (2012) Economic impact of extreme events: an approach based on extreme value theory. In extreme events: observations, modeling and economics, M. Ghil, J. Urrutia-Fucugauchi, and M. Chavez (eds), Geophysical Monograph Series, American Geophysical Union (accepted for publication)

Kunreuther H, Michel-Kerjan E (2011) At war with the weather, Paperback edn. MIT Press, Cambridge

Lobell DB, Asner GP (2003) Climate and management contributions to recent trends in US agricultural yields. Science 299, 1032

Major JA (1999) Index hedge performance: Insurer market participation and basis risk. In: Froot KA (ed) The financing of catastrophe risk. University of Chicago Press, Chicago, pp 391–432

Mearns LO (1988) Technological change, climatic variability, and winter wheat yields. Ph.D. thesis, University of California, Los Angeles (available as National Center for Atmospheric Research Technical Note, NCAR/CT-111)

Michel-Kerjan E, Lemoyne de Forges S, Kunreuther H (2011) Policy tenure under the US National Flood Insurance Program (NFIP). Risk Analysis, doi:10.1111/j.1539-6924.2011.01671.x

Munich Re (2012) Severe weather in North America, perils, risks, insurance. Munich Re Group, Munich, p 274

NCDC (2012) Billion-Dollar Weather/Climate Events. Available online: http://www.ncdc.noaa.gov/billions

NOAA (2008) The Easter Freeze of April 2007. A NOAA/USDA Technical Report. 2008-01, pp 47 http://www1.ncdc.noaa.gov/pub/data/techrpts/tr200801/tech-report-200801.pdf

Nordhaus WD (2010) The economics of hurricanes and implications of global warming. Climate Change Economics 1:1–20

Pielke RA Jr, Gratz J, Landsea CW, Collins D, Saunders MA, Musulin R (2008) Normalized hurricane damage in the United States: 1900–2005. Nat Haz Rev 9:29–42

PricewaterhouseCoopers (1999) Study of the economic effects of charging actuarially base premium rates for pre-FIRM structures

Texas Governor's Office (2008) Texas rebounds helping our communities recover from the 2008 Hurricane Season, November 2008, pp 41. Available online: http://governor.state.tx.us/files/press-office/Texas-Rebounds-report.pdf

USDA/RMA Summary of Business and NASS Principal Crop Acreage (2012) Available online: http://www.rma.usda.gov/data/sob.html

Vellinga P, Mills E (2001) Insurance and other financial services. IPCC Third Assessment Report, Working Group 2. Cambridge University Press, Cambridge, pp 417–450

Villarini G, Serinaldi F, Smith JA, Frajewski WF (2009) On the stationarity of annual flood peaks in the continental United States during the 20th century. Water Resour Res 45:W08417. doi:10.1029/2008WR007645

Willoughby HE (2012) Distributions and trends of death and destruction from hurricanes in the United States, 1900–2008. Nat Haz Rev 13:57–64
Acknowledgments
The National Center for Atmospheric Research is sponsored by the National Science Foundation. We thank Gary Kerney of ISO/Property Claims Service and Lee Messmore of USDA/RMA for providing key data sources and perspective in better understanding data caveats and limitations. We also thank a number of reviewers including Marjorie McGuirk, Neal Lott, Russell Vose, Tom Peterson, Tom Karl and Linwood Pendleton who have provided many useful comments to enhance this research article. We acknowledge two anonymous reviewers for their constructive comments.
About this article
Cite this article
Smith, A.B., Katz, R.W. US billion-dollar weather and climate disasters: data sources, trends, accuracy and biases. Nat Hazards 67, 387–410 (2013). https://doi.org/10.1007/s11069-013-0566-5
Received:

Accepted:

Published:

Issue Date:
Keywords
Natural disasters

Losses

Statistics of extreme events

Data sources