Abstract
The glycine transporter GLYT1 participates in inhibitory and excitatory neurotransmission by controlling the reuptake of this neuroactive substance from synapses. Over the past few years, microRNAs have emerged as potent negative regulators of gene expression. In this report, we investigate the possible regulation of GLYT1 by microRNAs. TargetScan software predicted the existence of multiple targets for microRNAs within the 3′ UTR of the human GLYT1 (miR-7, miR-30, miR-96, miR-137 and miR-141), and as they are all conserved among mammalian orthologues, their effects on GLYT1 expression were determined experimentally. Dual reporter bioluminescent assays showed that only miR-96 and miR-137 down-regulated expression of the Renilla reporter fused to the 3′ UTR of GLYT1. Mutations introduced into the target sequences blocked this inhibitory effect. Consistently, these two microRNAs downregulated the uptake of [3H]glycine into glial C6 cells, a cell line where GLYT1 is the main carrier for glycine. Moreover, the expression of endogenous GLYT1 in primary mixed cultures from rat spinal cord was decreased upon lentiviral expression of miR-96 and miR-137. Although the bulk of GLYT1 is glial, it is abundantly expressed in glycinergic neurons of the retina and in smaller amounts in glutamatergic neurons though the brain. Since miR-96 in the retina is strongly downregulated by light exposure, when rats were maintained in darkness for a few hours we observed a concomitant increase of GLYT1 expression, suggesting that at least miR-96 might be an important negative regulator of GLYT1 under physiological conditions.
Access options
Buy single article
Instant access to the full article PDF.
US$ 39.95
Tax calculation will be finalised during checkout.
Subscribe to journal
Immediate online access to all issues from 2019. Subscription will auto renew annually.
US$ 119
Tax calculation will be finalised during checkout.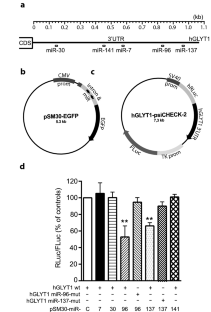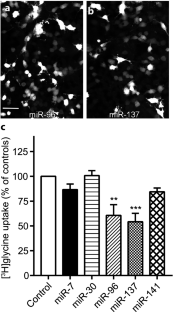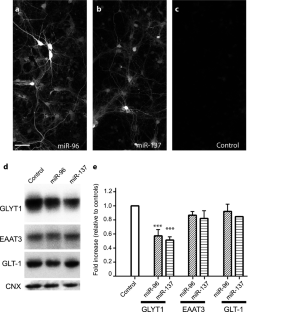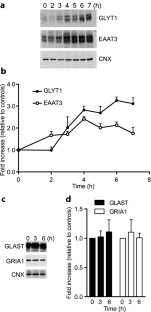 Acknowledgements
We would like to thank Enrique Núñez for his expert technical contribution. The pSM30 plasmid was a generous donation of Dr. G. Du (StonyBrook University). The professional editing service NB Revisions was used for technical preparation of the text prior to submission.
Funding
This work was supported by grants from the Spanish Ministerio de Ciencia e Innovación (RTI2018-098712-B-I00) and Fundación Ramón Areces, the later providing an institutional grant to CBMSO.
Ethics declarations
Conflict of interest
The authors have declared no conflict of interest.
Additional information
Publisher's Note
Springer Nature remains neutral with regard to jurisdictional claims in published maps and institutional affiliations.
Special issue in honor of Prof Baruch Kanner
About this article
Cite this article
Jiménez, E., Piniella, D., Giménez, C. et al. Regulation of the Glycine Transporter GLYT1 by microRNAs. Neurochem Res (2021). https://doi.org/10.1007/s11064-021-03228-x
Received:

Revised:

Accepted:

Published:
Keywords
Glycine transporters

microRNAs

Neurotransmission

Retina