Abstract
Spinal cord injury (SCI) is a serious neurological disease. Long non-coding RNA (lncRNA) small nucleolar RNA host gene (SNHG1) and microRNA-362-3p (miR-362-3p) were confirmed to be related to neurological disorders. However, it is unclear whether SNHG1 was involved in the development of SCI via regulating miR-362-3p. PC12 cells were treated with lipopolysaccharide (LPS) to imitate the in vitro cell model of SCI. Cell ciability and apoptosis rate were detected by cell counting kit-8 (CCK-8) assay and flow cytometry assay. The levels of SNHG1, miR-362-3p, and Janus kinase-2 (Jak2) were examined by quantitative real-time polymerase chain reaction (qRT-PCR). The dual-luciferase reporter assay, RNA pull-down assay, and RNA immunoprecipitation (RIP) assay were performed to verify the interaction between miR-362-3p and SNHG1 or Jak2. Besides, the levels of apoptosis- and autophagy- related proteins were detected by western blot assay. In present research, LPS suppressed cell viability, and induced apoptosis and autophagy in PC12 cells. SNHG1 knockdown could affect cell viability, and suppress cell apoptosis and autophagy in LPS-treated PC12 cells. Moreover, miR-362-3p was a target of SNHG1, miR-362-3p targeted Jak2 and negatively regulated Jak2/stat3 pathway. Our data also demonstrated that SNHG1 depletion inactivated Jak2/stat3 pathway to affect cell viability and confine apoptosis, autophagy in LPS-treated PC12 cells. Taken together, SNHG1 regulated cell viability, apoptosis and autophagy in LPS-treated PC12 cells by activating Jak2/stat3 pathway via sponging miR-362-3p.
Access options
Buy single article
Instant access to the full article PDF.
US$ 39.95
Tax calculation will be finalised during checkout.
Subscribe to journal
Immediate online access to all issues from 2019. Subscription will auto renew annually.
US$ 119
Tax calculation will be finalised during checkout.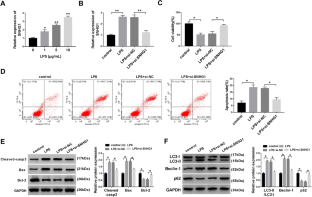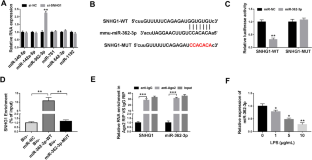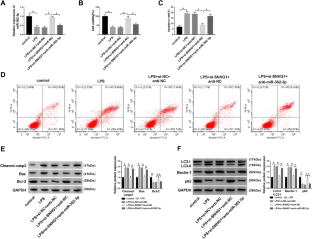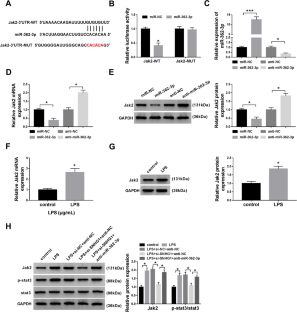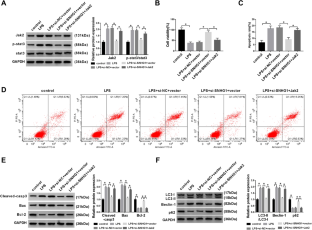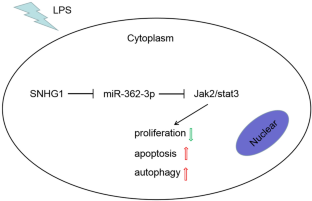 References
1.

Eckert MJ, Martin MJ (2017) Trauma: spinal cord injury. Surg Clin North Am 97:1031–1045

2.

Khurana SR, Garg DS (2014) Spasticity and the use of intrathecal baclofen in patients with spinal cord injury. Phys Med Rehabil Clin N Am 25:655–669

3.

Cardenas DD, Nieshoff EC, Suda K, Goto SI, Sanin L, Kaneko T, Sporn J, Parsons B, Soulsby M, Yang R (2013) A randomized trial of pregabalin in patients with neuropathic pain due to spinal cord injury. Neurology 80:533–539

4.

Yunta M, Nieto-Diaz M, Esteban FJ, Caballero-Lopez M, Navarro-Ruiz R, Reigada D, Pita-Thomas DW, del Aguila A, Munoz-Galdeano T, Maza RM (2012) MicroRNA dysregulation in the spinal cord following traumatic injury. PLoS One 7:e34534

5.

Bareyre FM, Schwab ME (2003) Inflammation, degeneration and regeneration in the injured spinal cord: insights from DNA microarrays. Trends Neurosci 26:555–563

6.

Ning B, Gao L, Liu RH, Liu Y, Zhang NS, Chen ZY (2014) microRNAs in spinal cord injury: potential roles and therapeutic implications. Int J Biol Sci 10:997–1006

7.

Donnelly DJ, Popovich PG (2008) Inflammation and its role in neuroprotection, axonal regeneration and functional recovery after spinal cord injury. Exp Neurol 209:378–388

8.

Mattick JS, Makunin IV (2006) Non-coding RNA. Hum Mol Genet 15:R17–R29

9.

Wang J, Hu B, Cao F, Sun S, Zhang Y, Zhu Q (2015) Down regulation of lncSCIR1 after spinal cord contusion injury in rat. Brain Res 1624:314–320

10.

Zhou HJ, Wang LQ, Wang DB, Yu JB, Zhu Y, Xu QS, Zheng XJ, Zhan RY (2018) Long noncoding RNA MALAT1 contributes to inflammatory response of microglia following spinal cord injury via the modulation of a miR-199b/IKKβ/NF-κB signaling pathway. Am J Physiol Cell Physiol 315:C52–C61

11.

Gu S, Xie R, Liu X, Shou J, Gu W, Che X (2017) Long coding RNA XIST contributes to neuronal apoptosis through the downregulation of AKT phosphorylation and is negatively regulated by miR-494 in rat spinal cord injury. Int J Mol Sci 18:732

12.

Chen Y, Lian YJ, Ma YQ, Wu CJ, Zheng YK, Xie NC (2018) LncRNA SNHG1 promotes alpha-synuclein aggregation and toxicity by targeting miR-15b-5p to activate SIAH1 in human neuroblastoma SH-SY5Y cells. Neurotoxicol 68:212–221

13.

Wang H, Lu B, Chen J (2019) Knockdown of lncRNA SNHG1 attenuated Abeta25-35-inudced neuronal injury via regulating KREMEN1 by acting as a ceRNA of miR-137 in neuronal cells. Biochem Biophys Res Commun 518:438–444

14.

Cao B, Wang T, Qu Q, Kang T, Yang Q (2018) Long noncoding RNA SNHG1 promotes neuroinflammation in Parkinson's disease via regulating miR-7/NLRP3 pathway. Neuroscience 388:118–127

15.

Cai Y, Yu X, Hu S, Yu J (2009) A brief review on the mechanisms of miRNA regulation. Genomics Proteomics Bioinformatics 7:147–154

16.

Gong ZM, Tang ZY, Sun XL (2018) mir-411 suppresses acute spinal cord injury via downregulation of Fas ligand in rats. Biochem Biophys Res Commun 501:501–506

17.

Zhang H, Li D, Zhang Y, Li J, Ma S, Zhang J, Xiong Y, Wang W, Li N, Xia L (2018) Knockdown of lncrna bdnf-as suppresses neuronal cell apoptosis via downregulating mir-130b-5p target gene prdm5 in acute spinal cord injury. RNA Biol 15:1071–1080

18.

Deng G, Gao Y, Cen Z, He J, Cao B, Zeng G, Zong S (2018) miR-136-5p regulates the inflammatory response by targeting the IKKbeta/NF-kappaB/A20 pathway after spinal cord injury. Cell Physiol Biochem 50:512–524

19.

Yan XT, Zhao Y, Cheng XL, He XH, Wang Y, Zheng WZ, Chen H, Wang YL (2018) Inhibition of miR-200b/miR-429 contributes to neuropathic pain development through targeting zinc finger E box binding protein-1. J Cell Physiol 233:4815–4824

20.

Hu Y, Liu Q, Zhang M, Yan Y, Yu H, Ge L (2019) MicroRNA-362-3p attenuates motor deficit following spinal cord injury via targeting paired box gene 2. J Integr Neurosci 18:57–64

21.

Rawlings JS, Rosler KM, Harrison DA (2004) The JAK/STAT signaling pathway. J Cell Sci 117:1281–1283

22.

Dominguez E, Rivat C, Pommier B, Mauborgne A, Pohl M (2008) JAK/STAT3 pathway is activated in spinal cord microglia after peripheral nerve injury and contributes to neuropathic pain development in rat. J Neurochem 107:50–60

23.

Sayyah M, Javad-Pour M, Ghazi-Khansari M (2003) The bacterial endotoxin lipopolysaccharide enhances seizure susceptibility in mice: involvement of proinflammatory factors: nitric oxide and prostaglandins. Neuroscience 122:1073–1080

24.

Li R, Yin F, Guo YY, Zhao KC, Ruan Q, Qi YM (2017) Knockdown of ANRIL aggravates H2O2-induced injury in PC-12 cells by targeting microRNA-125a. Biomed Pharmacother 92:952–961

25.

Li G, Chen T, Zhu Y, Xiao X, Bu J, Huang Z (2018) MiR-103 alleviates autophagy and apoptosis by regulating SOX2 in LPS-injured PC12 cells and SCI rats. Iran J Basic Med Sci 21:292–300

26.

Ren XD, Wan CX, Niu YL (2019) Overexpression of lncRNA TCTN2 protects neurons from apoptosis by enhancing cell autophagy in spinal cord injury. FEBS Open Bio 9:1223–1231

27.

Livak KJ, Schmittgen TD (2001) Analysis of relative gene expression data using real-time quantitative PCR and the 2(-Delta Delta C(T)) method. Methods 25:402–408

28.

Schmitz KJ, Ademi C, Bertram S, Schmid KW, Baba HA (2016) Prognostic relevance of autophagy-related markers LC3, p62/sequestosome 1, Beclin-1 and ULK1 in colorectal cancer patients with respect to KRAS mutational status. World J Surg Oncol 14:189

29.

Calabrese EJ, Calabrese V, Tsatsakis A, Giordano JJ (2020) Hormesis and Ginkgo biloba (GB): numerous biological effects of GB are mediated via hormesis. Ageing Res Rev 64:101019

30.

Brunetti G, Di Rosa G, Scuto M, Leri M, Stefani M, Schmitz-Linneweber C, Calabrese V, Saul N (2020) Healthspan maintenance and prevention of Parkinson's-like phenotypes with Hydroxytyrosol and Oleuropein Aglycone in C. elegans. Int J Mol Sci 21:2588

31.

Di Rosa G, Brunetti G, Scuto M, Trovato Salinaro A, Calabrese EJ, Crea R, Schmitz-Linneweber C, Calabrese V, Saul N (2020) Healthspan enhancement by olive polyphenols in wild type and Parkinson's models. Int J Mol Sci 2111:3893

32.

Calabrese V, Santoro A, Monti D, Crupi R, Di Paola R, Latteri S, Cuzzocrea S, Zappia M, Giordano J, Calabrese EJ, Franceschi C (2018) Aging and Parkinson's disease: Inflammaging, neuroinflammation and biological remodeling as key factors in pathogenesis. Free Radic Biol Med 115:80–91

33.

Calabrese V, Santoro A, Trovato Salinaro A, Modafferi S, Scuto M, Albouchi F, Monti D, Giordano J, Zappia M, Franceschi C, Calabrese EJ (2018) Hormetic approaches to the treatment of Parkinson's disease: perspectives and possibilities. J Neurosci Res 96:1641–1662

34.

Calabrese V, Cornelius C, Dinkova-Kostova AT, Calabrese EJ, Mattson MP (2010) Cellular stress responses, the hormesis paradigm, and vitagenes: novel targets for therapeutic intervention in neurodegenerative disorders. Antioxid Redox Signal 13:1763–1811

35.

Leri M, Scuto M, Ontario ML, Calabrese V, Calabrese EJ, Bucciantini M, Stefani M (2020) Healthy effects of plant polyphenols: molecular mechanisms. Int J Mol Sci 21:1250

36.

Pilipenko V, Narbute K, Amara I, Trovato A, Scuto M, Pupure J, Jansone B, Poikans J, Bisenieks E, Klusa V, Calabrese V GABA-containing compound gammapyrone protects against brain impairments in Alzheimer's disease model male rats and prevents mitochondrial dysfunction in cell culture. J Neurosci Res 97:708–726

37.

Peters V, Calabrese V, Forsberg E, Volk N, Fleming T, Baelde H, Weigand T, Thiel C, Trovato A, Scuto M, Modafferi S, Schmitt CP (2018) Protective actions of anserine under diabetic conditions. Int J Mol Sci 19:2751

38.

Alizadeh A, Dyck SM, Karimi-Abdolrezaee S (2019) Traumatic spinal cord injury: an overview of pathophysiology, models and acute injury mechanisms. Front Neurol 10:282

39.

Xie Y, Zhang H, Zhang Y, Wang C, Duan D, Wang Z (2018) Chinese Angelica polysaccharide (CAP) alleviates LPS-induced inflammation and apoptosis by Down-regulating COX-1 in PC12 cells. Cell Physiol Biochem 494:1380–1388

40.

Jiang W, Wang X, Wang W, Hua F, Zhang Z, Zhang Z, Xiang J, Yang X (2020) Inhibition of NK1R attenuates LPS-induced microglial inflammation and consequent death of PC12 cells. Brain Res Bull 162:115–124

41.

Sharifi AM, Hoda FE, Noor AM (2010) Studying the effect of LPS on cytotoxicity and apoptosis in PC12 neuronal cells: role of Bax, Bcl-2, and Caspase-3 protein expression. Toxicol Mech Methods 20:316–320

42.

Duran RCD, Yan H, Zheng Y, Huang X, Grill R, Kim DH, Cao Q, Wu JQ (2017) The systematic analysis of coding and long non-coding RNAs in the sub-chronic and chronic stages of spinal cord injury. Sci Rep 7:41008

43.

Lv HR (2017) lncRNA-Map2k4 sequesters miR-199a to promote FGF1 expression and spinal cord neuron growth. Biochem Biophys Res Commun 490:948–954

44.

Li H, Xu Y, Wang G, Chen X, Liang W, Ni H (2019) Long non-coding RNA Mirt2 relieves lipopolysaccharide-induced injury in PC12 cells by suppressing miR-429. J Physiol Biochem 75:403–413

45.

Zhang Y, Cruickshanks N, Pahuski M, Yuan F, Dutta A, Schiff D, Purow B, Abounader R (2017) Noncoding RNAs in glioblastoma. In: De Vleeschouwer S (ed) Glioblastoma. Codon Publications, Brisbane (AU), pp 95–129

46.

Li F, Zhou MW (2019) MicroRNAs in contusion spinal cord injury: pathophysiology and clinical utility. Acta Neurol Belg 119:21–27

47.

Geng W, Liu L (2019) MiR-494 alleviates lipopolysaccharide (LPS)-induced autophagy and apoptosis in PC-12 cells by targeting IL-13. Adv Clin Exp Med 28:85–94

48.

Liu DZ, Tian Y, Ander BP, Xu H, Stamova BS, Zhan X, Turner RJ, Jickling G, Sharp FR (2010) Brain and blood microRNA expression profiling of ischemic stroke, intracerebral hemorrhage, and kainate seizures. J Cereb Blood Flow Metab 30:92–101

49.

Li J, Kuang Y, Chen L, Wang J (2018) LncRNA ZNF667-AS1 inhibits inflammatory response and promotes recovery of spinal cord injury via suppressing JAK-STAT pathway. Eur Rev Med Pharmacol Sci 22:7614–7620
Funding
This study was supported by grant from the Science Foundation of Xiangya Hospital for Young Scholar (No. 2017Q1) and the Natural Science Foundation of Hunan Province (No. 2019JJ50959).
Ethics declarations
Conflict of interest
The authors have no interest conflict to proclaim.
Additional information
Publisher's note
Springer Nature remains neutral with regard to jurisdictional claims in published maps and institutional affiliations.
About this article
Cite this article
Zhou, J., Li, Z., Zhao, Q. et al. Knockdown of SNHG1 alleviates autophagy and apoptosis by regulating miR-362-3p/Jak2/stat3 pathway in LPS-injured PC12 cells. Neurochem Res (2021). https://doi.org/10.1007/s11064-020-03224-7
Received:

Revised:

Accepted:

Published:
Keywords
SNHG1

miR-362-3p

Jak2/stat3 signaling pathway

SCI