Abstract
The abnormally accumulated amyloid-β (Aβ) and oxidative stress contribute to the initiation and progression of Alzheimer's disease (AD). β-site amyloid precursor protein cleaving enzyme 1 (BACE1) is the rate-limiting enzyme for the production of Aβ. Furthermore, Aβ was reported to increase oxidative stress; then the overproduced oxidative stress continues to increase the expression and activity of BACE1. Consequently, inhibition of both BACE1 and oxidative stress is a better strategy for AD therapy compared with those one-target treatment methods. In the present study, our novel small molecule YS-5-23 was proved to possess both of the activities. Specifically, we found that YS-5-23 reduces BACE1's expression in both SH-SY5Y and Swedish mutated amyloid precursor protein (APP) overexpressed HEK293 cells, and it can also suppress BACE1's expression induced by H2O2. Moreover, YS-5-23 decreases H2O2-induced cytotoxicity including alleviating H2O2-induced apoptosis and loss of mitochondria membrane potential (MMP) because it attenuates the reactive oxygen species (ROS) level elevated by H2O2. Meanwhile, PI3K/Akt signaling pathway is involved in the anti-H2O2 and BACE1 inhibition effect of YS-5-23. Our findings indicate that YS-5-23 may develop as a drug candidate in the prevention and treatment of AD.
This is a preview of subscription content, log in to check access.
Access options
Buy single article
Instant access to the full article PDF.
US$ 39.95
Price includes VAT for USA
Subscribe to journal
Immediate online access to all issues from 2019. Subscription will auto renew annually.
US$ 199
This is the net price. Taxes to be calculated in checkout.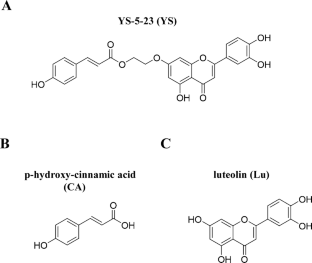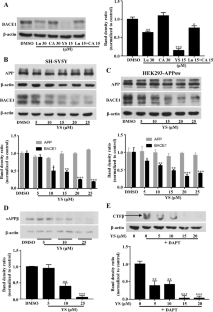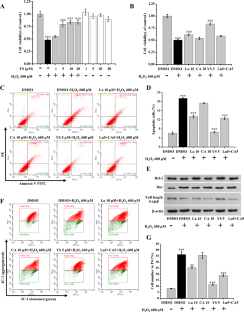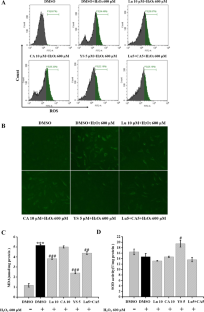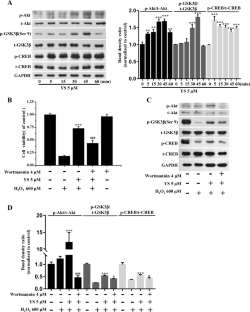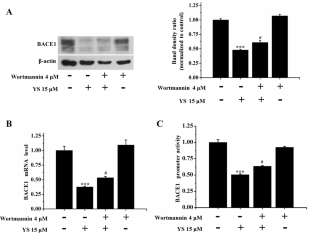 Abbreviations
AD:

Alzheimer's disease

Aβ:

Amyloid-β

APP:

Amyloid precursor protein

BACE1:

β-Site amyloid precursor protein cleaving enzyme 1

ROS:

Reactive oxygen species

H2O2 :

Hydrogen peroxide

Lu:

Luteolin

CA:

P-hydroxy-cinnamic acid

YS:

YS-5-23

MMP:

Mitochondria membrane potential

MDA:

Malondialdehyde

SOD:

Superoxide dismutase

PI3K:

Phosphoinositide 3-kinase

GSK3β:

Glycogen synthase kinase-3β

CREB:

CAMP response element-binding protein
Acknowledgements
This work was financially supported by the National Natural Science Foundation of China (31870786 and 31371331 to J. H., 81273406 to W.-S. F.), and the Drug Innovation Major Project (Grant Nos. 2018ZX09711001-001-001 and 2018ZX09711001-001-003).
Ethics declarations
Conflict of interest
The authors declare that they have no conflict of interest.
Additional information
Publisher's Note
Springer Nature remains neutral with regard to jurisdictional claims in published maps and institutional affiliations.
Electronic supplementary material
Below is the link to the electronic supplementary material.
About this article
Cite this article
Cheng, C., Zheng, N., Sun, D. et al. A Novel Compound YS-5-23 Exhibits Neuroprotective Effect by Reducing β-Site Amyloid Precursor Protein Cleaving Enzyme 1's Expression and H2O2-Induced Cytotoxicity in SH-SY5Y Cells. Neurochem Res (2020). https://doi.org/10.1007/s11064-020-03073-4
Received:

Revised:

Accepted:

Published:
Keywords
Alzheimer's disease

BACE1

Oxidative stress

PI3K/Akt