Abstract
Purpose
Myxopapillary ependymoma (MPE) is the most frequent tumor affecting the medullary conus. The surgical therapeutic management is still debated and only few studies have focused on the postoperative clinical outcome of patients. This study aimed to demonstrate long-term postoperative outcome and to assess the predictive factors of recurrence as well as the clinical evolution of these patients.
Methods
From 1984 to 2019, in four French centers, 101 adult patients diagnosed with MPE were retrospectively included.
Results
Median age at surgery was 39 years. Median tumor size was 50 mm and lesions were multifocal in 13% of patients. All patients benefited from surgery and one patient received postoperative radiotherapy. Gross total resection was obtained in 75% of cases. Sixteen percent of patients presented recurrence after a median follow-up of 70 months. Progression free survival at 5 and 10 years were respectively estimated at 83% and 79%. After multivariable analysis, sacral localization, and subtotal resection were shown to be independently associated with tumor recurrence. 85% of the patients had a favorable evolution concerning pain. 12% of the patients presented a postoperative deterioration of sphincter function and 4% of motor function.
Conclusion
Surgery alone is an acceptable option for MPE patients. Patients with sacral location or incomplete resection are at high risk of recurrence and should be carefully monitored.
Access options
Buy single article
Instant access to the full article PDF.
US$ 39.95
Tax calculation will be finalised during checkout.
Subscribe to journal
Immediate online access to all issues from 2019. Subscription will auto renew annually.
US$ 119
Tax calculation will be finalised during checkout.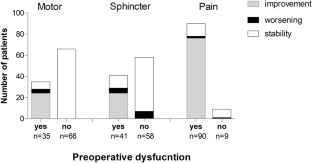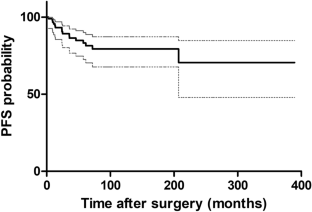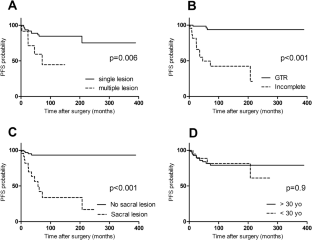 Data availability
Anonymized data will be shared on request from any qualified investigator.
References
1.

Bates JE, Choi G, Milano MT (2016) Myxopapillary ependymoma: a SEER analysis of epidemiology and outcomes. J Neurooncol 129:251–258. https://doi.org/10.1007/s11060-016-2167-0

2.

Ellison DW, Aldape KD, Capper D et al (2020) cIMPACT-NOW update 7: advancing the molecular classification of ependymal tumors. Brain Pathol. https://doi.org/10.1111/bpa.12866

3.

Louis DN, Ohgaki H, Wiestler OD, et al (2016) Ependymal tumours. In: WHO Classification of Tumours of the Central Nervous System. 4th Edition Revised, the International Agency for Research on Cancer (IARC), pp 101–115

4.

Abul-Kasim K, Thurnher MM, McKeever P, Sundgren PC (2008) Intradural spinal tumors: current classification and MRI features. Neuroradiology 50:301–314. https://doi.org/10.1007/s00234-007-0345-7

5.

Pusat S, Erbaş YC, Göçmen S et al (2019) Natural course of myxopapillary ependymoma: unusual case report and review of literature. World Neurosurg 121:239–242. https://doi.org/10.1016/j.wneu.2018.10.028

6.

Ngo TP, Dufton J, Stern PJ, Islam O (2013) Myxopapillary ependymoma as a cause of back pain in a young male—a case report. J Can Chiropr Assoc 57:150–155

7.

Asazuma T, Toyama Y, Suzuki N et al (1999) Ependymomas of the spinal cord and cauda equina: an analysis of 26 cases and a review of the literature. Spinal Cord 37:753–759. https://doi.org/10.1038/sj.sc.3100902

8.

Sakai Y, Matsuyama Y, Katayama Y, et al (2009) Spinal myxopapillary ependymoma: neurological deterioration in patients treated with surgery. Spine (Phila Pa 1976) 34:1619–1624. https://doi.org/https://doi.org/10.1097/BRS.0b013e3181a983d8

9.

Feldman WB, Clark AJ, Safaee M et al (2013) Tumor control after surgery for spinal myxopapillary ependymomas: distinct outcomes in adults versus children: a systematic review. J Neurosurg Spine 19:471–476. https://doi.org/10.3171/2013.6.SPINE12927

10.

Weber DC, Wang Y, Miller R et al (2015) Long-term outcome of patients with spinal myxopapillary ependymoma: treatment results from the MD Anderson Cancer Center and institutions from the Rare Cancer Network. Neuro Oncol 17:588–595. https://doi.org/10.1093/neuonc/nou293

11.

Pica A, Miller R, Villà S et al (2009) The results of surgery, with or without radiotherapy, for primary spinal myxopapillary ependymoma: a retrospective study from the rare cancer network. Int J Radiat Oncol Biol Phys 74:1114–1120. https://doi.org/10.1016/j.ijrobp.2008.09.034

12.

Pesce A, Palmieri M, Armocida D et al (2019) Spinal myxopapillary ependymoma: the Sapienza University experience and comprehensive literature review concerning the clinical course of 1602 patients. World Neurosurg 129:245–253. https://doi.org/10.1016/j.wneu.2019.05.206

13.

Akyurek S, Chang EL, Yu T-K et al (2006) Spinal myxopapillary ependymoma outcomes in patients treated with surgery and radiotherapy at M.D. Anderson Cancer Center J Neurooncol 80:177–183. https://doi.org/10.1007/s11060-006-9169-2

14.

Abdulaziz M, Mallory GW, Bydon M et al (2015) Outcomes following myxopapillary ependymoma resection: the importance of capsule integrity. Neurosurg Focus 39:E8. https://doi.org/10.3171/2015.5.FOCUS15164

15.

Tsai CJ, Wang Y, Allen PK, et al (2014) Outcomes after surgery and radiotherapy for spinal myxopapillary ependymoma: update of the MD Anderson Cancer Center experience. Neurosurgery 75:205–214; discussion 213–214. https://doi.org/https://doi.org/10.1227/NEU.0000000000000408

16.

Bagley CA, Wilson S, Kothbauer KF, et al (2009) Long term outcomes following surgical resection of myxopapillary ependymomas. Neurosurg Rev 32:321–334; discussion 334. https://doi.org/https://doi.org/10.1007/s10143-009-0190-8

17.

Liu M, Jevtic S, Markham-Coultes K et al (2018) Investigating the efficacy of a combination Aβ-targeted treatment in a mouse model of Alzheimer's disease. Brain Res 1678:138–145. https://doi.org/10.1016/j.brainres.2017.10.015

18.

Kukreja S, Ambekar S, Sharma M et al (2015) Outcome predictors in the management of spinal myxopapillary ependymoma: an integrative survival analysis. World Neurosurg 83:852–859. https://doi.org/10.1016/j.wneu.2014.08.006

19.

Wellik DM (2007) Hox patterning of the vertebrate axial skeleton. Dev Dyn 236:2454–2463. https://doi.org/10.1002/dvdy.21286

20.

Barton VN, Donson AM, Kleinschmidt-DeMasters BK et al (2010) Unique molecular characteristics of pediatric myxopapillary ependymoma. Brain Pathol 20:560–570. https://doi.org/10.1111/j.1750-3639.2009.00333.x

21.

Palm T, Figarella-Branger D, Chapon F et al (2009) Expression profiling of ependymomas unravels localization and tumor grade-specific tumorigenesis. Cancer 115:3955–3968. https://doi.org/10.1002/cncr.24476

22.

Gu S, Gu W, Shou J et al (2017) The molecular feature of HOX gene family in the intramedullary spinal tumors. Spine 42:291–297. https://doi.org/10.1097/BRS.0000000000000889

23.

Lotan TL, Torres A, Zhang M et al (2017) Somatic molecular subtyping of prostate tumors from HOXB13 G84E carriers. Oncotarget 8:22772–22782. https://doi.org/10.18632/oncotarget.15196

24.

Amelot A, Peyre M, Mokhtari K, et al (2020) Primary Extraosseous Spinal Ewing's Sarcomas (PESES): Should we be more aware about Diagnosis? Spine (Phila Pa 1976). https://doi.org/https://doi.org/10.1097/BRS.0000000000003784
Ethics declarations
Conflict of interest
All authors declare that they have no conflict of interest.
Ethical approval
The protocol can be found in the reference methodology MR003 chapter adopted by the Commission Nationale de l'Informatique et des Libertés (No 2219024 v0) in agreement with the policies of the University Hospitals involved in this project.
Consent to participate
In accordance with the ethical standards of our hospital's institutional review board, the Committee for the Protection of Human Subjects, and French law, written informed consent was not needed for demographic, physiological and hospital-outcome data analyses because this observational study did not modify existing diagnostic or therapeutic strategies; however, patients were informed of their inclusion in the study.
Additional information
Publisher's Note
Springer Nature remains neutral with regard to jurisdictional claims in published maps and institutional affiliations.
About this article
Cite this article
Montero, AS., Tran, S., Amelot, A. et al. Clinical characteristics and long-term surgical outcome of spinal myxopapillary ependymoma: a French cohort of 101 patients. J Neurooncol (2021). https://doi.org/10.1007/s11060-021-03717-7
Received:

Accepted:

Published:
Keywords
Spinal tumor

Spine

Extramedullary tumor

Molecular biology

Radiation therapy

Recurrence