Abstract
Purpose
To investigate the frequency, magnitude and possible causes of frame-shifts that may occur between treatment planning and treatment delivery when performing Gamma Knife radiosurgery with rigid frame-based immobilization.
Methods
Differences between computed tomography (CT) framed fiducial stereotactic coordinate reference and cone beam computed tomography stereotactic coordinates after image registration were recorded for 49 frame-based GK radiosurgery cases performed using the Gamma Knife Icon. Parameters recorded include rotational shifts, translational shifts, and the GK-computed Maximum Shot Displacement (MSD) between the two stereotactic coordinate spaces. Other patient-specific parameters were collected and linear regression analysis was performed to evaluate predictors of increased displacement.
Results
The median values of rotational shifts were: pitch 0.14°, yaw 0.17°, and roll 0.13°. The median absolute values of translational shifts were: left–right 0.39 mm, anteroposterior 0.14 mm, and superior-inferior 0. 22 mm. The median value of MSD was 0.71 mm. Twelve cases (24.5%) had a MSD of greater than 1.0 mm. Male gender was associated with increased MSD (p = 0.013) and translational shifts (root-mean-squared value, p = 0.017). Cases with large differences between right and left sided pin lengths were also associated with increased MSD (p = 0.011).
Conclusions
The use of CBCT image guidance in frame-based GK radiosurgery allows unintended frame shifts to be identified and corrected. A significant fraction (24.5%) of patients had large enough shifts to result in a MSD of greater than 1.0 mm. Male gender and eccentrically placed frames were associated with increased MSD, and particular care should be taken in these cases.
This is a preview of subscription content, log in to check access.
Access options
Buy single article
Instant access to the full article PDF.
US$ 39.95
Price includes VAT for USA
Subscribe to journal
Immediate online access to all issues from 2019. Subscription will auto renew annually.
US$ 199
This is the net price. Taxes to be calculated in checkout.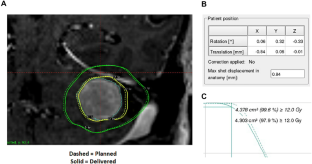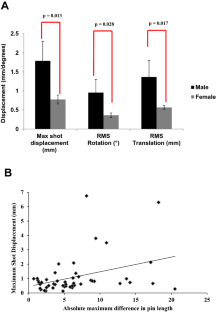 References
1.

Leksell L, Jernberg B (1980) Stereotaxis and tomography. A technical note Acta Neurochir 52(1–2):1–7. https://doi.org/10.1007/bf01400939

2.

Lunsford LD, Flickinger J, Lindner G, Maitz A (1989) Stereotactic radiosurgery of the brain using the first United States 201 cobalt-60 source gamma knife. Neurosurgery 24(2):151–159. https://doi.org/10.1227/00006123-198902000-00001

3.

Wu A (1992) Physics and dosimetry of the gamma knife. Neurosurg Clin N Am 3(1):35–50

4.

Dutta SW, Kowalchuk RO, Trifiletti DM, Peach MS, Sheehan JP, Larner JM, Schlesinger D (2018) Stereotactic shifts during frame-based image-guided stereotactic radiosurgery: clinical measurements. Int J Radiat Oncol Biol Phys 102(4):895–902. https://doi.org/10.1016/j.ijrobp.2018.05.042

5.

Duggar WN, Morris B, Fatemi A, Bonds J, He R, Kanakamedala M, Rey-Dios R, Vijayakumar S, Yang C (2019) Gamma Knife((R)) icon CBCT offers improved localization workflow for frame-based treatment. J Appl Clin Med Phys 20(11):95–103. https://doi.org/10.1002/acm2.12745

6.

Trifiletti DM, Dutta SW, Lee CC, Sheehan JP (2019) Pituitary tumor radiosurgery. Prog Neurol Surg 34:149–158. https://doi.org/10.1159/000493059

7.

Peach MS, Trifiletti DM, Dutta SW, Larner JM, Schlesinger DJ, Sheehan JP (2018) Spatial shifts in frame-based Gamma Knife radiosurgery: a case for cone beam CT imaging as quality assurance using the Gamma Knife(R) Icon. J Radiosurg SBRT 5(4):315–322

8.

Li W, Cho YB, Ansell S, Laperriere N, Menard C, Millar BA, Zadeh G, Kongkham P, Bernstein M, Jaffray DA, Chung C (2016) The use of cone beam computed tomography for image guided gamma knife stereotactic radiosurgery: initial clinical evaluation. Int J Radiat Oncol Biol Phys 96(1):214–220. https://doi.org/10.1016/j.ijrobp.2016.04.011

9.

Carminucci A, Nie K, Weiner J, Hargreaves E, Danish SF (2018) Assessment of motion error for frame-based and noninvasive mask-based fixation using the Leksell Gamma Knife Icon radiosurgery system. J Neurosurg 129(Suppl1):133–139. https://doi.org/10.3171/2018.7.GKS181516

10.

Maciunas RJ, Galloway RL Jr, Latimer JW (1994) The application accuracy of stereotactic frames. Neurosurgery 35(4):682–694. https://doi.org/10.1227/00006123-199410000-00015 (discussion 694-685)

11.

Renier C, Massager N (2019) Targeting inaccuracy caused by mechanical distortion of the Leksell stereotactic frame during fixation. J Appl Clin Med Phys 20(5):27–36. https://doi.org/10.1002/acm2.12576

12.

Ma L, Sahgal A, Larson DA, Pinnaduwage D, Fogh S, Barani I, Nakamura J, McDermott M, Sneed P (2014) Impact of millimeter-level margins on peripheral normal brain sparing for gamma knife radiosurgery. Int J Radiat Oncol Biol Phys 89(1):206–213. https://doi.org/10.1016/j.ijrobp.2014.01.011
Ethics declarations
Conflict of interest
Dr. Trifiletti receives unrelated clinical trial research funding from Novocure and publishing fees from Springer. The remaining authors have nothing to disclose.
Additional information
Publisher's Note
Springer Nature remains neutral with regard to jurisdictional claims in published maps and institutional affiliations.
About this article
Cite this article
Seneviratne, D.S., Hadley, A.R., Peterson, J.L. et al. Assessment of unintended shifts during frame-based stereotactic radiosurgery using cone beam computed tomography image guidance. J Neurooncol 148, 273–279 (2020). https://doi.org/10.1007/s11060-020-03463-2
Received:

Accepted:

Published:

Issue Date:
Keywords
Frame

Gamma-knife

Stereotactic shifts

Radiosurgery

Intracranial displacement