Identification of a novel germline SMARCB1 nonsense mutation in a family manifesting both schwannomatosis and unilateral vestibular schwannoma
Keywords
Nonsense Mutation 
Vestibular Schwannoma 
Probability Score 
Vestibular Schwannomas 
Affect Protein Function 
These keywords were added by machine and not by the authors. This process is experimental and the keywords may be updated as the learning algorithm improves.
To the Editor,
Schwannomatosis, recognized as the third major form of neurofibromatosis, is characterized by the development of multiple schwannomas without bilateral vestibular nerve involvement [1]. Germline mutations in SMARCB1, located proximal to NF2 on chromosome 22, have been identified as causative events of schwannomatosis [2]. The LZTR1 gene, located centromerically to both NF2 and SMARCB1 on chromosome 22, has recently been identified as a second causative gene. Vestibular schwannomas rarely occur in the context of schwannomatosis and until now, have not been associated with SMARCB1 [3]. Here, we describe a rare case of a family manifesting both schwannomatosis and (unilateral) vestibular schwannomas caused by a novel SMARCB1 mutation.
A 27-year-old man reporteda history of back pain and numbness in both lower limbs, which progressed to pain in his right leg accompanied by a large lump. MRI scans (Fig. 
1
B–E) indicated the presence of schwannomas located at the thoracic spine (T1), cervicalspine (T2), paralumbar spine (T3), and right sciatic nerve. The MRI of the brain was normal. The tumors were successfully resected surgically a year ago. Intraoperatively, the tumors presented as firm, encapsulated masses with a gray-white cut surface (Fig. 
1
H); the largest tumor located on the thoracic spine measured 18 × 68 mm in size (Fig. 
1
I). The pathological diagnosis of schwannomas was supported by additional tests, demonstrating the expression of S100 protein in the tumor cells (Fig. 
1
L). The proband's mother had a history of hearing loss and was diagnosed with a right-sided vestibular schwannoma with no additional locations. She underwent surgical resection of the vestibular tumor (T4), which was pathologically confirmed as a schwannoma (Fig. 
1
K) 4 years ago. Unfortunately, she died as the result of a postoperative intracranial hemorrhage. The proband's familial pedigree is presented in Fig. 
1
A.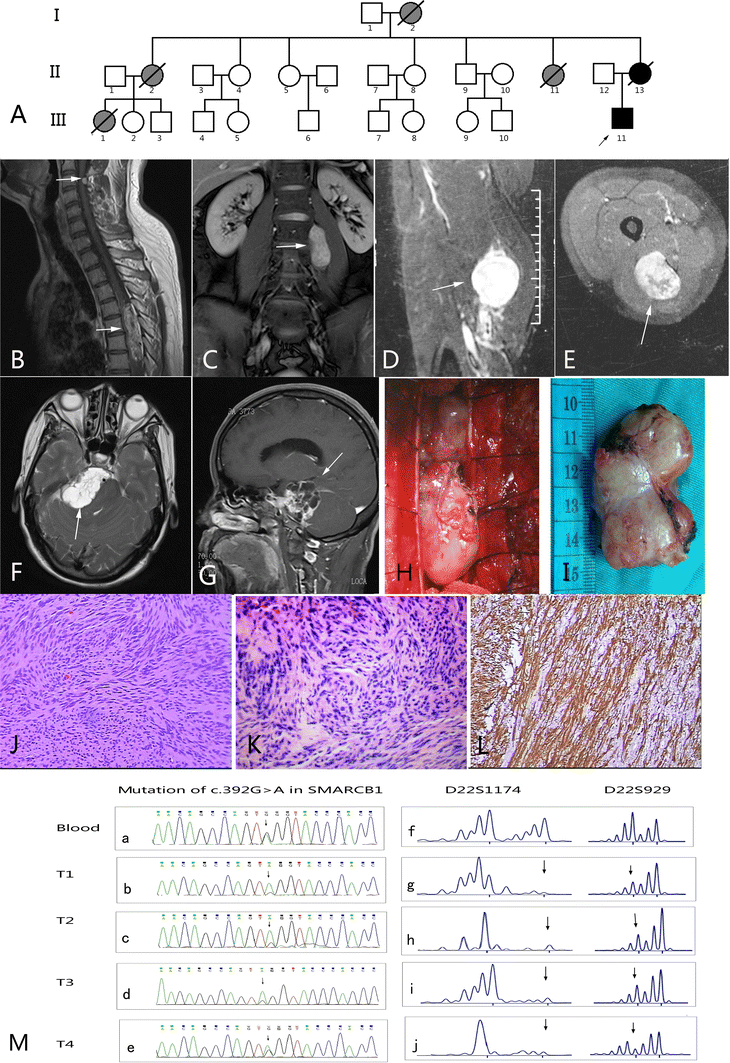 Mutational analysis of DNA extracted from the proband'speripheral blood samples and schwannomas demonstratedthe presence of a novel heterozygous variant c.392G > A (p.W131X) in SMARCB1 exon 4 (Fig. 1M. a–d). Unfortunately, blood samples from the proband's mother were unavailable for congenital mutation analysis. However, this mutation was identified in paraffin-embedded vestibular tissue from the mother (Fig. 1M. e), indicating this is a germline mutation of this pedigree. To the best of our knowledge, this is the first report of a patient diagnosed with definite vestibular schwannoma caused by a mutation in SMARCB1. All tumor samples, including the schwannomas from the proband (III-11) and the vestibular schwannoma from the mother (II-13) showed the same mutation in SMARCB1 exon 4 with a decreased peak height for the wild-type G392 allele, suggesting it is deleted in tumor cells (Fig. 1M. b). The mutation was absent in the unaffected relatives tested (II-4, II-8, II-9, II-12, and III-10) and was not detected in constitutional DNA samples from 200 control individuals (data not shown). To elucidate the potential impact of this c.392G > A (p.W131X) nonsense mutationon on SMARCB1 function, we performed further in silico analysis with the online prediction tool, Mutation Taster, which consistently predicted that substitution of Trp131 with a terminator codon would affect protein function and cause disease (probability score, 1).
Our study also demonstrates a four-hit mechanism [1] for schwannomatosis-associated schwannomas involving NF2. In addition to the SMARCB1 mutation detected in the proband and his mother, we identified other independent somatic mutations in the NF2 gene in the proband's (III-11) thoracic spinal cord (T1), cervical spinal cord (T2), and paralumbar spine (T3) schwannomas, as well as in his mother's vestibular schwannoma (T4). These additional acquired mutations in the NF2 gene are also predicted to result in disease (probability score, 1). The point mutationin NF2 exon 13 in schwannoma T1, c.1621G > A (p.E541X), and the point mutationin NF2 exon 3 in schwannoma T4, c.308A > T (p.E103X), are typical nonsense mutations, causing protein truncation. The c.810 + 1G > A splicing mutation in NF2 intron 8 in schwannoma T2 changes the normal splice site of the NF2 gene and, according to in silico analyses, adversely affects protein function. Analysis with Mutation Taster identified the mutation in the proband's mother's vestibular schwannoma as a c.1256C > T (p.T419 M) point mutation with a pathogenic effect on the function of the NF2 protein (probability score, 1). Moreover, microsatellite analyses of markers D22S1174 and D22S929 indicate that the loss of heterozygosity in these tumors resulted from a net loss of a segment of chromosome 22 containing the SMARCB1 and NF2 genes (Fig. 1M. f–j).
In summary, this study describes a rare case of a novel nonsense mutation in SMARCB1 that causes schwannomatosis. Moreover, this is the first report of a SMARCB1 mutation in a schwannomatosis family exhibiting (unilateral) vestibular schwannoma. These results constitute a significant finding given that SMARCB1 mutations can cause both conditions via a four-hit mechanism.
References
1.

Plotkin SR, Blakeley JO, Evans DG et al (2013) Update from the 2011 international schwannomatosis workshop: From genetics to diagnostic criteria. Am J Med Genet A 161A:405–416

CrossRef

PubMed

Google Scholar

2.

Hulsebos TJ, Plomp AS, Wolterman RA, Robanus-Maandag EC, Baas F, Wesseling P (2007) Germline mutation of INI1/SMARCB1 in familial schwannomatosis. Am J Hum Genet 80:805–810

PubMedCentral

CrossRef

PubMed

Google Scholar

3.

Piotrowski A, Xie J, Liu YF et al (2014) Germline loss-of-function mutations in LZTR1 predispose to an inherited disorder of multiple schwannomas. Nat Genet 46:182–187

PubMedCentral

CrossRef

PubMed

Google Scholar
Copyright information
© Springer Science+Business Media New York 2015