Pathognomonic cerebrospinal fluid findings in Bing–Neel syndrome
Keywords
Polyvinylidene Fluoride 
Banding Pattern 
Central Nervous System Involvement 
Monoclonal Gammopathies 
Normal Reference Range 
These keywords were added by machine and not by the authors. This process is experimental and the keywords may be updated as the learning algorithm improves.
To the Editor
I read with great interest the excellent case report by Malkani et al. [
1
] on Bing–Neel syndrome, defined as Waldenström's macroglobulinemia (WM) with central nervous system (CNS) involvement. The clinical presentation, as well as laboratory and pathological findings, are extensively covered in the report. Nevertheless, I would like to share an illustrative gel picture showing a banding pattern of IgM in serum and cerebrospinal fluid (CSF) that should elicit suspicion regarding Bing–Neel complication of WM (Fig. 
1
).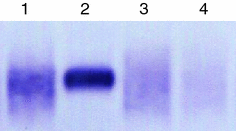 Immunoblot analysis of IgM was performed on serum and CSF from a 68-year-old patient with WM and neurological symptoms according to a standard protocol [2]. In brief, serum and CSF proteins were separated by agarose gel electrophoresis using the Hydrasys 2 system (Sebia, Inc.) with Hydragel 15 HR gels (Sebia), followed by Western blotting of proteins onto a polyvinylidene fluoride membrane, and detection of IgM using a polyclonal rabbit anti-human IgM antibody conjugated with alkaline phosphatase. The serum and CSF samples were diluted so that each lane contained a comparable amount of IgM (40 ng). The banding pattern revealed an IgM monoclonal protein in serum (Fig. 1). However, most importantly, CSF contained a much more distinct monoclonal band. IgM index, defined as [CSF–IgM (mg/l)/serum–IgM (g/l)]/[CSF–albumin (mg/l)/serum–albumin (g/l)], was also strongly elevated (2.4, normal reference range <0.060). These standard laboratory investigations unequivocally show that the patient has a concentration of the IgM monoclonal protein in his CSF far above what would have been expected due to passive leakage of proteins across the blood–brain barrier. The results are explained by infiltration and proliferation of the IgM-producing malignant cell clone intrathecally, which is pathognomonic for Bing–Neel syndrome. Presence of malignant cells in CSF confirmed the diagnosis. Similar findings can be obtained for IgG and IgA monoclonal proteins in other types of monoclonal gammopathies with CNS involvement.
References
1.

Malkani RG, Tallman M, Gottardi-Littell N, Karpus W, Marszalek L, Variakojis D, Kaden B, Walker M, Levy RM, Raizer JJ (2010) Bing–Neel syndrome: an illustrative case and a comprehensive review of the published literature. J Neurooncol 96:301–312

PubMed

CrossRef

Google Scholar

2.

Blennow K, Skoog I, Wallin A, Wikkelso C, Fredman P (1996) Immunoglobulin M in cerebrospinal fluid: reference values derived from 111 healthy individuals 18–88 years of age. Eur Neurol 36:201–205

PubMed

CrossRef

Google Scholar
Copyright information
© Springer Science+Business Media, LLC. 2011