Abstract
Plantations are playing an increasingly important role in providing forest products and improving the ecological environment, but they also face many challenges, such as low biodiversity, severe pest and disease problems, reduced productivity, and diminished soil fertility. Reasonable management strategies are vital for their sustainability. In this study, we took a Chinese fir (Cunninghamia lanceolata (Lamb.) Hook.) plantation as an example to demonstrate the effects of thinning and mixing on the species diversity and structural diversity of plantations at the stand level over a rotation period (1993–2018). An intermediate thinning (26% of plant abundance) was conducted in a Chinese fir pure plantation in mid-age (2008), and a mixed forest stand of Chinese fir and Michelia macclurei Dandy was established directly. Thinning and mixing greatly increased the species diversity at the stand level, enhanced the mixture, transformed the pattern from regular to random distribution, and made the size differentiation of trees random. Thinning and mixing also greatly improved the mixture and dominance of Chinese fir. M. macclurei had an obvious advantage in tree size and maintained a high mixture proportion. Moreover, the diameter classes of the stands were bimodal. Chinese fir and M. macclurei showed a unimodal distribution of diameter, but other later-coming species with a larger number of individuals displayed a typical reverse J-shaped distribution. Our results suggest that both thinning and mixed planting may promote species diversity and structure over a long timescale, but thinning achieves these characteristics earlier because thinning directly manipulates structure in a way that accelerates stand development.
This is a preview of subscription content, log in to check access.
Access options
Buy single article
Instant access to the full article PDF.
US$ 39.95
Price includes VAT for USA
Subscribe to journal
Immediate online access to all issues from 2019. Subscription will auto renew annually.
US$ 99
This is the net price. Taxes to be calculated in checkout.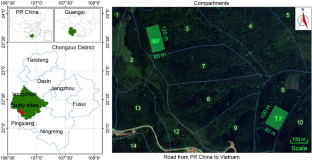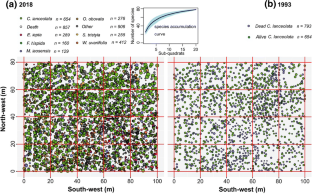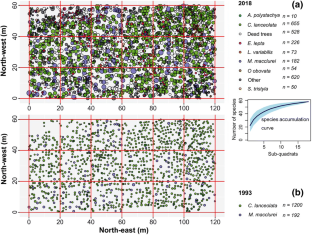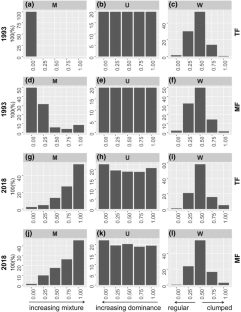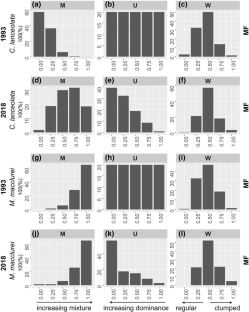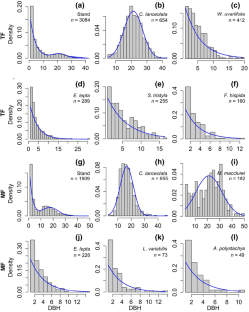 References
Amazonas NT, Forrester DI, Silva CC, Almeida DRA, Rodrigues RR, Brancalion PHS (2018) High diversity mixed plantations of Eucalyptus and native trees: an interface between production and restoration for the tropics. For Ecol Manag 417:247–256

Boyden S, Montgomery R, Reich PB, Palik B (2012) Seeing the forest for the heterogeneous trees: stand-scale resource distributions emerge from tree-scale structure. Ecol Appl 22(5):1578–1588

Cai D, Lu L, Jia H, He R (2007) The influences of closing for afforestation on vegetation diversity restoration under Chinese fir plantation. For Res 20(3):319–327

Chai Z, Sun C, Wang D, Liu W, Zhang C (2017) Spatial structure and dynamics of predominant populations in a virgin old-growth oak forest in the Qinling Mountains, China. Scand J For Res 32(1):19–29

Chen C, Zhang J, Zhou C, Zheng H (1990) Researches on improving the quality of forest land and the productivity of artificial Cunninghamia lanceolate stands. J Appl Ecol 1(2):97–106

Connell JH (1978) Diversity in tropical rain forests and coral reefs. Science 199:1302–1310

Crecente-Campo F, Pommerening A, Rodríguez-Soalleiro R (2009) Impacts of thinning on structure, growth and risk of crown fire in a Pinus sylvestris L. plantation in northern Spain. For Ecol Manag 257:1945–1954

Deng S, Zhang J, Chen C, Li J, Luo G (1995) Effect of thinning intensity on the growth of Cunninghamia lanceolata and Michelia macclurei mixed forests. Chin J Appl Ecol 6(3):231–236

Erskine PD, Lamb D, Bristow M (2006) Tree species diversity and ecosystem function: can tropical multi-species plantations generate greater productivity? For Ecol Manag 233(2–3):205–210

Feng Z, Chen C, Zhang J, Zeng S, Luo R, Chen W (1988) A coniferous broad-leaved mixed forest with higher productivity and ecological harmony in subtropics—study on mixed forest of Cunninghamia lanceolate and Michelia macclurei. Acta Phytoecol Geobot Sin 12(3):165–180

Feng L, Wu C, Song P (2008) Analyses of structures and dynamics of tree layer in different artificial mixed forests of Cunninghamia lanceolata. J Plant Resour Environ 17(1):48–53

Forrester DI (2019) Linking forest growth with stand structure: tree size inequality, tree growth or resource partitioning and the asymmetry of competition. For Ecol Manag 447:139–157

Forrester DI, Tang X (2016) Analysing the spatial and temporal dynamics of species interactions in mixed-species forests and the effects of stand density using the 3-PG model. Ecol Model 319:233–254

Forrester DI, Bauhus J, Cowie AL, Vanclay JK (2006) Mixed-species plantations of Eucalyptus with nitrogen-fixing trees: a review. For Ecol Manag 233(2–3):211–230

Genet A, Grabarnik P, Sekretenko O, Pothier D (2014) Incorporating the mechanisms underlying inter-tree competition into a random point process model to improve spatial tree pattern analysis in forestry. Ecol Model 288:143–154

Grossiord C, Granier A, Gessler A, Pollastrini M, Bonal D (2013) The influence of tree species mixture on ecosystem-level carbon accumulation and water use in a mixed boreal plantation. For Ecol Manag 298:82–92

Haber W (1982) Was erwarten naturschutz und landschaftspflege von der waldwirtschaft? Schriftenreihe Deutschen Rates Landespflege 40:962–965 (in Germany)

He F, Barclay HJ (2000) Long-term response of understory plant species to thinning and fertilization in a Douglas-fir plantation on southern Vancouver Island, British Columbia. Can J For Res 30(4):566–572

He G, Chen Y, Yu Y, Liu H, Cai H, Chen Y (2004) Study on early growth characteristics of Choerospondias axillaris plantation and effect of Choerospondias axillaris and Cunninghamia lanceolata mixed stand. For Res 17(2):206–212

Huang S, Lin S, Cao G, Wu S, Chen J (2001) Primary study on the characteristics of species diversity in Chinese-fir and broad-leaved mixed forests in different habitats. Biodivers Sci 9(2):162–167

Hui G, Wang Y, Zhang G, Zhao Z, Bai C, Liu W (2018) A novel approach for assessing the neighborhood competition in two different aged forests. For Ecol Manag 422:49–58

Hui G, Zhang G, Zhao Z, Yang A (2019) Methods of forest structure research: a review. Curr For Rep 5:142–154

Hung TD, Herbohn JL, Lamb D, Nhan HD (2011) Growth and production varies between pair-wise mixtures and monoculture plantations in North Viet Nam. For Ecol Manag 262(3):440–448

Hurlbert SH (1971) The non-concept of species diversity: a critique and alternative parameters. Ecology 52:577–586

Kelty MJ (2006) The role of species mixtures in plantation forestry. For Ecol Manag 233(2–3):195–204

Kint V, Meirvenne MV, Nachtergale L, Geuden G, Lust N (2003) Spatial methods for quantifying forest stand structure development: a comparison between nearest-neighbor indices and variogram analysis. For Sci 49:36–49

Kvalseth TO (1991) Note on biological diversity, evenness, and homogeneity measures. Oikos 62(1):123–127

Lei X, Lu Y, Peng C, Zhang X, Chang J, Hong L (2007) Growth and structure development of semi-natural larch-spruce-fir (Larix olgensis–Picea jezoensis–Abies nephrolepis) forests in northeast China: 12-year results after thinning. For Ecol Manag 240(1–3):165–177

Li Y, Hui G, Zhao Z, Hu Y (2012) The bivariate distribution characteristics of spatial structure in natural Korean pine broad-leaved forest. J Veg Sci 23(10):1180–1190

Li Y, Ye S, Hui G, Hu Y, Zhao Z (2014) Spatial structure of timber harvested according to structure-based forest management. For Ecol Manag 322:106–116

Li Y, Hui G, Yu S, Luo Y, Yao X, Ye S (2017) Nearest neighbour relationships in Pinus yunnanensis var. tenuifolia forests along the Nanpan River, China. iForest 10:746–753

Lin K, Yu X, Huang B, He Z (2001) Dynamical characteristics of undergrowth plant diversity in Chinese fir plantations. Chin J Appl Environ Biol 7(1):13–19

Lindgren PMF, Sullivan TP (2001) Influence of alternative vegetation management treatments on conifer plantation attributes: abundance, species diversity, and structural diversity. For Ecol Manag 142:163–182

Liu B, Liu Q, Daryanto S, Guo S, Huang Z, Wang Z, Wang L, Ma X (2018) Responses of Chinese fir and Schima superba seedlings to light gradients: implications for the restoration of mixed broadleaf-conifer forests from Chinese fir monocultures. For Ecol Manag 419–420:51–57

Manson DG, Hanan J, Hunt M, Bristow M, Erskine PD, Lamb D, Schmidt S (2006) Modelling predicts positive and negative interactions between three Australian tropical tree species in monoculture and binary mixture. For Ecol Manag 233(2–3):315–323

Mason WL, Connolly T (2014) Mixtures with spruce species can be more productive than monocultures: evidence from the Gisburn experiment in Britain. Forestry 87:209–217

Mason WL, Connolly T, Pommerening A, Edwards C (2007) Spatial structure of semi-natural and plantation stands of Scots pine (Pinus sylvestris L.) in northern Scotland. Forestry 80(5):567–586

Mayoral C, van Breugel M, Cerezo A, Hall JS (2017) Survival and growth of five neotropical timber species in monocultures and mixtures. For Ecol Manag 403:1–11

Menalled FD, Kelty MJ, Ewel JJ (1998) Canopy development in tropical tree plantations: a comparison of species mixtures and monocultures. For Ecol Manag 104:249–263

Oksanen J, Blanchet FG, Friendly M, Kindt R, Legendre P, McGlinn D, Minchin PR, O'Hara RB, Simpson GL, Solymos P, Stevens MHH, Szoecs E, Wagner H (2019) Community ecology package. UTC

Omari K, MacLean DA, Lavigne MB, Kershaw JA, Adams GW (2016) Effect of local stand structure on leaf area, growth, and growth efficiency following thinning of white spruce. For Ecol Manag 368:55–62

Petritan AM, Biris IA, Merce O, Turcu DO, Petritan IC (2012) Structure and diversity of a natural temperate sessile oak (Quercus petraea L.)—European Beech (Fagus sylvatica L.) forest. For Ecol Manag 280:140–149

Potvin C, Dutilleul P (2009) Neighborhood effects and size asymmetric competition in a tree plantation varying in diversity. Ecology 90:321–327

Qiu Z, Su S, Zhong Z, Tang S, Lin Q (2015) The management toward an uneven-aged mixed forest in a row-thinned Cryptomeria plantation. J Beijing For Univ 37(3):44–53

R Core Team (2019) R: a language and environment for statistical computing. R Foundation for Statistical Computing, Vienna, Austria

Sheng W (2001) A study on stand density management and long term productive of Chinese fir (Cunninghamia lanceolata) plantation. Sci Silvae Sin 37(5):2–9

Sheng W, Xue X (1992) Comparisons between pure stands of Chinese fir, Fukiencypress and mixed stands of these two species in growth, structure, biomass and ecological effects. Sci Silvae Sin 28(5):397–404

Spellerberg IF, Fedor PJ (2003) A tribute to Claude Shannon (1916–2001) and plea for more rigorous use of species richness, species diversity and the 'Shannon-Wiener' index. Glob Ecol Biodivers 12:177–179

Stauffer HB (1978) Aggregating points to fit Pielou's index of nonrandomness. Can J For Res 8:355–363

Sun D, Wen Y, Luo Y, Li X, Zhang W, Ming A (2015) Effect of close-to-nature management on species diversity in a Cunninghamia lanceolate. For Res 28(2):202–208

Taki H, Inoue T, Tanaka H, Makihara H, Sueyoshi M, Isono M, Okabe K (2010) Responses of community structure, diversity, and abundance of understory plants and insect assemblages to thinning in plantations. For Ecol Manag 259(3):607–613

Tang X, Lu Y, Fehrmann L, Forrester DI, Guisasola-Rodríguez R, Pérez-Cruzad C, Kleinn C (2016) Estimation of stand-level aboveground biomass dynamics using tree ring analysis in a Chinese fir plantation in Shitai County, Anhui Province, China. New For 47:319–332

Venables WN, Ripley BD (2002) Modern applied statistics with S, 4th edn. Springer, New York

Wang Q, Wang S, Xu G, Fan B (2010) Conversion of secondary broadleaved forest into Chinese fir plantation alters litter production and potential nutrient returns. Plant Ecol 209:269–278

Wang Z, Yang H, Dong B, Zhou M, Ma L, Jia Z, Duan J (2017) Regeneration response to canopy gap size in a Chinese pine plantation: species diversity patterns, size structures and spatial distributions. For Ecol Manag 397:97–107

Wen Y, Chen F, Liu S, Liang H, Yuan C, Zhu H (2008) Relationship between species diversity and biomass of Eucalyptus plantation in Guangxi. Sci Silvae Sin 44(4):14–19

Westphal C, Tremer N, Gv O, Hansen J, Kv G, Härdtle W (2006) Is the reverse J-shaped diameter distribution universally applicable in European virgin beech forests? For Ecol Manag 223:75–83

Wickham H (2016) ggplot2: elegant graphics for data analysis. Springer, New York

Widenfalk O, Weslien J (2009) Plant species richness in managed boreal forests—effects of stand succession and thinning. For Ecol Manag 257:1386–1394

Wu Z, Zhou C, Zhou X, Hu X, Gan J (2018) Variability after 15 years of vegetation recovery in natural secondary forest with timber harvesting at different intensities in southeastern China: community diversity and stability. Forests 9:40

Xiong Y, Sheng W, Zeng M (1995) A study on the development and biomass of undergrowth vegetation in Chinese fir plantation with different thinning intensities. For Res 8(4):408–412

Zemp DC, Ehbrecht M, Seidel D, Ammer C, Craven D, Erkelenz J, Irawan B, Sundawati L, Hälscher KH (2019) Mixed-species tree plantings enhance structural complexity in oil palm plantations. Agric Ecosyst Environ 283:106564

Zhang Y, Chen HYH, Reich PB (2012) Forest productivity increases with evenness, species richness and trait variation: a global meta-analysis. J Ecol 100:742–749

Zhao Z, Bai Z, Zhang Z, Guo D, Li J, Xu Z, Pan Z (2012) Population structure and spatial distributions patterns of 17 years old plantation in a reclaimed spoil of Pingshuo opencast mine, China. Ecol Eng 44:147–151

Zheng Y, Chen L, Hong W (1998) Study on productivity and soil properties of mixed forests of Chinese fir and phyllostachys heterocycla cv. Pubescens Sci Silvae Sin 34(1):16–23

Zhou X, Wen Y, Goodale UM, Zuo H, Zhu H, Li X, You Y, Yan L, Su Y, Huang X (2017) Optimal rotation length for carbon sequestration in Eucalyptus plantations in subtropical China. New For 48:609–627

Zou S (2006) Spatial distribution characteristics of species diversity in old-growth Chinese fir plantation community. J Fujian Agric For Univ (Nat Sci Ed) 35(1):47–51
Acknowledgements
This paper was financially supported by Guangxi special fund project for innovation-driven development (AA 17204087-8). Ph.D. student Xianyu Yao, master students Deyi Zhu, Haipeng Yang, Guo Sun, Liangning Liao and undergraduates Xian Li, Yongzhen Huang joined data collection. You Nong from the Experimental Center of Tropical Forestry, Chinese Academy of Forestry identified tree species.
Additional information
Publisher's Note
Springer Nature remains neutral with regard to jurisdictional claims in published maps and institutional affiliations.
Electronic supplementary material
Below is the link to the electronic supplementary material.
About this article
Cite this article
Li, Y., He, J., Lu, L. et al. The long-term effects of thinning and mixing on species and structural diversity of Chinese fir plantations. New Forests (2020). https://doi.org/10.1007/s11056-020-09794-2
Received:

Accepted:

Published:
Keywords
Diameter distribution

Thinning

Plantation

Species diversity

Spatial structure