Abstract
Competition suppression within loblolly pine plantations (Pinus taeda L.) is typically carried out within the first 2 years of a plantation, but competition control for longer durations could improve productivity. As plantation growth improves with increasing vegetation suppression frequency, it may be necessary to pre-commercially thin stands to reduce intraspecific competition. The effect of these silvicultural activities for controlling inter- and intra-specific competition to optimize plantation financial performance is relatively unexplored. This study tests the financial performance of several operational mixtures of herbicides relative to sustained suppression of herbaceous, woody, and all non-crop vegetation based on 29-year yields and financial data; pre-commercial thinning was tested to understand whether reducing stand density affected responses to vegetation control. Intensive vegetation control increased financial returns compared to the control and sustained woody and herbaceous vegetation suppression, but it was similar to the operational-analogue treatments. Introducing pre-commercial thinning undermined financial performance of the intensive treatments, except for that of herbaceous control. While 5 years of vegetation suppression increased yields, in several cases the improved yields did not overcome intensive early-rotation costs; the rate of yield increase (plus any stumpage price increase) was less than the discount rate at 5%. On a 29-year rotation, increased discount rates increasingly favored treatments with fewer costs. Pre-commercial thinning increased the proportion of sawtimber, but it did not enhance financial performance of the vegetation suppression treatments.
Access options
Buy single article
Instant access to the full article PDF.
US$ 39.95
Tax calculation will be finalised during checkout.
Subscribe to journal
Immediate online access to all issues from 2019. Subscription will auto renew annually.
US$ 79
Tax calculation will be finalised during checkout.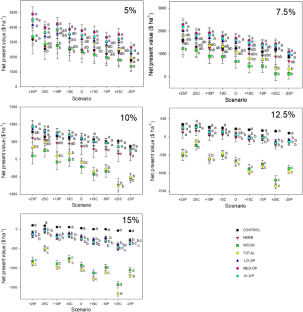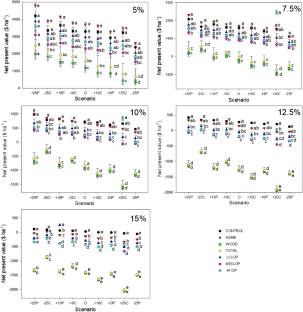 References
Akers MK, Kane M, Zhao D, Teskey RO, Daniels RF (2013) Effects of planting density and cultural intensity on stand and crown attributes of mid-rotation loblolly pine plantations. For Ecol Manag 310:468–475

Bataineh MM, Wagner RG, Weiskittel AR (2013) Long-term response of spruce-fir stands to herbicide and precommercial thinning: observed and projected growth, yield, and financial returns in central Maine, USA. Can J For Res 43:385–395

Blazier MA, Dunn MA (2008) Stock type, subsoiling, and density impact productivity and land value of a droughty site. South J Appl For 32(4):154–162

Blazier MA, Clason TR, Dipesh KC, Taylor EL, Tanger SM, Holley AG (2017) Rotation-length effects of diverse levels of early competition control and pre-commercial thinning on stand development. For Sci 63(5):537–548

Borders BE, Bailey RL (2001) Loblolly pine—pushing the limits of growth. South J Appl For 25:69

Brandeis TJ, Hartsell AJ, Bentley JW, Brandeis C (2012) Economics dynamics of forests and forest industries in the Southern United States. e-General Technical Report, SRS-152. USDA Forest Service, Southern Research Station, Asheville, NC. 77 pp

Bullard SH, Straka TJ (1998) Basic concepts in forest valuation and investment analysis, 2nd edn. Copyright Bullard-Straka, Preceda Education and Training, Auburn, AL, p 270

Bullard SH, Gunter JE, Doolittle ML, Arano KG (2002) Discount rates for non-industrial private forest landowners in Mississippi: how high a hurdle? South J Appl For 26(1):26–31

Bullock BP, Burkahrt HE (2003) Equations for predicting green weight of loblolly pine trees in the south. South J Appl For 27(3):153–159

Burkhart HE, Haney HL, Newberry JD, Leuschner WA, Morris CL, Reed DD (1986) Evaluation of thinning for reduction of losses from southern pine beetle attack in loblolly pine stands south. J Appl For 10:105–108

Callaghan DW, Khanal PN, Straka TJ (2018) An analysis of costs and cost trends for southern forestry practices. J For 117(1):21–29

Cain MD (1993) Ten-year results from pre-commercial strip-thinning: paradigm lost or reinforced. South J Appl For 17(1):16–21

Cain MD (1996) Growth expectations from alternative thinning regimes and prescribed burning in naturally regenerated loblolly—shortleaf pine stands through age 20. For Ecol Manag 81:227–241

Campbell TN, Jones PD, Ezell AW, Demarais S (2013) Growth and competition response in intensively established loblolly pine plantations at crown closure. J For 111(5):313–318

Carmean WH, Hahn JT, Jacobs RD (1989) Site index curves for forest tree species in the eastern United States. USDA Forest Service, North Central Forest Experiment Station, General Technical Report NC-128

Davis PB, Munn IA, Henderson JE, Strickland BK (2017) Economic tradeoffs of managing for timber production or wildlife habitat. J Wildl Manag 81(8):1363–1371

Dennis DF, Remington SB (1985) The influence of price expectations on forestry decisions. North J Appl For 2(3):81–83

Dooley E, Barlow R (2013) Special report: 2012 cost and cost trends for forestry practices in the south. For Landowner 72(4):22–28

Dubois MR, McNabb K, Straka TJ (1999) Costs and costs trends for forestry practices in the south. For Landowner 58(2):3–8

Duchesne I, Pitt DG, Tanguay F (2013) Effects of precommercial thinning on the forest value chain in northwestern New Brunswick: part 4—lumber production, quality, and value. For Chron 89:474–489

Edwards SL, Ezell AW, Demarais S (2006) A comparison of planted loblolly pine (Pinus taeda) growth in areas receiving different levels of establishment regime intensity. J Sustain For 23:1–16

Fox TR, Jokela EJ, Allen HL (2004) The evolution of pine plantation silviculture in the Southern United States. In: Gen. Tech. Rep. SRS–75. Asheville, NC: U.S. Department of Agriculture, Forest Service, Southern Research Station. Chapter 8. p. 63-82. In Rauscher HM, Johnsen K, eds. 2004. Southern forest science: past, present, and future. Gen. Tech. Rep. SRS-75. Asheville, NC: U.S. Department of Agriculture, Forest Service, Southern Research Station. 394 p.

Ginn SE, Seiler JR, Cazel BH, Kreh RE (1991) Physiological and growth responses of eight-year-old loblolly pine stands to thinning. For Sci 37:1030–1040

Henkel-Johnson D, Macdonald SE, Bork EW, Thomas BR (2016) Influence of weed composition, abundance, and spatial proximity on growth in young hybrid poplar plantations. For Ecol Manag 362:55–68

Huang C, Kronrad GD (2002) Financially optimal thinning and final harvest schedules for loblolly pine plantations on nonindustrial private forestland in east Texas. South J Appl For 26(1):13–17

Huang C, Kronrad GD, Morton JD (2005) The financially optimal loblolly pine planting density and management regime for nonindustrial private forestland in east Texas. South J Appl For 29(1):16–21

Idol TW, Morales RM, Friday JB, Scowcroft PG (2017) Precommercial release thinning of potential Acadia koa crop trees increases stem and crown growth in dense, 8-year-old stands in Hawaii. For Ecol Manag 392:105–114

Jokela EJ, Wilson DS, Allen JE (2000) Early growth responses of slash and loblolly pine following fertilization and herbaceous weed control treatments at establishment. South J Appl For 24:23–30

Jokela EJ, Martin TA, Vogel JG (2010) Twenty-five years of intensive forest management with southern pines: Important lessons learned. J For 108:338–347

Jones PD, Grado SC, Demarais S (2010) Financial analysis of intensive pine plantation establishment. J For Econ 16:101–112

Louisiana Department of Agriculture and Forestry (2013) Louisiana pulpwood and timber production report. www.ldaf.louisiana.gov/portal/Offices/Forestry/ForestryReports/tabid/449/Default.aspx. Accessed 14 Mar 2018

Mann WF Jr, Lohrey RE (1974) Pre-commercial thinning of southem pines. J For 72(9):557–560

McKeand SE, Jokela EJ, Huber DA, Byram TD, Allen HL, Li B, Mullin TJ (2006) Performance of improved genotypes of loblolly pine across different soils, climates, and silvicultural inputs. For Ecol Manag 227:178–184

Miller JH, Busby RL, Zutter BR, Zedaker SM, Edwards MB, Newbold RA (1995a) Response of loblolly pine to complete woody and herbaceous control: projected yields and economic outcomes—the COMProject. In: Edwards MB, comp. proceedings of the eight biennial southern silvicultural research conference; 1994 November 1–3; Auburn, AL. Gen. Tech. Rep. SRS-1. USDA, FS, Southern Research Station, Asheville, NC. p 81–89

Miller JH, Zutter BR, Zedaker SM, Edwards MB, Newbold RA (1995b) Early plant succession in loblolly pine plantations as affected by vegetation management. South J Appl For 19:109–126

Miller JH, Zutter BR, Zedaker SM, Edwards MB, Newbold RA (2003) Growth and yield relative to competition for loblolly pine plantations to midrotation—a southeastern United States regional study. South J Appl For 27(4):237–252

Parajuli R, Tanger SM, Abt R, Cubbage F (2019) Southern timber markets amidst rapidly evolving chip-n-saw stumpage: sub-regional timber supply model projections. For Sci 65(6):665–669

Prestemon JP, Abt RC (2002) The southern timber market to 2040. J For 100(7):16–22

Schaedel MS, Larson AJ, Affleck DLR, Belote RT, Goddburn JM, Wright DK, Sutherland EK (2017) Long-term precommercial thinning effects on Larix occidentalis (western larch) tree and stand characteristics. Can J For Res 47:861–874

Siry JP (2002) Intensive management practices. In: Wear DN, Greiss JG (eds) Southern forest resource assessment. US Forest Service General Technical Report SRS-53, Asheville, North Carolina, USA, p 327–340

South DB, Miller JH, Kimberley MO, VanderSchaaf CL (2005) Determining productivity gains from forest vegetation management with 'age-shift' calculations. Forestry 79(1):43–56

Sword Sayer MA, Goelz JC, Chambers JL, Tang Z, Dean TJ, Haywood JD, Leduc DJ (2004) Long-term trends in loblolly pine productivity and stand characteristics in response to thinning and fertilization in the West Gulf region. For Ecol Manag 192:71–96

Will RE, Markewitz D, Hendrick RL, Meason DF, Crocker TR, Borders BE (2006) Nitrogen and phosphorus dynamics for 13-year-old loblolly pine stands receiving complete competition control and annual N fertilizer. For Ecol Manag 227(1–2):155–168

Zutter BR, Miller JH (1998) Eleventh-year response of loblolly pine and competing vegetation to woody and herbaceous plant control on a Georgia flatwoods site. South J Appl For 22(2):88–95
Acknowledgements
The authors wish to thank the U.S. Forest Service for providing the study site. This research work is supported by the USDA National Institute of Food and Agriculture
Additional information
Publisher's Note
Springer Nature remains neutral with regard to jurisdictional claims in published maps and institutional affiliations.
About this article
Cite this article
Tanger, S.M., Blazier, M.A., Holley, A.G. et al. Financial performance of diverse levels of early competition suppression and pre-commercial thinning on loblolly pine stand development. New Forests 52, 217–235 (2021). https://doi.org/10.1007/s11056-020-09790-6
Received:

Accepted:

Published:

Issue Date:
Keywords
Intensive management

Herbicide

Financial decision-making

Sensitivity analysis