Abstract
Ecosystems and their services are essential to human well-being, but mining activities often cause adverse impacts on these services. Although impact of mining activities is experienced throughout the life of a mine, pre-mining phase was considered in this research because it determines the relationship of the mining industries with the community. In addition, mining companies must be conscious of how to mitigate its impacts on the environment in every stage as much as possible. Past researchers either have stated the impacts of pre-mining on the environment not explicitly considering the ecosystem services, or they have assessed the effects of mining on the ecosystem not taking into account the pre-mining activities or the ecosystem services. In this research, an existing methodology of ecosystem services was applied to the oil sands deposits located in Ondo state, Nigeria. The results include an appraisal of the demographic information, land use maps, types of ecosystems, ecosystem services, and the use of these services to the communities. The results of the prioritized ecosystem service, proposed mitigation measures that can be taken, and an assessment on the outcome of the proposed mitigation measures on the ecosystem services were also obtained. The conclusions are that the ecosystem service review can be an appropriate approach for mitigating impacts of pre-mining activities on ecosystem services. However, the ecosystem services methodology that was applied can be improved by assessing the outcome of the mitigation measures to know if there will be any significant reduction in impact occurrences and by giving the feedback of the mitigation measures to the community.
This is a preview of subscription content, log in to check access.
Access options
Buy single article
Instant access to the full article PDF.
US$ 39.95
Price includes VAT for USA
Subscribe to journal
Immediate online access to all issues from 2019. Subscription will auto renew annually.
US$ 99
This is the net price. Taxes to be calculated in checkout.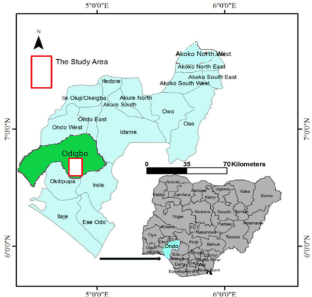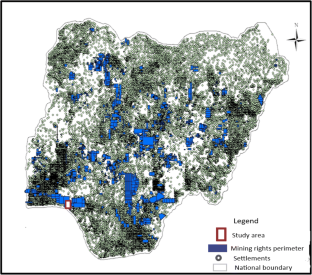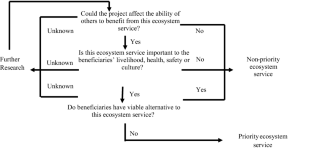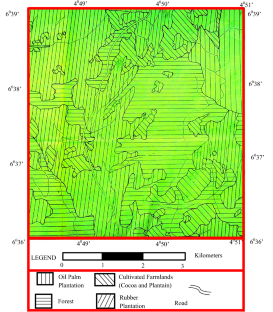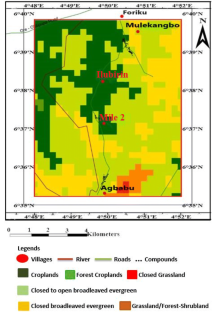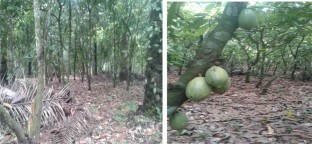 References
Aigbedion, I., & Iyayi, S. E. (2007). Environmental effect of mineral exploitation in Nigeria. International Journal of Physical Sciences,2, 33–38.

Al-Usmani, S. M. P. (2011). Impact of mining activities on land and water areas of Goa. Journal of Coastal Environment,2(1), 43.

Ardichvili, A., Page, V., & Wentling, T. (2003). Motivation and barriers to participation in virtual knowledge-sharing communities of practice. Journal of knowledge management,7(1), 64–77.

Ashton, P., Love, D., Mahachi, H., & Dirks, P. (2001). An overview of the impact of mining and mineral processing operations on water resources and water quality in the Zambezi, Limpopo and olifants catchments in Southern Africa. Mining, mineral and sustainable development project 362, doi: ENV-P-C 2001-042.

Butt, A., Shabbir, R., Ahmad, S. S., & Aziz, N. (2015). Land use change mapping and analysis using remote sensing and GIS: A case study of Simly watershed, Islamabad, Pakistan. The Egyptian Journal of Remote Sensing and Space Science,18(2), 251–259.

Chaudhary, S., McGregor, A., Houston, D., & Chettri, N. (2018). Environmental justice and ecosystem services: A disaggregated analysis of community access to forest benefits in Nepal. Ecosystem Services,29, 99–115.

Chindo, M. I. (2012). An examination of the socio-economic and environmental impact of planned oil sands development in Nigeria. Doctoral dissertation, University of Leicester.

Costanza, R., d'Arge, R., De Groot, R., Farber, S., Grasso, M., Hannon, B., et al. (1997). The value of the world's ecosystem services and natural capital. Nature,387(6630), 253.

Costanza, R., de Groot, R., Braat, L., Kubiszewski, I., Fioramonti, L., Sutton, P., et al. (2017). Twenty years of ecosystem services: how far have we come and how far do we still need to go? Ecosystem Services,28, 1–16.

Daily, G. C. (1997). Nature's Services. Washington, DC: Societal Dependence on Natural Ecosystems. Island Press.

Daily, G. C., Soderqvist, T., Aniyar, S., Arrow, K., Dasgupta, P., Ehrlich, P. R., et al. (2000). The value of nature and the nature of value. Science,289(5478), 395–396.

De Groot, R. S., Alkemade, R., Braat, L., Hein, L., & Willemen, L. (2010). Challenges in integrating the concept of ecosystem services and values in landscape planning. Management and Decision Making. Ecological complexity,7(3), 260–272.

Department of Environmental Affairs, Department of Mineral Resources, Chamber of Mines (2013). Mining and biodiversity guideline: Mainstreaming biodiversity into the mining sector. Pretoria. South African Mining and Biodiversity Forum, and South African National Biodiversity Institute.

Di Gregorio, A., & Jansen, L. J. M. (2000). Land cover classification system (LCCS): Classification concepts and user manual. Environment and natural resources service. GCP/RAF/287/ITA Africover—East Africa Project and Soil Resources, Management and Conservation Service, Food and Agriculture Organization.

Egoh, B. N., Reyers, B., Rouget, M., & Richardson, D. M. (2011). Identifying priority areas for ecosystem service management in South African grasslands. Journal of Environmental Management,92, 1642–1650. https://doi.org/10.1016/j.jenvman.2011.01.019.

Ezeaku, P. I. (2012). Evaluating the influence of open cast mining of solid minerals on soil, land use and livelihood systems in selected areas of Nasarawa State, North-Central Nigeria. Journal of Ecology and the Natural Environment,4(3), 62–70. https://doi.org/10.5897/JENE11.032.

Fedele, G., Locatelli, B., & Djoudi, H. (2017). Mechanisms mediating the contribution of ecosystem services to human well-being and resilience. Ecosystem Services,28, 43–54.

Giri, C., Zhu, Z., & Reed, B. (2005). A comparative analysis of the global land cover 2000 and MODIS land cover data sets. Remote Sens Environ,94(1), 123–132.

Gutti, B., Aji, M. M., & Magaji, G. (2012). Environmental impact of natural resources exploitation in Nigeria and the way forward. Journal of Applied Technology in Environmental Sanitation,2(2), 95–102.

Hanson, C., Ranganathan, J., Iceland, C., & Finisdore, J. (2012). The corporate ecosystem services review: Guidelines for identifying business risks and opportunities arising from ecosystem change. Version 2.0. Washington, DC: World Resources Institute.

Hilson, G. M. (2002). The future of small-scale mining: Environmental and socioeconomic perspectives. Futures,34, 863–872. https://doi.org/10.1016/S0016-3287(02)00044-7.

Kunz, T. H., Braun de Torrez, E., Bauer, D., Lobova, T., & Fleming, T. H. (2011). Ecosystem services provided by bats. Annals of the New York Academy of Sciences,1223(1), 1–38.

Landsberg, F., Ozment, S., Sticker, M., Henninger, N., Treweek, J., Venn, O., & Mock, G. (2011). Ecosystem services review for impact assessment: Introduction and guide to scoping world. Available at http://www.wri.org/publication/ecosystem-services-review-for-impact-assessment.

Landsberg, F., Treweek, J., Stickler, M., Henninger, N., & Venn, O. (2013). Weaving ecosystem services into impact assessment. Washington DC: World Resources Institute.

Larondelle, N., & Haase, D. (2012). Valuing post-mining landscapes using an ecosystem services approach—An example from Germany. Ecological Indicators,18, 567–574.

Luoma, T., Paasi, J., & Valkokari, K. (2010). Intellectual property in inter-organizational relationships—Findings from an interview study. International Journal of Innovation Management,14(03), 399–414.

McKenney, B. A., & Kiesecker, J. M. (2010). Policy Development for Biodiversity Offsets: A Review of Offset Frameworks. Environmental Management,45(1), 165–176.

Millennium Ecosystem Assessment. (2003). Ecosystems and human well-being: A framework for assessment. Washington, DC: Island Press.

Millennium Ecosystem Assessment. (2005). Ecosystems and human well-being: synthesis. Washington, DC: Island Press.

Miranda, M., Burris, P., Bingcang, J. F., Shearman, P., Briones, J. O., Viña, A. L., et al. (2003). Mining and critical ecosystems : mapping the risks. Washington, DC: World Resources Institute. https://doi.org/10.1016/j.jclepro.2005.03.014.

Musa, H. D., & Jiya, S. N. (2011). An assessment of mining activities impact on vegetation in Bukuru Jos Plateau State Nigeria using normalized differential vegetation index (NDVI). Journal of Sustainable Development,4, 150–159. https://doi.org/10.5539/jsd.v4n6p150.

NBBN Implementing the Mitigation Hierarchy (2016). Presented by National Biodiversity and Business. https://www.ewt.org.za/BUSINESSDEVELOPMENT/

Newman, A. M., Rubio, E., Caro, R., Weintraub, A., & Eurek, K. (2010). A review of operations research in mine planning. Interfaces,40(3), 222–245.

Network IUCN (XXXX) De Beers Group of Companies.

Oladipo, O. G., Olayinka, A., & Awotoye, O. O. (2014). Ecological Impact of Mining on Soils of Southwestern Nigeria. Environmental and Experimental Biology,12, 179–186.

Olander, L. P., Johnston, R. J., Tallis, H., Kagan, J., Maguire, L. A., Polasky, S., et al. (2018). Benefit relevant indicators: Ecosystem services measures that link ecological and social outcomes. Ecological Indicators,85, 1262–1272.

Omotehinse, A. O., & Ako, B. D. (2019). The environmental implications of the exploration and exploitation of solid minerals in Nigeria with a special focus on Tin in Jos and Coal in Enugu. Journal of Sustainable Mining,18(1), 18–24. https://doi.org/10.1016/j.jsm.2018.12.001.

Persson, L., Arvidson, A., Lannerstad, M., Lindskog, H., Morrissey, T., Nilsson, L., & Senyagwa, J. (2010). Impacts of pollution on ecosystem services for the millennium development goals. Stockholm Environment Institute, pp. 978–991.

Pring, G., Otto, J., & Naito, K. (1999). Trends in international environmental law affecting the minerals industry. Journal of Energy and Natural Resources Law,17, 39–55.

Rwanga, S. S., & Ndambuki, J. M. (2017). Accuracy assessment of land use/land cover classification using remote sensing and GIS. International Journal of Geosciences,8(04), 611.

Small, N., Munday, M., & Durance, I. (2017). The challenge of valuing ecosystem services that have no material benefits. Global Environmental Change,44, 57–67.

Wood, G. (2008). Thresholds and criteria for evaluating and communicating impact significance in environmental statements: 'See no evil, hear no evil, speak no evil'? Environmental Impact Assessment Review,28(1), 22–38.
Acknowledgments
The researchers acknowledge the support granted to the first author by The Federal University of Technology Akure (FUTA), Nigeria, in carrying out the research in Ondo state, Nigeria. This research was sponsored by the scholarship provided to the first author by the Petroleum Technology Development Fund (PTDF), Nigeria.
Electronic supplementary material
Below is the link to the electronic supplementary material.
About this article
Cite this article
Omotehinse, A.O., De Tomi, G. & Baninla, Y. Proactive Management of Ecosystem Services in Oil Sands Pre-mining Phase. Nat Resour Res 29, 949–965 (2020). https://doi.org/10.1007/s11053-019-09505-5
Received:

Accepted:

Published:

Issue Date:
Keywords
Oil sands

Ondo state, Nigeria

Pre-mining activities

Ecosystem services

Mitigation measures