Abstract
Hierarchical CdS nanocrystals were synthesized with chitosan as the additive by solvothermal method. The concentration of chitosan had obvious influence on the morphology of CdS. When 2.5 mg/mL chitosan was added into the system, spherical CdS with the size of 200–300 nm assembled by hexagonal microspheres was formed. CdS was characterized by X-ray diffraction pattern (XRD), transmission electron microscopy (TEM), thermogravimetry (TG), Fourier transform infrared spectroscopy (FT-IR), UV-visible spectroscopy (UV-vis), and cyclic voltammetry (CV). CdS had the wurtzite structure with slight orientation growth along [001] direction. The chitosan as the additive only participated in the reaction process and would not attach on the surface of final product. Hierarchical CdS displayed good absorption in the visible region, which was applied in the photodegradation to rhodamine B. The photocatalysis displayed the dependence on the morphology of CdS, which was resulted from different electron-hole recombination ability confirmed by fluorescence (PL) spectra. The maximum photodegradation efficiency nearly to 97% and constant rate close to 0.03 s−1 were obtained, which was attributed to the maximum charge separation efficiency. The photodegradation products were measured by liquid mass spectrometry (LC-MS), and the photodegradation mechanism was also discussed.
Access options
Buy single article
Instant access to the full article PDF.
US$ 39.95
Tax calculation will be finalised during checkout.
Subscribe to journal
Immediate online access to all issues from 2019. Subscription will auto renew annually.
US$ 79
Tax calculation will be finalised during checkout.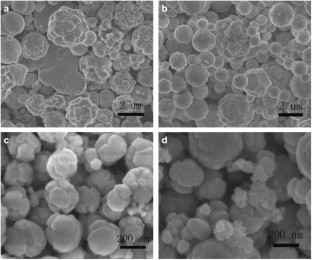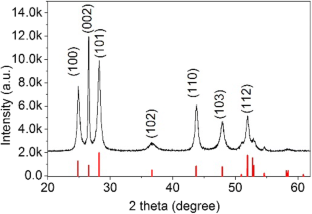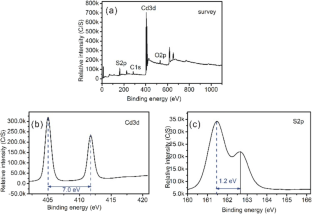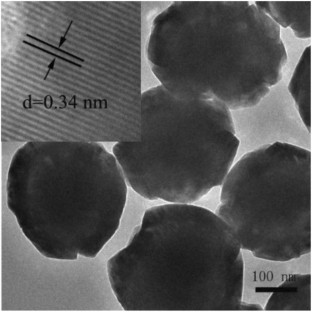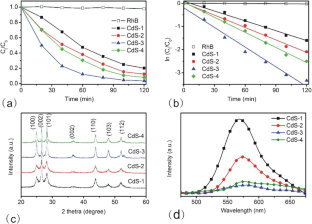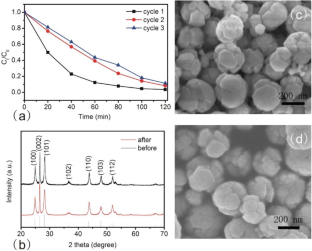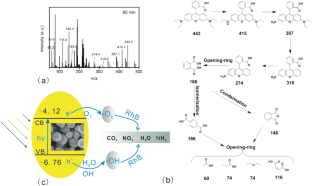 References
Abdelhamid HN, Wu HF (2013) Probing the interactions of chitosan capped CdS quantum dots with pathogenic bacteria and their biosensing application. J Mater Chem B 1:6094–6106

Abdelhamid HN, Wu H-F (2018) Selective biosensing of Staphylococcus aureus using chitosan quantum dots. Spectrochim Acta A 188:50–56

Abdelhamid HN, El-Bery HM, Metwally AA, Elshazly M, Hathout RM (2019) Synthesis of CdS-modified chitosan quantum dots for the drug delivery of Sesamol. Carbohydr Polym 214:90–99

Ahmed B, Kumar S, Kumar S, Ojha AK (2016) Shape induced (spherical, sheets and rods) optical and magnetic properties of CdS nanostructures with enhanced photocatalytic activity for photodegradation of methylene blue dye under ultra-violet irradiation. J Alloys Compd 679:324–334

Bhadwal AS, Tripathi RM, Gupta RK, Kumar N, Singh RP, Shrivastav A (2014) Biogenic synthesis and photocatalytic activity of CdS nanoparticles. RSC Adv 4:9484–9490

Cao Y, Hu P, Jia D (2013) Phase- and shape-controlled hydrothermal synthesis of CdS nanoparticles, and oriented attachment growth of its hierarchical architectures. Appl Surf Sci 265:771–777

Chen Z, Liang J, Xu X, He G, Chen H (2020) CdS–Bi2MoO6/RGO nanocomposites for efficient degradation of ciprofloxacin under visible light. J Mater Sci 55:6065–6077

Comparelli R, Fanizza E, Curri ML, Cozzoli PD, Mascolo G, Agostiano A (2005) UV-induced photocatalytic degradation of azo dyes by organic-capped ZnO nanocrystals immobilized onto substrates. Appl Catal B 60:1–11

Copello GJ, Varela F, Vivot RM, Díaz LE (2008) Immobilized chitosan as biosorbent for the removal of cd(II), Cr(III) and Cr(VI) from aqueous solutions. Bioresour Technol 99:6538–6544

Deng C, Tian X (2013) Facile microwave-assisted aqueous synthesis of CdS nanocrystals with their photocatalytic activities under visible lighting. Mater Res Bull 48:4344–4350

El-Bassuony AAH, Abdelsalam HK (2020a) Impacts of hematite, bunsenite and maghemite impurities on the physical and antimicrobial properties of silver nanoparticles. Eur Phys J Plus 135:64

El-Bassuony AAH, Abdelsalam HK (2020b) Correlation of heat treatment and the impurities accompanying Ag nanoparticles. Eur Phys J Plus 135:66

Emam HE, Abdelhamid HN, Abdelhameed RM (2018) Self-cleaned photoluminescent viscose fabric incorporated lanthanide-organic framework (Ln-MOF). Dyes Pigments 159:491–498

Etman AS, Abdelhamid HN, Yuan Y, Wang L, Zou X, Sun J (2018) Facile water-based strategy for synthesizing MoO3-x nanosheets: efficient visible light photocatalysts for dye degradation. ACS Omega 3:2193–2201

Fan L, Guo R (2009) Controlled synthesis of pyramid-aggregated sphere-like cadmium sulfide in the presence of a polymer. Cryst Growth Des 9:1677–1682

Fang Z, Zhang L, Yang T, Su L, Chou K-C, Hou X (2017) Cadmium sulfide with tunable morphologies: preparation and visible-light driven photocatalytic performance. Phys E 93:116–123

Fuhr AS, Yun HJ, Makarov NS, Li H, McDaniel H, Klimov VI (2017) Light emission mechanisms in CuInS2 quantum dots evaluated by spectral electrochemistry. ACS Photonics 4:2425–2435

Ganesh RS, Sharma SK, Durgadevi E, Navaneethan M, Binitha HS, Ponnusamy S, Muthamizhchelvan C, Hayakawa Y, Kim DY (2017) Surfactant free synthesis of CdS nanospheres, microstructural analysis, chemical bonding, optical properties and photocatalytic activities. Superlattice Microst 104:247–257

Guibal E (2004) Interactions of metal ions with chitosan-based sorbents: a review. Sep Purif Technol 38:43–74

Han S, Kong M, Guo Y, Wang M (2009) Synthesis of copper indium sulfide nanoparticles by solvothermal method. Mater Lett 63:1192–1194

Haram SK, Quinn BM, Bard AJ (2001) Electrochemistry of CdS nanoparticles: a correlation between optical and electrochemical band gaps. J Am Chem Soc 123:8860–8861

He Z, Yang S, Ju Y, Sun C (2009) Microwave photocatalytic degradation of Rhodamine B using TiO2 supported on activated carbon: mechanism implication. J Environ Sci 21:268–272

Iqbal M, Ali A, Nahyoon NA, Majeed A, Pothu R, Phulpoto S, Thebo KH (2019) Photocatalytic degradation of organic pollutant with nanosized cadmium sulfide. Mater Sci Energy Technol 2:41–45

Jamble SN, Ghoderao KP, Kale RB (2018) Studies on growth mechanism and physical properties of hydrothermally synthesized CdS with novel hierarchical superstructures and their photocatalytic activity. J Phys Chem Solids 114:109–120

Kandula S, Jeevanandam P (2014) Visible-light-induced photodegradation of methylene blue using ZnO/CdS heteronanostructures synthesized through a novel thermal decomposition approach. J Nanopart Res 16:2452

Kassem AA, Abdelhamid HN, Fouad DM, Ibrahim SA (2020) Hydrogenation reduction of dyes using metal-organic framework-derived CuO@C. Microporous Mesoporous Mater 305:110340

Khan UA, Liu J, Pan J, Ma H, Zuo S, Yu Y, Ahmad A, Li B (2018) Fabrication of floating CdS/EP photocatalyst by facile liquid phase deposition for highly efficient degradation of Rhodamine B (RhB) under visible light irradiation. Mater Sci SemicondProc 83:201–210

Kripal R, Vaish G, Tripathi UM (2019) Comparative study of EPR and optical properties of CdS, TiO2 and CdS-TiO2 nanocomposite. J Electron Mater 48:1545–1552

Kucur E, Riegler J, Urban GA, Nann T (2003) Determination of quantum confinement in CdSe nanocrystals by cyclic voltammetry. J Chem Phys 119:2333–2337

Li D, Zhu Y (2012) Synthesis of CdMoO4 microspheres by self-assembly and photocatalytic performances. Cryst Eng Comm 14:1128–1134

Li Z, Du Y, Zhang Z, Pang D (2003) Preparation and characterization of CdS quantum dots chitosan biocomposite. React Funct Polym 55:35–43

Li S, Meng D, Hou L, Wang D, Xie T (2016) The surface engineering of CdS nanocrystal for photocatalytic reaction: a strategy of modulating the trapping states and radicals generation towards RhB degradation. Appl Surf Sci 371:164–171

Majeti NV, Kumar R (2000) A review of chitin and chitosan applications. React Funct Polym 46:1–27

Mehrdad A, Massoumi B, Hashemzadeh R (2011) Kinetic study of degradation of Rhodamine B in the presence of hydrogen peroxide and some metal oxide. Chem Eng J 168:1073–1078

Neolaka YAB, Ngara ZS, Lawa Y, Naat JN, Prasetyo Benu D, Chetouani A, Elmsellem H, Darmokoesoemo H, Septya Kusuma H (2019) Simple design and preliminary evaluation of continuous submerged solid small-scale laboratory photoreactor (CS4PR) using TiO2/NO3-@TC for dye degradation. J Environ Chem Eng 7:103482

Patel JD, Mighri F, Ajji A, Chaudhuri TK (2013) Fatty acid-assisted synthesis of CdS microspheres: physicochemical properties and photocatalytic activity. Mater Lett 110:94–97

Sayed MA, El-Bassuony AAH, Abdelsalam HK (2020) Evaluation of antimicrobial properties of a novel synthesized nanometric delafossite. Braz J Microbiol 51:1475–1482

Schneider J, Matsuoka M, Takeuchi M, Zhang J, Horiuchi Y, Anpo M, Bahnemann DW (2014) Understanding TiO2 photocatalysis: mechanisms and materials. Chem Rev 114:9919–9986

Shi Y, Chen Y, Tian G, Fu H, Pan K, Zhou J, Yan H (2014) One-pot controlled synthesis of sea-urchin shaped Bi2S3/CdS hierarchical heterostructures with excellent visible light photocatalytic activity. Dalton Trans 43:12396–12404

Singh V, Tiwari A, Tripathi DN, Sanghi R (2006) Microwave enhanced synthesis of chitosan-graft-polyacrylamide. Polymer 47:254–260

Venkata Reddy C, Prabhakar Vattikuti SV, Shim J (2016) Synthesis, structural and optical properties of CdS nanoparticles with enhanced photocatalytic activities by photodegradation of organic dye molecules. J Mater Sci-Mater Electron 27:7799–7808

Vigneshwaran S, Park CM, Meenakshi S (2021) Designed fabrication of sulfide-rich bi-metallic-assembled MXene layered sheets with dramatically enhanced photocatalytic performance for Rhodamine B removal. Sep Purif Technol 258:118003

Wang H, Xu Q, Zheng X, Han W, Zheng J, Jiang B, Xue Q, Wu M (2014) Synthesis mechanism, enhanced visible-light-photocatalytic properties, and photogenerated hydroxyl radicals of PS@CdS core–shell nanohybrids. J Nanopart Res 16:2794

Wang L, Li R, Liu J, Han J, Huang M (2016) Synthesis of Au@CdS core–shell nanoparticles and their photocatalytic capacity researched by SERS. J Mater Sci 52:1847–1855

Wang H, Cui P-H, Shi J-X, Tan J-Y, Zhang J-Y, Zhang N, Zhang C (2019) Controllable self-assembly of CdS@NH2-MIL-125(Ti) heterostructure with enhanced photodegradation efficiency for organic pollutants through synergistic effect. Mater Sci Semicond Process 97:91–100

Wei C, Cheng C, Zhao J, Zheng S, Hao M, Pang H (2014) Assembling CdS mesoporous nanosheets into 3D hierarchitectures for effective photocatalytic performance. Dalton Trans 43:5687–5693

Xiong S, Xi B, Qian Y (2010) CdS hierarchical nanostructures with tunable morphologies: preparation and photocatalytic properties. J Phys Chem C 114:14029–14035

Yan S, Sun L, Qu P, Huang N, Song Y, Xiao Z (2009) Synthesis of uniform CdS nanowires in high yield and its single nanowire electrical property. J Solid State Chem 182:2941–2945

Yang H, Yang J (2018) Photocatalytic degradation of rhodamine B catalyzed by TiO2 films on a capillary column. RSC Adv 8:11921–11929

Yang X, Wang Y, Jiang T, Yang J, Li Y, Ma Q (2015) Preparation of dendritic-like CdS by hydrothermal method and its photocatalytic performance. Cryst Res Technol 50:338–345

Yang T, Xue J, Tan H, Xie A, Li S, Yan W, Shen Y (2018) Highly ordered ZnO/ZnFe2O4 inverse opals with binder-free heterojunction interfaces for high-performance photoelectrochemical water splitting. J Mater Chem A 6:1210–1218

Yi H, Wu LQ, Bentley WE, Ghodssi R, Rubloff GW, Culver JN, Payne GF (2005) Biofabrication with chitosan. Biomacromolecules 6:2881–2894

Zeng T, Tao H, Sui X, Zhou X, Zhao X (2011) Growth of free-standing TiO2 nanorod arrays and its application in CdS quantum dots-sensitized solar cells. Chem Phys Lett 508:130–133

Zeng Y, Yang T, Li C, Xie A, Li S, Zhang M, Shen Y (2019) ZnxCd1-xSe nanoparticles decorated ordered mesoporous ZnO inverse opal with binder-free heterojunction interfaces for highly efficient photoelectrochemical water splitting. Appl Catal B 245:469–476

Zhang LZ, Yu JC (2003) A sonochemical approach to hierarchical porous titania spheres with enhanced photocatalytic activity. Chem Commun 2078-2079

Zhang L, Cheng Z, Wang D, Li J (2015) Preparation of popcorn-shaped CdS nanoparticles by hydrothermal method and their potent photocatalytic degradation efficiency. Mater Lett 158:439–441

Zhang J, Xiao F-X, Xiao G, Liu B (2016) Linker-assisted assembly of 1D TiO2 nanobelts/3D CdS nanospheres hybrid heterostructure as efficient visible light photocatalyst. Appl Catal A 521:50–56

Zhang J, Song Y, Dong X, Jiang H, Tang J, Li H (2020a) Umbrella-like CdS single crystal: exposed (002) facets and enhanced photocatalytic properties. J Mater Sci 55:11167–11176

Zhang M, Yin H-F, Yao J-C, Arif M, Qiu B, Li P-F, Liu X-H (2020b) All-solid-state Z-scheme BiOX(Cl, Br)-Au-CdS heterostructure: photocatalytic activity and degradation pathway. Colloids Surf A Physicochem Eng Asp 602:124778

Zhou Q, Fu M-L, Yuan B-L, Cui H-J, Shi J-W (2011) Assembly, characterization, and photocatalytic activities of TiO2 nanotubes/CdS quantum dots nanocomposites. J Nanopart Res 13:6661–6672

Zhu H, Jiang R, Xiao L, Chang Y, Guan Y, Li X, Zeng G (2009) Photocatalytic decolorization and degradation of Congo red on innovative crosslinked chitosan/nano-CdS composite catalyst under visible light irradiation. J Hazard Mater 169:933–940
Funding
This work was supported by the Open Fund of Anhui Laboratory of Clean Energy Materials and Chemistry for Sustainable Conversion of Natural Resources (LCECSC-02) and the National Undergraduate Innovation Entrepreneurship Project in Local University (201710363042, 201810363052, 201910363049).
Ethics declarations
Conflict of interest
The authors declare that they have no conflicts of interest.
Additional information
Publisher's note
Springer Nature remains neutral with regard to jurisdictional claims in published maps and institutional affiliations.
About this article
Cite this article
Yue, W., Wang, Z., Wang, Z. et al. Synthesis of CdS with chitosan for photodegradation to rhodamine B. J Nanopart Res 23, 2 (2021). https://doi.org/10.1007/s11051-021-05143-2
Received:

Accepted:

Published:
Keywords
CdS

Hierarchical structure

Chitosan

Photodegradation

Nanostructured photocatalyst