Abstract
In this paper, the synthesis of nickel ferrite and its use for voltammetric determination of uric acid (UA) are presented. Nickel ferrite was synthesized via a hydrothermal process using spherical carbons as hard template followed by calcination at 500 °C. It was found that iron and nickel compositions in nickel ferrite can be controlled by the initial Fe/Ni molar ratio. The stoichiometric nickel ferrite (NiFe2O4) with hollow spherical morphology was obtained from a reaction mixture with Fe/Ni molar ratio of around 1.2–1.5. Glassy carbon electrode modified with nickel ferrite was employed to quantitatively determine UA by different pulse voltammetric method. Under the optimum conditions, the anodic peak current was linearly proportional to UA concentration in the range of 0.398 to 6.761 μM. The detection limit (3σ) was found to be 0.15 μM. The proposed method has been employed to determine UA in human urine samples with acceptable recoveries of 95.15–104.8%. On the other hand, the results obtained from this method were also compared with that from standard HPLC method, showing no statistical difference.
Access options
Buy single article
Instant access to the full article PDF.
US$ 39.95
Tax calculation will be finalised during checkout.
Subscribe to journal
Immediate online access to all issues from 2019. Subscription will auto renew annually.
US$ 79
Tax calculation will be finalised during checkout.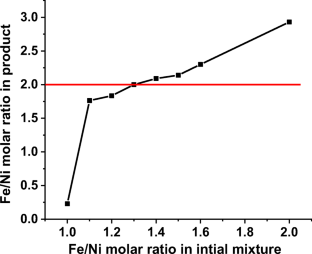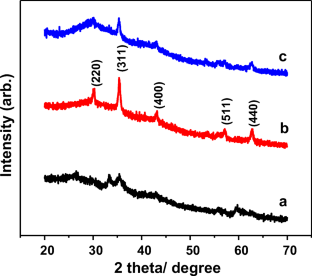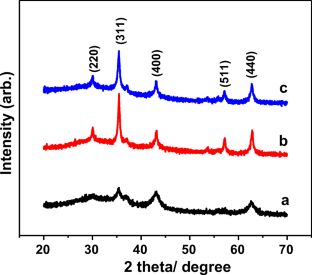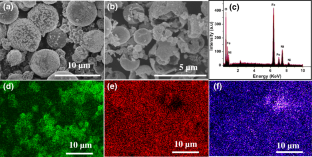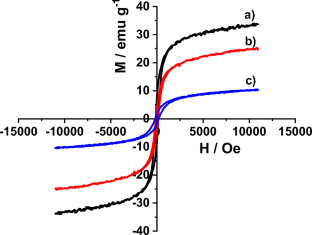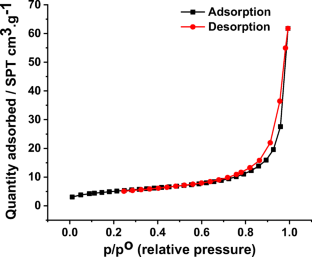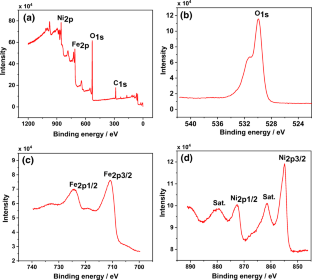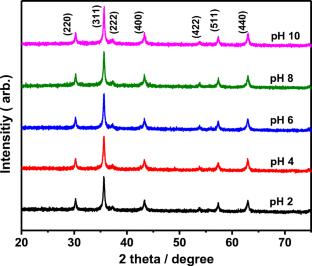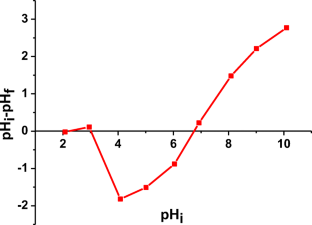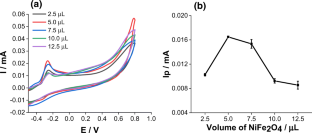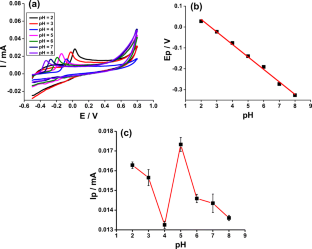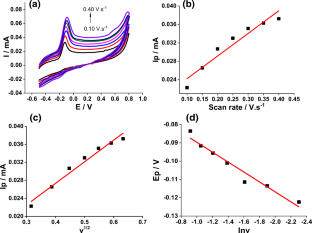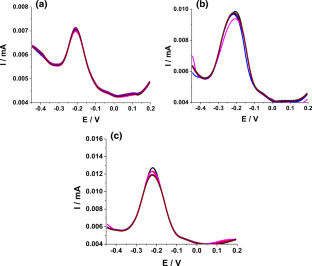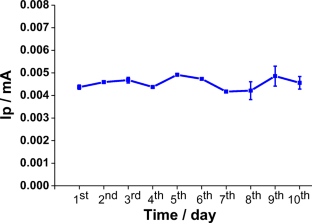 References
Abellán-Llobregat A, Ayán-Varela M, Vidal L, Paredes JI, Villar-Rodil S, Canals A, Morallon E (2016) Flavin mononucleotide-exfoliated graphene flakes as electrodes for the electrochemical determination of uric acid in the presence of ascorbic acid. J Electroanal Chem 783:41–48

Bagoji AM, Nandibewoor ST (2016) Electrocatalytic redox behavior of graphene films towards acebutolol hydrochloride determination in real samples. New J Chem 40:3763–3772

Bard AJ, Faulkner LR (2001) Electrochemical methods: Fundamentals and applications, 2nd Edition. Wiley, New York

Benn CL, Dua P, Gurrell R, Loudon P, Pike A, Storer RI, Vangjeli C (2018) Physiology of hyperuricemia and urate-lowering treatments. Front Med 5:160

Bhosale SV, Ekambe PS, Bhoraskar SV, Mathe VL (2018) Effect of surface properties of NiFe2O4 nanoparticles synthesized by dc thermal plasma route on antimicrobial activity. Appl Surf Sci 441:724–733

da Silva RP, Lima AWO, Serrano SH (2008) Simultaneous voltammetric detection of ascorbic acid, dopamine and uric acid using a pyrolytic graphite electrode modified into dopamine solution. Anal Chim Acta 612(1):89–98

Dambies L (2005) Existing and prospective sorption technologies for the removal of arsenic in water. Sep Sci Technol 39:603–627

Dutt JSN, Cardosi MF, Davis J (2003) Electrochemical tagging of urate: developing new redox probes. Analyst 128:811–813

Galbán J, Andreu Y, Almenara MJ, de Marcos S, Castillo JR (2001) Direct determination of uric acid in serum by a fluorometric-enzymatic method based on uricase. Talanta 54:847–854

Goyal RN, Singh SP (2006) Voltammetric determination of paracetamol at C60-modified glassy carbon electrode. Electrochim Acta 51:3008–3012

Hua M, Xu L, Cui F, Lian J, Huang Y, Bao J, Qiu J, Xu Y, Xu H, Zhao Y (2018) Hexamethylenetetramine-assisted hydrothermal synthesis of octahedral nickel ferrite oxide nanocrystallines with excellent supercapacitive performance. J Mater Sci 53:7621–7636

Huang Y, Miao Y, Lu H, Liu T (2015) Hierarchical ZnCo2O4@ NiCo2O4 core–sheath nanowires: bifunctionality towards high-performance supercapacitors and the oxygen-reduction reaction. Chem Eur J 21:10100–10108

Jen J-F, Hsiao S-L, Liu K-H (2002) Simultaneous determination of uric acid and creatinine in urine by an eco-friendly solvent-free high performance liquid chromatographic method. Talanta 58:711–717

Li C (2007) Electrochemical determination of dipyridamole at a carbon paste electrode using cetyltrimethyl ammonium bromide as enhancing element. Colloids Surf B: Biointerfaces 55:77–83

Li Q, Kim NH, Yoo G-H, Lee JH (2009) Positive temperature coefficient characteristic and structure of graphite nanofibers reinforced high density polyethylene/carbon black nanocomposites. Compos Part B 40:218–224

Liu J, He H, Jin X, Hao Z, Hu Z (2001) Synthesis of nanosized nickel ferrites by shock waves and their magnetic properties. Mater Res Bull 36:2357–2363

Madhuvilakku R, Piraman S (2019) One-dimensional NiFe 2 O 4 nanorods modified with sulfur-rich spherical carbon nanoparticles for simultaneous voltammetric determination of ascorbic acid, dopamine and uric acid. Microchim Acta 186:434

Mazzali M, Kim YG, Hughes J, Lan HY, Kivlighn S, Johnson RJ (2000) An elevated serum uric acid (UA) causes kidney damage: evidence for a novel crystal independent mechanism. Am J Hypertens 13:36A

Ndamanisha JC, Guo L (2008) Electrochemical determination of uric acid at ordered mesoporous carbon functionalized with ferrocenecarboxylic acid-modified electrode. Biosens Bioelectron 23:1680–1685

Pagana KD and Pagana T (2010) Mosby's manual of diagnostic and laboratory tests. Mosby Elsevier, Philadelphia, PA

Park GD, Cho JS, Kang YC (2015) Multiphase and double-layer NiFe2O4@ NiO-hollow-nanosphere-decorated reduced graphene oxide composite powders prepared by spray pyrolysis applying nanoscale Kirkendall diffusion. ACS Appl Mater Interfaces 7:16842–16849

Popa E, Kubota Y, Tryk DA, Fujishima A (2000) Selective voltammetric and amperometric detection of uric acid with oxidized diamond film electrodes. Anal Chem 72:1724–1727

Qin Q, Bai X, Hua Z (2016) Electropolymerization of a conductive β-cyclodextrin polymer on reduced graphene oxide modified screen-printed electrode for simultaneous determination of ascorbic acid, dopamine and uric acid. J Electroanal Chem 782:50–58

Rezaei B, Damiri S (2008) Voltammetric behavior of multi-walled carbon nanotubes modified electrode-hexacyanoferrate(II) electrocatalyst system as a sensor for determination of captopril. Sensors Actuators B Chem 134:324–331

Singhal S, Chandra K (2007) Cation distribution and magnetic properties in chromium-substituted nickel ferrites prepared using aerosol route. J Solid State Chem 180:296–300

Sohouli E, Khosrowshahi EM, Radi P, Naghian E, Rahimi-Nasrabadi M, Ahmadi F (2020) Electrochemical sensor based on modified methylcellulose by graphene oxide and Fe3O4 nanoparticles: application in the analysis of uric acid content in urine. J Electroanal Chem 877:114503

Soleymani J, Hasanzadeh M, Shadjou N, Jafari MK, Gharamaleki JV, Yadollahi M, Jouyban A (2016) A new kinetic–mechanistic approach to elucidate electrooxidation of doxorubicin hydrochloride in unprocessed human fluids using magnetic graphene based nanocomposite modified glassy carbon electrode. Mater Sci Eng C 61:638–650

Srivastava M, Singh J, Kuila T, Layek RK, Kim NH, Lee JH (2015) Recent advances in graphene and its metal-oxide hybrid nanostructures for lithium-ion batteries. Nanoscale 7:4820–4868

Tang Q, Chen M, Wang L, Wang G (2015) A novel asymmetric supercapacitors based on binder-free carbon fiber paper@ nickel cobaltite nanowires and graphene foam electrodes. J Power Sources 273:654–662

Wang Z, Wang Y, Luo G (2002) A selective voltammetric method for uric acid detection at β-cyclodextrin modified electrode incorporating carbon nanotubes. Analyst 127:1353–1358

Wang S, Xu Q, Liu G (2008) Differential pulse voltammetric determination of uric acid on carbon-coated iron nanoparticle modified glassy carbon electrodes. Electroanalysis 20:1116–1120

Wang Y, Huang Y, Wang B, Fang T, Chen J, Liang C (2016) Three-dimensional porous graphene for simultaneous detection of dopamine and uric acid in the presence of ascorbic acid. J Electroanal Chem 782:76–83

Wu F, Huang Y, Li Q (2005) Animal tissue-based chemiluminescence sensing of uric acid. Anal Chim Acta 536:107–113

Yan Q, Zhao F, Li G, Zeng B (2006) Voltammetric determination of uric acid with a glassy carbon electrode coated by paste of multiwalled carbon nanotubes and ionic liquid. Electroanalysis 18:1075–1080

Zen J-M, Chen P-J (1997) A selective voltammetric method for uric acid and dopamine detection using clay-modified electrodes. Anal Chem 69:5087–5093
Funding
This study was financially supported by the Vietnamese Ministry of Education and Training for the development of the basic sciences in the fields of chemistry, science of life, science of earth, and science of sea from 2017 to 2025 (Code No. B2019-DQN-562-03).
Ethics declarations
Conflicts of Interest
The authors declare that they have no conflicts of interest.
Additional information
Publisher's note
Springer Nature remains neutral with regard to jurisdictional claims in published maps and institutional affiliations.
About this article
Cite this article
Hoan, N.T.V., Minh, N.N., Lieu, N.T. et al. Nickel ferrite: synthesis and application for voltammetric determination of uric acid. J Nanopart Res 23, 23 (2021). https://doi.org/10.1007/s11051-020-05127-8
Received:

Accepted:

Published:
Keywords
Uric acid

Nickel ferrite

Voltammetric determination

Nanomaterials