Abstract
Nano cerium oxide, as a kind of rare earth oxide of the lanthanide series, had many potential applications in biomedical fields, such as drug carrier, antitumor, anti-oxidative damage, and biological imaging. Furthermore, cerium dioxide (CeO2) had anti-apoptotic effects on macrophages, cardiomyocytes, and pancreatic islets cells and relieved the symptom of autoimmune encephalomyelitis. CeO2 could also protect endothelial cells from oxidative injury. Previous research showed that CeO2 nanoparticles tended to accumulate in the bone (20% of the total intake) after intravenous administration. Moreover, our previous studies also showed that CeO2 nanoparticles could promote the proliferation, differentiation, and mineralization of osteoblasts (OBs). However, the mechanisms of it were still unclear. In the current study, we studied the effect and mechanisms of CeO2 nanoparticles on OBs. The cell proliferation, cellular uptake, endocytosis mechanism, cell cycle, BrdU incorporation, and cell adhesion forces were analyzed. The results showed that CeO2 nanoparticles entered the cell through caveolae and clathrin pathways and promoted the proliferation of primary OBs. The mechanism was that CeO2 nanoparticles pushed more OBs through the G1/S checkpoint and into S phase. Moreover, they also increased cell adhesion force. All in all, the results should be significant for the applications of nano CeO2 in biomedical fields and bone metabolism disease.
Access options
Buy single article
Instant access to the full article PDF.
US$ 39.95
Tax calculation will be finalised during checkout.
Subscribe to journal
Immediate online access to all issues from 2019. Subscription will auto renew annually.
US$ 79
Tax calculation will be finalised during checkout.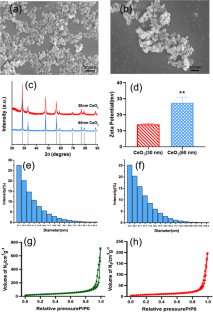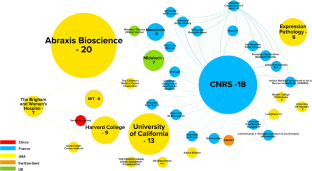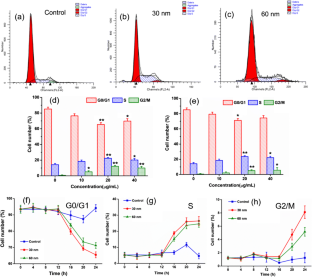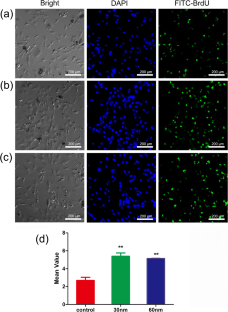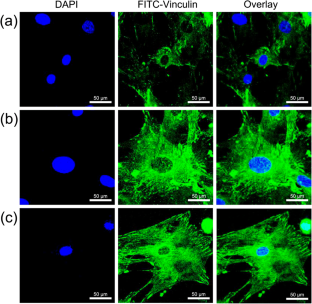 References
Chen SZ, Hou YJ, Cheng G, Zhang CM, Wang SX, Zhang JC (2013) Cerium oxide nanoparticles protect endothelial cells from apoptosis induced by oxidative stress. Biol Trace Elem Res 154(1):156–166

Chen SZ, Zhang CM, Jia G, Duan JL, Wang SX, Zhang JC (2014) Size-dependent cytotoxicity of europium doped NaYF4 nanoparticles in endothelial cells. Mat Sci Eng C-Mater 43:330–342

Dai CY, Duan JL, Zhang L, Jia G, Zhang CM, Zhang JC (2014) Biocompatibility of defect-related luminescent nanostructured and microstructured hydroxyapatite. Biol Trace Elem Res 162(1–3):158–167

Dammer U, Popescu O, Wagner P, Anselmetti D, Guntherodt H, Misevic G (1995) Binding strength between cell adhesion proteoglycans measured by atomic force microscopy. Science 267(5201):1173–1175

De Luca A, De Falco M (2010) Cell cycle as a target of antineoplastic drugs. Curr Pharm Design 16:1417–1426

Estevez AY, Erlichman JS (2011) Cerium oxide nanoparticles for the treatment of neurological oxidative stress diseases. J Am Chem Soc 1083:255–288

Ferlini C, Cesare SD, Rainaldi G, Malorni W, Samoggia P, Biselli R et al (1996) Flow cytometric analysis of the early phases of apoptosis by cellular and nuclear techniques. Cytometry 24(2):106–115

Gong QH, Gao TT, Huang H, Wang RX, Cao P, Zhou QW (2018) Double-shelled CeO2@C hollow nanospheres as enhanced anode materials for lithium-ion batteries. Inorg Chem Front 5:3197–3204

Jones MC, Askari JA, Humphries JD, Humphries MJ (2018a) Cell adhesion is regulated by cdk1 during the cell cycle. J Cell Biol:jcb.201802088

Jones MC, Zha JZ, Humphries MJ (2018b) Connections between the cell cycle, cell adhesion and the cytoskeleton. Philos Trans R Soc B 374:20180227

Kailasa SK, Ha S, Baek SH, Phan LMT, Sangjun K, Kyungwon K et al (2019) Tuning of carbon dots emission color for sensing of Fe3+ ion and bioimaging applications. Mater Sci Eng C 98:834–842

Kitchin KT, Grulke E, Robinettea BL, Castellona BT (2014) Metabolomic effects in HepG2 cells exposed to four TiO2 and two CeO2 nanomaterials. Environ Sci-Nano 1(5):466–477

Li WL, Song ZX, Deng XH, Fu XZ, Luo JL (2020) Decoration of NiO hollow spheres composed of stacked nanosheets with CeO2 nanoparticles: enhancement effect of CeO2 for electrocatalytic methanol oxidation. Electrochim Acta 337

Lin W, Huang Y, Zhou XD, Ma Y (2006) Toxicity of cerium oxide nanoparticles in human lung cancer cells. Int J Toxicol 25(6):451–457

Liu HF, Jin Y, Ge K, Jia G, Li ZH, Yang XJ, Chen S, Ge M, Sun W, Liu D, Zhang J (2017) Europium-doped Gd2O3 nanotubes increase bone mineral density in vivo and promote mineralization in vitro. ACS Appl Mater Interfaces 9(7):5784–5792

Luo LJ, Nguyen DD, Lai JY (2020) Dually functional hollow ceria nanoparticle platform for intraocular drug delivery: a push beyond the limits of static and dynamic ocular barriers toward glaucoma therapy. Biomaterials 243:119961

Niu JL, Wang KK, Kolattukudy PE (2011) Cerium oxide nanoparticles inhibits oxidative stress and nuclear factor-κB activation in H9c2 cardiomyocytes exposed to cigarette smoke extract. J Pharmacol and Exp Ther 338(1):53–61

Pan X, Li JX, Dong FQ, Deng JJ, Yuan L, Wang K et al (2013) Lanthanum chloride promotes proliferation of NIH 3T3 cells via cell cycle machinery. Chin Pharmacol J 22(1):64–70

Phan LMT, Gul AR, Le TN, Kim MW, Park TJ (2019) One-pot synthesis of carbon dots with intrinsic folic acid for synergistic imaging-guided photothermal therapy of prostate cancer cells. Biomater Sci 7(12):5187–5196

Pourkhalili N, Hosseini A, Nili-Ahmadabadi A, Rahimifard M, Navaei-Nigjeh M, Hassani S, Baeeri M, Abdollahi M (2012) Improvement of isolated rat pancreatic islets function by combination of cerium oxide nanoparticles/sodium selenite through reduction of oxidative stress. Toxicol Mech Methods 22(6):476–482

Rafique R, Kailasa SK, Park TJ (2019) Recent advances of upconversion nanoparticles in theranostics and bioimaging applications. TrAC-TREND Anal Chem 120:115646–115658

Shen WH, Dong XP, Zhu YF, Chen HR, Shi JL (2005) Mesoporous CeO2 and CuO-loaded mesoporous CeO2: synthesis, characterization, and CO catalytic oxidation property. Microporous Mesoporous Mater 85(1–2):157–162

Singh S, Kumar A, Karakoti A, Seal S, Self WT (2010) Unveiling the mechanism of uptake and sub-cellular distribution of cerium oxide nanoparticles. Mol BioSyst 6(10):1813–1820

Taguchi M, Ishikawa Y, Kataoka S, Naka T, Funazukuri T (2016) CeO2 nanocatalysts for the chemical recycling of polycarbonate. Catal Commun 84:93–97

Xia T, Kovochich M, Liong M, MaDler L, Gilbert B, Shi H (2008) Comparison of the mechanism of toxicity of zinc oxide and cerium oxide nanoparticles based on dissolution and oxidative stress properties. ACS Nano 2(10):2121–2134

Xu C, Lin YH, Wang JS, Wu L, Wei WL, Ren JS, Qu X (2013) Nanoceria-triggered synergetic drug release based on CeO2-capped mesoporous silica host-guest interactions and switchable enzymatic activity and cellular effects of CeO2. Adv Healthc Mater 2(12):1591–1599

Xu KQ, Cheng Y, Yan J, Feng YL, Zheng RX, Wu XQ, Wang Y, Song P, Zhang H (2019) Polydopamine and ammonium bicarbonate coated and doxorubicin loaded hollow cerium oxide nanoparticles for synergistic tumor therapy. Nano Res 12(12):2947–2953

Yokel RA, Au TC, Robert MP, Hardas SS, Butterfield DA, Sultana R et al (2012) Distribution, elimination, and biopersistence to 90 days of a systemically introduced 30 nm ceria-engineered nanomaterial in rats. Toxicol Sci 127(1):256–268

Yu SW, Yuan L, Yang XD, Wang K, Ke Y, Qian ZM (2005) La3+-promoted proliferation is interconnected with apoptosis in NIH 3T3 cells. J Cell Biochem 94(3):508–519

Zhang JC, Liu DD, Sun J, Zhang DW, Shen SG, Yang MS (2009) Effect of Dy3+on osteogenic and adipogenic differentiation of mouse primary bone marrow stromal cells and adipocytic trans-differentiation of mouse primary osteoblasts. Chin Sci Bull 54(1):66–71

Zhang JC, Shang MQ, Zhang DW, Li YP, Sun J, Chen H (2010) Effects of Nd3+ and Sm3+ on the proliferation, differentiation and mineralization function of primary osteoblasts in vitro. Chin Sci Bull 55(23):2501–2511

Zhang JC, Liu CL, Li YP, Sun J, Wang P, Di KQ et al (2011) Effects of Er3+ on the proliferation, differentiation and mineralization function of primary mouse osteoblasts in vitro. J Rare Earths 29(5):507–510

Zhang JC, Sun J, Gu GQ, Hao XH, Liu DD, Li YP et al (2012) Effects of La3+ on osteogenic and adipogenic differentiation of primary mouse bone marrow stromal cells. J Rare Earths 30(1):90–93

Zhou GQ, Li Y, Zheng BF, Wang WY, Gao J, Wei HY et al (2014) Cerium oxide nanoparticles protect primary osteoblasts against hydrogen peroxide induced oxidative damage. Micro Nano Lett 9(2):91–96
Acknowledgments
We are grateful to Medical Comprehensive Experimental Center of Hebei University for the animal experiment.
Funding
This work was supported by the National Natural Science Foundation of China (21001038, 21471044), the Natural Science Foundation of Hebei Province (B2018201185, B2018201157, B2020201020), the Third Batch of Top Youth Talent Support Program of Hebei Province, the Priority Strategy Project of Key Laboratory of Medicinal Chemistry and Molecular Diagnosis of Ministry of Education (ts2019006), the Post-graduate's Innovation Fund Project of Hebei University (hbu2019ss015), Science and Technology Project of Hebei Education Department (ZD2018036, ZD2020150), Medical Science Foundation of Hebei University (2020A03, 2020A04), Advanced Talents Incubation Program of the Hebei University (801260201020), and Talent Training Program of Hebei University (521000981169, 521000981196).
Ethics declarations
Conflict of interest
The authors declare that they have no competing interests.
Additional information
Publisher's note
Springer Nature remains neutral with regard to jurisdictional claims in published maps and institutional affiliations.
Supplementary information
About this article
Cite this article
Wang, F., Wang, E., Han, J. et al. Cerium oxide nanoparticles promote proliferation of primary osteoblasts via cell cycle machinery in vitro. J Nanopart Res 23, 30 (2021). https://doi.org/10.1007/s11051-020-05115-y
Received:

Accepted:

Published:
Keywords
Cerium oxide

Nanoparticles

Primary osteoblasts

Proliferation

Cell cycle

Biomedicine

Health effects