Abstract
Manganese oxides and their composites are promising catalysts for the Fenton-like reaction, which generates hydroxyl radical to eliminate the ever-growing organic pollutants in water. Here, a new solution synthesis approach combined with the self-activation carbonization process has been developed to prepare the MnOx-porous carbon nanocomposites (MnOx-C(SiO2)). First, Mn ions are easily incorporated into resorcinol-formaldehyde (RF) resin with the help of polyacrylic acid (PAA) and then transformed into MnOx particles during carbonization. When the Mn-RF sphere is coated in a silica shell in advance, the pyrolysis process can endow the product with a high BET surface area of 962.8 m2 g−1, much larger than that of the counterpart prepared without SiO2 coating (MnOx-C). In the meantime, the SiO2 shell also prevents the in situ formed MnOx particles from getting larger, making them well dispersed in the porous carbon. The size of MnOx particles in MnOx-C(SiO2) is only 5 nm, which shows superior catalytic performance toward methylene blue (MB) degradation via the Fenton process. The MB degradation rate is close to 100% and remains 98.9% after five cycles.
Graphical abstract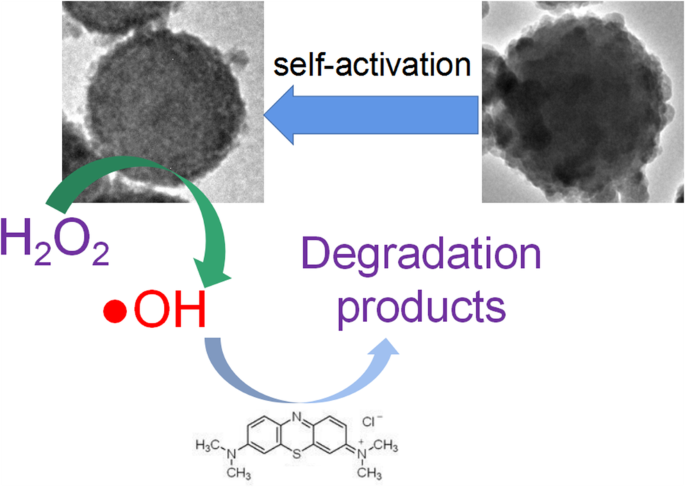 Access options
Buy single article
Instant access to the full article PDF.
US$ 39.95
Tax calculation will be finalised during checkout.
Subscribe to journal
Immediate online access to all issues from 2019. Subscription will auto renew annually.
US$ 79
Tax calculation will be finalised during checkout.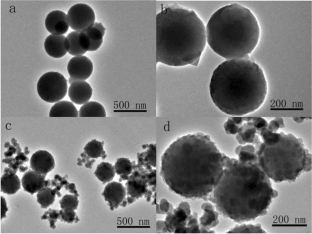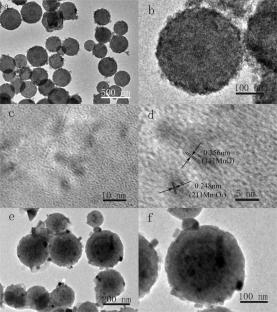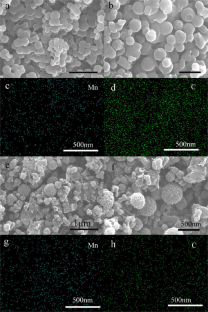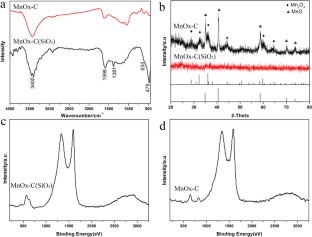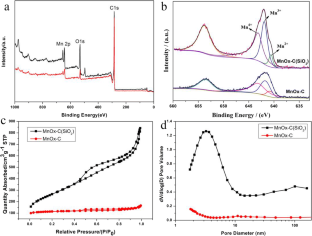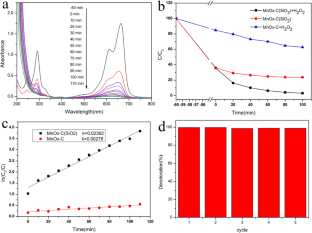 References
Ahmed KAM, Peng H, Wu KB, Huang KX (2011) Hydrothermal preparation of nanostructured manganese oxides (MnOx) and their electrochemical and photocatalytic properties. Chem Eng J 172:531–539

Babuponnusami A, Muthukumar K (2014) A review on Fenton and improvements to the Fenton process for wastewater treatment. J Environ Chem Eng 2:557–572

Cheng S, Zhang LB, Ma AY, Xia HY, Peng JH, Li CY, Shu JH (2018) Comparison of activated carbon and iron/cerium modified activated carbon to remove methylene blue from wastewater. J Environ Sci 65:92–102

Debnath B, Roy AS, Kapri S, Bhattacharyya S (2016) Efficient dye degradation catalyzed by manganese oxide nanoparticles and the role of cation valence. ChemistrySelect 1:4265–4273

Fang RM, Huang HB, Ji J, He M, Feng QY, Zhan YJ, Leng DYC (2018) Efficient MnOx supported on coconut shell activated carbon for catalytic oxidation of indoor formaldehyde at room temperature. Chem Eng J 334:2050–2057

Geng R, Yin JJ, Zhou JX, Jiao TF, Feng Y, Zhang LX, Chen Y, Bai ZH, Peng QM (2020) In situ construction of Ag/TiO2/g-C3N4 heterojunction nanocomposite based on hierarchical co-assembly with sustainable hydrogen evolution. Nanomaterials 10(1):1

Ghuge SP, Saroha AK (2018) Catalytic ozonation for the treatment of synthetic and industrial effluents-application of mesoporous materials: a review. J Environ Manag 211:83–102

Han MN, Duan XG, Cao GL, Zhu SS, Ho S (2020) Graphitic nitride-catalyzed advanced oxidation processes (AOPs) for landfill leachate treatment: a mini review. Process Saf Environ 139:230–240

He Y, Jiang DB, Chen J, Jiang DY, Zhang YX (2018) Synthesis of MnO2 nanosheets on montmorillonite for oxidative degradation and adsorption of methylene blue. J Colloid Interface Sci 510:207–220

He X, Büchel R, Fi GR, Zhang YC, Bahk Y, Ma J, Wang J (2019) High-performance carbon/MnO2 micromotors and their applications for pollutant removal. Chemosphere 219:427–435

Hou YH, Wang YC, Yuan HL, Chen H, Chen GW, Shen JH, Li LC (2016) The enhanced catalytic degradation of SiO2/Fe3O4/C@TiO2 photo-Fenton system on p-nitrophenol. J Nanopart Res 18:343

Hou SC, Wu XY, Lv Y, Jia W, Guo JX, Wang LX, Tong FL, Jia DZ (2020) Ultralight, highly elastic and bioinspired capillary-driven graphene aerogels for highly efficient organic pollutants absorption. Appl Surf Sci 509:144818

Hu YC, Chen X, Liu ZQ, Wang GJ, Liao SJ (2016) Activated carbon doped with biogenic manganese oxides for the removal of indigo carmine. J Environ Manag 166:512–518

Huang DK, Zhang BY, Li SH, Wang MK, Shen Y (2014) Mn3O4/carbon nanotube nanocomposites as electrocatalysts for the oxygen reduction reaction in alkaline solution. ChemElectroChem 1:1531–1536

Islam MA, Ali I, Karim SMA, Firoz MSH, Chowdhury A, Morton DW, Angove MJ (2019) Removal of dye from polluted water using novel nano manganese oxide based materials. J Water Process Eng 32:100911

Jiang SB, Yu TF, Xia R, Wang X, Gao MZ (2019) Realization of super high adsorption capability of 2D δ-MnO2/GO through intra-particle diffusion. Mater Chem Phys 232:374–381

Li XN, Huang X, Xi SB, Miao S, Ding J, Cai WZ, Liu S, Yang XL, Yang HB, Gao JJ, Wang JH, Huang YQ, Zhang T, Liu B (2018a) Single cobalt atoms anchored on porous N-doped graphene with dual reaction sites for efficient Fenton-like catalysis. J Am Chem Soc 140(39):12469–12475

Li GL, Yuan LF, Cheng GC, Chen SM, Liu CD, Chen WW, Yang BB, Xu XC, Hao C (2018b) Tangerine peel-derived carbon supported manganese oxides catalyst for oxygen reduction reaction. Appl Surf Sci 450:251–259

Li KK, JiaoT F, Xing RR, Zou GD, Zhou JX, Zhang LX, Peng QM (2018c) Fabrication of tunable hierarchical MXene@AuNPs nanocomposites constructed by self-reduction reactions with enhanced catalytic performances. Sci China Mater 61(5):728–736

Li JJ, Guo RN, Ma QL, Zi LN, Cheng XW (2019) Efficient removal of organic contaminant via activation of potassium persulfate by γ-Fe2O3/α-MnO2 nanocomposite. Sep Purif Technol 227:115669

Liu CQ, Li KZ, Li HJ, Zhang SY, Zhang YL (2014) The effect of zirconium incorporation on the thermal stability and carbonized product of phenol formaldehyde resin. Polym Degrad Stab 102:180–185

Liu YM, Hou CL, Jiao TF, Song JW, Zhang X, Xing RR, Zhou JX, Zhang LX, Peng QM (2018) Self-assembled AgNP-containing nanocomposites constructed by electrospinning as efficient dye photocatalyst materials for wastewater treatment. Nanomaterials 8(1):35

Luo XS, Liang H, Qu FS, Ding A, Cheng XX, Tang CY, Li GB (2018) Free-standing hierarchical α-MnO2@CuO membrane for catalytic filtration degradation of organic pollutants. Chemosphere 200:237–247

Luo C, Fan SS, Li G, Lang XM (2019) Catalytic combustion of methyl ethyl ketone over paper-like microfibrous entrapped MnOx/AC catalyst. Mater Chem Phys 230:17–24

Meng QN, Zhang FF, Wang LM, Xiang SY, Zhu SJ, Zhang GY, Zhang K, Yang B (2014) Facile fabrication of mesoporous N-doped Fe3O4@C nanospheres as superior anodes for Li-ion batteries. RSC Adv 4:713–716

Meng QN, Wang K, Tang YF, Zhao K, Zhang GJ, Han ZH, Yang J (2017a) Facile synthesis of porous flower-like Co3O4-SiO2 composite for catalytic decoloration of Rhodamine B. ChemistrySelect 2:10442–10448

Meng QN, Wang K, Tang YF, Zhao K, Xiang SY, Zhang K, Zhao L (2017b) Preparation of gold nanoparticles loaded hollow silica spheres and their catalytic performance. Chem J Chin U 38:503–508

Meng QN, Wang K, Tang YF, Zhao K, Zhang GJ, Zhao L (2017c) One-pot synthesis of Fe2O3 loaded SiO2 hollow particles as effective visible light photo-Fenton catalyst. J Alloys Compd 722:8–16

Meng QN, Du LL, Ji YY, Tang YF, Han ZH, Zhao K, Zhang GJ (2018a) A facile soft template method to synthesize hollow carbon and MnOx composite particles for effective methylene blue degradation. RSC Adv 8:28525–28532

Meng QN, Wang K, Xu XB, Tang YF, Han ZH, Zhao K, Zhang GJ, Cui JN, Ji YY (2018b) Synthesis of hollow silica particles using acid dissolvable resorcinol-formaldehyde resin particles as template. ChemistrySelect 3:8919–8925

Meng QN, Wang K, Tang YF, Zhao K (2018c) Facile synthesis of hollow silica particles and fine tuning their structures. Chem J Chin U 39:2550–2555

Meng QN, Du LL, Yang J, Tang YF, Han ZH, Zhao K, Zhang GJ (2018d) Well-dispersed small-sized MnOx nanoparticles and porous carbon composites for effective methylene blue degradation. Colloid Surface A 548:142–149

Meng QN, Du LL, Tang YF, Zhao K, Zhao L (2018e) Preparation and catalytic properties of MnOx-C@SiO2 core-shell particles. Chin J Appl Chem 35:1357–1363

Pignatello JJ, Oliveros E, MacKay A (2006) Advanced oxidation processes for organic contaminant destruction based on the Fenton reaction and related chemistry. Crit Rev Environ Sci Technol 36:1–84

Qin X, Shi PH, Liu HL, Fan JC, Min YL, Xu QJ, Yao WF (2017) Magnetic MxOy@N-C as heterogeneous catalysts for the catalytic oxidation of aniline solution with sulfate radicals. J Nanopart Res 19:225

Rabia Y, Sevil Ç (2020) Mn3O4/p(DCPD)HIPE nanocomposites as an efficient catalyst for oxidative degradation of phenol. J Nanopart Res 22:198

Robinson T, McMullan G, Marchant R, Nigam P (2001) Remediation of dyes in textile effluent:a critical review on current treatment technologies with a proposed alternative. Bioresour Technol 77:247–255

Sun Q, Li WC, Lu AH (2013) Insight into structure-dependent self-activation mechanism in a confined nanospace of core–shell nanocomposites. Small 12:2086–2090

Tran TV, Nguyen DTC, Le HTN, Duong CD, Bach LG, Nguyen HT, Nguyen TD (2019) Facile synthesis of manganese oxide-embedded mesoporous carbons and their adsorbability towards methylene blue. Chemosphere 227:455–461

Wang CC, Yu Z, Wang XT, Lin B (2018) Enhanced electrocatalytic performance of NiOx @ MnOx @ graphene for oxygen reduction and evolution reactions. Int J Hydrogen Energy 43:18992–19001

Wang AQ, Chen Z, Zheng ZK, Xu H, Wang H, Hu K, Yan K (2020) Remarkably enhanced sulfate radical-based photo-Fenton-like degradation of levofloxacin using the reduced mesoporous MnO@MnOx microspheres. Chem Eng J 379:122340

Wu H, Xu XY, Shi L, Yin Y, Zhang LC, Wu ZT, Duan XG, Wang SB, Sun HQ (2019) Manganese oxide integrated catalytic ceramic membrane for degradation of organic pollutants using sulfate radicals. Water Res 167:115110

Xu LJ, Wang JL (2012) Magnetic nanoscaled Fe3O4/CeO2 composite as an efficient Fenton like heterogeneous catalyst for degradation of 4-chlorophenol. Environ Sci Technol 46:10145–10153

Xu LL, Li XF, Ma JQ, Wen YZ, Liu WP (2014) Nano-MnOx on activated carbon prepared by hydrothermal process for fast and highly efficient degradation of azo dyes. Appl Catal A Gen 485:91–98

Yang JR, Zeng DQ, Zhang QG, Cui RF, Hassana M, Dong LQ, Li J, He YL (2020) Single Mn atom anchored on N-doped porous carbon as highly efficient Fenton-like catalyst for the degradation of organic contaminants. Appl Catal B Environ 279:119363

Yao SH, Zhang JJ, Shen DK, Xiao R, Gu S, Zhao M, Liang JY (2016) Removal of Pb(II) from water by the activated carbon modified by nitric acid under microwave heating. J Colloid Interface Sci 463:118–127

Yao TJ, Jia WJ, Feng Y, Zhang JS, Lian YF, Wu J, Zhang X (2019a) Preparation of reduced graphene oxide nanosheet/FexOy/nitrogen-doped carbon layer aerogel as photo-Fenton catalyst with enhanced degradation activity and reusability. J Hazard Mater 362:62–71

Yao TJ, Qi Y, Mei YQ, Yang Y, Aleisa R, Tong X, Wu J (2019b) One-step preparation of reduced graphene oxide aerogel loaded with mesoporous copper ferrite nanocubes: a highly efficient catalyst in microwave-assisted Fenton reaction. J Hazard Mater 378:120712

Zhang YM, Wang F, Ou P, Zhu H, Lai YX, Zhao YL, Shi WL, Chen Z, Li S, Wang T (2018a) High efficiency and rapid degradation of bisphenol A by the synergy between adsorption and oxidization on the MnO2@nano hollow carbon sphere. J Hazard Mater 360:223–232

Zhang ZJ, Yang Y, Sun L, Liu R (2018b) Direct conversion of metal-polyphenolic coordination assembly to MnOx-carbon nanocomposites for catalytic degradation of methylene blue. Mater Lett 221:97–100

Zhang MH, Dong H, Zhao L, Wang DX, Meng D (2019) A review on Fenton process for organic wastewater treatment based on optimization perspective. Sci Total Environ 670:110–121

Zhang L, Yin JJ, Wei K, Li BF, Jiao TF, Chen Y, Zhou JX, Peng QM (2020a) Fabrication of hierarchical SrTiO3@MoS2 heterostructure nanofibers as efficient and low-cost electrocatalyst for hydrogen evolution reaction. Nanotechnology 31(20):205604

Zhang L, Zhang M, Song XZ, Wang H, Bian ZY (2020b) One-step synthesis of MnOx/g-C3N4 nanocomposites for enhancing the visible light photoelectrochemical oxidation performance. Chem Eng J 399:125825

Zhao JX, Yin JJ, Zhong JL, Jiao TF, Bai ZH, Wang SF, Zhang LX, Peng QM (2020) Facile preparation of a self-assembled artemia cyst shell-TiO2-MoS2 porous composite structure with highly efficient catalytic reduction of nitro compounds for wastewater treatment. Nanotechnology 31(8):085603

Zhou JL, Zhang XD, Mu W, Deng YL, Lin T, Song W, Yu L (2015) Glucose-based carbon coated MnOx hierarchical architectures with enhanced photostability and photocatalytic activity. Microporous Mesoporous Mater 204:115–122
Funding
The research was financially supported by the National Natural Science Foundation of China (Nos. 51502241, 51872225, and 51672211) and the Doctoral Innovation Fund of Xi'an University of Technology (Nos. 310-252072005).
Ethics declarations
Conflict of interest
The authors declare that they have no conflict of interest.
Additional information
Publisher's note
Springer Nature remains neutral with regard to jurisdictional claims in published maps and institutional affiliations.
About this article
Cite this article
Wang, K., Meng, Q., Du, L. et al. Preparation of manganese oxide-porous carbon nanocomposites by self-activation and their enhanced performance for methylene blue degradation. J Nanopart Res 23, 27 (2021). https://doi.org/10.1007/s11051-020-05112-1
Received:

Accepted:

Published:
Keywords
Self-activation

Manganese oxide

Carbon

Porous

Catalysis

Nanocomposites