Abstract
The red Pisha sandstone was taken as absorbents to investigate the effects of the solution pH, the adsorption time and temperature adsorption onto Ni (II) absorption by the Pisha sandstone, and used dynamics and thermodynamic absorption models, coupled with microcalorimetry and infrared spectroscopic (FTIR) analysis, and scanning electron microscope-energy dispersive spectrometer (SEM-EDS); it aimed to determine the mechanism of thermodynamics and kinetics for Pisha sandstone absorbing Ni (II). The results indicated that the adsorption was performed at 293 K, pH 7, and the equilibrium was reached at 30 min, and the adsorption capacity of Ni (II) was 23.688 mg/g; the adsorption process of Ni (II) onto Pisha sandstone could be described with the Lagrangian pseudo-second-order kinetic model, the Freundlich model, and Dubinin-Radushkevich (D-R) model which all could well simulate the isothermal properties, indicating that the adsorption process was mainly monolayer with heterogeneous surface. According to the microthermal process and thermodynamic analysis, the thermodynamic parameters of Gibbs free energy change (ΔG), enthalpy change (ΔH), and entropy change (ΔS) were less than zero, showing that the adsorption of Ni (II) onto Pisha sandstone was exothermic, spontaneous, and entropy increasing. The absorptive models, FTIR analysis, and SEM-EDS demonstrated that the Pisha sandstones absorbing Ni (II) were mainly ion exchange and chemical adsorption meanwhile chemical precipitation little partly worked in the processes.
Access options
Buy single article
Instant access to the full article PDF.
US$ 39.95
Tax calculation will be finalised during checkout.
Subscribe to journal
Immediate online access to all issues from 2019. Subscription will auto renew annually.
US$ 79
Tax calculation will be finalised during checkout.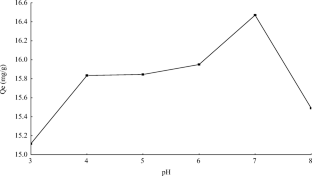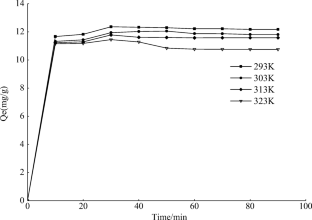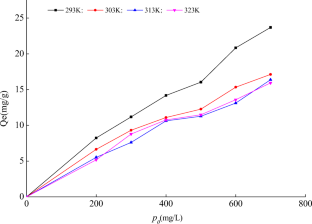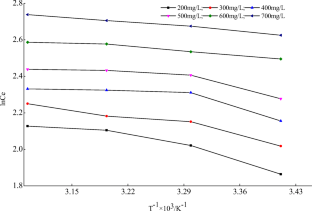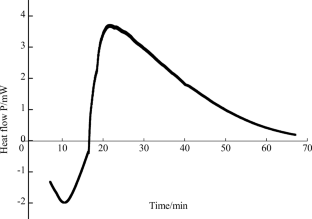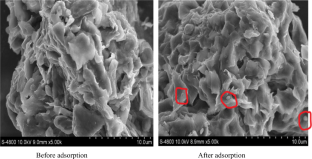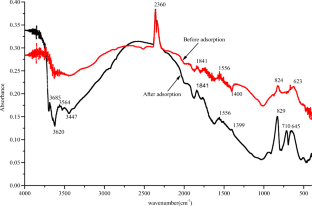 References
Barros N, Salgado J, Feijio S (2007) Calorimetry and soil. Thermochim Acta 458:11–17

Braissant O, Keisr J, Meister I, Bachmann A (2015) Isothermal microcalorimetry accurately detects bacteria, tumorous microtissues, and parasitic worms in a label-free well-plate assay. Biotechnol J 10:460–468

Chen JW, Bao ZY (2007) Advances in the calorimetry and the thermodynamics study. Geol Bull China 26(12):1564–1568

Chen BL, Sheng JD, Jiang PA, Liu YG (2010) Study on characteristics of phosphorus adsorption and desorption of cotton field with different soil textures. Chin J Soil Sci 2:303–307

DoDD (1998) Adsorption analysis: equilibrium and kinetics. Imperial College Press, London

Duan R, Hu HQ, Fu QL, Kou CL (2017) Remediation of Cd/Ni contaminated soil by biochar and oxalic acid activated phosphate rock. Environ Sci 38(11):4836–4843

Guta SS, Bhttacharyya KG (2008) Immobilization of Pb (II), Cd (II) and Ni (II) ions on kaolinite and montmorillonite surfaces from aqueous medium. J Environ Manag 87(1):46

Hao SS, Zhu JL, Hung H, Wu WH, Chen H (2012) Cd (II) adsorption equilibrium and kinetics by modified zeolites. Chin J Environ Eng 6(8):2693–2697

Li AM, Zhang QX, Liu FQ, Fei ZH, Wang XJ, Chen JL (2001) Thermodynamic study of adsorption of phenolic compounds on a phenol hydroxyl modified polystyren. Ion Exchange Adsorpt 17(6):515–525

Li Q, Liu YH, Cao XH et al (2012a) Biosorption characteristics of uranium( VI) from aqueous solution by pummelo peel. J Radioanal Nucl Chem 293(1):67–73

Li XY, Hua M, Liu YB, Liu YH, Gao B (2012b) Kinetics and thermodynamics of U (VI) adsorption from aqueous solution modified corncob. CIESE J 63(12):4068–4074

Madejova J, Komadel P (2001) Baseline studies of the Clay Minerals Society source clays: infrared methods. Clay Miner 49(5):410–432

Mendze A, Gomez A, Paz-ferrereiro J (2012) Effects of sewage sludge biochar on plant metal availability after application to a Mediterranean soil. Chemosphere 89(11):1354–1359

Olawoyin R, Oyewole SA, Grayson RL (2012) Potential risk effect from elevated levels of soil heavy metals on human health in the Niger delta. Ecotoxicol Environ Saf 85(1):120–130

Shaheen SM, Rinklebe J, Selim MH (2015) Impact of various amendments on immobilization and phytoavailability of nickel and zinc in a contaminated floodplain soil. Int J Environ Sci Technol 12(9):2765–2776

Uchimiya M, Wartell LH, Klasson KT (2011) Influence of pyrolysis temperature on biochar property and function as a heavy metal sorbent in soil. J Agric Food Chem 59(6):2501

Usman A, Kueyakoy Y, Stahr K (2005) Effect of clay minerals on immobilization of heavy metals and microbial activity in a sewage sludge-contaminated soil. J Soils Sediments 5(4):245–252

Vijayaraghavan K, Panmesh TV, Palanivelu K (2006) Biosorption of nickel (II) ions onto Sargassum wightii: application of two-parameter and three-parameter isotherm models. J Hazard Mater 133:04

Wang YX, Hao XZ, Su YH, Li CC, Qin WX, Zhou DG (2016) Remediation of heavy metal contaminated soil with different amendments. Soil 48(1):123–130

Wen J, Zhu YJ, Yin XQ, Chang X (2014) Study on the property of Pisha sandstone absorbing Pb (II). Acta Sci Circumst 34(10):2491–2499

Xu MG, Zhang Q, Wang BR (2009) Evaluation the remediation effects of amendments in heavy metal polluted red soil. Plant Nutrit Fertil Sci 15(1):121–126

Yao WY, Liu H, Liang ZS (2018) A new approach to ecological restoration in pisha sandstone area an environment friendly technique of anti-erosion and vegetation-promoting. Bull Soil Water Conserv 38(04):118

Ye QL, Chen XQ, Tuo XJ, Chang Y, Zha F (2018) Preparation and adsorption property of walnut shell grafted polymer. Fine Chemicals 35(7):1222–1226

Yusuf M, Fariduddin Q, Hayat S (2011) Nickel: an overview of uptake, essentiality and toxicity in plants. Bull Environ Contam Toxicol 86(1):1–17

Zhang JH, Xu LQ, Geng YH (2002) Building beautiful mountains and waters and realizing a long period of peace and order of the yellow river. Soil Water Conserv China 10:34

Zhao XL, Jiang T, Du B (2014) Effect of organic matter and calcium carbonate on behaviors of cadmium adsorption-desorption on/from purple paddy soils. Chemosphere 99(3):41–48
Funding
This work was supported by the Project funded by the Shaanxi Provincial Department of Science and Technology (2018JM4028,2019JM545) and the Project funded by Collaborative Innovation Centre of Shaanxi in China (QBXT-Z(P)-18-2) and the Project funded by Shaanxi University of Technology (SLGQD2017-16).
Ethics declarations
Conflict of interest
The authors declare that they have no conflict of interest.
Ethical approval
This article does not contain any studies with human participants or animals performed by any of the authors.
Additional information
Publisher's note
Springer Nature remains neutral with regard to jurisdictional claims in published maps and institutional affiliations.
This article is part of the topical collection: Role of Nanotechnology and Internet of Things in Healthcare
About this article
Cite this article
Song, Fm., Ge, Hg., Shi, J. et al. Adsorption kinetics and thermodynamics of Ni (II) by Pisha sandstone. J Nanopart Res 22, 179 (2020). https://doi.org/10.1007/s11051-020-04894-8
Received:

Accepted:

Published:
Keywords
Nickel

Pisha sandstones

Adsorption

Thermodynamics and kinetics