Abstract
The photoluminescence (PL) of doped ions is depended strongly on the position of the ion in the substrate. Ion doping endows semiconductor nanocrystals with novel properties. In this paper, Mn:CsPb(Cl/Br)3 nanocrystals (NCs) with different halogen ratios were obtained by one-pot hot injection synthesis and halogen ion exchange. The emission of Mn2+ from 4T1g-6A1g d-d transition was observed in the case of changing the molar ratio of Cl/Br for Mn:CsPb(Cl/Br)3 NCs. In the case of a Cl/Br ratio of 4/1, the PL peak of perovskite became weak and Mn2+ emission was enhanced. After I− ion exchange, the emission of Mn2+ was observed in Mn:CsPb(Cl/Br)3 with Cl/Br ratio of 1/4, in which the PL efficiency of the nanocrystals reached 55.74%. Thus, Cl− ions increase the band gap and effectively promote the emission of Mn2+. At the same time, the morphology of the samples after ion exchange always remains cube. The lifetimes of the nanocrystals were short aged with increasing Cl− ions and prolonged with increasing I− ions. Because these Mn:CsPbX3 (x = Cl, Br, I) NCs with different halogen ratios revealed highly stabile blue to red emission, the nanocrystals would be utilizable for further applications.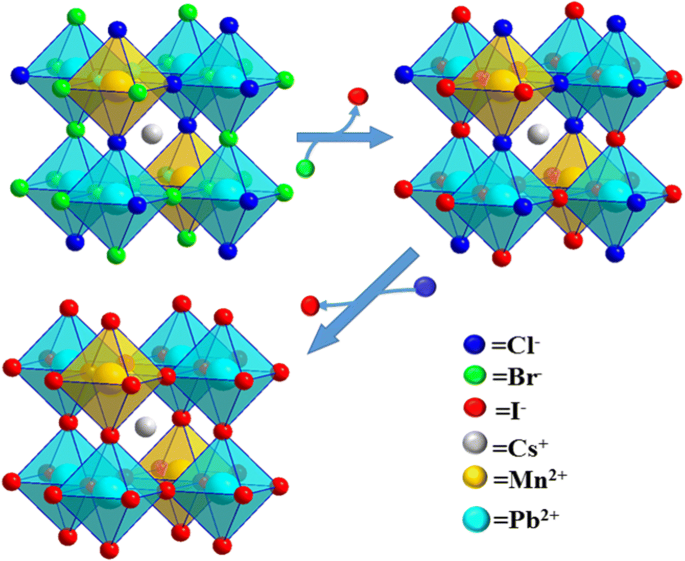 This is a preview of subscription content, log in to check access.
Access options
Buy single article
Instant access to the full article PDF.
US$ 39.95
Price includes VAT for USA
Subscribe to journal
Immediate online access to all issues from 2019. Subscription will auto renew annually.
US$ 99
This is the net price. Taxes to be calculated in checkout.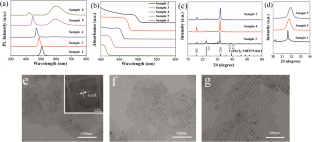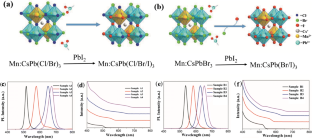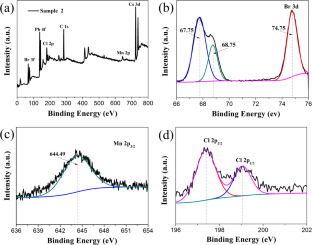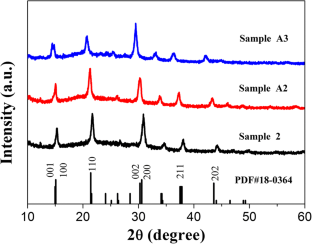 References
Adhikari SD, Dutta A, Dutta SK, Pradhan N (2018) Layered perovskites L2(Pb1-xMnx)Cl4 to Mn doped CsPbCl3 perovskite platelets. ACS Energy Lett 3:1247–1253

Akkerman QA, D'Innocenzo V, Accornero S, Scarpellini A, Petrozza A, Prato Manna M (2015) Tuning the optical properties of cesium lead halide perovskite nanocrystals by anion exchange reactions. J Am Chem Soc 137:10276–10281

Arunkumar P, Gil KH, Won S, Unithrattil S, Kim YH, Kim HJ, Im WB (2017) Colloidal organolead halide perovskite with a high Mn solubility limit: a step toward Pb-free luminescent quantum dots. J Phys Chem Lett 8:4161–4166

Bai X, Zhong H, Chen B, Chen C, Han J, Zeng R (2018) Pyridine-modulated Mn ion emission properties of C10H12N2MnBr4 and C5H6NMnBr3 single crystals. J Phys Chem C 122:3130–3137

Chen D, Chen X, Wan Z, Fang G (2017) Full-spectral fine-tuning visible emissions from cation hybrid Cs1-mFAmPbX3 (X=Cl, Br and I, 0≤m≤1) quantum dots. ACS Appl Mater Interfaces 9:20671–20678

Chen D, Zhou S, Fang G, Chen X, Zhong J (2018) Fast room temperature cation exchange synthesis of Mn-doped CsPbCl3 nanocrystals driven by dynamic halogen exchange. ACS Appl Mater Interfaces 10:39872–39878

Daqin C, Gaoliang F, Xiao C et al (2018) Mn-doped CsPbCl3 perovskite nanocrystals: solvothermal synthesis, dual-color luminescence and improved stability. J Mater Chem C 6:8990–8998

Erickson CS, Bradshaw LR, McDowall S, Gilbertson JD, Gamelin DR, Patrick DL (2014) Zero-reabsorption doped-nanocrystal luminescent solar concentrators. ACS Nano 8:3461–3467

Fang G, Chen D, Zhou S, Chen X, Lei L, Zhong J, Ji Z (2018) Reverse synthesis of CsPbxMn1-x(Cl/Br)3 perovskite quantum dots from CsMnCl3 precursor through cation exchange. J Mater Chem C 6:5908–5915

Fei L, Yuan X, Hua J, Ikezawa M, Zeng R, Li H, Zhao J (2018) Enhanced luminescence and energy transfer in Mn2+ doped CsPbCl3−xBrx perovskite nanocrystals. Nanoscale 10:19435–19442

Gonzalez-Pedro V, Veldhuis SA, Begum R, Mhaisalkar S, Maquieira Á (2018) Recovery of shallow charge trapping defects in CsPbX3 nanocrystals through specific binding and encapsulation with amino-functionalized silanes. ACS Energy Lett 3(6):1409–1414

Guhrenz C, Benad A, Ziegler C, Haubold D, Gaponik N, Eychmüller A (2016) Solid-state anion exchange reactions for color tuning of CsPbX3 perovskite nanocrystals. Chem Mater 28:9033–9040

Guria AK, Dutta SK, Adhikari SD, Pradhan N (2017) Doping Mn2+ in lead halide perovskite nanocrystals: successes and challenges. ACS Energy Lett 2:1014–1021

Kovalenko MV, Protesescu L, Bodnarchuk MI (2017) Properties and potential optoelectronic applications of lead halide perovskite nanocrystals. Science 358(6364):745–750

Li M, Zhang X, Matras-Postolek K, Chen HS, Yang P (2018) An anion-driven Sn2+ exchange reaction in CsPbBr3 nanocrystals towards tunable and high photoluminescence. J Mater Chem C 6:5506–5513

Liu W, Lin Q, Li H, Wu K, Robel I, Pietryga JM (2016) Mn2+-doped lead halide perovskite nanocrystals with dual-color emission controlled by halide content. J Am Chem Soc 138(45):14954–14961

Liu H, Wu Z, Shao J, Yao D, Gao H, Liu Y, Yu W, Zhang H, Yang B (2017) CsPbxMn1–xCl3 perovskite quantum dots with high Mn substitution ratio. ACS Nano 11(2):2239–2247

Ma J, Yao Q, Mcleod JA, Chang L, Chen J (2019) Investigating the luminescence mechanism of Mn-doped CsPb(Br/Cl)3 nanocrystals. Nanoscale 11:6182–6191

Mir WJ, Mahor Y, Lohar A, Mahamuni S, Nag A (2018) Postsynthesis doping of Mn and Yb into CsPbX3 (X = Cl, Br, or I). ACS Chem Mater 30:8170–8178

Mir WJ, Swarnkar A, Nag A (2019) Postsynthesis Mn-doping in CsPbI3 nanocrystals to stabilize the black perovskite phase. Nanoscale 11:4278–4286

Nedelcu G, Protesescu L, Protesescu S, Bodnarchuk MI, Grotevent MJ (2015) Fast anion-exchange in highly luminescent nanocrystals of cesium lead halide perovskites (CsPbX3, X = Cl, Br, I). Nano Lett 15:5635–5640

Parobek D, Dong Y, Qiao T, Son DH (2018) Direct hot-injection synthesis of Mn-doped CsPbBr3 nanocrystals. Chem Mater 30:2939–2944

Pradhan N, Das Adhikari S, Nag A, Sarma DD (2017) Luminescence plasmonic and magnetic properties of doped semiconductor nanocrystals: current developments and future prospects. Angew Chem Int Ed 56:7038–7054

Protesescu L, Yakunin S, Bodnarchuk MI, Krieg F, Caputo R, Hendon CH, Yang RX, Walsh A, Kovalenko MV (2015) Nanocrystals of cesium lead halide perovskites (CsPbX3, X = Cl, Br, and I): novel optoelectronic materials showing bright emission with wide color gamut. Nano Lett 15:3692–3696

Roo JD, Ibanez M, Geiregat P, Nedelcu G, Walravens W, Maes J, Martins JC, Driessche IV, Kovalenko MV, Hens Z (2016) Highly dynamic ligand binding and light absorption coefficient of cesium lead bromide perovskite nanocrystals. ACS Nano 10(2):2071–2081

Rossi D, Parobek D, Dong Y, Son DH (2017) Dynamics of exciton-to-Mn energy ransfer in Mn-doped CsPbCl3 perovskite nanocrystals. J Phys Chem C 121(32):17143–17149

Shen Z, Qiao B, Xu Z, Song D, Gao D, Song P, Cao J, Bai Q, Wu Y, Zhao S (2019) The luminescence properties of CsPbxM1−xBr3 perovskite nanocrystals transformed from Cs4PbBr6 mediated by various divalent bromide MBr2 salts. Nanoscale 11:4008–4014

Swarnkar A, Mir WJ, Nag A (2018) Can B-site doping or alloying improve thermal- and phase-stability of all-inorganic CsPbX3 (X =Cl, Br, I) perovskites. ACS Energy Lett 3:286–289

Veldhuis SA, Ng YF, Ahmad R, Bruno JNF, Damodaran B, Mathews N, Mhaisalkar SG (2018) Crown ethers enable room temperature synthesized CsPbBr3 quantum dots for light-emitting diodes. ACS Energy Lett 3:526–531

Volonakis G, Filip MR, Haghighirad AA, Sakai N (2016) Lead-free halide double perovskites via heterovalent substitution of noble metals. J Phys Chem Lett 7:1254–1259

Wang CM, Su YM, Shi TA, Chen GY (2018) Achieving highly saturated single-color and high color-rendering-index white light-emitting electrochemical cells by CsPbX3 perovskite color conversion layers. J Mater Chem C 6:12808–12813

Yue W, Liu Y, Chen HY et al (2018) White LED based on CsPbBr3 nanocrystal phosphors via a facile two-step solution synthesis route. Mater Res Bull 104:48–52

Zhang D, Eaton SW, Yu Y, Dou L, Yang P (2015) Solution-phase synthesis of cesium lead halide perovskite nanowires. J Am Chem Soc 137(29):9230–9233

Zhou Y, Chen J, Bakr Osman M, Sun HT (2018) Metal-doped lead halide perovskites: synthesis, properties, and optoelectronic applications. Chem Mater 30:6589–6613

Zhu J, Yang X, Zhu Y, Wang Y, Cai J, Shen J, Sun L, Li C (2017) Room-temperature synthesis of Mn-doped cesium lead halide quantum dots with high Mn substitution ratio. J Phys Chem Lett 8(17):4167–4171

Zou S, Liu Y, Li J, Liu C, Hong M, Chen X (2017) Stabilizing cesium lead halide perovskite lattice through Mn (II)-substitution for air-stable light-emitting diodes. J Am Chem Soc 139(33):11443–11450
Funding
This work was supported in part by the projects from the National Natural Science Foundation of China (no. 51772130, 51972145, and 51572109).
Ethics declarations
Conflict of interest
The authors declare that they have no conflict of interest.
Additional information
Publisher's note
Springer Nature remains neutral with regard to jurisdictional claims in published maps and institutional affiliations.
Electronic supplementary material
About this article
Cite this article
Zhao, Y., Xie, C., Song, Y. et al. Emission of Mn2+ ions in Mn:CsPbX3 (x = Cl, Br, I) nanocrystals adjusted with halogen ion ratios. J Nanopart Res 22, 147 (2020). https://doi.org/10.1007/s11051-020-04884-w
Received:

Accepted:

Published:
Keywords
Mn:CsPbX3 quantum dots

Double emission

Ion exchange

Mn ions

Photoluminescence