Abstract
Janus particles, which possess asymmetric structures and/or multiple surface chemistries, have attracted intense interest due to their capability of multiple distinct interactions with their environment. Most Janus particles synthesis techniques rely on applying coating molecules on isotropic particles. Herein, we demonstrate a method to controllably functionalize both major facets of geometrically anisotropic triangular gold nanoprisms in the size range of 100–200 nm with two distinct molecular coatings (hexadecane thiol or thiolated poly (ethylene) glycol and thiol-modified oligonucleotide), giving rise to the formation of Janus gold nanoprisms. Janus particles orient themselves on the interface of water-chloroform mixture and exhibit variable interaction with both hydrophilic and hydrophobic surfaces due to their amphiphilicity and undergo asymmetric self-assembly behavior with other nanoparticles.
This is a preview of subscription content, log in to check access.
Access options
Buy single article
Instant access to the full article PDF.
US$ 39.95
Price includes VAT for USA
Subscribe to journal
Immediate online access to all issues from 2019. Subscription will auto renew annually.
US$ 99
This is the net price. Taxes to be calculated in checkout.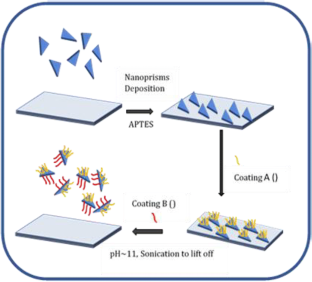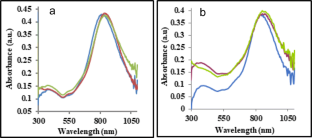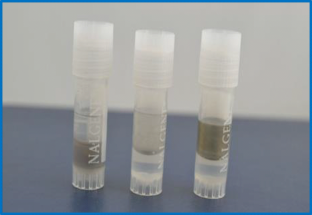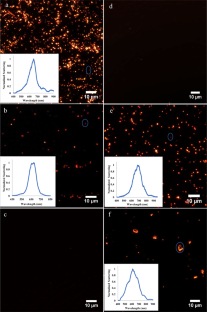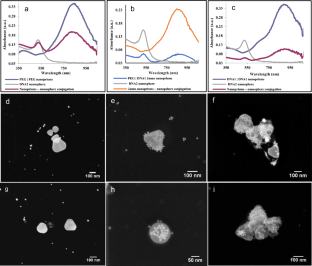 References
Abdellatif MH, Ghosh S, Liakos I, Scarpellini A, Marras S, Diaspro A, Salerno M (2016) Effect of nanoscale size and medium on metal work function in oleylamine-capped gold nanocrystals. J Phys Chem Solids 89:7–14. https://doi.org/10.1016/j.jpcs.2015.09.012

Anderson KD, Luo M, Jakubiak R, Naik RR, Bunning TJ, Tsukruk VV (2010) Robust Plasma Polymerized-Titania/Silica Janus Microparticles. Chem Mater 22:3259–3264. https://doi.org/10.1021/cm100500d

Arita T, Kanahara M, Motoyoshi K, Koike K, Higuchi T, Yabu H (2013) Localization of polymer-grafted maghemite nanoparticles in a hemisphere of Janus polymer particles prepared by a self-organized precipitation (SORP) method. J Mater Chem C 1:207–212. https://doi.org/10.1039/C2TC00350C

Bhaskar S, Pollock KM, Yoshida M, Lahann J (2010) Towards designer microparticles: simultaneous control of anisotropy, Shape, and Size. Small 6:404–411. https://doi.org/10.1002/smll.200901306

Cao Z, Bian Q, Chen Y, Liang F, Wang G (2017) Light-Responsive Janus-Particle-Based Coatings for Cell Capture and Release. ACS Macro Lett 6:1124–1128. https://doi.org/10.1021/acsmacrolett.7b00714

Cayre O, Paunov VN, Velev OD (2003) Fabrication of dipolar colloid particles by microcontact printing. Chem Commun:2296–2297. https://doi.org/10.1039/B307296G

Cha BG, Piao Y, Kim J (2015) Asymmetric nanoparticle assembly via simple mechanical pressing using relative hardness of materials. Mater Res Bull 70:424–429. https://doi.org/10.1016/j.materresbull.2015.05.011

Chen C, Karshalev E, Li J, Soto F, Castillo R, Campos I, Mou F, Guan J, Wang J (2016) Transient Micromotors That Disappear When No Longer Needed. ACS Nano 10:10389–10396. https://doi.org/10.1021/acsnano.6b06256

Choi SQ, Jang SG, Pascall AJ, Dimitriou MD, Kang T, Hawker CJ, Squires TM (2011) Synthesis of multifunctional micrometer-sized particles with magnetic, amphiphilic, and anisotropic properties. Adv Mater 23:2348−+. https://doi.org/10.1002/adma.201003604

Fan X, Yang J, Loh XJ, Li Z (2019) Polymeric Janus nanoparticles: recent advances in synthetic strategies, Materials Properties, and Applications. Macromol Rapid Commun 40:e1800203. https://doi.org/10.1002/marc.201800203

Fendt LA, Stohr M, Wintjes N, Enache M, Jung TA, Diederich F (2009) Modification of Supramolecular Binding Motifs Induced By Substrate Registry: Formation of Self-Assembled Macrocycles and Chain-Like Patterns. Chem-Eur J 15:11139–11150. https://doi.org/10.1002/chem.200901502

Gu H, Yang Z, Gao J, Chang CK, Xu B (2005) Heterodimers of nanoparticles: formation at a liquid−liquid interface and particle-specific surface modification by functional molecules. J Am Chem Soc 127:34–35. https://doi.org/10.1021/ja045220h

Hu J, Zhou S, Sun Y, Fang X, Wu L (2012) Fabrication, properties and applications of Janus particles. Chem Soc Rev 41:4356–4378. https://doi.org/10.1039/C2CS35032G

Hu S-H, Gao X (2010) Nanocomposites with spatially separated functionalities for combined imaging and magnetolytic therapy. J Am Chem Soc 132:7234–7237. https://doi.org/10.1021/ja102489q

Huo F, Lytton-Jean AKR, Mirkin CA (2006) Asymmetric Functionalization of Nanoparticles Based on Thermally Addressable DNA Interconnects. Adv Mater 18:2304–2306. https://doi.org/10.1002/adma.200601178

Hurst SJ, Lytton-Jean AKR, Mirkin CA (2006) Maximizing DNA loading on a range of gold nanoparticle sizes. Anal Chem 78:8313–8318. https://doi.org/10.1021/ac0613582

Intartaglia R, Rodio M, Abdellatif M, Prato M, Salerno M (2016) Extensive characterization of oxide-coated colloidal gold nanoparticles synthesized by laser ablation in liquid. Materials (Basel, Switzerland) 9. https://doi.org/10.3390/ma9090775

James KT, O'Toole MG, Patel DN, Zhang G, Gobin AM, Keynton RS (2015) A high yield, controllable process for producing tunable near infrared-absorbing gold nanoplates. RSC Adv 5:12498–12505. https://doi.org/10.1039/c4ra14889d

Jiang S, Schultz MJ, Chen Q, Moore JS, Granick S (2008) Solvent-Free Synthesis of Janus Colloidal Particles. Langmuir 24:10073–10077. https://doi.org/10.1021/la800895g

Jones MR, Macfarlane RJ, Lee B, Zhang J, Young KL, Senesi AJ, Mirkin CA (2010) DNA-nanoparticle superlattices formed from anisotropic building blocks. Nat Mater 9:913–917. https://doi.org/10.1038/nmat2870

Katz E, Willner I (2004) Integrated nanoparticle-biomolecule hybrid systems: synthesis, properties, and applications. Angew Chem Int Ed Eng 43:6042–6108. https://doi.org/10.1002/anie.200400651

Kim J-W, Lee D, Shum HC, Weitz DA (2008) Colloid Surfactants for Emulsion Stabilization. Adv Mater 20:3239–3243. https://doi.org/10.1002/adma.200800484

Kim S-H, Lee SY, Yang S-M (2010) Janus Microspheres for a Highly Flexible and Impregnable Water-Repelling. Angew Chem Int Ed Engl 49:2535–2538. https://doi.org/10.1002/anie.201000108

Kocak G, Tuncer C, Bütün V (2017) pH-responsive polymers. Polym Chem 8:144–176. https://doi.org/10.1039/C6PY01872F

Lee HY, Shin SHR, Abezgauz LL, Lewis SA, Chirsan AM, Danino DD, Bishop KJM (2013) Integration of Gold Nanoparticles into Bilayer Structures via Adaptive Surface Chemistry. J Am Chem Soc 135:5950–5953. https://doi.org/10.1021/ja400225n

Liu K, Nie ZH, Zhao NN, Li W, Rubinstein M, Kumacheva E (2010) Step-Growth Polymerization of Inorganic Nanoparticles. Science 329:197–200. https://doi.org/10.1126/science.1189457

Liu L, Ren M, Yang W (2009) Preparation of Polymeric Janus Particles by Directional UV-Induced Reactions. Langmuir 25:11048–11053. https://doi.org/10.1021/la901364a

Loweth CJ, Caldwell WB, Peng X, Alivisatos AP, Schultz PG (1999) DNA-Based Assembly of Gold Nanocrystals. Angew Chem Int Ed Eng 38:1808–1812. https://doi.org/10.1002/(sici)1521-3773(19990614)38:12<1808::Aid-anie1808>3.0.Co;2-c

Ma X, Hahn K, Sanchez S (2015) Catalytic Mesoporous Janus Nanomotors for Active Cargo Delivery. J Am Chem Soc 137:4976–4979. https://doi.org/10.1021/jacs.5b02700

Maye MM, Nykypanchuk D, Cuisinier M, van der Lelie D, Gang O (2009) Stepwise surface encoding for high-throughput assembly of nanoclusters. Nat Mater 8:388–391. https://doi.org/10.1038/nmat2421

Mazid RR, Si KJ, Cheng WL (2014) DNA based strategy to nanoparticle superlattices. Methods 67:215–226. https://doi.org/10.1016/j.ymeth.2014.01.017

Nakahama K, Kawaguchi H, Fujimoto K (2000) A novel preparation of nonsymmetrical microspheres using the Langmuir−Blodgett technique. Langmuir 16:7882–7886. https://doi.org/10.1021/la000684o

Norgaard K, Weygand MJ, Kjaer K, Brust M, Bjornholm T (2004) Adaptive chemistry of bifunctional gold nanoparticles at the air/water interface. A synchrotron X-ray study of giant amphiphiles. Faraday Discuss 125:221–233. https://doi.org/10.1039/b303117a

Park SY, Lytton-Jean AKR, Lee B, Weigand S, Schatz GC, Mirkin CA (2008) DNA-programmable nanoparticle crystallization. Nature 451:553–556. https://doi.org/10.1038/nature06508

Patel D, James KT, O'Toole M, Zhang G, Keynton RS, Gobin AM (2015) A high yield, one-pot dialysis-based process for self-assembly of near infrared absorbing gold nanoparticles. J Colloid Interface Sci 441:10–16

Pawar AB, Kretzschmar I (2008) Patchy Particles by Glancing Angle Deposition. Langmuir 24:355–358. https://doi.org/10.1021/la703005z

Perro A, Reculusa S, Ravaine S, Bourgeat-Lami E, Duguet E (2005) Design and synthesis of Janus micro- and nanoparticles. J Mater Chem 15(35–36):3745

Poggi E, Gohy J-F (2017) Janus particles: from synthesis to application. Colloid Polym Sci 295:2083–2108. https://doi.org/10.1007/s00396-017-4192-8

Saito N, Nakatsuru R, Kagari Y, Okubo M (2007) Formation of "snowmanlike" polystyrene/poly (methyl methacrylate)/toluene droplets dispersed in an aqueous solution of a nonionic surfactant at thermodynamic equilibrium. Langmuir 23:11506–11512. https://doi.org/10.1021/la701388w

Sharma JN, Pattadar DK, Mainali BP, Zamborini FP (2018) Size Determination of Metal Nanoparticles Based on Electrochemically Measured Surface-Area-to-Volume Ratios. Anal Chem 90:9308–9314. https://doi.org/10.1021/acs.analchem.8b01905

Su H, Hurd Price CA, Jing L, Tian Q, Liu J, Qian K (2019) Janus particles: design, preparation, and biomedical applications. Materials Today Bio 4:100033. https://doi.org/10.1016/j.mtbio.2019.100033

Tang J, Zhang Q, Hu K, Zhang P, Wang J (2017) Novel high TEMPO loading magneto-polymeric nanohybrids: An efficient and recyclable Pickering interfacial catalyst. J Catal 353:192–198. https://doi.org/10.1016/j.jcat.2017.07.020

Toma HE (2008) Supramolecular nanotechnology: from molecules to devices. Curr Sci 95:1202–1225

Uzun O, Hu Y, Verma A, Chen S, Centrone A, Stellacci F (2008) Water-soluble amphiphilic gold nanoparticles with structured ligand shells. Chem Commun:196–198. https://doi.org/10.1039/b713143g

Walther A, Andre X, Drechsler M, Abetz V, Muller AHE (2007) Janus discs. J Am Chem Soc 129:6187–6198. https://doi.org/10.1021/ja068153v

Walther A, Muller AHE (2013) Janus particles: synthesis, Self-Assembly, Physical Properties, and Applications. Chem Rev 113:5194–5261. https://doi.org/10.1021/cr300089t

Wu Z et al (2018) Janus nanoarchitectures: from structural design to catalytic applications. Nano Today 22:62–82. https://doi.org/10.1016/j.nantod.2018.08.009

Xie Q, Davies GB, Harting J (2017) Direct Assembly of Magnetic Janus Particles at a Droplet Interface. ACS Nano 11:11232–11239. https://doi.org/10.1021/acsnano.7b05550

Xing H, Wang Z, Xu Z, Wong NY, Xiang Y, Liu GL, Lu Y (2012) DNA-Directed Assembly of Asymmetric Nanoclusters Using Janus. Nanoparticles ACS Nano 6:802–809. https://doi.org/10.1021/nn2042797

Xu C, Sun S (2013) New forms of superparamagnetic nanoparticles for biomedical applications. Adv Drug Deliv Rev 65:732–743. https://doi.org/10.1016/j.addr.2012.10.008

Xu X, Rosi NL, Wang Y, Huo F, Mirkin CA (2006) Asymmetric Functionalization of Gold Nanoparticles with Oligonucleotides. J Am Chem Soc 128:9286–9287. https://doi.org/10.1021/ja061980b

Yabu H, Kanahara M, Shimomura M, Arita T, Harano K, Nakamura E, Higuchi T, Jinnai H (2013) Polymer Janus Particles Containing Block-Copolymer Stabilized Magnetic Nanoparticles. ACS Appl Mater Interfaces 5:3262–3266. https://doi.org/10.1021/am4003149

Yilbas BS, Hassan G, Al-Sharafi A, Ali H, Al-Aqeeli N, Al-Sarkhi A (2018) Water Droplet Dynamics on a Hydrophobic Surface in Relation to the Self-Cleaning of Environmental Dust. Sci Rep 8:2984. https://doi.org/10.1038/s41598-018-21370-5

Zhang XD et al (2011) Size-dependent in vivo toxicity of PEG-coated gold nanoparticles. Int J Nanomedicine 6:2071–2081. https://doi.org/10.2147/IJN.S21657

Zhao Y, Zhang G, Liu Z, Guo C, Peng C, Pei M, Li P (2016) Benzimidazo[2,1-a] benz [de]isoquinoline-7-one-12-carboxylic acid based fluorescent sensors for pH and Fe3+. J Photochem Photobiol A Chem 314:52–59. https://doi.org/10.1016/j.jphotochem.2015.08.003
Ethics declarations
Conflict of interest
The authors declare that they have no conflict of interests.
Additional information
Publisher's note
Springer Nature remains neutral with regard to jurisdictional claims in published maps and institutional affiliations.
Electronic supplementary material
About this article
Cite this article
Chowdhury, E., Grapperhaus, C.A. & O'Toole, M.G. Facet-selective asymmetric functionalization of anisotropic gold nanoprisms for Janus particle synthesis. J Nanopart Res 22, 142 (2020). https://doi.org/10.1007/s11051-020-04879-7
Received:

Accepted:

Published:
Keywords
Asymmetric functionalization

Janus particle

Anisotropic core

Particle with valency

Self-assembly