Abstract
A series of bimetallic metal-organic frameworks (CuxMgy(BTC)2 MOFs) was synthesized. The as-produced MOFs were described utilizing different characterizations techniques. The dynamic adsorption efficiencies of the prepared MOFs toward the carbon dioxide (CO2) from the nitrogen stream at separate temperatures and various total levels of flow were achieved including the evaluation of the suitable kinetic model. The results showed that copper ions could be substituted successfully by magnesium ions up to molar ratio 1:1 (Cu1.5Mg1.5(BTC)2 MOF), without obvious deformation in the crystalline structure of the parent Cu3(BTC)2.3H2O (HKUST-1). In all of the as-synthesized MOFs, the introduction of magnesium ions to the context of Cu-BTC had accompanied changes in the morphological structure, porosity, and thermal behavior. The Cu1.5Mg1.5(BTC)2 MOF showed significant enhancing on its CO2 adsorption capacity (23.85 mmol/g) compared with Cu-BTC MOF (5.95 mmol/g) and Mg-BTC MOF (4.57 mmol/g), which indicated the key-role of the central metals in the MOF in CO2 adsorption. The second-order kinetic studies suited the experimental work with more precise than pseudo-first-order. Also, the reusability of the bimetallic adsorbent under the optimum temperature and flow rate was evaluated for 5 cycles.
This is a preview of subscription content, log in to check access.
Access options
Buy single article
Instant access to the full article PDF.
US$ 39.95
Price includes VAT for USA
Subscribe to journal
Immediate online access to all issues from 2019. Subscription will auto renew annually.
US$ 99
This is the net price. Taxes to be calculated in checkout.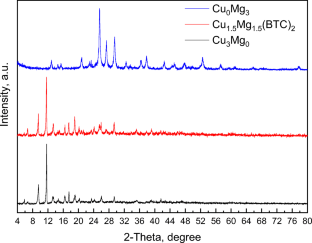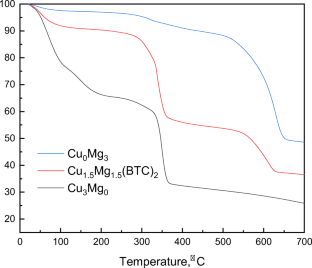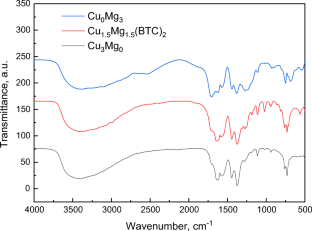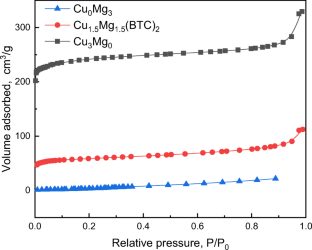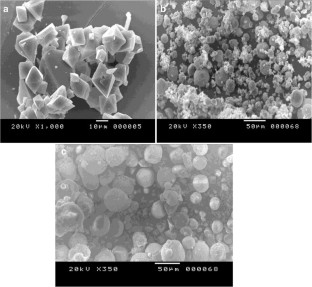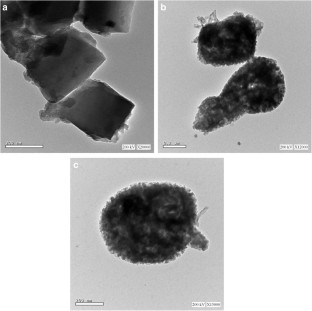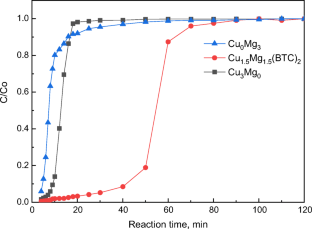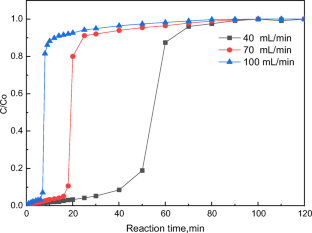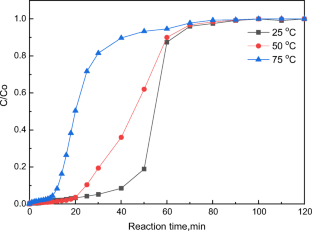 References
Borhan A, Yusup S, Lim JW, Show PL (2019) Characterization and modelling studies of activated carbon produced from rubber-seed shell using KOH for CO2 adsorption. Processes 7:855

Heydari-Gorji A, Sayari A (2011) CO2 capture on polyethylenimine-impregnated hydrophobic mesoporous silica: experimental and kinetic modeling. Chem Eng J 173:72–79

Rehman A, Farrukh S, Hussain A, Fan X, Pervaiz E (2019) Adsorption of CO2 on amine-functionalized green metal-organic framework: an interaction between amine and CO2 molecules. Environ Sci Pollut Res 26:36214–36225

Millward AR, Yaghi OM (2005) Metal−organic frameworks with exceptionally high capacity for storage of carbon dioxide at room temperature. J Am Chem Soc 127(51):17998–17999

Szczęśniak B, Choma J (2020) Graphene-containing microporous composites for selective CO2 adsorption. Microporous Mesoporous Mater 292:109761

Wang B, Huang H, Lv X-L, Xie Y, Li M, Li J-R (2014) Tuning CO2 selective adsorption over N2 and CH4 in UiO-67 analogues through ligand functionalization. Inorg Chem 53:9254–9259

Chen C, Li B, Zhou L, Xia Z, Feng N, Ding J, Wang L, Wan H, Guan G (2017a) Synthesis of hierarchically structured hybrid materials by controlled self-assembly of metal-organic framework with mesoporous silica for CO2 adsorption. ACS Appl Mater Interfaces 9(27):23060–23071

Landaverde-Alvarado C, Morris AJ, Martin SM (2017) A new class of metal-cyclambased zirconium metal–organic frameworks for CO2 adsorption and chemical fixation. J CO2 Util 19:40–48

Xin C, Jiao X, Yin Y, Zhan H, Li H, Li L, Wei W (2016) Enhanced CO2 adsorption capacity and hydrothermal stability of HKUST-1 via introduction of siliceous mesocellular foams (MCFs). Ind Eng Chem Res 55:7950–7957

Zhou C, Cao L, Wei S, Zhang Q, Chen L (2011) A first principles study of gas adsorption on charged Cu–BTC. Comput Theor Chem 976:153–160

Zhu C, Zhang Z, Wang B, Chen Y, Wang H, Chen X, Zhang H, Sun N, Wei W, Sun Y (2016) Synthesis of HKUST-1#MCF compositing materials for CO2 adsorption. Microporous Mesoporous Mater 226:476–481

Qian D, Lei C, Hao G-P, Li W-C, Lu A-H (2012) Synthesis of hierarchical porous carbon monoliths with incorporated metal-organic frameworks for enhancing volumetric based CO2 capture capability. ACS Appl Mater Interfaces 4(11):6125–6132

Yu D, Yazaydin AO, Lane JR, Dietzel PDC, Snurr RQ (2013) A combined experimental and quantum chemical study of CO2 adsorption in the metal–organic framework CPO-27 with different metals. Chem Sci 4:3544–3556

Tian F, Qiao C, Zheng R, Ru Q, Sun X, Zhang Y, Meng C (2019) Synthesis of bimetallic–organic framework Cu/Co-BTC and the improved performance of thiophene adsorption. RSC Adv 9:15642–15647

Miller FA (2003) Chapter 8. In: Mayo DW, Miller FA, Hannah RW (eds) Course Notes on the Interpretation of Infrared and Raman Spectra. Wiley, New Jersey, p 205

Furukawa H, Ko N, Go YB, Aratani N, Choi SB, Choi E, Yazaydin AÖ, Snurr RQ, O'Keeffe M, Kim J, Yaghi OM (2010) Ultrahigh porosity in metal-organic frameworks. Science 329(5990):424–428

Li H, Bonduris H, Zhang X, Ye Y, Alsalme A, Lin R-B, Zhang Z, Xiang S, Chen B (2020) A microporous metal-organic framework with basic sites for efficient C2H2/ CO2 separation. J Solid State Chem 284:121209

Abd El Salam HM, Younis SA, Ali HR, Zaki T (2017) Statistical modeling and optimization of phenol adsorption from water by modified Cu3(BTC)2: kinetic, isotherm, and thermodynamic. Microporous Mesoporous Mater 241:210–217

Koh HS, Rana MK, Hwang J, Siegel DJ (2013) Thermodynamic screening of metalsubstituted MOFs for carbon capture. PCCP 15:4573–4581

Moon H-S, Moon J-H, Chun DH, Park YC, Yun YN, Sohail M, Baek K, Kim H (2016) Synthesis of [Mg2(DOBDC)(DMF)2]@polystyrene composite and its carbon dioxide adsorption. Microporous Mesoporous Mater 232:161–166

Cho H-Y, Yang D-A, Kim J, Jeong S-Y, Ahn W-S (2012) CO2 adsorption and catalytic application of Co-MOF-74 synthesized by microwave heating. Catal Today 185:35–40

Coates J (2000) Interpretation of infrared spectra, a practical approach. In: Meyers RA (ed) Encyclopedia of analytical chemistry. Wiley, Chichester, pp 10815–10837

Hu J, Yu H, Dai W, Yan X, Hua X, Huang H (2014) Enhanced adsorptive removal of hazardous anionic dye "Congo red" by a Ni/Cu mixed-component metal–organic porous material. RSC Adv 4:35124–35130

Li J, Yang J, Li L, Li J (2014) Separation of CO2/CH4 and CH4/ N2 mixtures using MOF-5 and Cu3(BTC)2. J Energy Chem 23(4):453–460

Pokhrel J, Bhoria N, Wu C, Reddy KSK, Margetis H, Anastasiou S, George G, Mittal V, Romanos G, Karonis D, Karanikolos GN (2018) Cu- and Zr-based metal organic frameworks and their composites with graphene oxide for capture of acid gases at ambient temperature. J Solid State Chem 266:233–243

Simon JC, Bushra AD, Nannan S, Cheng-gong S, Colin ES, Kaixi LS, Joseph W (2015) Carbon dioxide separation from nitrogen/hydrogen mixtures over activated carbon beads: adsorption isotherms and breakthrough studies. Energy Fuel 29:3796–3807

Schlichte K, Kratzke T, Kaskel S (2004) Improved synthesis, thermal stability and catalytic properties of the metal-organic framework compound Cu3(BTC)2. Microporous Mesoporous Mater 73:81–88

Elsabawy KM, Fallatah AM (2019) Synthesis of newly wings like structure non-crystalline Niþþ-1,3,5- tribenzyl-1,3,5-triazine-2,4,6-(1H,3H,5H)-trione coordinated MOFs for CO2-capture. J Mol Struct 1177:255–259

Mazaj M, ČeliČ TB, Mali G, Rangus M, KauČiČ V, Logar NZ (2013) Control of the crystallization process and structure dimensionality of Mg−benzene−1,3,5-tricarboxylates by tuning solvent composition. Cryst Growth Des 13:3825–3834

Sun M, Yan S, Sun Y, Yang X, Guo Z, Du J, Xing H (2018) Enhancement of visible light-driven CO2 reduction performance using an amine-functionalized zirconium metal–organic framework. Dalton Trans 47:909–915

Gotthardt MA, Schoch R, Wolf S, Bauer M, Kleist W (2015) Synthesis and characterization of bimetallic metal–organic framework Cu–Ru-BTC with HKUST-1 structure. Dalton Trans 44:2052–2056

Hossain MI, Cunningham JD, Becker TM, Grabicka BE, Walton KS, Rabideau BD, Glover TG (2019) Impact of MOF defects on the binary adsorption of CO2 and water in UiO-66. Chem Eng Sci 203:346–357

Wang N, Mundstock A, Liu Y, Huang A, Caro J (2015) Amine-modified mg-MOF-74/CPO-27-mg membrane with enhanced H2/ CO2 separation. Chem Eng Sci 124:27–36

Qasem NAA, Ben-Mansour R (2018) Adsorption breakthrough and cycling stability of carbon dioxide separation from CO2/ N2/ H2O mixture under ambient conditions using 13X and Mg-MOF-74. Appl Energy 230:1093–1107

Tari NE, Tadjarodi A, Tamnanloo J, Fatemi S (2016) Synthesis and property modification of MCM-41 composited with Cu (BDC) MOF for improvement of CO2 adsorption selectivity. J CO2 Util 14:126–134

Satheesh R, Vignesh K, Rajarajan M, Suganthi A, Sreekantan S, Kang M (2016) Removal of Congo red from water using quercetin modified α-Fe2O3 nanoparticles as effective nanoadsorbent. Mater Chem Phys 180:53–65

Kaur R, Kaur A, Umar A, Anderson WA, Kansal SK (2019) Metal organic framework (MOF) porous octahedral nanocrystals of Cu-BTC: synthesis, properties and enhanced adsorption properties. Mater Res Bull 109:124–133

Sanz R, Martinez F, Orcajo G, Wojtas L, Briones D (2013) Synthesis of a honeycomb-like Cu-based metal–organic framework and its carbon dioxide adsorption behaviour. Dalton Trans 42:2392–2398

Serna-Guerrero R, Sayari A (2010) Modeling adsorption of CO2 on amine-functionalized mesoporous silica. 2: kinetics and breakthrough curves. Chem Eng J 161:182–190

Flaig RW, Osborn Popp TM, Fracaroli AM, Kapustin EA, Kalmutzki MJ, Altamimi RM, Yaghi OM (2017) The chemistry of CO2 capture in an amine-functionalized metal–organic framework under dry and humid conditions. J Am Chem Soc 139:12125–12128

Chaemchuen S, Kabir NA, Zhou K, Verpoort F (2013) Metal-organic frameworks for upgrading biogas via CO2 adsorption to biogas green energy. Chem Soc Rev 42(24):9304–9332

Lin S, Song Z, Che G, Ren A, Li P, Liu C, Zhang J (2014) Adsorption behavior of metal–organic frameworks for methylene blue from aqueous solution. Microporous Mesoporous Mater 193:27–34

Liu S, Sun L, Xu F, Zhang J, Jiao C, Li F, Li Z, Wang S, Wang Z, Jiang X, Zhou H, Yang L, Schick C (2013) Nanosized Cu-MOFs induced by graphene oxide and enhanced gas storage capacity. Energy Environ Sci 6:818–823

Majumdar S, Tokay B, Martin-Gil V, Campbell J, Castro-Muñoz R, Ahmad MZ, Fila V (2020) Mg–MOF–74/Polyvinyl acetate (PVAc) mixed matrix membranes for CO2 separation. Sep Purif Technol 238:116411

Najafi Nobar S, Farooq S (2012) Experimental and modeling study of adsorption and diffusion of gases in Cu-BTC. Chem Eng Sci 84:801–813

Ullah S, Bustam MA, Al-Sehemi AG, Assiri MA, Abdul Kareem FA, Mukhtar A, Ayoub M, Gonfa G (2020) Influence of post-synthetic graphene oxide (GO) functionalization on the selective CO2/CH4 adsorption behavior of MOF-200 at different temperatures; an experimental and adsorption isotherms study. Microporous Mesoporous Mater 296:110002

Campello SL, Gentil G, Júnior SA, de Azevedo WM (2015) Laser ablation: a new technique for the preparation of metal-organic frameworks Cu3(BTC)2(H2O)3. Mater Lett 148:200–203

Zaki T (2020) Application of metal-organic frameworks in carbon dioxide conversion to methanol, Chapter 3, pages 75–90, in Conversion of Carbon Dioxide into Hydrocarbons Vol. 2 Technology, ed. by Inamuddin, A.M. Asiri, Eric Lichtfouse, series: Environmental Chemistry for a Sustainable World, ed. by Eric Lichtfouse, Jan Schwarzbauer, Didier Robert, vol. 41, Springer Nature Switzerland AG, Switzerland, https://doi.org/10.1007/978-3-030-28638-5

Huang W, Zhou X, Xia Q, Peng J, Wang H, Li Z (2014) Preparation and adsorption performance of GrO@Cu-BTC for separation of CO2/CH4. Ind Eng Chem Res 53:11176–11184

Kukulka W, Cendrowski K, Michalkiewicz B, Mijowska E (2019) MOF-5 derived carbon as material for CO2 absorption. RSC Adv 9:18527–18537

Lestari WW, Tedra RA, Novita TH, Shahab S (2019a) The role of magnesium(II) salt precursor in controlling the structure of coordination polymers based on magnesium(II) and benzene 1,3,5-tricarboxylic acid, international conference on advanced materials for better future 2018. IOP Conf Series Mater Sci Eng 578:012075

Lestari WW, Shahab S, Novita TH, Tedra RA, Purnawan C, Arrozi USF, Ni'maturrohmah D (2019b) Electrosynthesis of coordination polymers containing magnesium(II) and benzene 1,3,5-tricarboxylate: the influence of solvents and electrolytes toward the dimensionality, 13th joint conference on chemistry. IOP Conf Ser Mater Sci Eng 509:012149

He X, Chen D-R, Wang W-N (2020) Bimetallic metal-organic frameworks (MOFs) synthesized using the spray method for tunable CO2 adsorption. Chem Eng J 382:122825

Mua X, Chena Y, Lester E, Wua T (2018) Optimized synthesis of nano-scale high-quality HKUST-1 under mild conditions and its application in CO2 capture. Microporous Mesoporous Mater 270:249–257

Su X, Bromberg L, Martis V, Simeon F, Huq A, Hatton TA (2017) Postsynthetic functionalization of Mg-MOF-74 with tetraethylenepentamine: structural characterization and enhanced CO2 adsorption. ACS Appl Mater Interfaces 9:11299–11306

Yan X, Komarneni S, Zhang Z, Yan Z (2014) Extremely enhanced CO2 uptake by HKUST-1 metal–organic framework via a simple chemical treatment. Microporous Mesoporous Mater 183:69–73

Hou X-J, He P, Li H, Wang X (2013) Understanding the adsorption mechanism of C2H2, CO2, and CH4 in isostructural metal–organic frameworks with coordinatively unsaturated metal sites. J Phys Chem C 117:2824–2834

Chen Y, Lv D, Wu J, Xiao J, Xi H, Xia Q, Li Z (2017b) A new MOF-505@ GO composite with high selectivity for CO2/CH4 and CO2/N2 separation. Chem Eng J 308:1065–1072

Liu Y, Hu J, Ma X, Liu J, Lin YS (2016) Mechanism of CO2 adsorption on Mg/DOBDC with elevated CO2 loading. Fuel 181:340–346

Liu Y, Ghimire P, Jaroniec M (2019) Copper Benzene-1,3,5-Tricarboxylate (Cu-BTC) metal-organic framework (MOF) and porous carbon composites as efficient carbon dioxide adsorbents. J Colloid Interface Sci 535:122–132

Liu Y, Liu S, Gonçalves AAS, Jaroniec M (2018) Effect of metal–ligand ratio on the CO2 adsorption properties of Cu–BTC metal–organic frameworks. RSC Adv 8:35551–35556

Zhao Y, Seredych M, Jagiello J, Zhong Q, Bandosz TJ (2014) Insight into the mechanism of CO2 adsorption on Cu-BTC and its composites with graphite oxide or aminated graphite oxide. Chem Eng J 239:399–407

Zhao Y, Seredych M, Zhong Q, Bandosz TJ (2013) Superior performance of copper based MOF and aminated graphite oxide composites as CO2 adsorbents at room temperature. ACS Appl Mater Interfaces 5:4951–4959

Bao Z, Yu L, Ren Q, Lu X, Deng S (2011) Adsorption of CO2 and CH4 on a magnesium-based metal-organic framework. J Colloid Interface Sci 353(2):549–556

Bian Z, Zhu X, Jin T, Gao J, Hu J, Liu H (2014) Ionic liquid-assisted growth of Cu3(BTC)2 nanocrystals on graphene oxide sheets: towards both high capacity and high rate for CO2 adsorption. Microporous Mesoporous Mater 200:159–164

Hu Z, Wang Y, Shah BB, Zhao D (2019) CO2 capture in metal–organic framework adsorbents: an engineering perspective. Adv Sustainable Syst 3:1800080

Zhou Z, Mei L, Ma C, Xu F, Xiao J, Xia Q, Li Z (2016) A novel bimetallic MIL-101 (Cr, Mg) with high CO2 adsorption capacity and CO2/N2 selectivity. Chem Eng Sci 147:109–117
Funding
This project was funded by the Deanship of Scientific Research (DSR) at the King Abdulaziz University, Jeddah, Saudi Arabia under grant no. D-530-130-1441. The authors, therefore, acknowledge with thanks DSR for the technical and financial support.
Ethics declarations
Conflict of interest
The authors declare that they have no conflict of interest.
Additional information
Publisher's note
Springer Nature remains neutral with regard to jurisdictional claims in published maps and institutional affiliations.
This article is part of the topical collection: Nanotechnology in Arab Countries
Guest Editor: Sherif El-Eskandarany
Electronic supplementary material
About this article
Cite this article
Kadi, M.W., El Salam, H.A., Zaki, T. et al. Adsorption of carbon dioxide on CuxMgy(BTC)2 MOFs: influence of Cu/Mg ratio. J Nanopart Res 22, 143 (2020). https://doi.org/10.1007/s11051-020-04855-1
Received:

Accepted:

Published:
Keywords
Metal-organic frameworks, MOFs

Cu3(BTC)2
Cu1.5Mg1.5(BTC)2
Mg3(BTC)2

Carbon dioxide

Adsorption